There is so much talk about probiotics for constipation, so I thought I'd address it.
Probiotics are live microorganisms that are intended to have health benefits.
Fact: Our digestive system is home to 500+ different types of microorganisms. The majority of these contribute positively to human health and are called "probiotics".
Microorganisms in the human body outnumber human cells by 10 to 1. Many of the microorganisms in probiotic products are the same as or similar to microorganisms that naturally live in our bodies. (source)
So, let's start with probiotics for gut health in general.
Probiotics for Gut Health
Shortly after I was diagnosed with serious gut issues (before I knew anything about my condition(s) and/or how to heal the gut), I worked with a nutritionist for awhile.
I began working with her just prior to our Mexico honeymoon trip. She told me to go to Mexico, enjoy the sun and my new husband and not to worry about food or healing or anything else because the goal was to live and carry zero stress while there.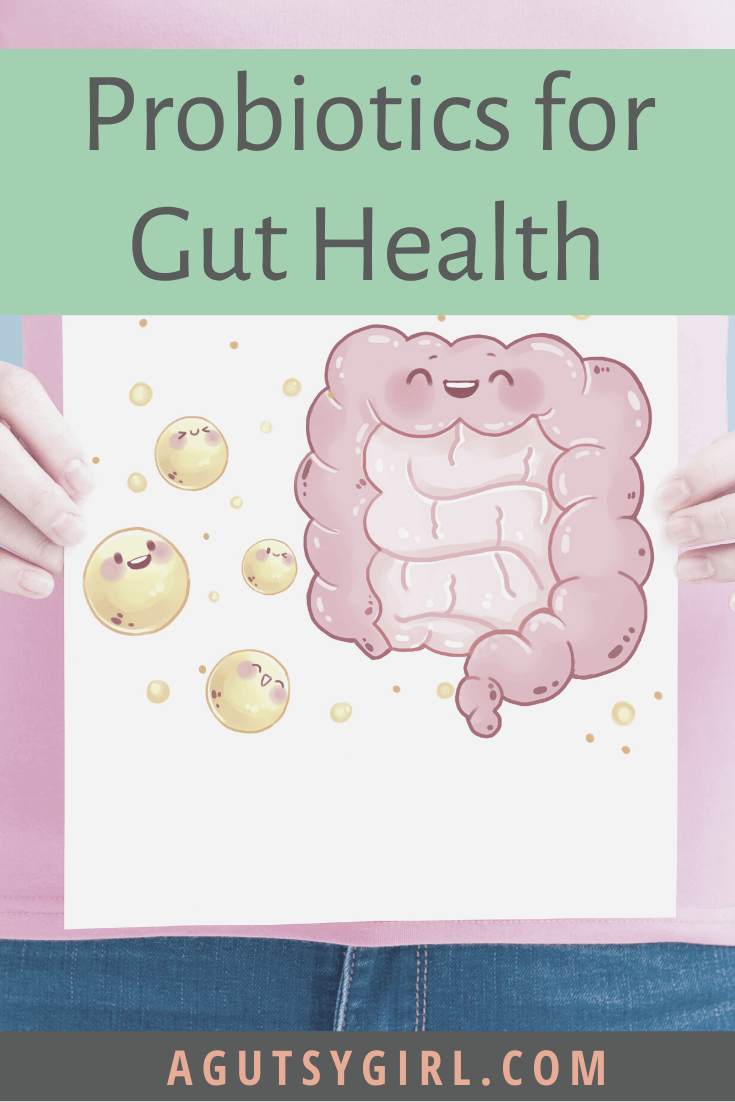 "But," she mentioned, "make sure you bring your Probiotics."
Since then, I've learned so much about probiotics for Gut Health.
Probiotics have been a huge part of my healing journey for many years now.
Good bacteria, in appropriate amounts, are always welcome. If we are selective and careful with the probiotic chosen, they have a much greater chance of playing on our team.
Why are Probiotics Important?
Throughout the years, I have learned that Probiotics are super important. Here are just 5 reasons why:
Probiotic bacteria are critical for healthy digestion
Support healthy intestinal flora
Help maintain the integrity of the intestinal lining
Support proper intestinal motility
Participate in the detoxification process
Best Time to Take Probiotics?
It's the million dollar question,
What is the best time of day to take probiotics?
You're not likely to find a consistent answer.
There are two theories surrounding when the best time to take a probiotic is.
Empty stomach

Dr. Wallman claims on an empty stomach. "If you already have food in your stomach, your stomach becomes more acidic, likely killing off some of the specialized bacteria and limiting the ultimate number of CFUs that make it to their final destination."

Right before/with food

However, I have written previously that on an empty stomach is a myth. An effective probiotic that successfully survives digestive juices will want to feed as soon as it arrives in the intestine, so the bacteria can immediately jump into action improving the microbiome. In that case taking your probiotic on a full, not empty, stomach would provide higher reproduction rates.
So which is right?
The answer depends on the probiotic you choose to take, likely.
However, if you have to take your probiotic on an empty stomach for survivability, then is it truly going to survive anyways?!
Food for thought.
Probiotics for Constipation
Click HERE to save this post for later.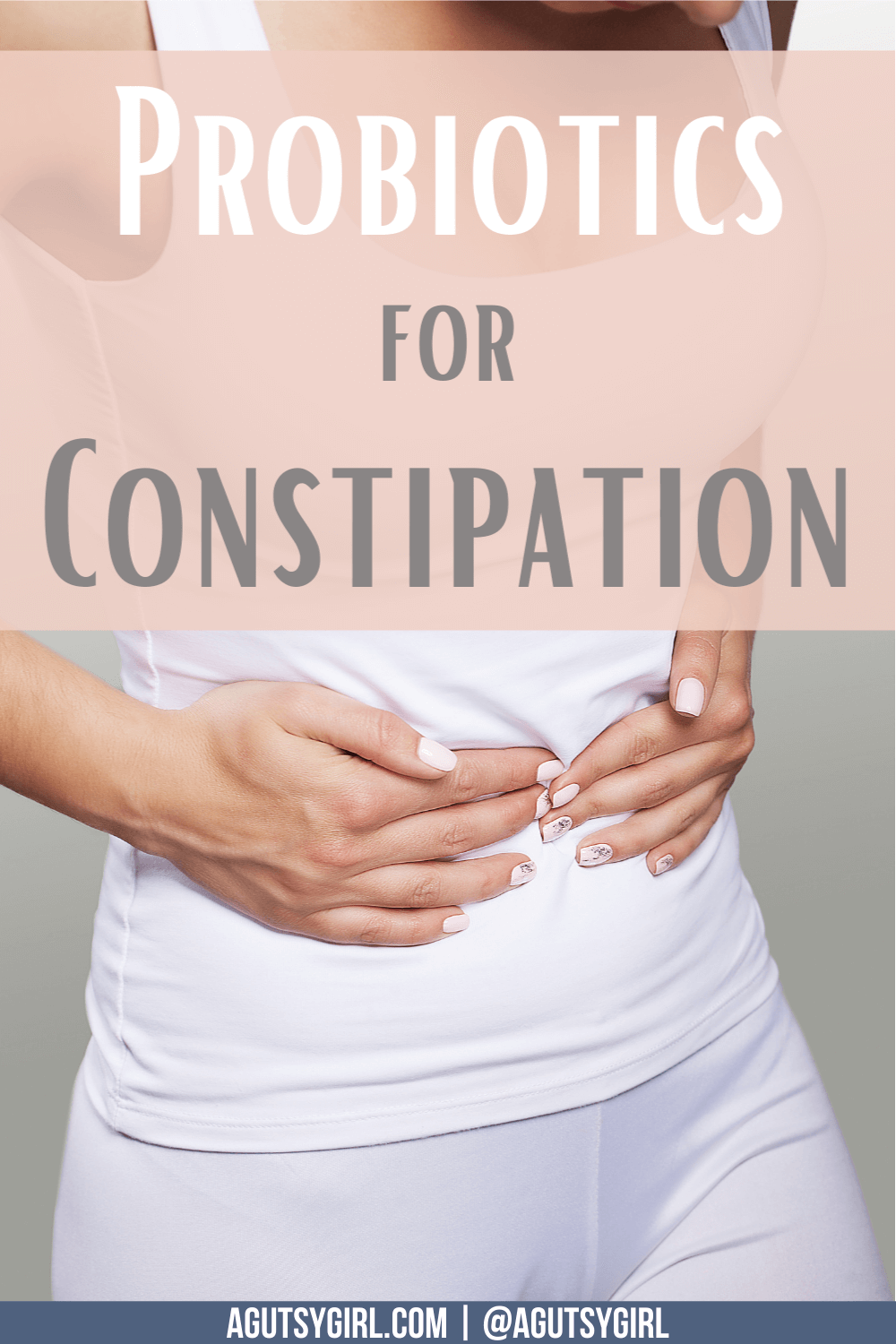 Throughout my years of working with the Gutsy community, it has become clear that more people struggle with constipation than diarrhea.
So while it's very likely that you know what constipation is, let's quickly just review.
IBS – C – Constipation Symptoms
If you are constipated, here are some of the symptoms you likely experience:
bloating and/or gas
inability to have bowel movements
hard, lumpy stools at least 25% of the time (Bristol Stool Chart number 1-2)
difficulty or straining at stools
sense of wanting to go, but being unable to
And constipation can be caused by so many different things. At the root of most constipation, you'll likely find one of these 7 root causes of IBS.
However, one very important constipation cause not on the list is the use and abuse of opioids and painkillers.
In fact, here's a little fact not many people know:
Elvis Presley actually died while sitting on the toilet, straining very hard to have a bowel movement – a maneuver that put a great amount of pressure on his heart and aorta. When the toxicology report came back several weeks later, however, Elvis' blood was found to contain very high levels of the opiates Dilaudid, Percodan, Demerol, and codeine — as well as Quaaludes. (source)
Moving on…..
One study shows that female gender, reduced caloric intake, and age over 50 years were recognised as pivotal risk factors of constipation.
This is important to note because that means that probably 90% of you reading this fall somewhere in those categories.
And therefore a probiotic for constipation is likely to be your optimal choice.
Here is some research and studies on probiotics for constipation:
Stool frequency significantly increased by probiotics, specifically by B. lactis but not L. casei Shirota, although there was heterogeneity in these findings. (source)
Same study, "Bloating was significantly lower after probiotics, although when L. casei Shirota was isolated, there was no significant improvement."
Evidence suggests that B coagulans can decrease the occurrence of abdominal pain and bloating in subjects with inflammatory bowel disease and can ameliorate the symptoms of IBS or FBD. (source)
Bacillus clausii as a treatment of Small Intestinal Bacterial Overgrowth (source)
Bacillus subtilis has the ability to promote gastrointestinal health, including helping its host in digestion, making it an ideal probiotic. (source)
However, to be very clear – there is not a ton of evidence for supporting a specific probiotic for constipation. Dr. Allan Walker, director of the Division of Nutrition at Harvard Medical School and a world-renowned expert in the probiotics field states,
I personally think that probiotics may be very helpful in the future as a way of dealing with constipation and other health problems. What's needed is a large, multicenter trial, with standardized outcomes to determine which probiotic species and strain is most effective, how much to take, and for how long.
In addition to looking at a probiotic genus, strain, and species for constipation consideration, here are some other things you can consider.
Vegan Probiotics
Choosing vegan probiotics means that there are no animal or dairy products contained within the probiotic.
Many times, those with constipation problems find that animal and dairy products exacerbate the issues.
Therefore, whenever possible, avoid probiotics containing those ingredients.
Refrigerated Probiotics
Rule number one with any probiotic for any condition.
IF the probiotic cannot survive the trek from mouth through the digestive tract, how will it be of any use?
And, if a probiotic has to be refrigerated then how would it survive your 98.6 temperature?
That's right. It won't.
If a probiotic touts that it's so great because it needs to be refrigerated, now you know that's a lie.
Make sure the probiotic will stay intact to do its intended job.
Do Probiotics Make You Poop?
What is the Best Probiotic for Constipation
So, what's the answer? What is the best probiotic for constipation?
My honest, most sincere answer is that if you understand your own, unique situation then find a high-quality probiotic that has strains and species you believe will behoove you. In other words, trial-and-error.
That said, I stand behind the Just Thrive probiotic because it's high-quality and contains strains and species that I find more cutting edge.
If you look at their reviews, too, you'll see other people stating similar thoughts:
"I love these probiotics. I stopped taking them for a while because I forgot to rebuy them, and I can definitely tell a difference in how I feel and my regularity. Definitely will keep buying these from now on." (Hannah Way)
"NutritionAddiction – Megan Kober – swears by these and I see why! I've tried A LOT of probiotics and they never seemed to help or have any impact on me. I definitely carry a lot of inflammation in my digestive tract, which reflects in my weight. My bowel movements have been regular, I haven't been bloated or gassy, and honestly feel so much better overall." (AKraft)
"Since taking Thrive I am going to the bathroom daily and no longer bloated!!" (Heather Whitaker)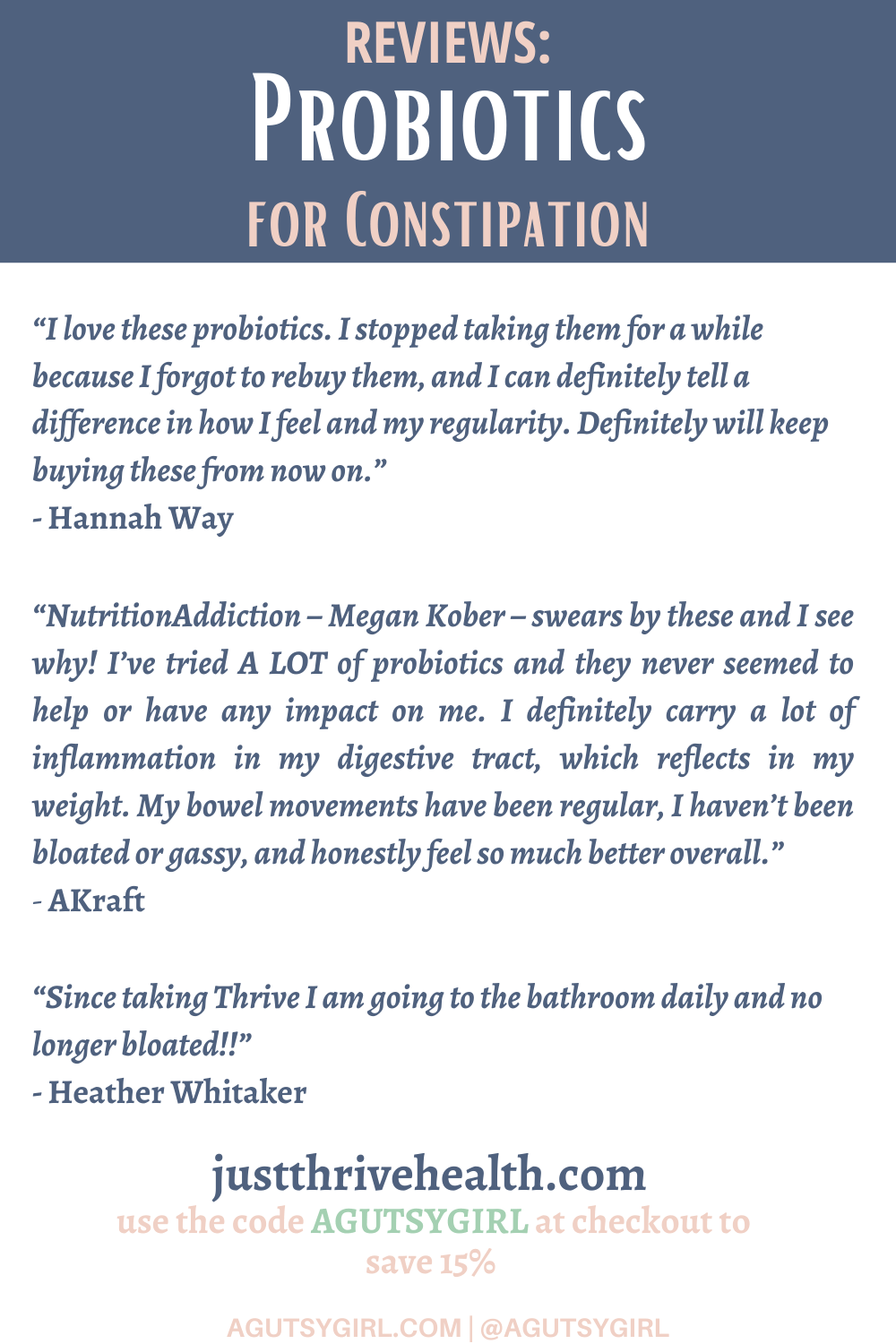 Tracking Your Probiotic Efficacy
Probiotics are not cheap, and there are so many on the market.
It's hard to know which one to choose and why that one is best for you.
So the best way to approach it is to take the information you have and do what you can.
Take the probiotic, then record in your gut healing journal how you're feeling over time. This is also something that could be tracked in your monthly check-in chart if you have the 90-day journal.

No matter what, always and forever continue to keep asking, "How is this working for me?!"
If you liked this post, you might also enjoy:

Xox,
SKH
You will heal. I will help.