You asked for it, so I put together this post on the VSL 3 vs Just Thrive Probiotics.
Now, many of you who ask about VSL 3 are doing so because they talk about the probiotic as it relates to Colitis.
But before you go out and purchase more VSL 3, be sure to read through this detailed information on both.
VSL 3 vs Just Thrive Probiotics
Click HERE to save VSL 3 vs Just Thrive Probiotics for later.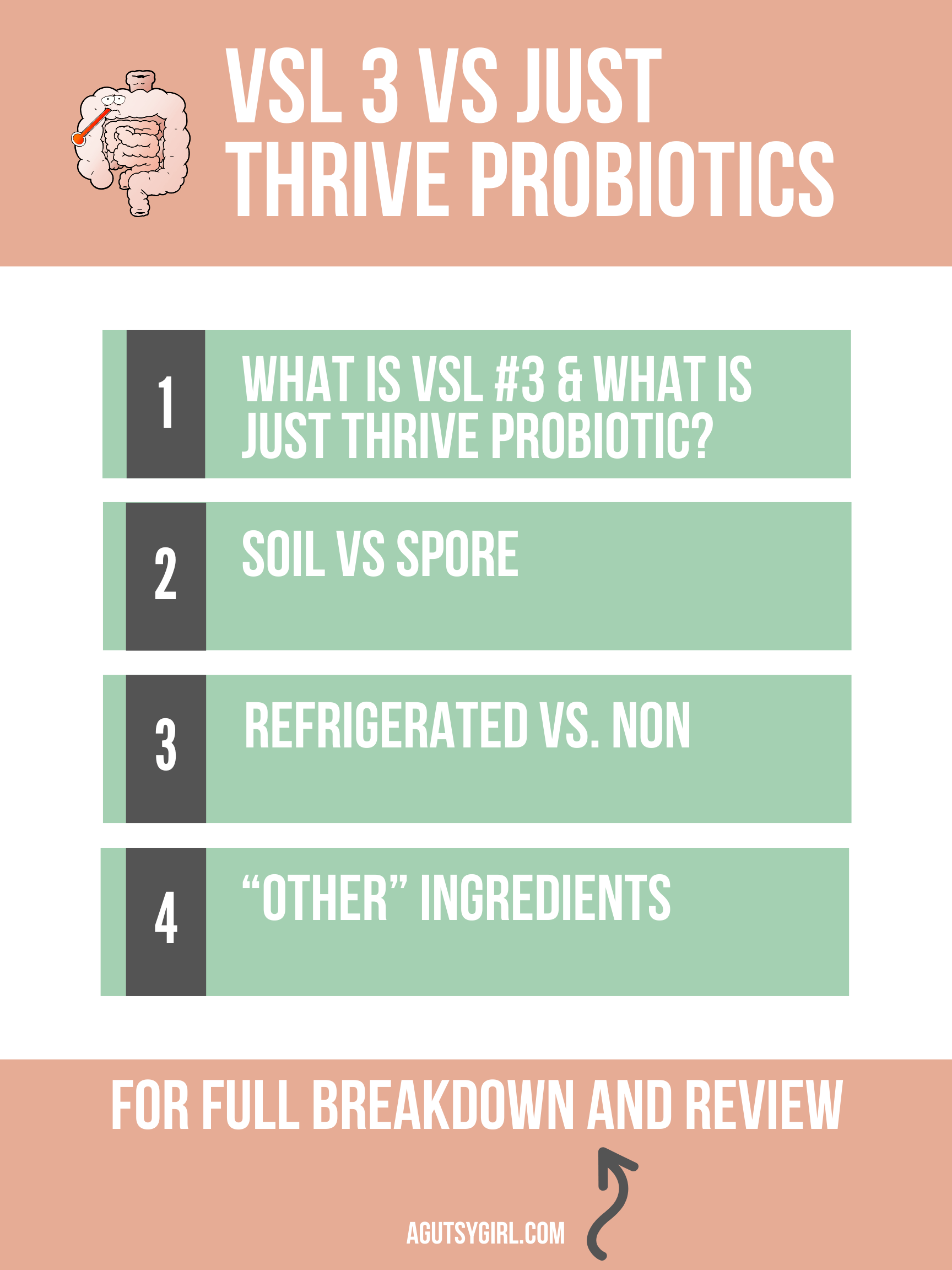 What is VSL#3 Probiotic
VSL #3 Probiotic is a soil-based probiotic that claims:
VSL#3® Capsules contain 112.5 billion CFUs, significantly higher than what is found in many OTC products so more can survive in the GI tract and have a beneficial effect
Diversity, containing multiple different strains of bacteria from the Lactobacillus, Bifidobacterium and Streptococcus genera
VSL#3® is refrigerated to keep the probiotics alive
Their target market are those with IBS, UC, and/or Pouchitis.
VSL 3 for IBS
They target those with IBS because they state that it:
Creates a better balance by adding good (probiotic) bacteria to help control the bad bacteria
Helps protect and strengthen the intestinal barrier, preventing bad bacteria from sticking to and irritating the gastrointestinal tract
Reduces the immune response and inflammation caused by bad bacteria
The specific formulation for IBS includes:
112.5 billion CFU
8 strains of bacteria which include:

Streptococcus thermophilus
Bifidobacterium

breve
longum
infantis

Lactobacillus

acidophilus
plantarum
paracasei
delbrueckii subsp. bulgaricus
VSL #3 for UC
They target those with UC (Ulcerative Colitis) for the same reasons as the above (irritable bowel syndrome).
The specific formulation for UC includes:
450-900 billion CFU
8 strains of bacteria which include the same exact ones as listed above
They also correlate the probiotic for those with Pouchitis, which is the inflammation of an ileal pouch (an ileal pouch is surgically created to help manage UC).
When pouchitis occurs, it can disrupt the quality of your life with symptoms of pain and fatigue.
VSL#3® is the advanced probiotic that provides support for the dietary management of pouchitis.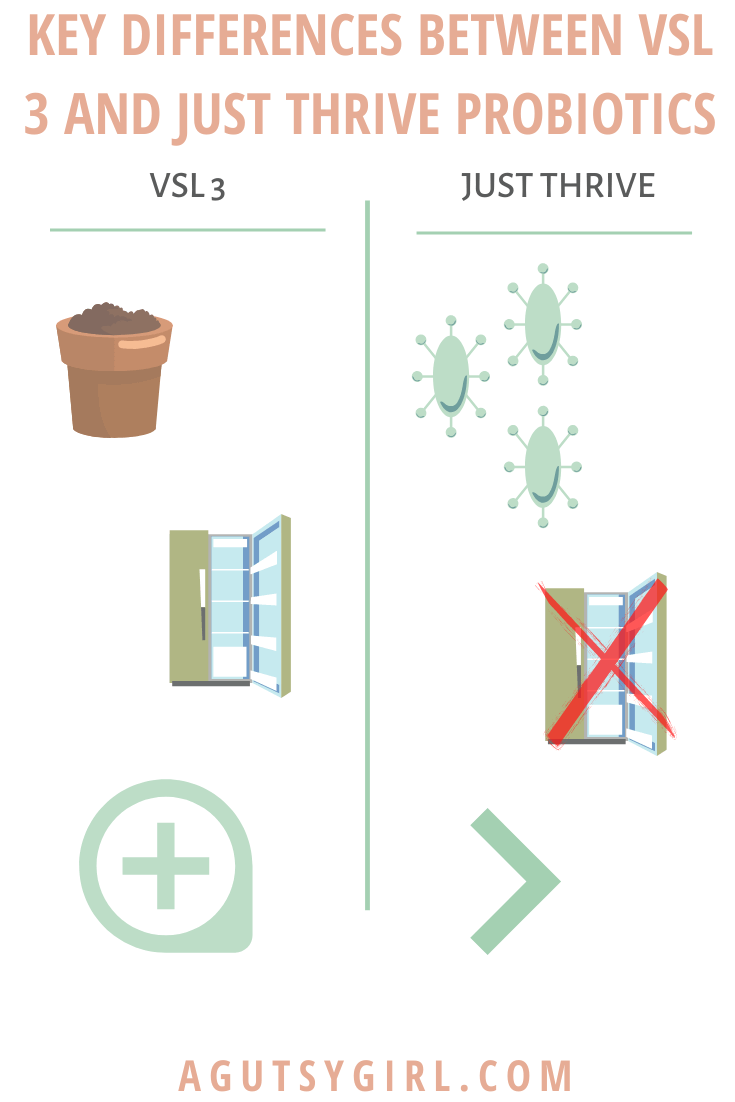 Other VSL #3 Information
"Other" capsule ingredients: VSL#3 Capsule Ingredients: Lactic acid bacteria and bifidobacteria blend, hydroxylpropylmethylcellulose, cornstarch, magnesium stearate, silicon dioxide, stearic acid, microcrystalline cellulose
VSL#3 900B DS Sachets "Other" Ingredients: Maltose, lactic acid bacteria and bifidobacteria blend, cornstarch, silicon dioxide
VSL#3 450B Unflavored Packets "Other" Ingredients: Lactic acid bacteria and bifidobacteria blend, cornstarch, silicon dioxide
Lactose-free
Just Thrive Probiotics
Now, I must point out two things before continuing on with this section.
I do not hide the fact that I prefer, talk about, and typically only recommend Just Thrive Probiotics. Furthermore, when you buy from Just Thrive using my link HERE, you'll save 15% using code AGUTSYGIRL. But I also make a small amount. This is all for full disclosure because I never want anyone to think I'm in this for a quick sale. Far from it, in fact.
Everything you ever wanted to know about the Just Thrive Probiotics has already been written. And this is because I love the brand so hard plus use it daily.
So with that, you can learn about Just Thrive Probiotics:
I recorded a full podcast episode with Just Thrive and the microbiologist who works with them. You won't regret listening to this great episode!
In case you want it right here for a comparison, though, these are the probiotic strains Just Thrive contains:
Bacillus:
Indicus HU36®
Coagulans (SC-208)
Clausii (SC-109)
Subtilis HU58®
Other Just Thrive Probiotic Information
"Other" capsule ingredients: Cellulose (hypoallergenic plant fiber prebiotic), Hydroxypropyl methyl cellulose HPMC (vegetable capsule)
Gluten free, dairy free, non-GMO, nut-free, Vegan
Key Differences Between VSL 3 and Just Thrive Probiotics
Soil vs Spore

VSL #3 is soil-based; Just Thrive Probiotic is spore-based. If you want a simple-to-understand discussion around soil vs. spore, see THIS article. It's ultra-simplistic, but will help you grasp the general concept. Based on that, you can better understand what might be best for you. Do keep in mind also that soil-based probiotics can oftentimes contain histamines; the Just Thrive Probiotic, though, does not.

Refrigerated vs Non

VSL #3 needs to be refrigerated; Just Thrive Probiotic does not. Why is this important? Because it helps indicate more on quality. A probiotic myth is that all good probiotics should be refrigerated. Click HERE to learn more about why that is a myth. It makes perfect sense!

"Other" ingredients

VSL #3 contains more "other" ingredients than the Just Thrive Probiotic. For some, this matters; others, not so much.
More on VSL 3 and Just Thrive Health
The Just Thrive Probiotic has documented Leaky Gut Studies HERE.
And VSL#3 promotes the product as clinician-backed and specific for ulcerative colitis. You'll see this even in highly sourced researched articles like THIS one.
However, do keep in mind that the strains researchers use in clinical studies are far more potent than anything you can purchase off the shelf. It's the nature of the commercial process of growing strains over and over and over in those vats. It weakens the strains. In fact, this might also play into the class action that was brought against VSL #3.
Probiotic product VSL#3 is at the center of a proposed class action out of Maryland that claims VSL Pharmaceuticals, Inc. deceived consumers by passing off a cheaper, less effective formulation as the original product.
You can read the full class action HERE.
So which probiotic to choose?
In my well-researched opinion, I would choose Just Thrive over VSL #3. However, that being said, for some of you, VSL #3 might be a better fit for whatever reason.
Use the information I've provided, talk to your doctor(s) and make the best decision for you.
If you have used either VSL #3 and/or Just Thrive Probiotics, I'd love to hear your experiences with either/both below.
As always, let me know if you have any questions.
If you enjoyed this post, you also might like:
Source: HERE.
Xox,
SKH
You will heal. I will help.