Hold the phones – today I'm sharing my gut health routine, and the ideas + concept behind how I want to share this with you.
Here's how this all happened.
Recently, I've been getting a lot of emails and IG DM's surrounding questions like,
How can I achieve good gut health long-term?
And,
What are simple habits / things you do from a lifestyle standpoint?
As I think through these questions, if you want the truth, sometimes I feel overwhelmed by them.
The reason is not that they are overwhelming in and of themselves but instead that I am forever exploring, learning, and trying new things for optimizing my gut and subsequently energy levels + overall life.
To the extent that what might work one month, no longer serves me the next.
But regardless, there are always things I'm loving, simple habits I'm adopting for the overall gut-friendly day, and ways I continuously go about thriving in my own life.
And I want to share them with you….pay close attention 🙂
Gut Health Routine (What's in My Personal Tool Kit?)
Click HERE to save this massive information on the various gut health routine I keep.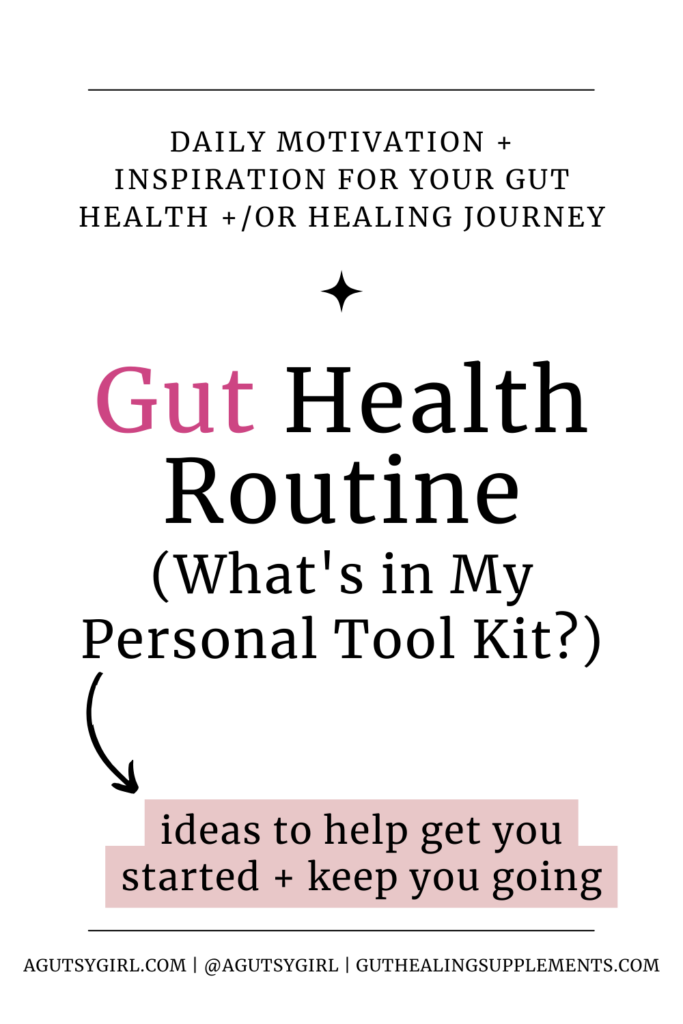 In order to give you the best and most accurate information, you're not going to find it ALL today.
Why?
Well, read what I said above again for reference — evolution towards optimal gut health.
However, what you can do are two things:
Go to your bookmark tab and SAVE this post for later so you can come back to it on a monthly basis (when I'm most likely to update it). Alternatively, you can save THIS graphic for later to Pinterest as a reminder.
Indulge in the first two round-ups for how I lead a healthy lifestyle and my gut health routine via the 'What's in My Bag: October' + 'What's in My Bag: November' editions below.
What's in My Bag? December
Click HERE to save these items for later.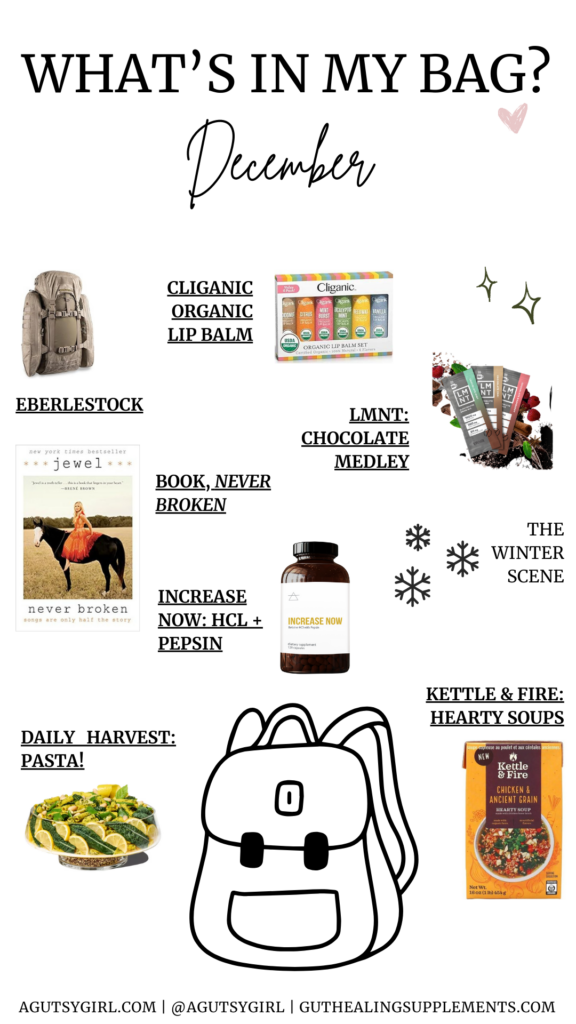 How is it already December? These last 3 months of the year have FLOWN by.
And I have been busy with all the things!
But I'm excited to share the items in my December bag.
LMNT Chocolate Medley
Okay, so the first thing I'm sharing today is the seasonal pack from LMNT. I'm constantly sharing about my love for these electrolytes, but right now (and only for a short time), the Chocolate Medley is available.
Here is what's in this medley:
Chocolate Mint
Chocolate Chai
Chocolate Raspberry
Here's what's NOT: artificial sweeteners!
This is part of my good morning routine, every single day. Why? Because while I do have a glass of water, water alone is not enough – we need electrolytes and what's better than no-sugar sugar coffee?!
Jewel's Book, Never Broken
I just finished reading Never Broken by Jewel on Audible. And let me tell you was it ever good! 
I have always been a huge Jewel fan, and I knew bits and pieces of her story, but never like I learned while reading the book.
If you're looking for a great new non-fiction read, I can 10/10 recommend this one.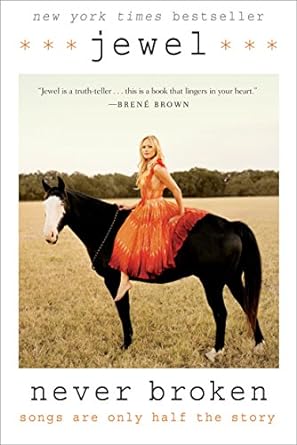 Add this one to "things I've purchased (and LOVED!)
Increase Now
Now that I have finally added Increase Now to my supplement line at guthealingsupplements.com, I can ALSO FINALLY have my own HCl with me, in my bag, at all times!
I've made it very clear that most of my digestive issues came down to LOW stomach acid. So, HCl was a critical supplement I took (and still take today).
Having adequate stomach acid for good motility was LIFE CHANGING for me and contributed to a healthy digestive system.
Honestly? I can't believe it took me this long to add the supplement to my line. I KNOW it's going to change lives!
If you're curious about stomach acid, HERE is more information + how to do the at-home stomach acid challenge.
Use code BLOG at checkout to save 15% off Increase Now today!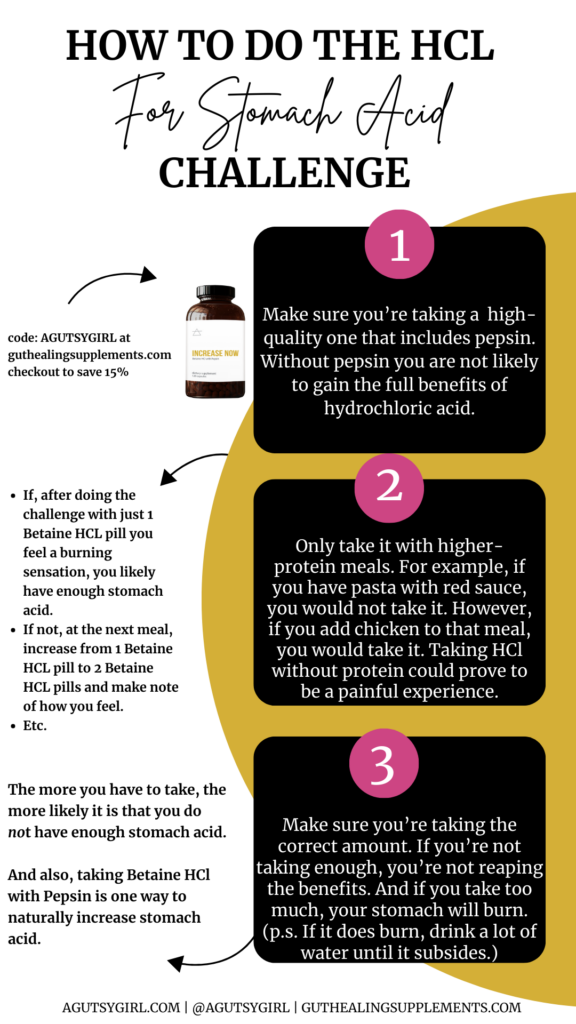 Eberlestock
This is a bag in and of itself and I am obsessed.
I set my fitness goal for 2024, which I'll share about next month! 
Part of it, though, uses this bag I purchased in 2023 and use all the time. 
I traded in long runs for physical activity that was less taxing on my body but yet proved to have far higher results for overall fitness.
Daily Harvest: Pasta
Pasta!
Yes, Daily Harvest now has a pasta option and it's so good!
In THIS video I'm eating the White Bean + Spinach Pesto and the reason I love this so hard is:
​It tastes great and
Variety – there is a diverse amount of ingredients in the meal, which the gut microbiota loves
Besides, it's gluten free and allows you to still enjoy pasta!
You can save up to $65 off your 1st box with code AGUTSYGIRL at checkout HERE.
Kettle & Fire
Speaking of "pasta," Kettle & Fire (my fave packaged bone broth company) just came out with some new varieties of soups.
The ones I've had include:
Lentil & Vegetable Hearty Soup
Chicken & Ancient Grain Hearty Soup
Vegetable & Quinoa Hearty Soup
Because we are creatures of habit in our house, the typically meal includes:
broth
meat
veggies; plant foods
carb of sorts; whole grains, sweet potatoes, etc.
And with these new varieties, it's all right there – gut-friendly foods perfectly warm for the colder months.
Use code 'AGUTSYGIRL' at checkout to save 20% from Kettle & Fire HERE.
The Winter Scene
In order to reduce stress levels through the holiday season (super important, ladies!), one thing I did was decorate our house for a winter scene vs. overwhelming myself with Christmas decorations galore!
I got a few simple items this year in natural wood, and I'm obsessed.
Furthermore, I did not do a traditional tree with 1,000 ornaments. We kept it simple. Check this out!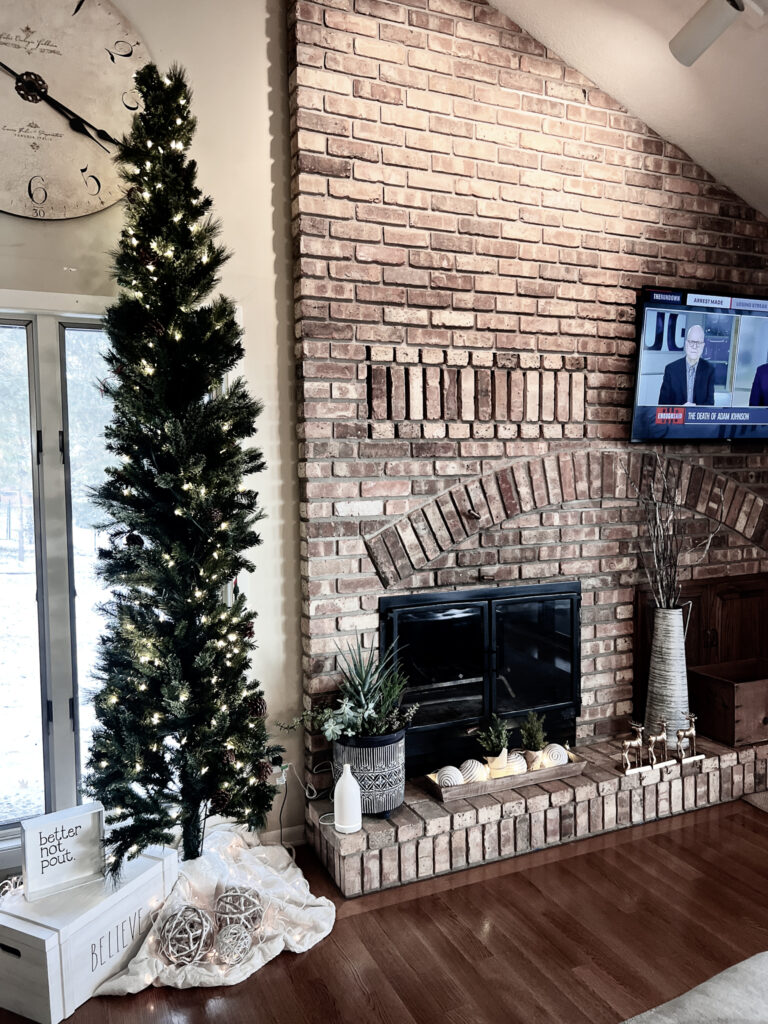 Cliganic USDA Organic Lip Balm Set
And last, but certainly not least, I got this new chapstick from a company called Cliganic.
It's a set of 6, and I'm totally digging it!
I purchased this on Black Friday, and because I love it so much I did add it to my Amazon Storefront HERE.
These fit perfectly in my bag PLUS they could be awesome holiday gifts and/or stocking stuffers.
---
What's in My Bag? November
November is here and by the time November comes each year, I'm considering overall health in order to really prime my immune system for a long and cold season ahead.
So when I think about November, I start the focus there and add other things that delight me around it.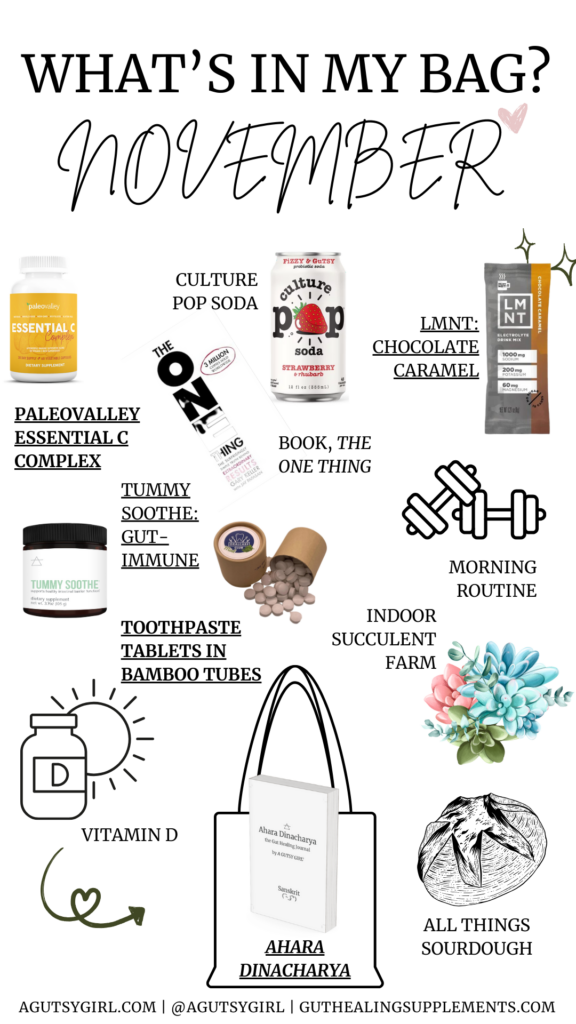 Paleovalley Essential C Complex
When I actually got the C-virus, I was using THIS. It's an Essential C Complex. So, I figured it if worked then, it's going to be key now as well.
The Essential C Complex contains not one but three of the most concentrated natural sources of vitamin C: amla berry, camu camu berry, and unripe acerola cherry. Each nutrient-packed serving delivers 750% of your daily recommended intake of vitamin C – an amount meant to help you thrive, not just survive.
I'm a huge fan of the work Paleovalley is doing, and I love supporting other gut-first focused brands.
Culture Pop Soda
This was my go-drink during Sober October, and now I'm hooked.
Here are the two main reasons I'm loving it so much:
There is NO Stevia in it. I hate alternative sodas that use Stevia because I can always​ taste it, and it's way too strong for me personally.
It also contains unique & delicious combinations of honest ingredients with live probiotics to aid in the health of your gut.
LMNT: Chocolate Caramel
LMNT just announced that their Chocolate Caramel flavor is here to stay!
Last month I told you about the Chocolate Salt, but if you want an even more robust flavor in your coffee, consider this one.
I skip the sugar in my coffee and choose this instead.
Book: The One Thing
​The first time I heard about this book was on Rachel Hollis' podcast. But because she talks about it all the time, I figured it must be good!
So, I got myself an Audible account (yes, I'm waaaayyyyyy behind the times), and purchased The One Thing as my first read.
It's already having a major impact on how I go about my days.
Healthy Morning Routine
One thing I am finding harder and harder to do is get my daily workout into my daily routine.
So, I started ensuring I'd get it in by simply making it part of my (almost) everyday morning routine.
I've been going to the gym at 6am on a regular basis now, and am loving how it sets me up for the rest of my day without me having to fit in the workout "at some point during the day."
Tummy Soothe
Though Tummy Soothe was in my October bag, I cannot talk about the best way for helping aid in the immune system without including this.
Tummy Soothe is something I take every single day and, in fact, take a little extra of this time of year. If you want a happy gut, you'll ensure you get your IgG, too!
Toothpaste Tablets in Bamboo Tubes
If you've never listened to my podcast episode about the oral microbiome with Dr. Jim Ellis, I strongly suggest it.
Anyways, his company, Oral Care Club just launched these and they are brilliant. Plus, how easy is this to pop your bamboo tube filled with toothpaste tablets right in your purse?!
Here is what Dr. Jim had to say about this brand new product:
You see all these cool videos online of people going out into the ocean and scooping up plastic or planting trees in deforested areas, etc. etc. But this is something that honestly can make a big difference and it's such an easy switch. People buy these three products every day already. They just need to buy different ones.

Dr. Jim Ellis
Indoor Succulent Farm
If you follow my Instagram stories, you know just how obsessed I am with succulents.
The only problem is that when you live in Minnesota, you can't keep them outside year round.
So, I decided to take my rather large collection of succulents that I've been caring for and loving on hard and bring them indoors.
In addition, I'm creating an indoor succulent farm of sorts in our loft and re-doing the entire space to be conducive for their survival.
I cannot wait to show you the finished space!
Vitamin D
No one gets through an immune conversation without mentioning Vitamin D.
It is imperative to focus on Vitamin D for the Gutsy community from both a gut and immune standpoint.
I take THIS D3 + K2, and the D3 gives 5,000 IU's.
All Things Sourdough
There are 3 main sourdough items we have on repeat at our house currently:
Sourdough Skillet
the bread, basic Sourdough bread
Sourdough Brownies
Sourdough is not like other loaves of white bread purchased at the grocery store.
It's made with a lot of love and care; good bacteria for a healthy gut microbiome.
If you want to learn about everything Sourdough related, check out THIS article I wrote.
Ahara Dinacharya
The new, improved, and updated version of my gut healing journaling system will release in November!
My goal is that it's ready to ship by Black Friday.
It's called: Ahara Dinacharya, and I cannot wait​ to get it in your hands.
p.s. This updated version has medications and supplement trackers included.
What's in My Bag? October
Here are the things you'll find in my bag for October.
Along with the items below, I've shared my why, in case you have a similar why and want to explore more for yourself.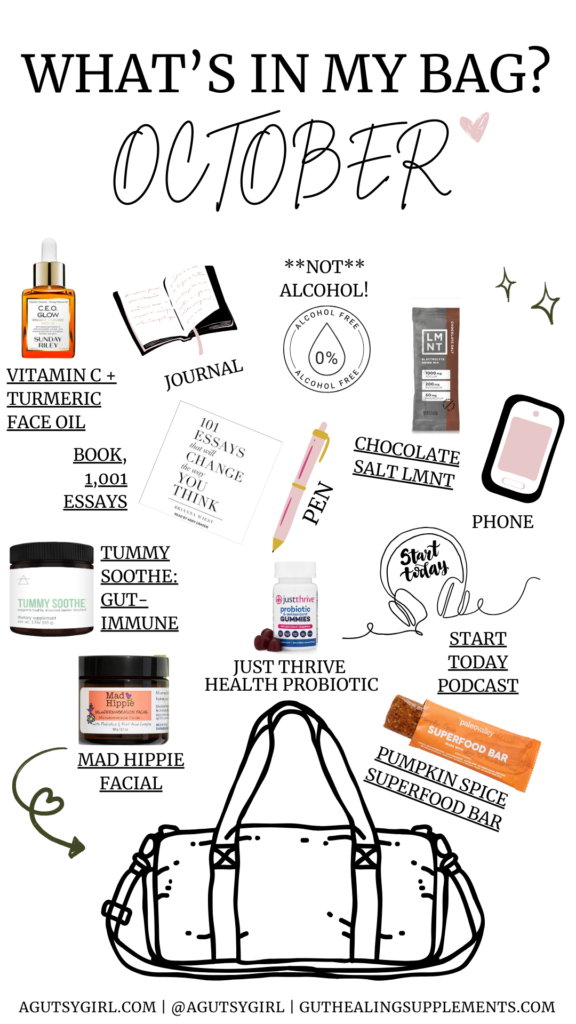 Eats
This month I'm traveling from MN (where I live) to Arizona (my fave place on Earth, Sedona). Therefore, a traveling snack is a must-have. I loathe buying things from the airport because, even if you find gut-healthy options, they are so expensive.
Paleovalley Pumpkin Spice Superfood Bar
These are seasonal, and only available for a limited time. They are the best of fall in a bar without any unnecessary ingredients.
Drinks
This October, I am doing sober October. Honestly? First time in my life doing this challenge. And guess what? I even own a bar! In other words, if I can do it, so can you. I'll be drinking plenty of water and some kombucha, maybe a fancy mocktail or two and always coffee with the Chocolate Salt LMNT.
LMNT Chocolate Salt
This is, hands down, my favorite all-time flavor from LMNT because it's simple and versatile and goes in my morning cup of Joe on the daily.
Supplements
The two supplements I'm most focused on this month are Tummy Soothe + probiotics. This is: 1] because of the traveling and 2] because cold and flu season is approaching rapidly.
Tummy Soothe
Tummy Soothe fosters a healthy inflammatory response in the GI tract and supports the intestinal barrier to help fight off antigens, boost digestive function and create a protective barrier within the digestive tract.
Just Thrive Health Probiotic
My WHY for this probiotic includes the (main) following: Arrives 100% alive in your gut for maximum impact, 1000x better survivability vs. leading probiotics, contains the most well-researched, DNA-verified strains, supports digestive, immune, and total-body health, beats bloat, gas, constipation, and diarrhea, and it is clinically-proven to address Leaky Gut in just 30 days
Mind
There are several things I do every single month for de-stressing and calming the mind. This month I'm focused on journaling out gratitude daily, and making a list of 10 dreams for my ideal life.
Here are some tools I'm using to accompany.
101 Essays That Will Change the Way You Think
I SWEAR by this book. It is so, so good. I've already gotten through some of it, but my goal is to finish it.
Start Today Podcast
Rachel Hollis re-started her Start Today brand, and the podcast to accompany it. In October, I'm going to a LIVE Rachel Hollis event, so I'm currently soaking up all her thoughts and resources.
Skincare
I'm definitely not getting any younger. In case you didn't know, I'm 40! And lately, I've really been into skincare, trying new things, and seeing what works + moves the needle.
Mad Hippie Facial
I've been using this one for a long time, and I absolutely love it. I wanted to highlight it for this month because the jar is small (but mighty) so it can easily travel with me to Arizona.
Sunday Riley C.E.O. Glow Vitamin C & Turmeric Face Oil
This is a new-to-me product that I'm excited to test out. I'm mostly curious about the turmeric aspect of it.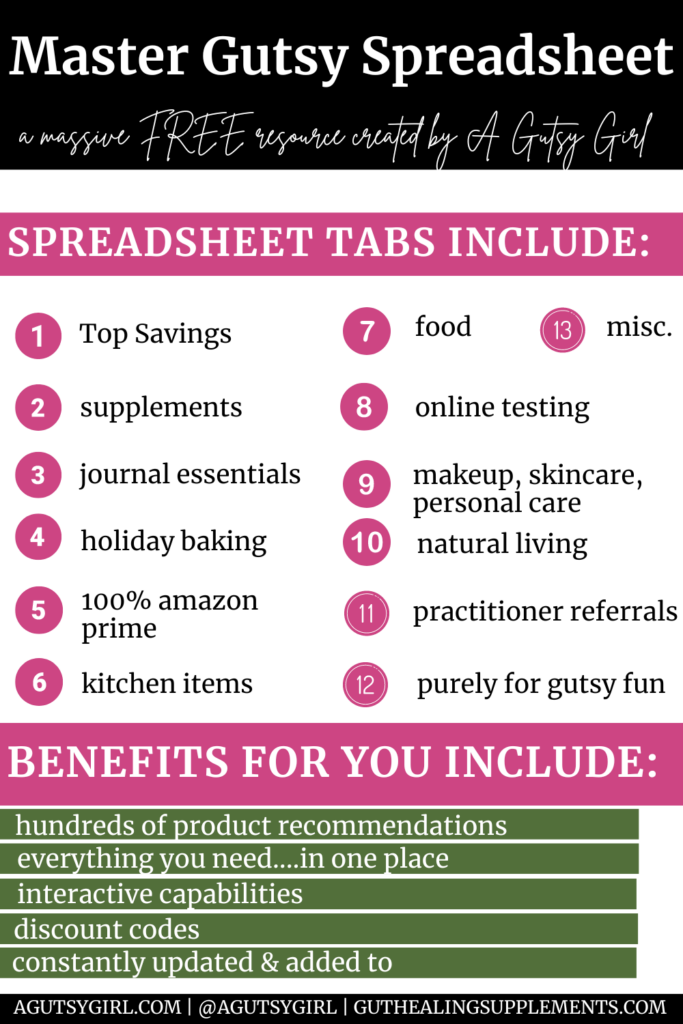 Free Download
Get access to the 'Master Gutsy Resource Spreadsheet,' which houses hundreds of product recommendations curated by A Gutsy Girl for free!
If you like this type of information on gut health routine, you might also enjoy:
ImmunoLin as the Star Ingredient in Tummy Soothe, My Obsession Explained (Episode 105 with Brian Kaufman)
Disclosure: All opinions started here are 100% my own. I appreciate your support, as this compensation helps with expenses to keep this website up and running, and for me to continue sharing all that I can with you. Some of the links in this post are affiliate links. This means if you click on the link and purchase the item, I may receive a small commission at no extra cost to you.
Xox,
SKH
You will heal. I will help.