What does the Bali diet consist of, and why are we talking about it?
In case you missed the news, WE are going to Bali!
And by WE, of course I mean you + me!
Can you join?
The Bali retreat is happening March 22 – 28, 2024. You can still get in on EARLY BIRD PRICING HERE.
At the bottom of this post I have an entire FAQ regarding the trip.
So if you want more information after we chat all things Bali diet, then it's there for you!
Bali: Eat. Pray. Love.
Did you ever read the book, "Eat. Pray. Love" by Elizabeth Gilbert?
If not, I highly recommend it.
But in the book + movie that accompanies it, the "love" portion takes place in Bali.
Here are some fun facts I researched about it:
Most of the Bali locations for 'Eat, Pray Love', were filmed in and around Ubud, the cultural heart of Bali. THIS is exactly where we are going on the retreat!
In the movie, when Julia Roberts is riding her bike, that takes place in the Tegallalang Rice Terraces in Ubud. We are also going there on the retreat.
The "healers" that Julia Roberts went to see in the movie are real people.
Sources: HERE
Anyways, in preparation for Bali, I wanted to research a component that would be interesting to you — the Bali diet plan and what they typically consume.
Bali Diet
Click HERE to save the Bali Diet information for later.
Bali is a province of Indonesia, which is located in southeast Asia.
The Indonesian island has a tropical climate, with hot and humid weather all year round.
When thinking about cuisine and their general meal plan, this all matters.
Now, there are two different "Bali diets:"
The BALi diet, which was developed by former Texas physician Dr. Roby Mitchell, MD. In this scenario with Dr. Mitchell, BALi stands for Basic Antioxidant/Antifungal Low Insulin diet, which has four fundamental goals:

Make your blood more alkaline rather than acidic, lowering pH levels in order to help prevent the development of some diseases,
Address candida levels by minimizing the intake of yeast and sugar; two key factors in causing inflammation,
Help regulate insulin levels to negate weight gain and control diabetes, and
Boost antioxidant intake

What those in South Asia, Bali in particular, consume on a daily basis.
For the purposes of this post, I am strictly focusing on #2, although I do believe that there is a ton of overlap between the two.
Coincidence?!
Bali Local Markets
Here is a list of common foods you would find through Bali local markets:
rice
pork
chicken
tempeh
eggplants
spinach
kale
snap peas
bean sprouts
lemongrass
coconut
chili
banana leaf
pork
garlic
shallots
pineapple
guava
jicama
mango
sweet potato
cucumber
local fish
lime
seaweed
long green beans
carrots
peanuts
coconut oil
bay leaves
coconut milk
rice flour
turmeric
fresh coriander
nutmeg
cardamom
tamarind puree
shallots
bananas
jackfruit
papaya
passion fruit
melon
oranges
ginger
A key focus of the Bali diet is a variety of spices, blended with the fresh vegetables, fresh fruit, meat and fish.
There are a plethora of fresh foods found in South America, making them the staple of the Balinese diet.
Popular Dishes in Bali
Here are some of the most popular food dishes found in Bali:
Nasi Goreng, which is an Indonesian fried rice
Satay, which is are marinated, skewered and grilled meats served with a spicy sauce
Nasi Campur, which is a mixed rice meal of sorts (dietary proteins, fresh vegetables, etc.)
Babi guling, which consists of spit-roast pig stuffed with rich traditional spices and vegetable mixes such as cassava leaves, slowly rolled over a coal fire
Tempeh curds
Lawar, which consists of a mix of finely chopped meat, vegetables, grated coconut and spices
Now, of course there are many more, but these 6 are the ones I am most excited about for indulging in a delicious meal while in Bali.
From a gut health and gut healing perspective, what I like most about my research on the Bali local food are these 7 things:
They use coconut sugar and some other natural sugars + they do indulge in dessert, but I have never seen them mention artificial sweeteners.
Bread is not a focus of their meals; not white bread and not even whole-grain bread. Rice is.
Everything is very different from the standard American diet (which I do not follow nor do I advise anyone to follow).
They don't include a lot of dairy proteins.
Spices and herbs are used a ton, which I believe is key in all healthy eating due to their massive health benefits.
In my personal life, I choose a ton of meals for our family which align with "Nasi Campur," and I believe this is the easiest way for quick preparation to eat some of the world's best foods.
Almost any eating program one might be following could be tailored to easily while in Bali. (Ex. Vegan? Don't eat the meats. Not interested in soy of any sorts? Skip the tofu and tempeh.)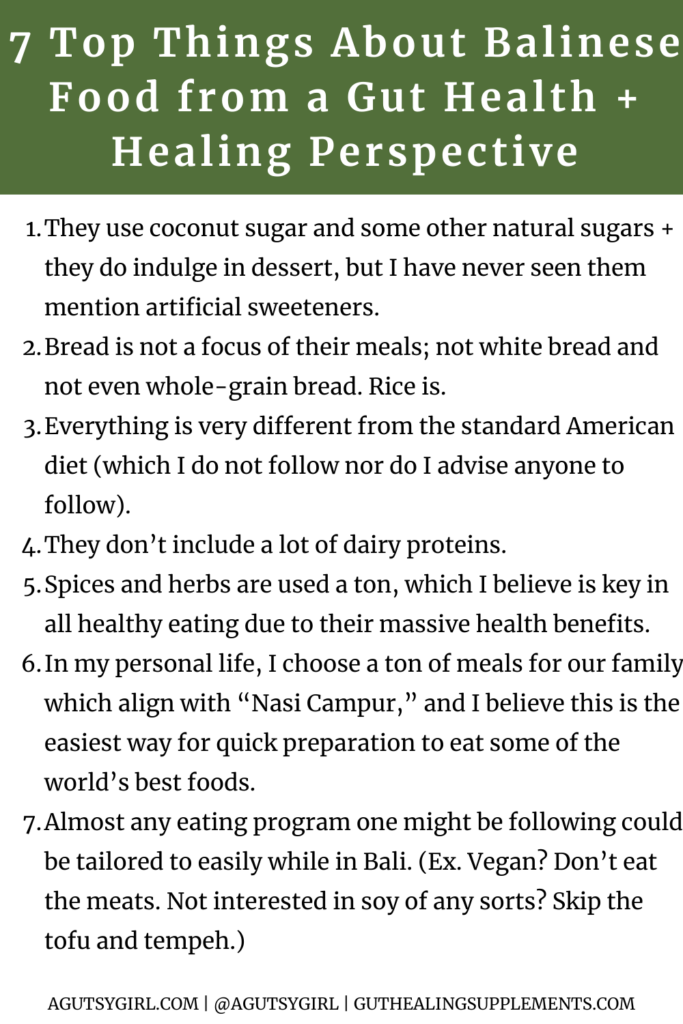 To that extent, let's chat a little bit more about the Bali retreat.
Here is a full FAQ. You can click on any one to be taken directly to it.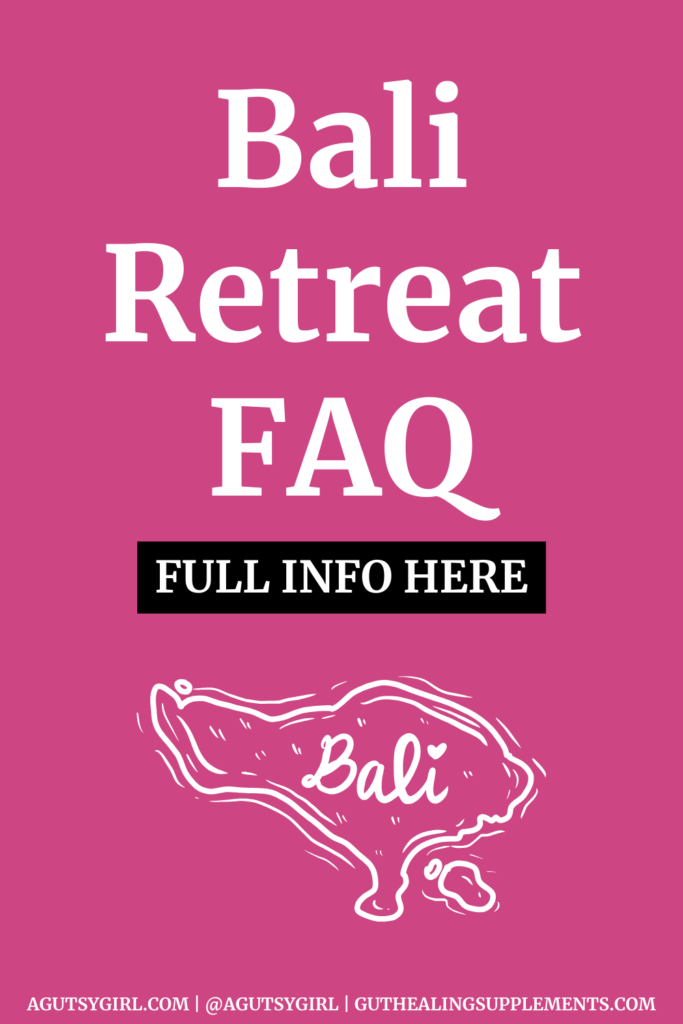 Full Bali Retreat FAQ
These are some of the most common questions people have asked regarding the retreat in Bali.
Where are you going on the A Gutsy Girl Retreat?
We are going to Bali, which is a province of Indonesia – in Southeast Asia.
When (exactly) are you going on this retreat?
The dates are set for March 22 – March 28, 2024.
Why are you doing a retreat?
Because I know, without a doubt, that when we calm the nervous system (+ spend a week immersed in all things gut healing), we can heal at an exponential rate.
What is included in the price of the retreat?
What is the Mini Vision Board all about?
As part of the retreat, I will be giving you my gut healing journey journal.
Included in this journal is BOTH a place to make your own Mini Vision Board + my process for how to track your gut healing journey.
During this workshop, we will create our own vision boards.
I will bring the supplies needed so that you can be present and just create.
I did this activity at a retreat many years ago and it was life changing.
I want to bring this to your life as well!
---
More on the 3 workshops/sessions I'm offering complimentary in Bali can be heard via Episode #104 of the A Gutsy Girl podcast.
---
What is the Gut Healing Journal Workshop about?
Part of my goal for this retreat is to help you find your own cadence with journaling for gut healing.
I will provide you with a journal, and we will talk through my method.
During this workshop, you'll be able to work on your own journal and I'll be available for all your questions regarding how to journal for optimal success.
What are your 1-on-1 sessions in Bali?
These are 1-on-1 sessions with just you + me. They will begin on Day 4 and run through Day 6.
I will reach out to everyone on an individual basis to get this time scheduled.
During this 20-30 minute session, you'll be able to ask me all your personal questions and/or get any 1-on-1 help regarding your eating plan, lifestyle, conversation, or anything else desired!
This is YOUR time 🙂
How much does it cost to go on the retreat?
If you look for a retreat under $2,000 with this caliber of experiences, you aren't likely to find it.
But…..I made SURE it could happen!
The price of the trip is $1,795 BUT I'm offering an exclusive early bird price to you for just $1,650 — for the first 8 people who sign up first.
And there are payment options, too!
Only pay 25% up front upon booking
Also, everyone who comes on the trip will have automatic access to my brand new course Gut Healing for Beginners: Elevated for free (a $397 value, launches at the end of 2023).
What if I'm not interested in doing all the activities?
Great! Then you don't have to do them!
First and foremost, I am excited to meet you and to spend time in this enchanting place.
I am going to connect on a very personal level with those of you who choose to come with; those who want to soak up everything internal healing while also being able to learn. However, I also want you to know that nothing on the itinerary is mandatory.
This is YOUR retreat; your getaway. You are able to get out of it exactly what you desire.
Is airfare included?
No, airfare is not included. This is because, depending on when you live and when you purchase your tickets, that pricing is too variable.
What airport would I fly in and out of?
Ngurah Rai International Airport (DPS).
Plus, as part of the trip, TrovaTrip will provide 3 transfers from Ngurah Rai International Airport (DPS), between 08:00 am and 05:00 pm the day you arrive and 2 transfers to Ngurah Rai International Airport (DPS), between 08:00 am and 11:00 am the day you depart.
Do I have to be in a "deep" gut healing phase to go?
No, 100% not!
While we are doing some gut-specific activities (namely the ones I created for the retreat!), the point of the entire retreat is to go with like-minded people.
People who are looking for a week escape to take in all the magic Bali has to offer.
And to that end…
What if my energy levels are not currently super high?
That's okay!
I made sure that this retreat was at an Activity Level of just 1 so that we could all enjoy it with ease.
If I want my BFF, mom, etc. to go, would that be okay?
100% YES!
This is YOUR retreat, and you can go about it with whoever brings you the most joy.
Sometimes, the best and right direction is doing trips like this with someone we know super well. You don't have to, but some might prefer that.
Will there be men on the trip?
No.
Sorry, gentlemen, this retreat is for women only.
I really want to go, but can't afford the full price right now.
That's okay!
Only pay 25% up front upon booking
What if I can't eat what's there?
Well, the first thing I would ask is that you are very clear as you why you absolutely cannot eat Indonesian food? Is it due to true medical problems – i.e. diagnosed Celiac disease?
When I went to Italy in 2018, I had been gluten free for 10 years. I went to Italy, relaxed, breathed, and soaked in the culture and everything surrounding me – including alllllll the glutinous foods for the best localized eating experience.
I never relapsed again, and to this day I eat gluten and am so grateful to have learned the art of stress reduction and the role our minds play in the healing process.
That being said, as you'll make note from earlier in this post, there will be a way for you to choose what you do or don't eat based on various medical conditions.
If, however, you have a chronic medical condition which lands you in the hospital frequently this is probably not the retreat for you.
Help me get inspired for Bali!
Cool! I can do that!
I have created a Bali Pinterest Board [HERE] for inspiration.
As we get closer, I'll be making traveling lists and more to help you prepare.
How can I get signed up NOW?!
HERE is where you can reserve your spot and get in on EARLY BIRD PRICING today.
If you liked this post on the Bali diet, you might also enjoy:
Xox,
SKH
You will heal. I will help.