Quitting caffeine for me didn't happen overnight, but I knew it needed to happen. Since many people have asked how I did it, I thought I'd share how I quit caffeine.
When my medical records proved that my adrenal glands have essentially bottomed out, I knew things in my life needed to change. But I resisted many of these things, namely giving up caffeine via coffee.
Coffee is one of my greatest pleasures in life. I am the girl who will buy a cute coffee mug for inspirational mornings even though we have one too many the way it is.
I love the silence in the early morning with nothing but me, my thoughts and that warm cup of coffee.
Besides, I could always justify "I am certainly not addicted" so that I'd never have to give it up.
The Day I Quit Caffeine
I "quit" caffeine on Saturday, March 21, 2015. (Note: "quit" in quotations is because, on this day, I had decaf coffee, which still has a little caffeine.)
I might never forget that day because it was horrendous. My friend Susan was having a garage sale and Ryan was out of town for the weekend, so Samarah and I got up early and headed to Susan's to hang out.
That day, I brought with me to Susan's one small, organic, fair-trade, decaf coffee. I was used to drinking no less than 2 cups of regular coffee a day, but I still figured I'd be just fine. Wrong. About 10 am I wanted to go straight back to bed.
No headaches, but the super fatigue set in. It took everything I had to be present and able for Samarah all day. I even napped when she napped that day (I never do this). And totally struggled to pull it together after nap time. In fat, I couldn't even eat dinner I was so tired, and subsequently fell asleep when it was her bedtime – 8 pm.
The struggle was real.
How I Quit Caffeine
Click HERE to save this post for later.
I was addicted to caffeine via coffee.
The next few days were hard, but not nearly as hard.
The next couple of weeks all the same.
Each day I'd aim to have a little less decaf coffee. I'd replace it with water or tea.
And then I started figuring out how I could cut even decaf out of my life.
I don't believe in coffee substitutes because for years people told me that Green Tea was an appropriate substitute, and I laughed at them silly. Sorry, but Green Tea will never be a coffee substitute. Green Tea makes a great compliment, but not a substitute. The flavors and rituals are completely different.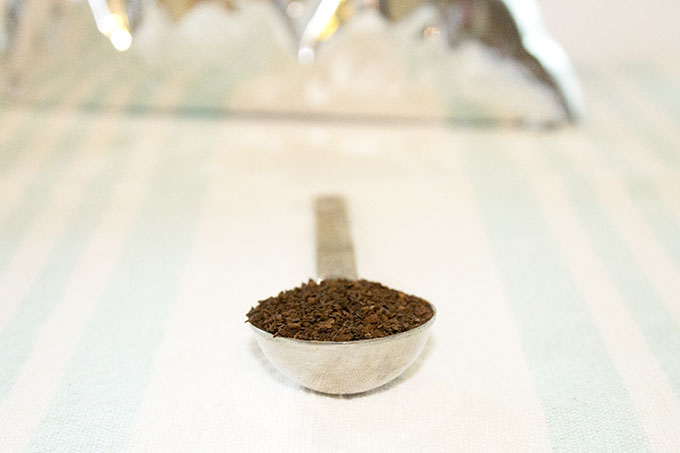 That said, I'd always heard that some people use Chicory as a substitute. I began researching it. After telling myself "no way" a zillion times, I decided to buy a pack of Organic Chicory Root Roasted.
Organic Chicory Root Coffee
I brewed my first cup just a couple short weeks ago.
I've never looked back.
My cup of Chicory has replaced the cup of coffee.
And here is how I like making it best.
Cinnamon-Spice Chicory Root Tea
Click HERE to save this recipe for later.
[This original recipe of mine was featured via Nutiva.]

Cinnamon-Spice Chicory Root Tea
Author:
Sarah Kay Hoffman
Prep time:
Cook time:
Total time:
A delicious substitute for coffee.
Ingredients
2 teaspoon Chicory Root (ground)
cinnamon stick (whole)
1 tablespoon Nutiva Organic Virgin Coconut Oil
1 cup water
Instructions
Place Chicory Root and cinnamon stick in tea kettle.
Boil water, and pour over Chicory Root and cinnamon stick. Cover and let steep for 3-5 minutes.
Place brewed tea along with Nutiva Organic Virgin Coconut Oil in a blender, and blend on high for 15-30 seconds.
Serve and enjoy.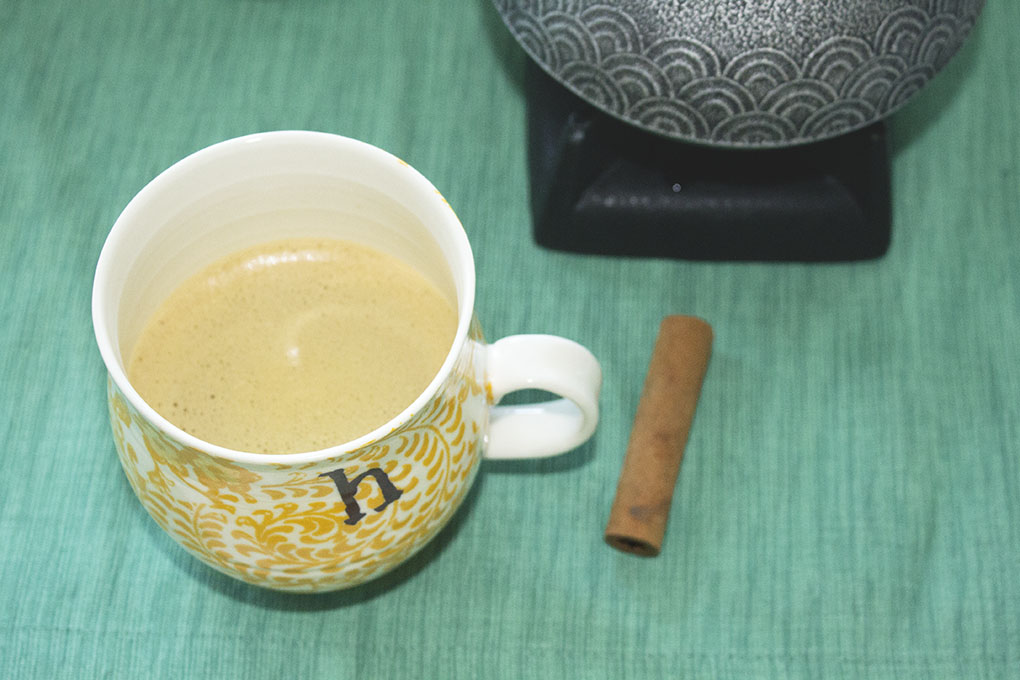 How to Enjoy Chicory Tea
Chicory Root + coconut milk light + a little Monk Fruit (p.s. use code 'AGUTSYGIRL' at checkout to save 15% off your entire order.)
recipe above
Caffeine is not just found in coffee. Caffeine lives everywhere, and it's sneaky. I don't do energy drinks or soda or even chocolate. The only caffeine I consume these days are the nil amount in decaf coffee if I'm out-and-about without Chicory and/or the nil amount contained in the Purely Cacao Peanut Butter.
And guess what? I survived! Also, I no longer feel the caffeine-withdrawal fatigue, and have more energy in general.
No, I am not perfect, but quitting caffeine via coffee was probably a huge overnight boost to my adrenal glands.
Will I ever have caffeine via coffee again on a regular basis? Probably, but not until my adrenal glands are functioning like a normal, alive human being.
I am doing everything I can to get well, and I am confident this was a very good decision.
Updated in 2019: Now that I am healed, I drink coffee again. HERE is how I drink my coffee.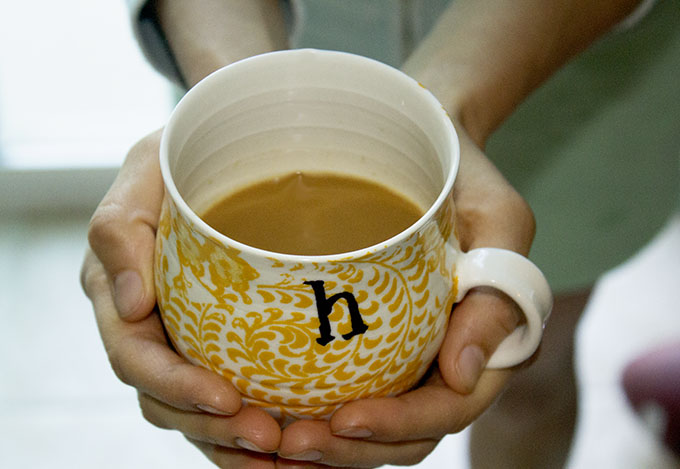 Xox,
SKH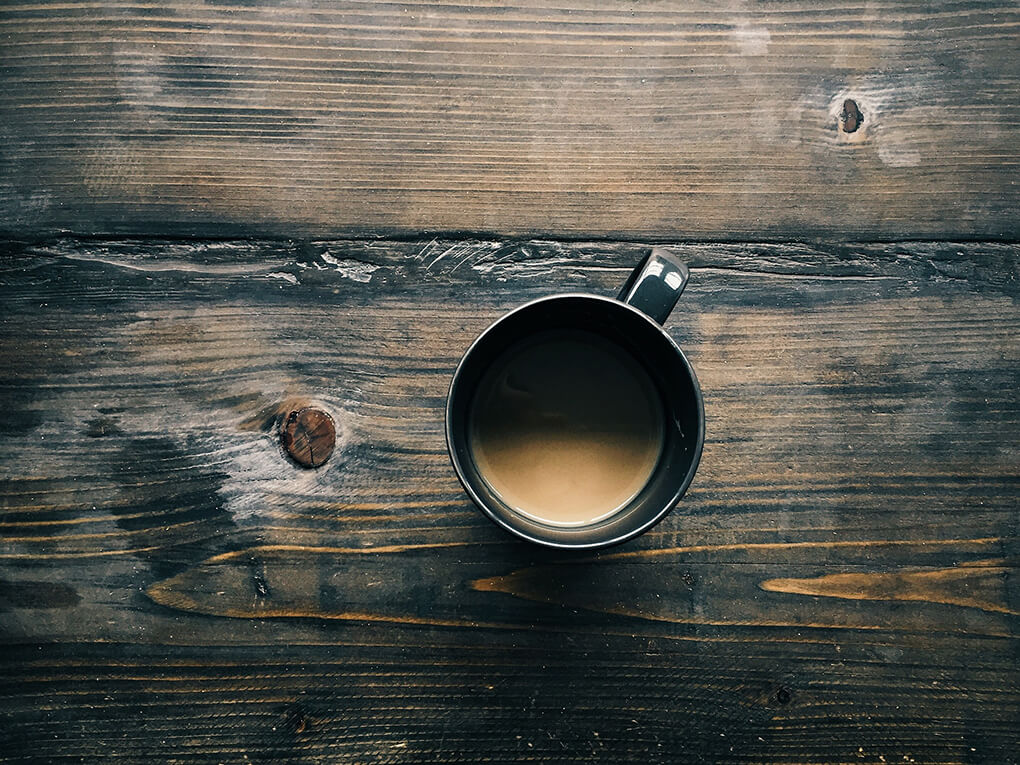 You will heal. I will help.