There are 6 reasons why I am not Paleo. Ready for them?
Robb Wolf gives a fantastic overview of, "What Is The Paleo Diet," and in it he provides the basics for:
Okay to Eat
fruits, vegetables, lean meats, seafood, nuts and seeds, healthy fats
Avoid
dairy, grains, processed food and sugars, legumes, starches, alcohol
The Paleo Diet
The Paleo Diet seeks to provide everything from more efficient workouts to reduced allergies and fat loss to stable blood sugar.
For all of these reasons, I am a huge fan. As a matter of fact, for many, many reasons I am a huge fan of the Paleolithic ways and practices.
Most assume I religiously follow the Paleo Diet. I don't. And you should know that many people who preach Paleo and pump out Paleo-ified recipes aren't necessarily accurate either.
Note: I still mark my recipes according to what they are so that, in case you do follow a specific diet, you instantly know if you can enjoy the recipe or not. I.e. gluten free, Paleo, egg free, soy free, dairy free, grain free, sugar free, etc.
Prime example: Baking Powder. I have seen more recipes on "Paleo" blogs that use baking powder. Baking powder contains starch (usually corn starch). Starch is on the "Avoid" list.
The use of baking powder is not why I am not Paleo.
Here are my 6 reasons.
6 Reasons Why I Am Not Paleo
Click HERE to save this post for later.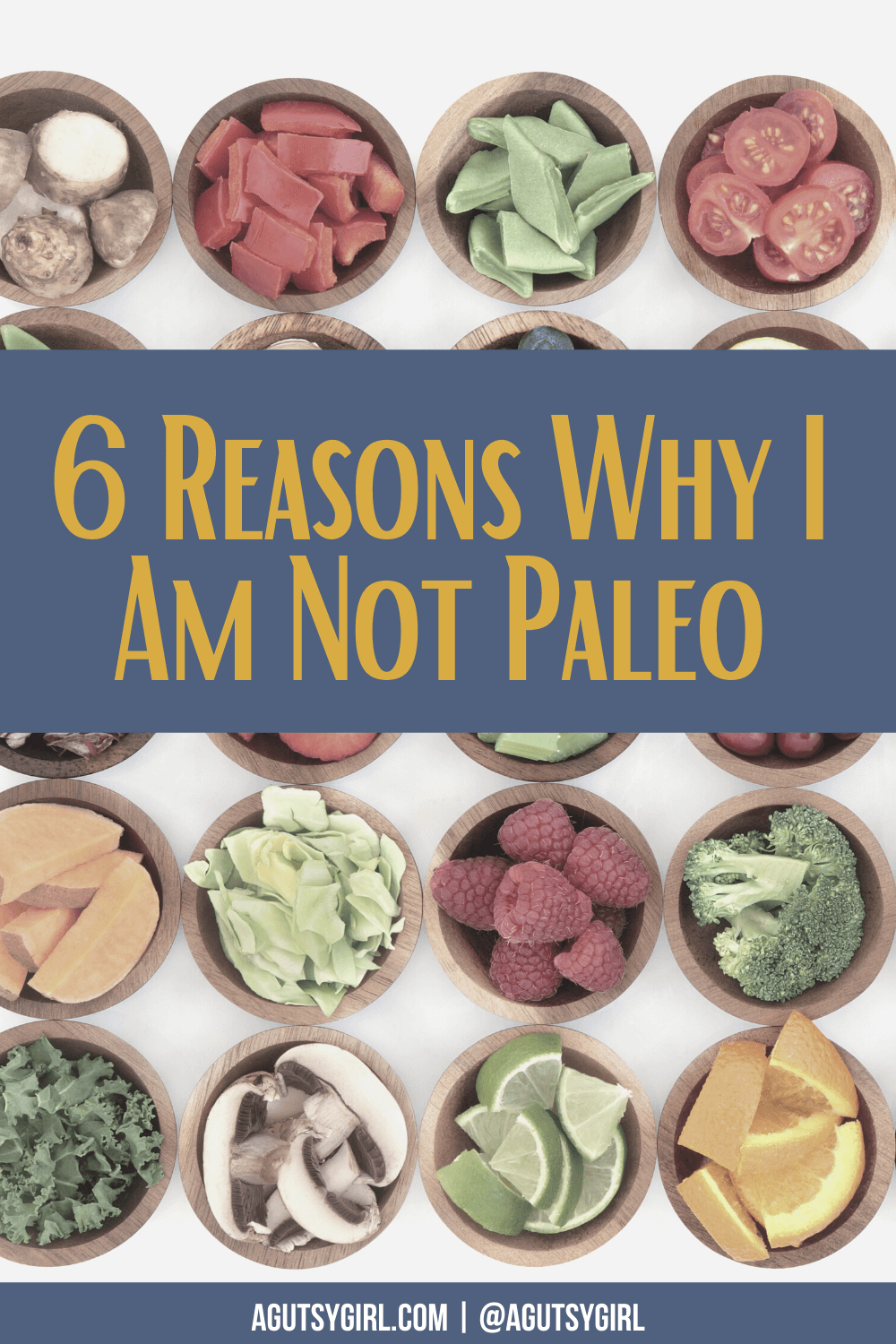 I do dairy.

No, I don't do conventional dairy (regularly) any longer, but I definitely have raw dairy when I can get my hands on the Organic Pastures raw cream, cheese, butter and kefir. Raw dairy has helped my gut. I never thought I'd see the day when I could say that, but here I am, saying it. The fact remains, and yes I thank God for my cream, cheese, butter and kefir.

Grains….maybe.

You better believe there are grains in my diet. Even as I was healing, I started incorporating some here and there. In the thick of healing, I can understand that grains might not be part of the protocol. However, despite the fact that grains are often considered antinutrients and phytic acid is shunned in the gut-healing community, I cannot fully get behind the idea. These are my main reasons for it:

Grains have a lot of fiber, and fiber is something we are, generally, not getting enough of.
Many grains are low-FODMAP. So, if you have SIBO and are already greatly restricted by what you can and can't have, more restriction won't be any better.
Like everything else, the quantity determines the poison.

Peanut Butter obviously.

Peanuts are a legume, so if I was Paleo there would be no peanuts, no peanut butter. How in the world would I have developed the most delicious nut butters – A Loving Spoon nut butter?What's more is that I created the nut butters while on the GAPS Diet because everything I used in my dessert butters were GAPS approved. So, peanuts were okay for GAPS but they are not Paleo? And what diet is superior? I don't know the answer; I'm just asking the question.

Alcohol.

I rarely drink anymore because I learned that I can react to even moderate amounts of alcohol. But I absolutely enjoy a drink every now and then. My favorite is just a straight, high-quality vodka with water, a splash of lemonade and slice of lemon or lime.

All foods under the "X" category are always okay.

When you are truly Paleo, then entire categories of food either are or are not allowed. For example: seafood. Let's say salmon, cod, walleye, sole and snapper work for you, but not shrimp, scallops or tuna. Or grains from above. Maybe you tolerate rice and quinoa, but not freekeh and barley? The ultimates don't work.

Baking Powder

Wait, I lied. Baking Powder is one of the reasons why I'm not Paleo. Know why? This sort of falls along with number 5. I don't ever want to silo off foods as forever "Yes" or "No" because of a rigid diet that I believe promises healing and health.
Diet Templates
Now listen, I realize that following any given diet doesn't have to be as strict as what I laid out above.
The point of this post is to tell you that there is no one diet that is the diet for you.
There are only templates (i.e. Paleo, GAPS, low-FODMAP, Whole30, etc.) that can be a starting place for you and your healing journey.
In fact, here are a couple resources to help you create your own diet:
As for me, I follow my own GAPS Diet, which stands for:
Gut and Psychology Sarah Diet
It's such an awesome "diet" because it fits me like a glove.
And that is precisely my point.
This isn't about the 6 reasons why I am not Paleo. This is the fact that everyone tries to mold into a perfect way, a perfect diet.
There is no such thing – even if you have IBD or IBS.
There is one way that works.
That way is your way. It is carefully crafted and created. It can take a very long time to nail it down, but once you do, I guarantee your life will forever be changed.
Stop molding.
Start paving.
Define a lifestyle for you. Heal in a way that suits your best interest.
And don't forget that journal to guide you. 🙂

If you liked this post, you might also enjoy:

Xox,
SKH
You will heal. I will help.