Since the first Beautycounter product most people tend to purchase is the Charcoal Bar, I thought I'd address a common question I get, "What is activated charcoal?"
What is Activated Charcoal
Click HERE to save this post for later.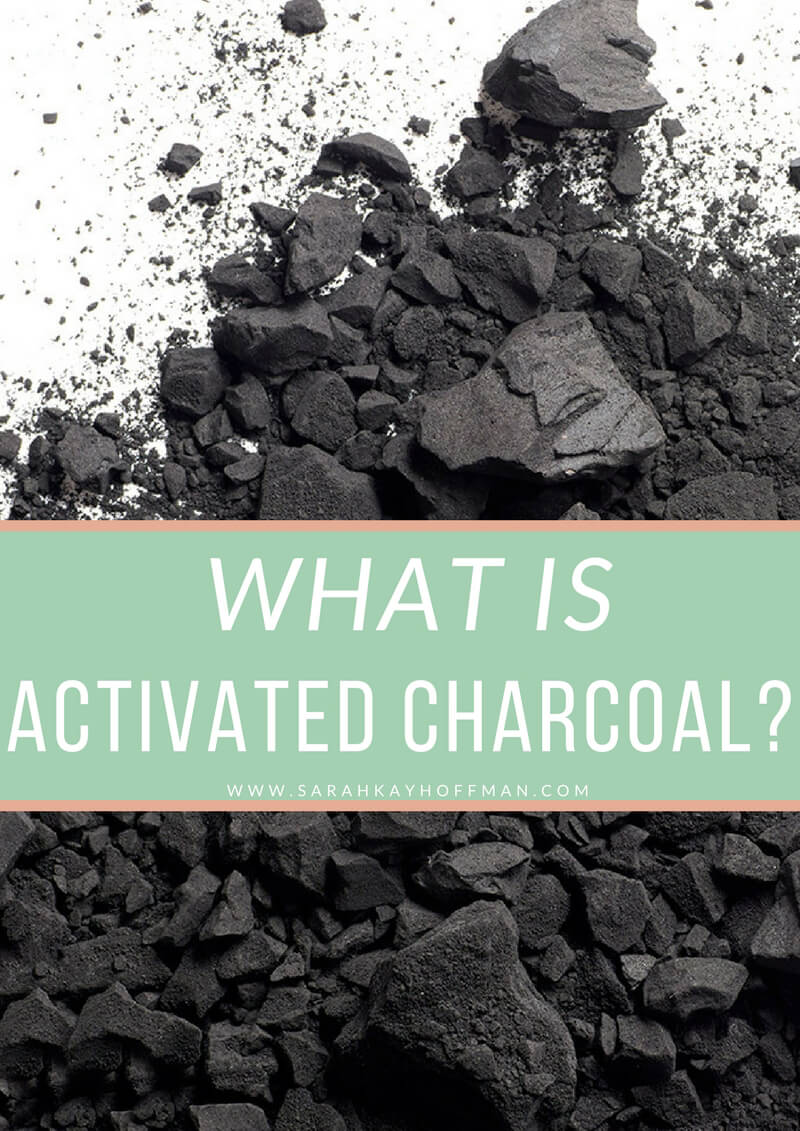 According to Dr. Axe,
Activated charcoal is a potent natural treatment used to trap toxins and chemicals in the body, allowing them to be flushed out so the body doesn't reabsorb them. It's made from a variety of sources, but when used for natural healing, it's important to select activated charcoal made from coconut shells or other natural sources.
Dr. Axe lists out 10 activated charcoal uses, but in number 7 he states,
For external treatments, it's effective at treating body odor and acne and relieving discomfort from insect bites, rashes from poison ivy or poison oak, and snake bites.
Beautycounter Charcoal Bar
Click HERE to save this for later.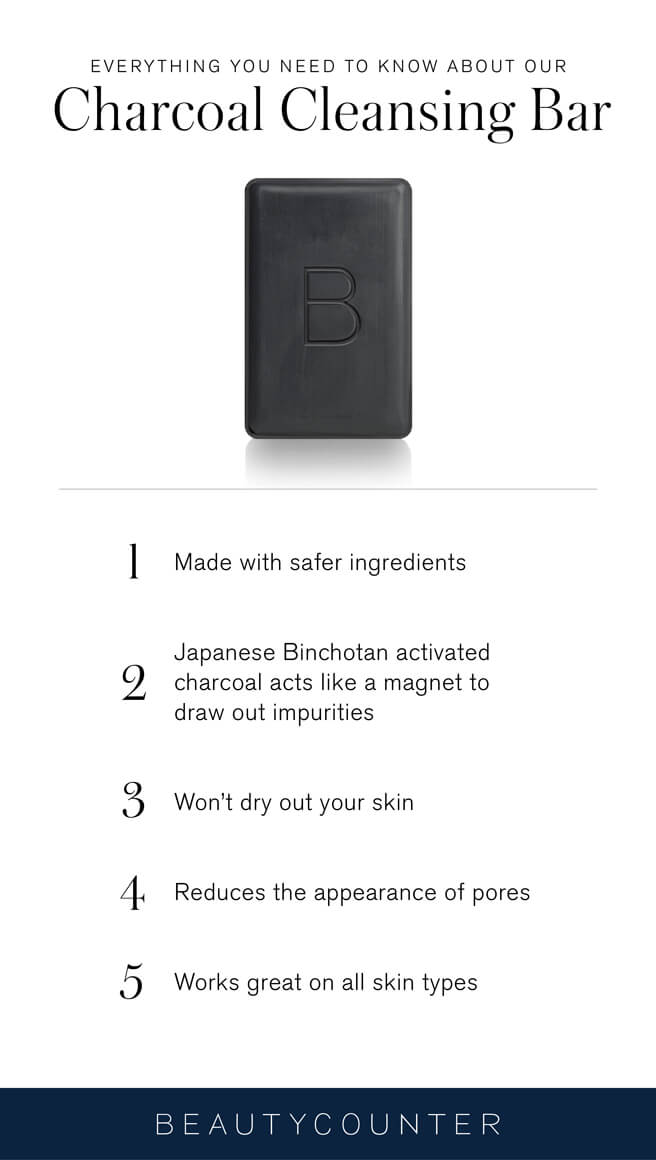 So what about the Beautycounter Charcoal Bar…..what's in it?
The Beautycounter Charcoal Bar is made with a special type of activated charcoal powder called Binchotan that comes from Japanese Ubame oak.
In the 20th Century, scientists began to study the benefits of Binchotan and its properties, finding that it had a micro-porous structure with 270 square metres of internal surface in each gram.

Through a process of 'adsorption', whereby particles are attracted and adhere to the surface, the pores cleanse the environment by adsorbing gases from the atmosphere, electromagnetic waves and radio frequencies as well as chlorine and heavy metals from water. (source)
HERE is everything about the charcoal soap, but the skinny on this bar:
EWG Verified (top rating)
Ingredients: Sodium Rapeseedate, Sodium Cocoate, Aqua/Water/Eau, Glycerin, Charcoal Powder, Sodium Citrate, Hamamelis Virginiana (Witch Hazel) Water*, Carthamus Tinctorius (Safflower) Seed Oil*, Cocos Nucifera (Coconut) Oil, Alcohol*, Camellia Sinensis (Green Tea) Leaf Extract*, Tocopherol (Vitamin E). *Organic/Biologique
How to use: Work soap into a lather with water, gently massage onto face and body, and rinse thoroughly.
Other Beautycounter Charcoal Items
Click HERE to save them for later.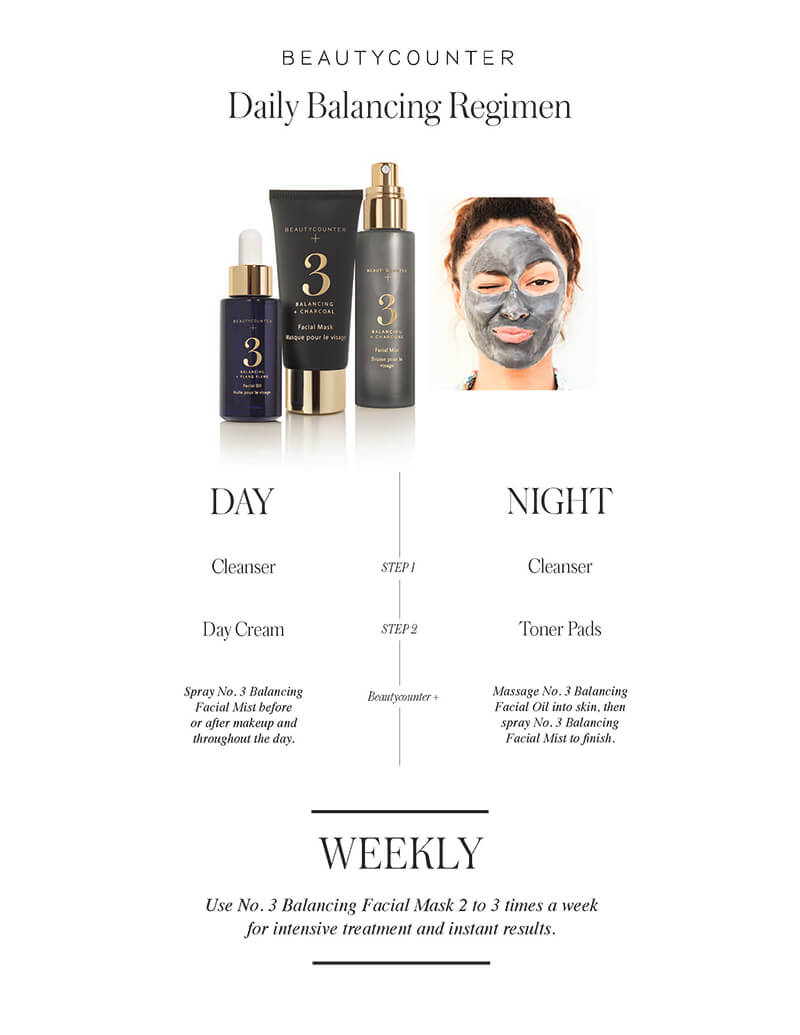 But that's not it! I have only used the Charcoal Bar so far, and I absolutely love it. In addition to it, here are three other charcoal-based products to try:
Active-infused and alcohol-free, this revitalizing mist preps skin, sets makeup, and refreshes throughout the day. Specially formulated with charcoal powder and kaolin clay, it absorbs excess oil, refines skin texture, and helps calm redness. Perfect for all skin types and those concerned with clarity, calming, and balancing.

It is made without harsh sulfates that strip away moisture, this energizing body wash features activated charcoal and our Sequoia Stem Cell Complex to help detoxify skin, wash away impurities, and protect skin from everyday stress. A blend of natural citrus, mint, rosemary, and cedarwood oils give this daily body wash a refreshing scent.

This bar is formulated with charcoal, coconut oil, and our Sequoia Stem Cell Complex, this invigorating body bar produces a creamy lather to wash away impurities and protect skin from everyday stress. A blend of natural citrus, mint, rosemary, and cedarwood oils give this daily soap a refreshing scent.
Activated charcoal has benefits and uses far beyond skincare (like for the gut, which you can learn all about via Activated Charcoal for Gut Healing), but if I haven't made it very clear already, Beautycounter is my jam, and their activated charcoal skincare products are an easy way to explore the ingredient. 🙂
Want more skincare information? Get it today! Go on a FREE 12-Day Safer Beauty Exploration Journey HERE.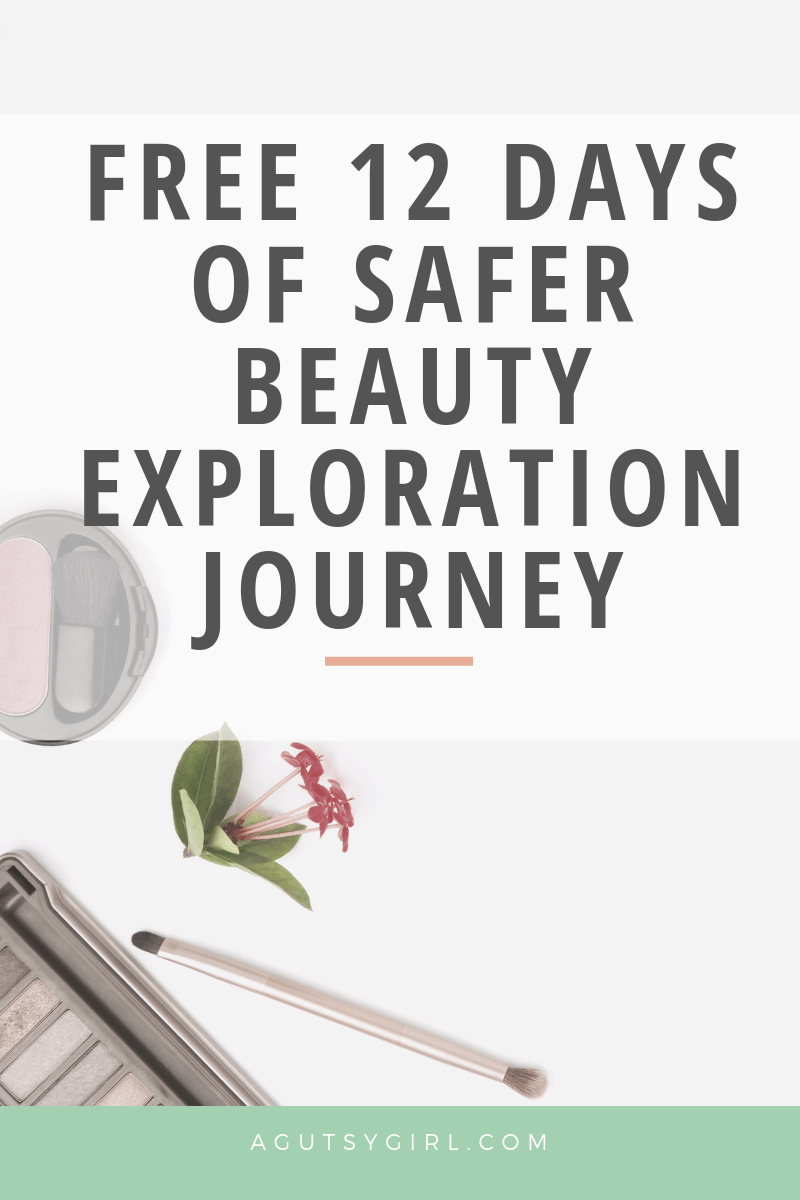 Xox,
SKH
You will heal. I will help.