Heal your gut. Heal your life. What does that even mean?
Since I've already shared what the A Gutsy Girl logo stands for, I thought I'd share more about my tagline.
It's the mantra and words that I use to guide my own journey and yours as well.
Background on the Tagline
This was not always my tagline. Here were other ones I've had along the way:
eat. play. love. all dress sizes welcome.
When gravel roads are all you've ever known, you learn to find beauty in the dust.
Everything changed when I finally healed. I wanted to run with this idea that you, too, could heal. And I would be the perfect person to help you do so.
Anyways, 'you will heal, and I will help' lead to those three simple words….Heal your gut.
But it was so much more than that.
And yet, it didn't get much more complex.
I added just three more words.
---
Listen to the short podcast episode on the meaning of Heal your gut. Heal your life. It also includes 5 reasons to heal your gut.
Subscribe Today:
Apple Podcasts | Google Podcasts | Spotify | iHeart Radio | RSS
---
Heal Your Gut. Heal Your Life.
Click HERE to save this post for later.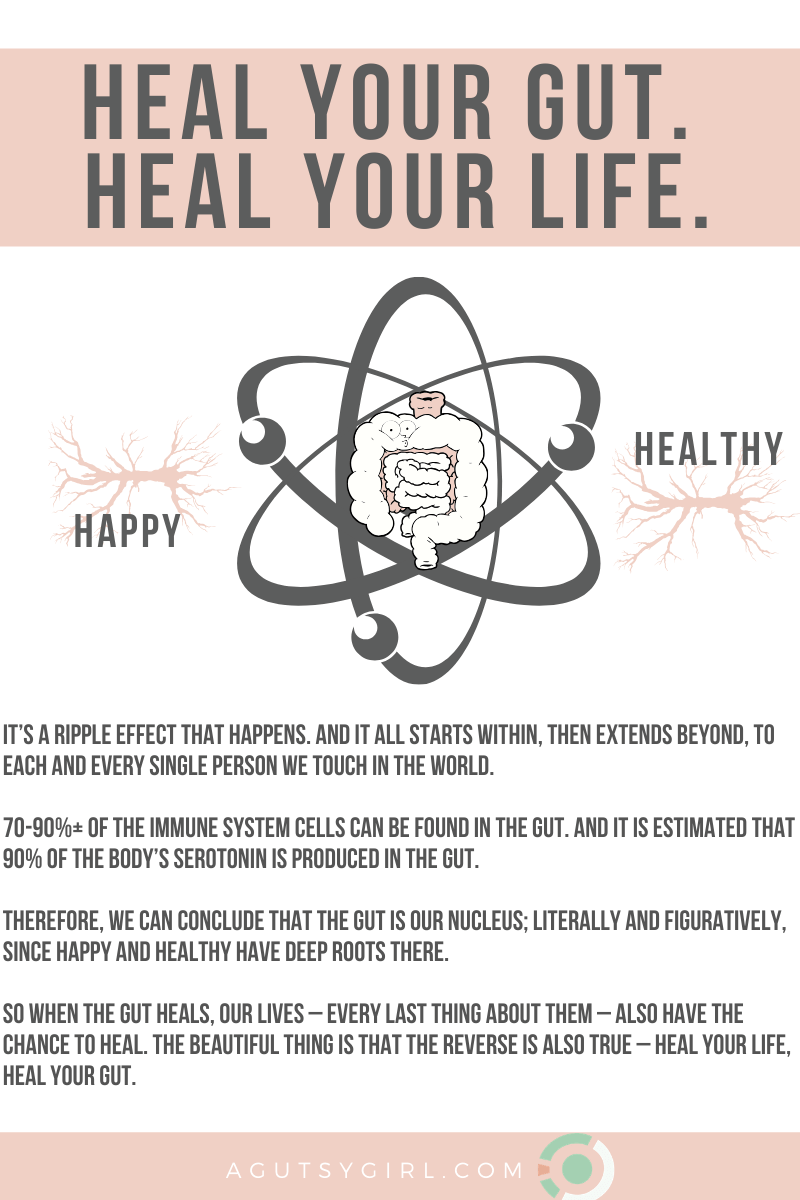 It all starts with my very long (wordy and complicated?!) story. If you've never read it, you can check it out HERE.
And if you prefer to listen vs. read, I recorded it via Episode 1 HERE of the A Gutsy Girl podcast.
My story, like your own, has some very clear patterns and themes. But one thing we can all agree upon that happens during this journey is that we are not our best selves.
And I'm not talking about you (or even me back then) needing to strive to be anything but exactly who you are.
What I'm talking about is the negative thoughts and voices that fill our minds and days. I'm talking about how our misery doesn't just seep throughout our entire body, but also pours onto the people around us. And maybe (especially?) drenches those we love most.
So here is the quick and dirty, super honest and open meaning.
When you heal your gut, you heal your life.
It's a ripple effect that happens. And it all starts within, then extends beyond, to each and every single person we touch in the world.
70-90%+ of the immune system cells can be found in the gut. And it is estimated that 90% of the body's serotonin is produced in the gut.
Therefore, we can conclude that the gut is our nucleus; literally and figuratively, since happy and healthy have deep roots there.
So when the gut heals, our lives – every last thing about them – also have the chance to heal. The beautiful thing is that the reverse is also true – heal your life, heal your gut.
….But This All Starts with You
Truly, this all starts with you.
The only way things change is if the thing that truly needs changing, changes.

And the thing that needs to change is not your constipation, bloating, and diarrhea. Those are just the symptoms and manifestation for whatever it is that does need to change.
It's (usually) a long and complicated journey to arrive in the place where you heal your gut and your life, but it's absolutely critical that you never stop striving to find yourself there.
Start today by writing it down, and really embracing it…..
Heal your gut. Heal your life.
And think about it, be very honest with yourself. IF (and when) you healed your gut, HOW would that change your life? How would it change the lives of those you love? And even, how might it change a complete stranger's life?
Because listen, I was once in your shoes. And I'm here to tell you that on the other side everything changes for the better.
You'll see, darling.
pssst…..If you're looking to finally get started on your gut healing journey, Gut Healing for Beginners is now open!
If you liked this post, you might also enjoy:
Xox,
SKH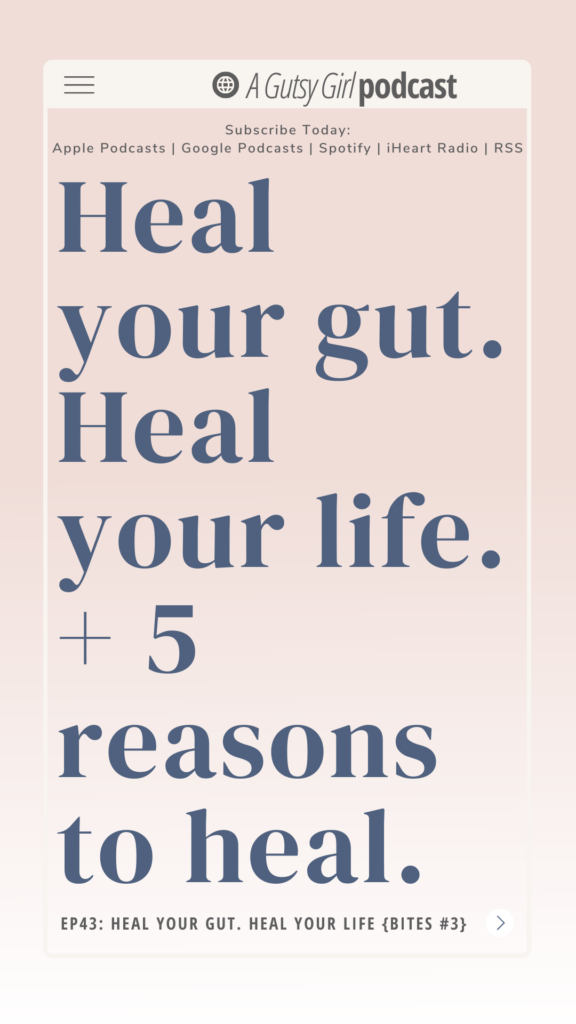 You will heal. I will help.