Here are 5 reasons to heal your gut. So clear your mind of "can't," and let's go.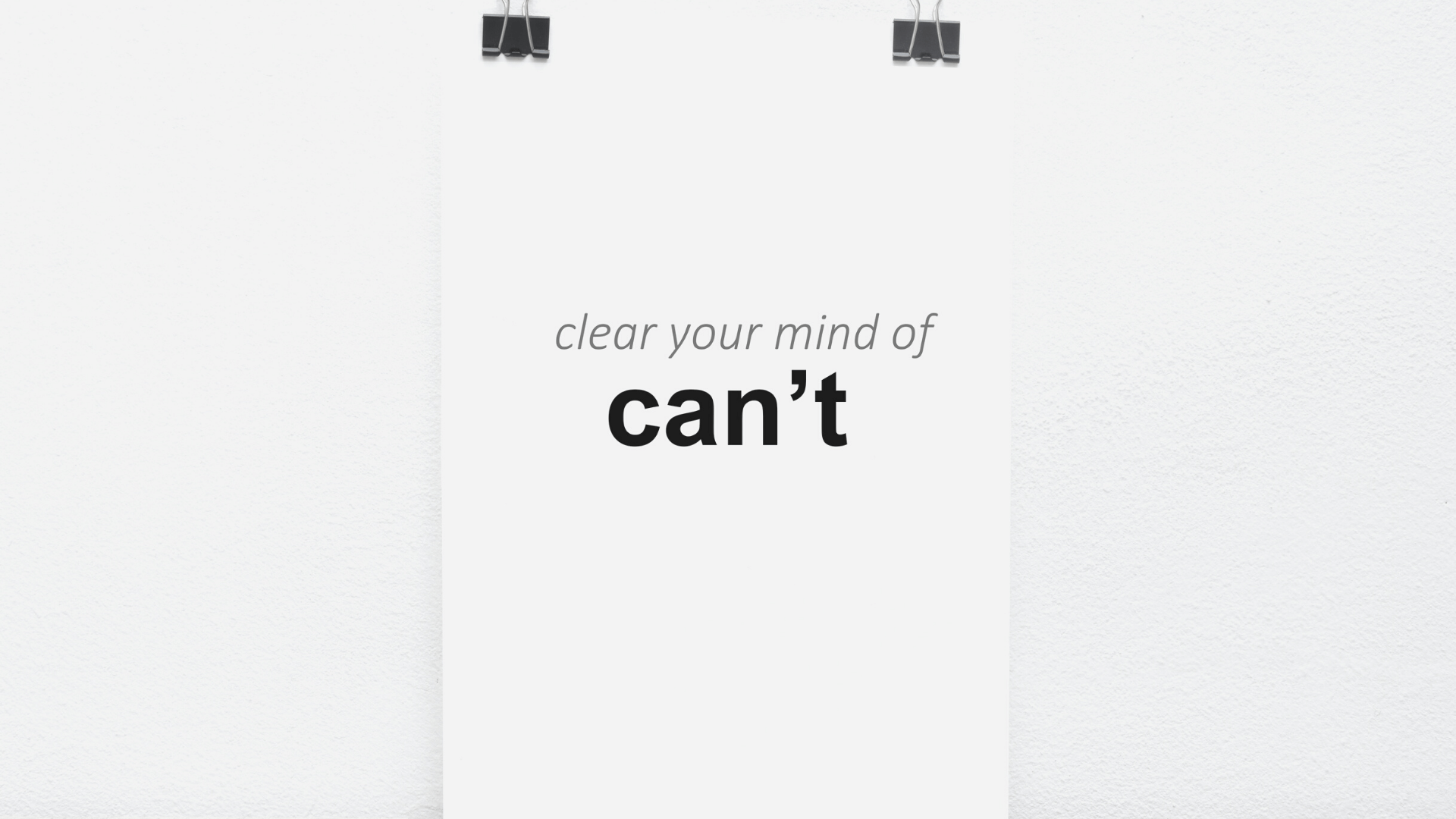 Anyone and everyone could benefit from this post. That's right, millions of people have gut issues; IBS and/or IBD. Many of them don't even know it.
Everyday problems quickly become the norm, which is the sad reality.
But here's the truth.
I'm not talking to everyone.
I am talking to you.
You are a woman between the ages of 20-ish to 60-ish, and you have already been diagnosed with IBS and/or IBD.
If you have not yet been diagnosed –> stop playing a guessing game. Get tested.
Regardless, if you're outside these parameters, my reasons might not make sense or matter to you. In that case, you'll have to dig deep and understand your own reasoning.
For the rest of you, let's be honest and dive right in.
5 Reasons to Heal Your Gut
Click HERE to save this post for later.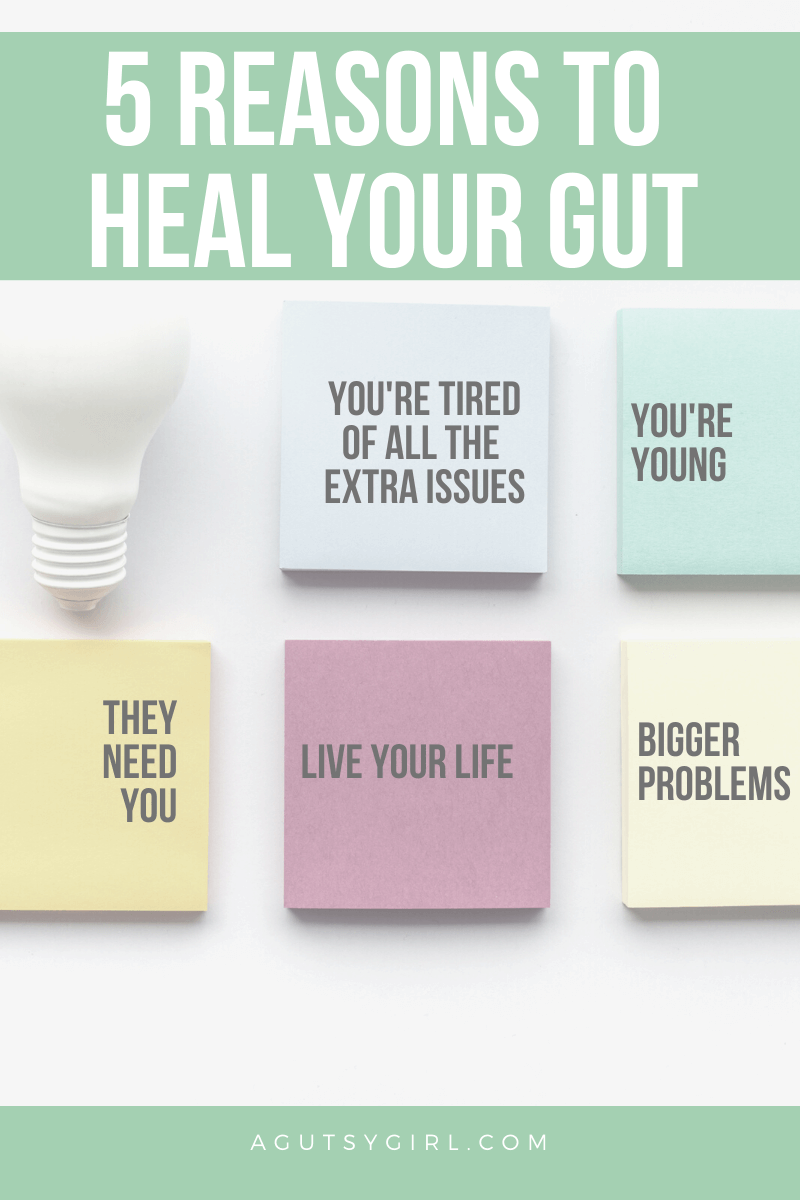 You're young

You're young and vibrant, or at least you're young and should be vibrant. Don't let a miserable gut keep you from living life fully. There is no way to be vibrant and thriving on a daily basis with active IBS and/or IBD.

You're tired of all the extra issues

You might not be constantly running to the bathroom, but maybe you're acne is uncontrollable? Or maybe you're constantly anxious? How about holding on to weight, even when you're "doing all the right things?" Perhaps you're fatigued and desire sleeping all day? Or maybe it's that you can't sleep and struggle with insomnia? Yes, the challenges you might be facing extend far beyond the bathroom.

They need you

Seemingly, everyone needs you, right? The dog, kids, your husband, mother, boss, and sisters-friends-third-cousin. Yes, I get it. And while I'm in no way, shape, or form an advocate of bending over backwards for everyone if and when your own health is suffering, I also know that you are needed. Furthermore, you desire to and love being needed. These are the people you care most about in your life (I mean, except for the sisters-friends-third-cousin!, but you can't give your all to them if your sick.

Live your life

Have you ever not taken that trip because you didn't know if a bathroom would always be nearby? Or how about those dinners with your girlfriends you've missed because you were afraid of the questions and comments about what you're eating (or not eating)? Listen, yes, you can just not care about any of it – go on the trip and dine out with the ladies – but I know your reality is not that. Instead, if you want to live your life again, heal your gut. Life is too short for avoiding connection and experiences.

Bigger problems

I debated sharing this one with you because scaring you isn't what I want. But I have to be perfectly transparent. You choose to not do that Colonoscopy because you're afraid of the process and potential outcome. Also, with a family, work, and personal life, where and how will you find the time to be "out" for a day?! Figure it out. Seriously. Figure. It. Out. If you don't know what's actually wrong with you, then you can't truly heal your gut. And if what's actually wrong with you is something bigger than you expected, you're headed down a dangerous road. I'm not speaking from theory. Instead, I share this with you from a place of heartbreak. My dad passed away this past August; August 13, 2019. He had Colon Cancer; up until his diagnosis I don't think he had ever had a Colonoscopy.
But How?
Those are my 5 reasons to heal your gut.
But how?
Right now, you're saying,
How on Earth do I heal my gut? Must be nice for you to say that, now that you're healed.
First, never tell someone "must be nice." 🙂
And second, it is dang nice being on this end. But it took me ten – yes TEN+ years. And now, I have devoted the rest of my life to making sure that no woman ever sloshes through the mud for that long.
Let your reason be stronger than your excuse.
I was in your exact spot at one point; I'm on the other side now.
It can be done, and you will see it done.
Ready to get started healing? Click HERE for some beginning resources and HERE to tackle it.
Heal your gut. Heal your life.
Xox,
SKH
You will heal. I will help.