I've mentioned vitamin K2-7 before, so what does vitamin K2 have to do with the gut anyways?
Chris Masterjohn states,
If there's a single vitamin you need to know more about, it's vitamin K2.
Let's explore it together today.
What Does Vitamin K2 Have to Do with the Gut
Click HERE to save this post for later.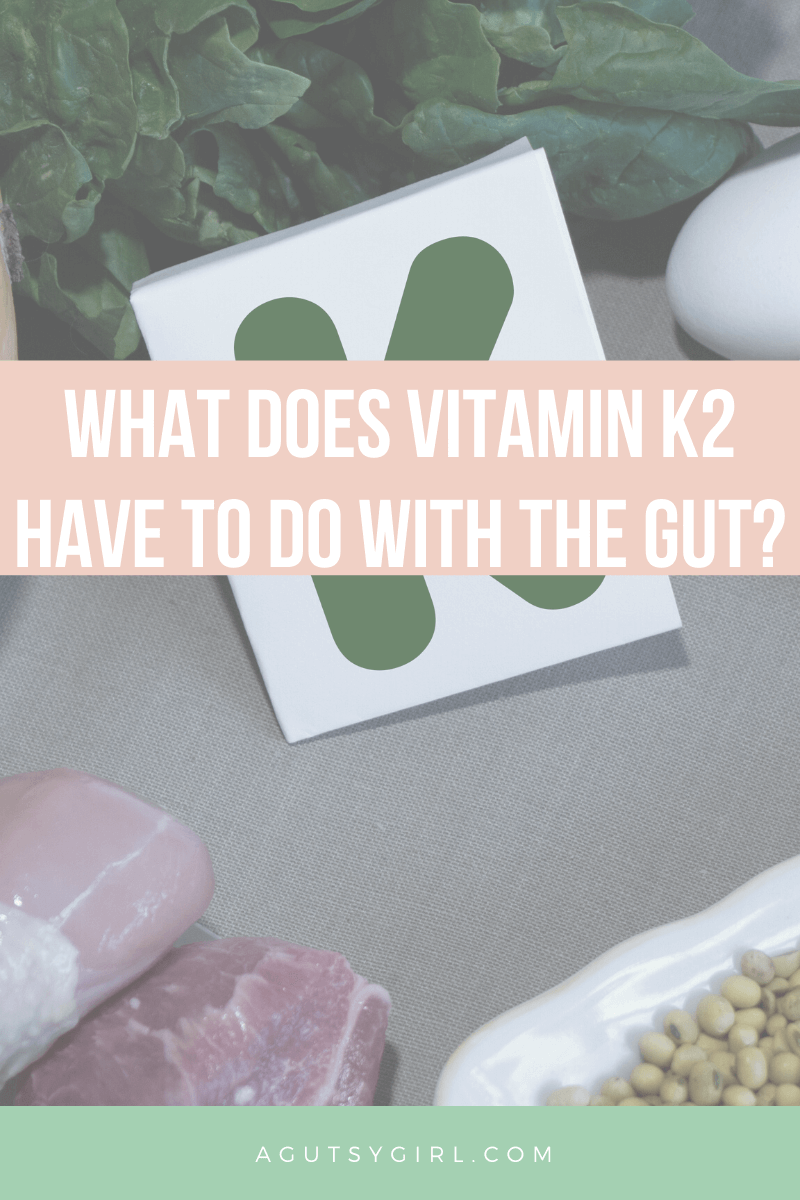 Vitamin K2 History
According to Healthline, "Vitamin K was discovered in 1929 as an essential nutrient for blood coagulation (blood clotting).
The initial discovery was reported in a German scientific journal, where it was called "Koagulationsvitamin" — which is where the "K" comes from."
The vitamin also has roots from Weston Price, who I studied in depth during the very beginning of my healing (practicing the GAPS Diet). Weston was a dentist who studied teeth in various populations as an indicator of overall health.
He found that the non-industrial diets were high in some unidentified nutrient, which seemed to provide protection against tooth decay and chronic disease.
What is Vitamin K2
Dr. Markiwanicki says this about vitamin K2:
K2 is a key vitamin that more people should be familiar with. It's critical for moving calcium out of the blood and into our bones.

K2 is the sister vitamin to K1. K1 is what's found in leafy greens and responsible for coagulation (interferes with the medication warfarin which blocks coagulation). K2 is found more in dairy and meat products and is responsible for calcium metabolism. It's also produced by our gut bacteria.
There are two main forms of vitamin K:
(Phylloquinone) Vitamin K1: Found in plant foods like leafy greens.
(Menaquinone) Vitamin K2: Found in animal foods and fermented foods.
Vitamin K2 can be further divided into several different subtypes, the most important ones being MK-4 and MK-7.
MK-4: MK-4 has a poor bioavailability at a nutritional level dose
MK-7: MK-7 is well absorbed and detectable in the blood at nutritional levels. It also has a longer half-life, so a smaller dose can be used.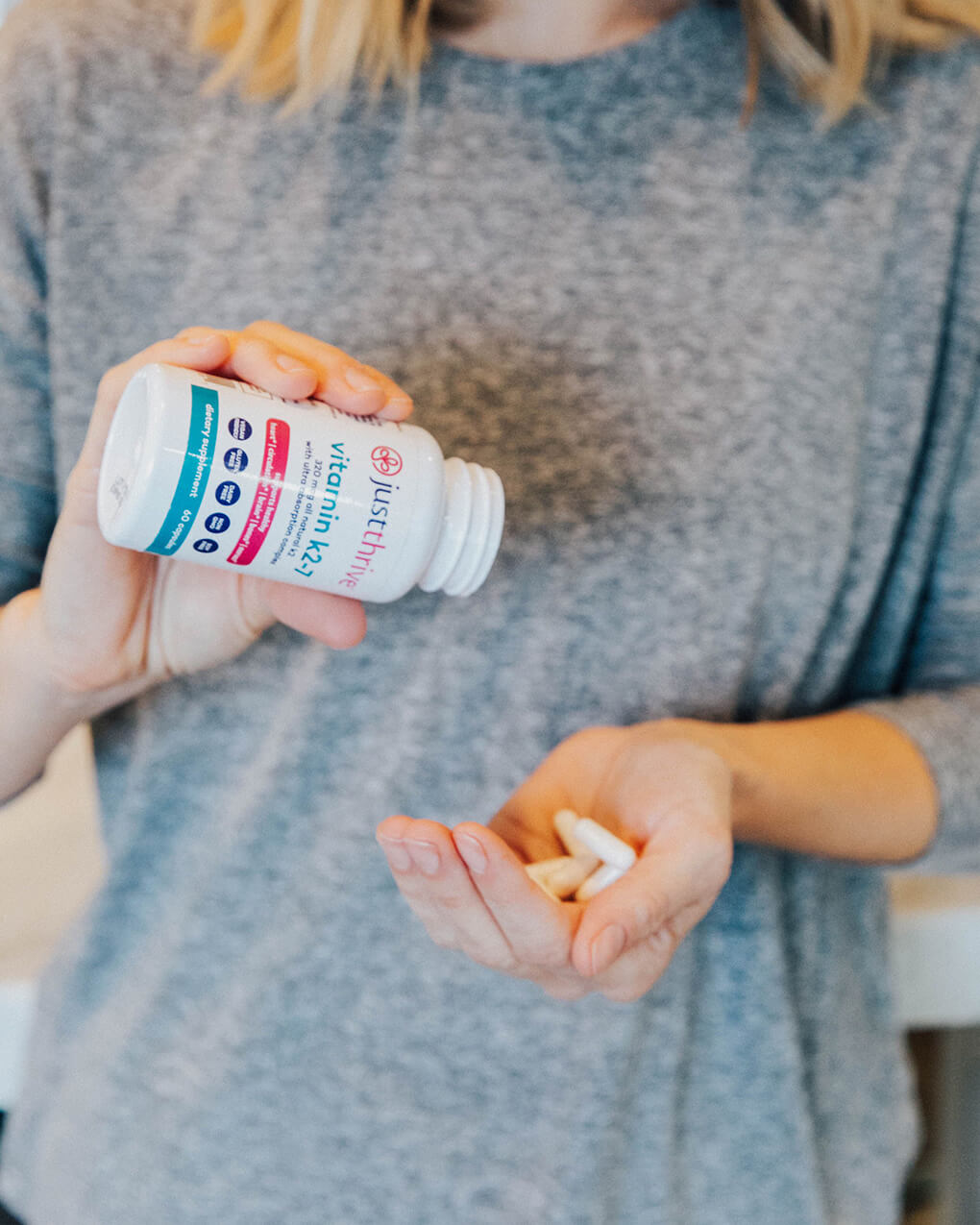 So then What Does K2 Have to Do with the Gut?
Calcium, teeth, bones…..so how is this even relevant to the gut?
Vitamin K2 is also produced by gut bacteria in the large intestine.
However, people with malabsorption syndromes and other gastrointestinal disorders, such as cystic fibrosis, celiac disease, ulcerative colitis, and short bowel syndrome, might not absorb vitamin K properly.
Like almost every other vitamin, mineral, and general nutrient I talk about (which will ultimately be all of them!) they have everything to do with you because you might not be absorbing properly.
In other words, always – every single vitamin, mineral, and nutrient – will be relevant for the Gutsy community.
How Much Vitamin K Do We Need?
While it's clear that vitamin K2 is important, it's unclear whether or not you need to supplement. Furthermore, there isn't a great way to test for vitamin K currently, so you'll need to work with your doctor if you suspect a deficiency.
The adequate intake for females 19+ years is 90 mcg.
How to Get Vitamin K2-7?
Here is a list of the top 10 (most common) foods that contain vitamin K2:
Natto
Pork Sausage (regular fat, pan-fried)
Beef Liver
Green Pastures Butter Oil (average of two samples)
Hard Cheeses
Chicken Meat (leg and thigh)
Soft Cheeses
Canadian Bacon (cooked)
Organic Egg Yolks (average of two samples)
Purity Farms Ghee (average of two samples)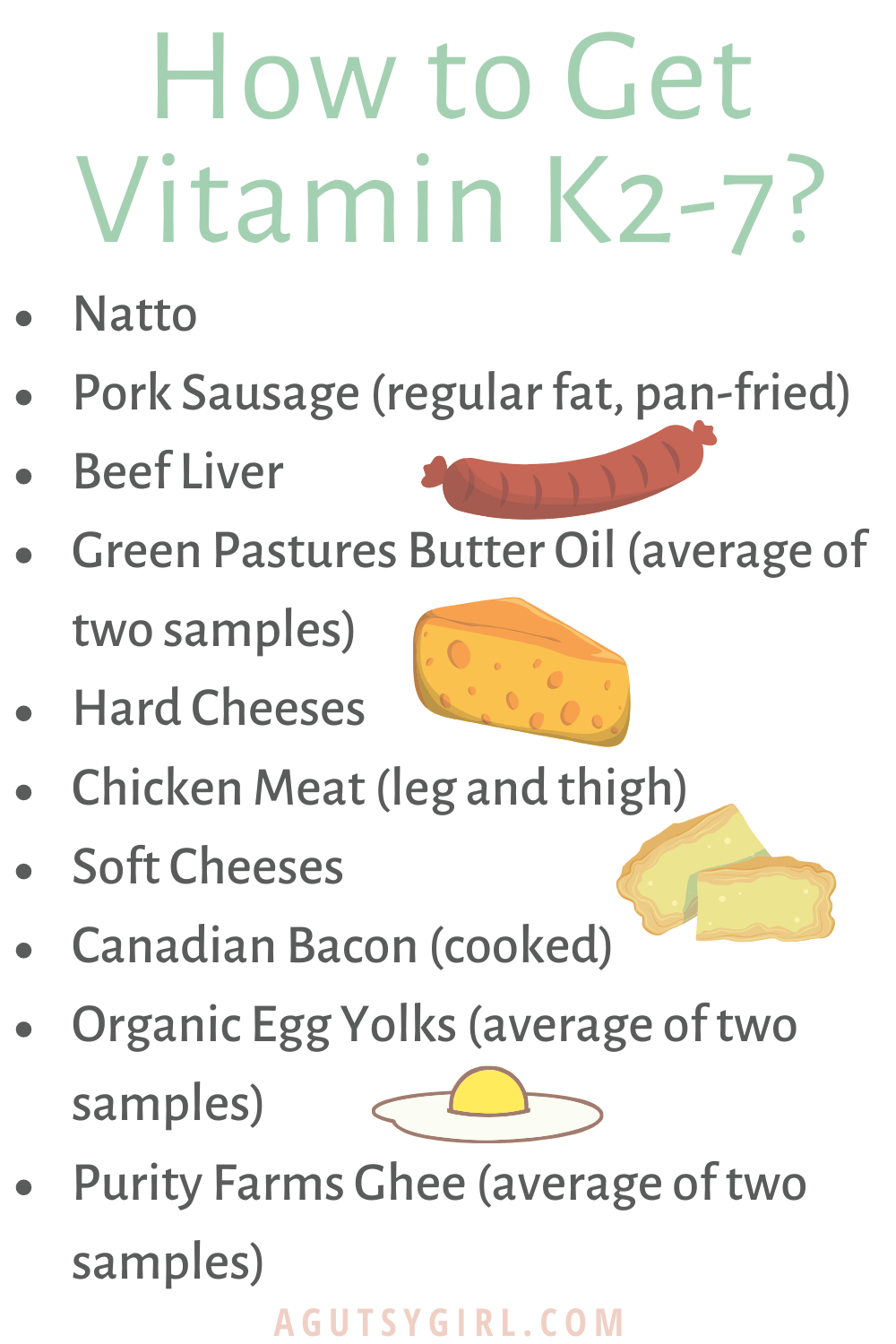 Since it's a fat-soluble vitamin, it must be eaten with fat for best absorption.
If you want or need to supplement with vitamin K2, I'm a huge fan (obv!) of the Just Thrive K2-7 HERE.
And here's why.
Just Thrive K2-7
The product gets a 5-star review.
Linda Suibielski says, "I know i feel better. I can't really explain it. But I have been taking your probiotic as well. My insides are finally happy. Feels like a gift from God."
And here are some of its attributes:
The FIRST All-Natural Complete Dose of Vitamin K2-7
Formulated with MenaquinGold™ for 100% guaranteed potency
Supports healthy heart, circulation, brain, bones and nerves
Vegan, Paleo and Keto Friendly
All-natural, non GMO, and made WITHOUT soy, dairy, sugar, salt, corn, tree nuts or gluten
In addition to the K2, it also contains some K1, magnesium, and zinc (for optimal absorption).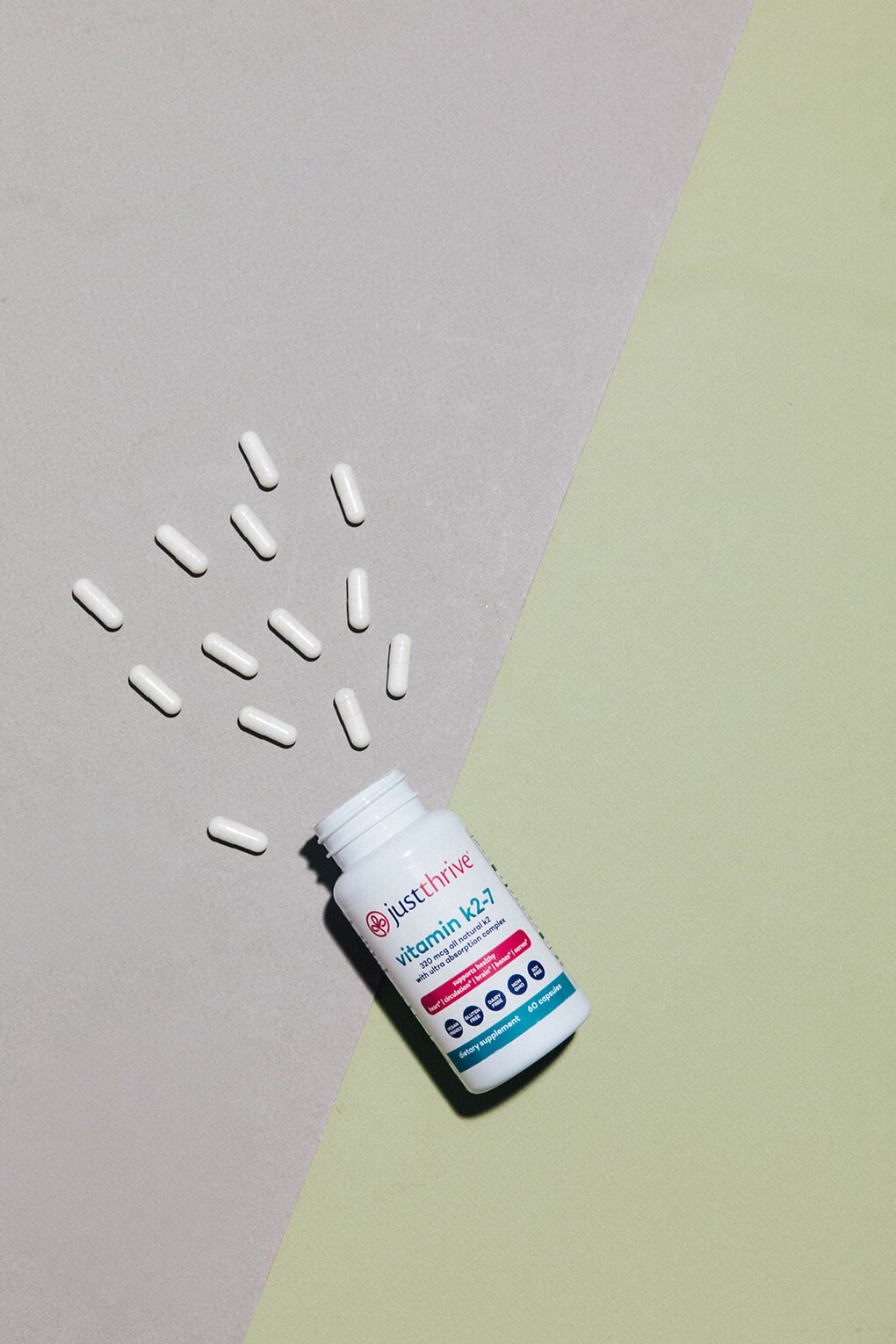 Sources: HERE, HERE, HERE, HERE, HERE, and HERE.
If you liked this post, you might also enjoy:

Xox,
SKH
You will heal. I will help.