You'll want to save this post with these 46 carminatives for digestive health.
I have mentioned carminatives briefly in other articles, but today I want to dig into them further.
Because they hold some serious superpowers.
But first, can I ask you a quick question? I've been wanting to really study, feature, and highlight one spice or herb at a time. I find them fascinating; have for years.
Would that be interesting to you? If so, can you comment below on this post and let me know what herbs and spices you are wanting to know about the most?
What are Carminatives?
Let's start with what carminatives are so you have a better understanding of why they matter.
According to Maria Noel Groves in her book, Body Into Balance: an herbal guide to holistic self-care,
carminatives improve digestion, dispel gas, ease bloating, and act as antispasmodics to relieve cramps.
With that simple definition alone, you are likely intrigued.
Here is some more information on carminatives.
9 Things to Know About Carminatives
Click HERE to save these 9 things for later.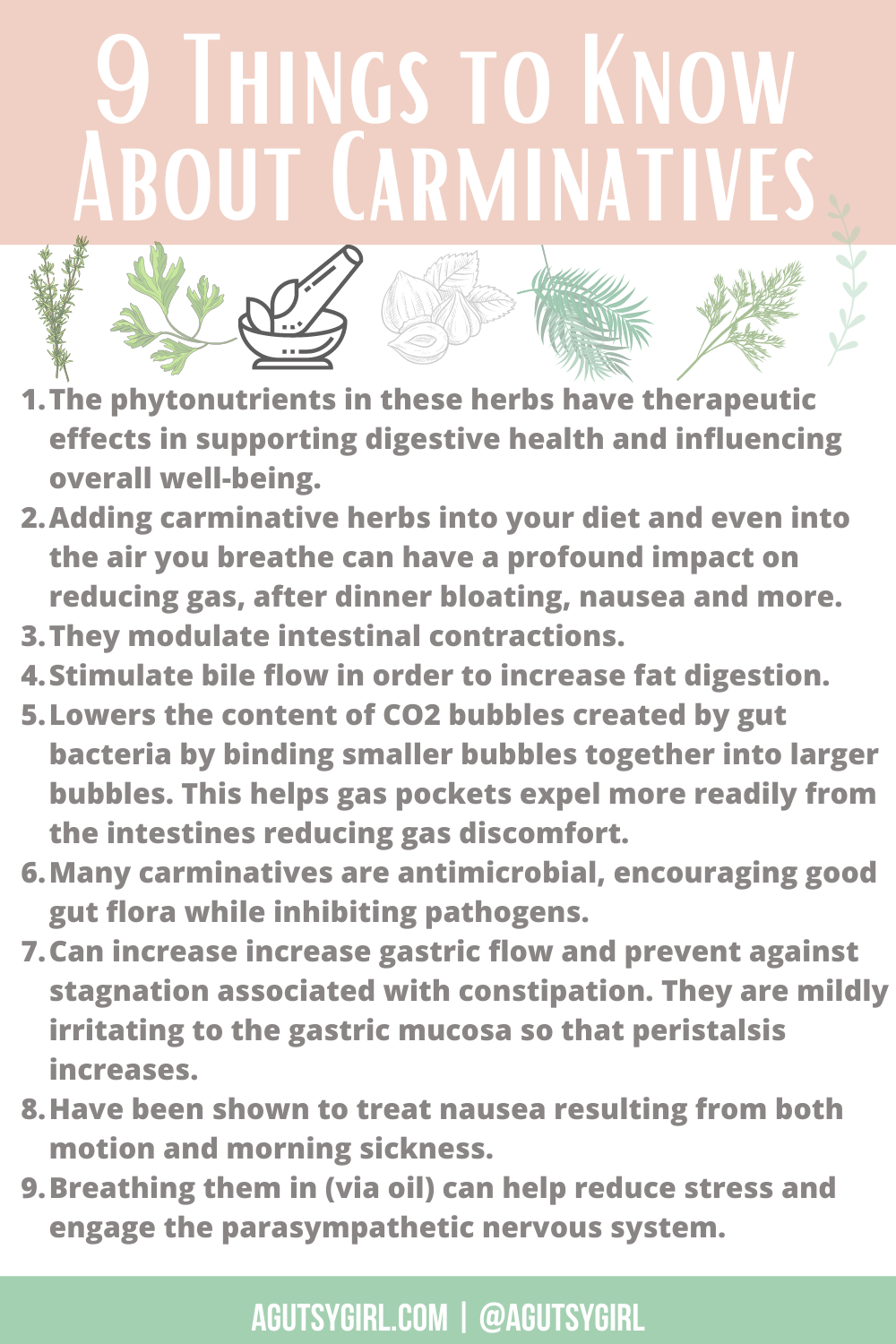 The phytonutrients in these herbs have therapeutic effects in supporting digestive health and influencing overall well-being.
Adding carminative herbs into your diet and even into the air you breathe can have a profound impact on reducing gas, after dinner bloating, nausea and more.
They modulate intestinal contractions.
Stimulate bile flow in order to increase fat digestion.
Lowers the content of CO2 bubbles created by gut bacteria by binding smaller bubbles together into larger bubbles. This helps gas pockets expel more readily from the intestines reducing gas discomfort.
Many carminatives are antimicrobial, encouraging good gut flora while inhibiting pathogens.
Can increase increase gastric flow and prevent against stagnation associated with constipation. They are mildly irritating to the gastric mucosa so that peristalsis increases.
Have been shown to treat nausea resulting from both motion and morning sickness.
Breathing them in (via oil) can help reduce stress and engage the parasympathetic nervous system.
Carminatives and Digestive Bitters
You'll find many carminatives and digestive bitters used in conjunction and/or mentioned on the same lists.
If you are interested in learning more about digestive bitters, check out the Gut Health Guide to Digestive Bitters.
Both bitters and carminatives have major digestive health benefits.
The difference is typically that carminatives are warmer; bitters cooler. Also, bitters work best when tasted whereas carminatives have benefits even when diffused.
In either case, when bitters and carminatives are added together their actions balance.
So then, what exactly is a carminative?
Here are 46 carminatives to consider.
46 Carminatives for Digestive Health
Click HERE to save these 46 carminatives for digestive health for later.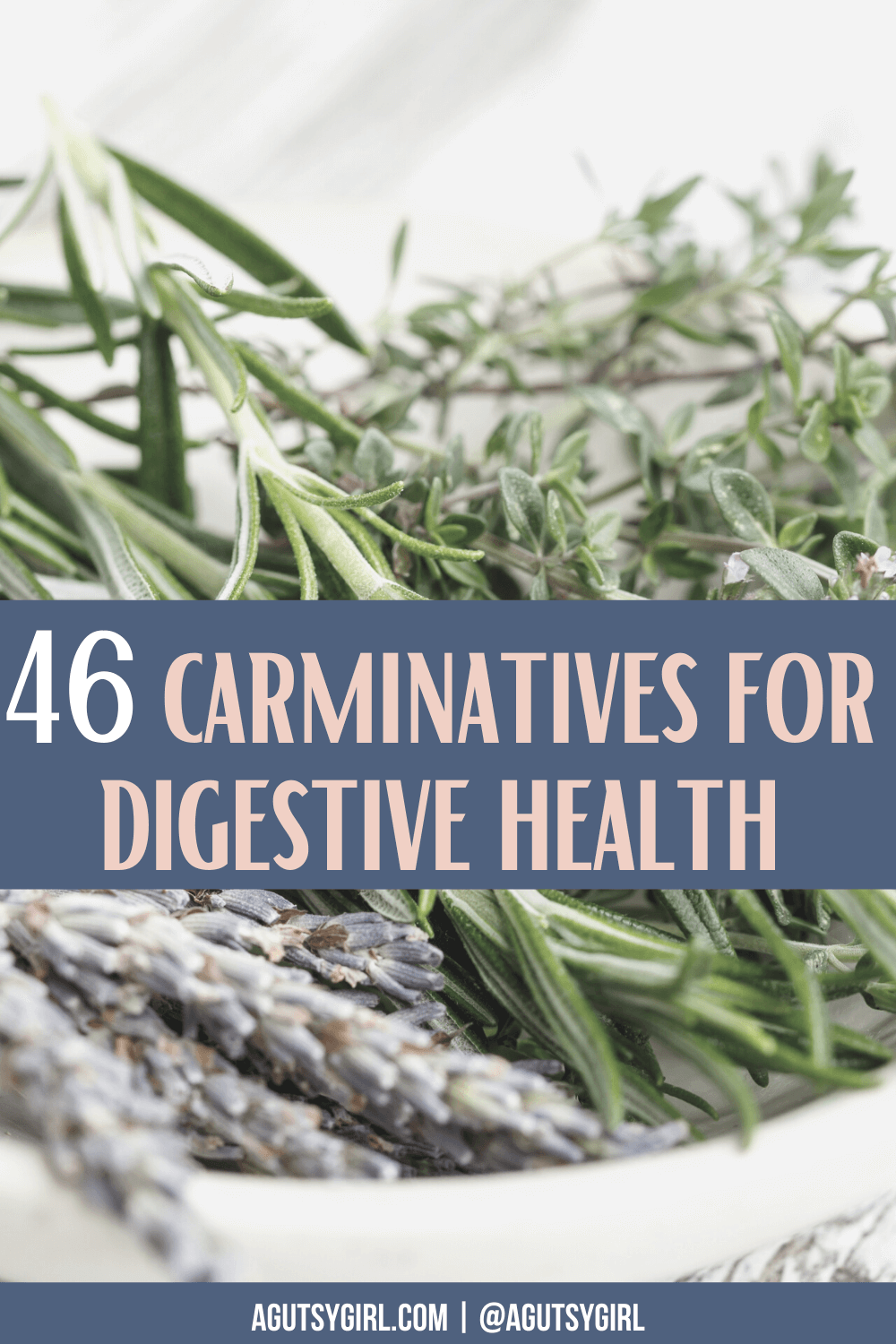 Ajwain Seed
Anise
Arugula
Bee Balm
Black Pepper
Calamus Root
Caraway
Cardamon
Catnip
Cayenne
Chamomile
Chevril
Celery & Celery Seed
Cilantro
Cinnamon
Cloves
Coriander
Cumin
Dill & Dill Seed
Fennel
Fenugreek
Garden Angelica
Garlic
Ginger
Holy Basil
Horseradish
Hyssop
Jambul
Lavender
Lemon Balm
Licorice
Marjoram
Nutmeg
Orange Peel
Oregano
Parsley
Peppermint
Periwinkle
Rosemary
Saffron
Sage
Spearmint
Tarragon
Thyme
Turmeric
Yarrow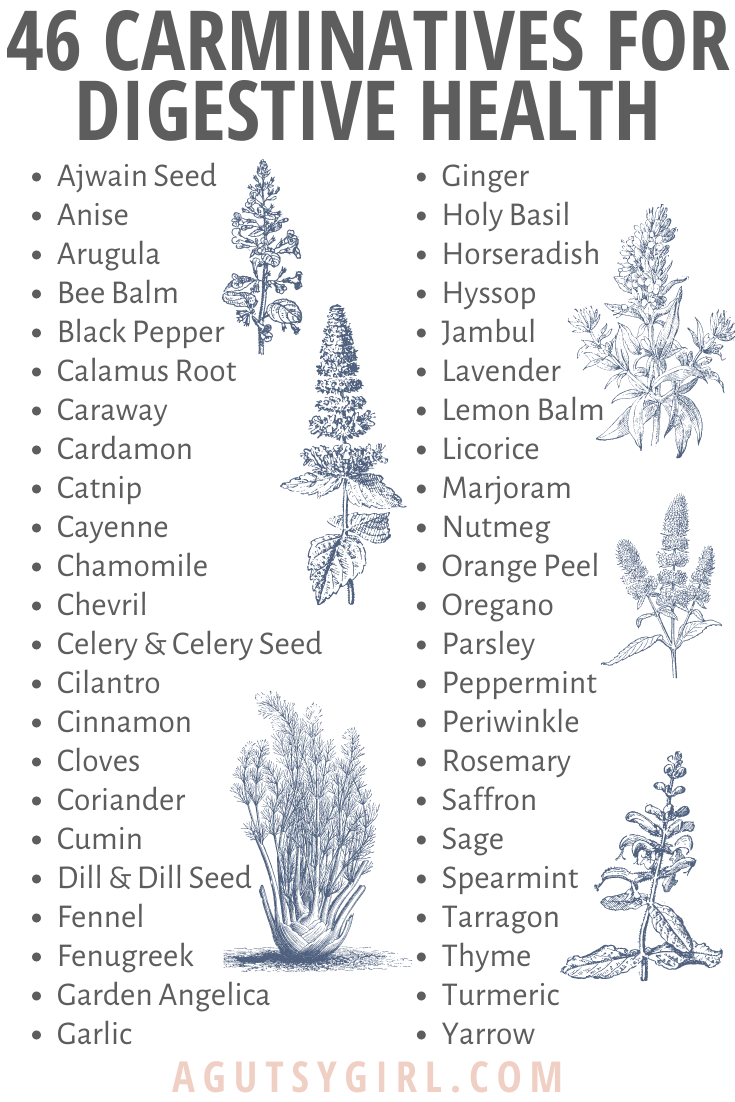 And while this list is huge, it's still not an exhaustive list. But furthermore, some of the above carminatives are more heavily talked about and emphasized than others.
The ones featured in more detail in Maria's book include:
Lemon Balm
Thyme
Holy Basil
Cardamom
Peppermint
Lavender
Bee Balm
Fennel
Catnip
Dill
Ginger
4 Ways to Use Carminatives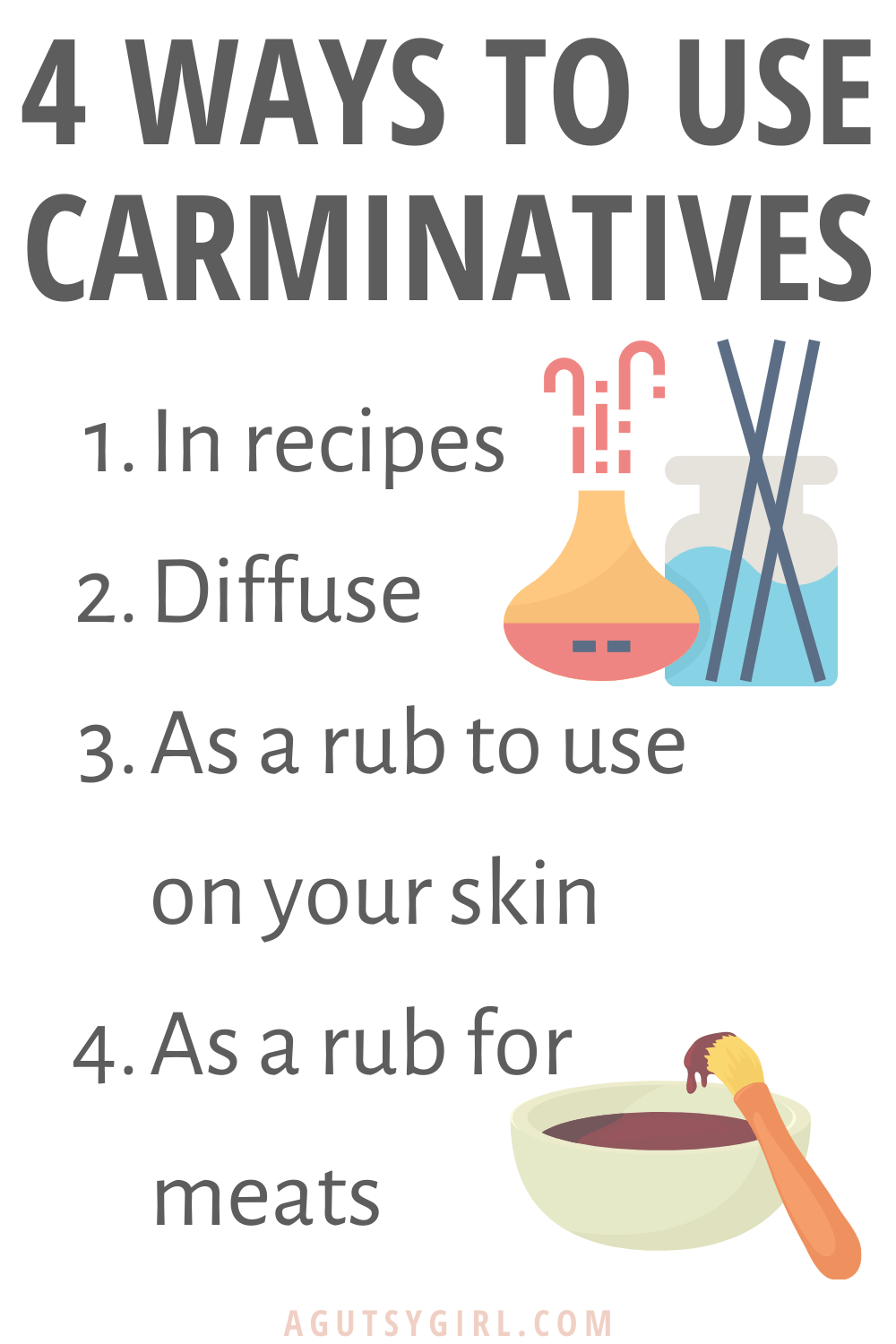 So the real question is, "How can I use carminatives in my everyday life for digestive benefits?"
Here is how you'd use them:
In recipes

This is probably the most obvious way, but using them in recipes both enhances flavor and aids in digestion. The common carminatives are found in recipes everywhere. But let's say you research and are interested in using catnip, which is a perennial herb from the mint family. With this, the easiest way for consumption is via tea. You can buy dry catnip leaves to make the tea on your own or, if you're daring, you could try adding it in wherever mint is used in a recipe. I do this with carminatives all the time (but usually more common ones like ginger and sage vs catnip).

Diffuse

But not all carminatives taste great (catnip is one, but I have not yet found it in oil form). For those carminatives you're interested in trying, but not internally, you can diffuse. It's no secret around here that I'm obsessed with diffusing. And, in fact, every single one of the 7 essential oils for gut health are carminatives! I use the doTERRA Essential Oils (mostly; some of the NOW Foods ones), and you can read about why HERE. DoTerra has many carminatives in oil form. 

As a rub

When I say "as a rub," I mean this for dual-purposes. 

You can mix together an essential oil with coconut oil, then rub on your body. For the digestive ones, I love to rub on my stomach. In fact, I do this often with the DigestZen® Oil.
You can also use a dry rub for meats. By the way, did you know that marinating meats is one way to digest them easier? Combine your marinade with a carminative herb for optimal effects!
Sources: HERE, HERE, HERE, HERE, HERE, and HERE.
All Herbs
Some herbs are very commonplace, and you use them frequently. But some are not, and you must remember to work with your medical practitioner when introducing new herbs to your lifestyle.
The very best way to know if a carminative is working or not, is by keeping track in your 90-day gut healing journal.
If you're really interested in working with herbs, consider adding an "H" to your journal table of contents for "Herb." (If you have the journal, you know what I'm referring to.)

If you liked this post, you might also enjoy:

Xox,
SKH
You will heal. I will help.