Go to: Flora Farms Mexico
I'm clearly not a travel blogger by any means, but to travel to Cabo San Lucas and not share about this incredible organic farm called Flora Farms would be a serious disservice to you, who also might enjoy travel as I do.
Flora Farms Mexico
Click HERE to save this post on Flora Farms Mexico for later.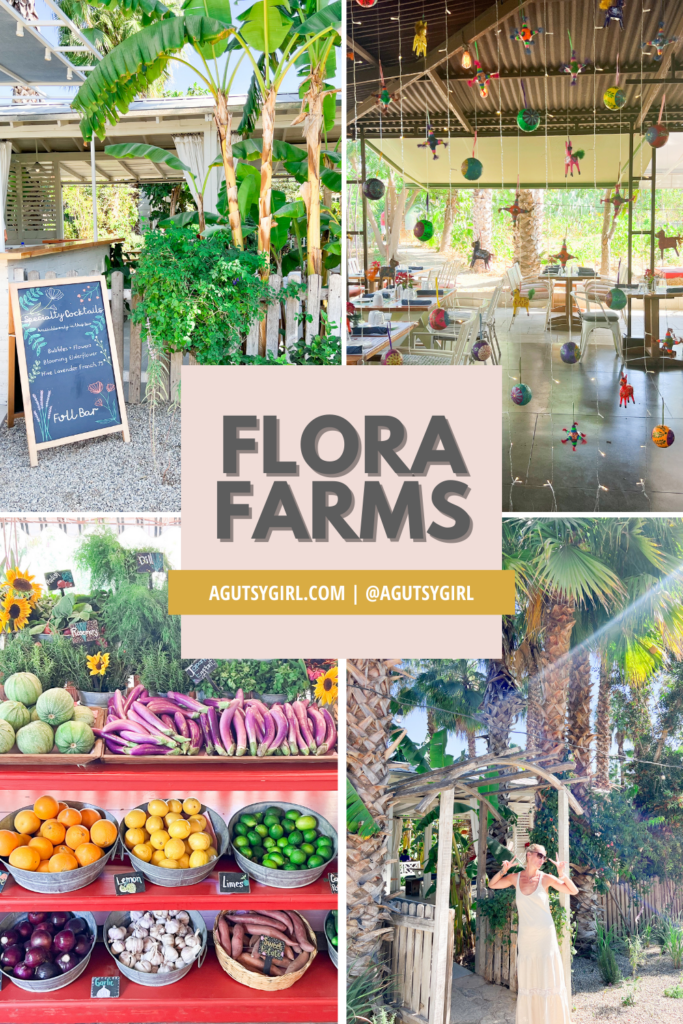 Fun Facts: Special Occasions
Here's a fun fact for ya: a ton of special events are held at this family farm, including the likes of Adam Levine.
Right, I get it. Their marriage is on the rocks and it might not mean much any longer, but fact remains that this incredible place in San Jose Del Cabo was where they married.
And after visiting the property, I can absolutely understand how it meets even top-notch celebrity private gatherings.
Gloria Wallace and Patrick Greene
Immediately upon returning from this magical place, I wanted to know more.
Who was behind it? What was their story? And did they want to become my new best friends?! ha.
Anyways, what I learned is that Gloria and Patrick put a ton of heart and soul into landing where they are and then creating all that it is today.
What exists today started way back in 1991, and the full Flora Farms story is fascinating.
The Dirt Road Entrance
From where we were staying in Cabo, it was about a 45-minute drive.
Upon entrance, you go a short drive down a long, dirt road. In fact, you might think it's an illegitimate place, but then…..BAM! There it is, this – Flora Farms – complete with luxury outbuildings, farm fields, delicious foods, and a sense of place smack dab in San José Del Cabo.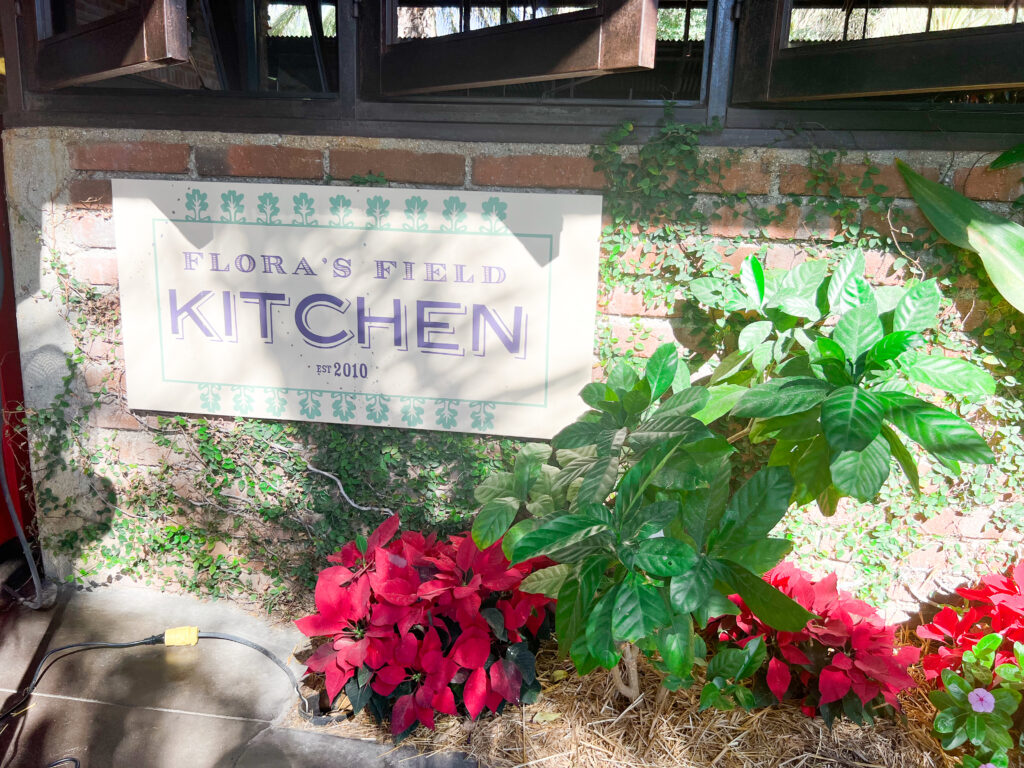 Flora's Field Kitchen
As "A Gutsy Girl," it should come as no surprise that I desperately desired visiting this place for the handmade food, so let's start there.
First things first, I tried as many things as my stomach's capacity would allow. And because I'm fully healed and thriving, this included craft cocktails.
Here are all the things I ate from the farm offerings – delicious, organic food – and drank:
farm bacon – note: best bacon I've ever had in my entire life, period
Lavender martini — at the nearby farm bar, a "stand" that's separate from the farm restaurant with unique and traditional cocktails
sandwich of the day with turkey and cranberry and all the things
roasted lentils salad
beautiful beet flatbread
bites here and there and everywhere of anything and everything – allllll the delicious food – everyone else got (yes, a total mooch!)
Note: All meats served at Flora's Field Kitchen come from their nearby 150-acre ranch where animals are humanely raised on diets that do not include hormones or antibiotics. An interesting fact is that they do not offer beef on the menu as it is not sustainable and there is not enough water in Baja California Sur.
I did not have the ice creams, but my children did and our new friends we met from San Francisco did as well.
Speaking of the children's cuisine, the 5 children shared various types of Neapolitan pizza made in a separate wood-fired oven with the house-made mozzarella. Does "cheese pizza" get any better than that?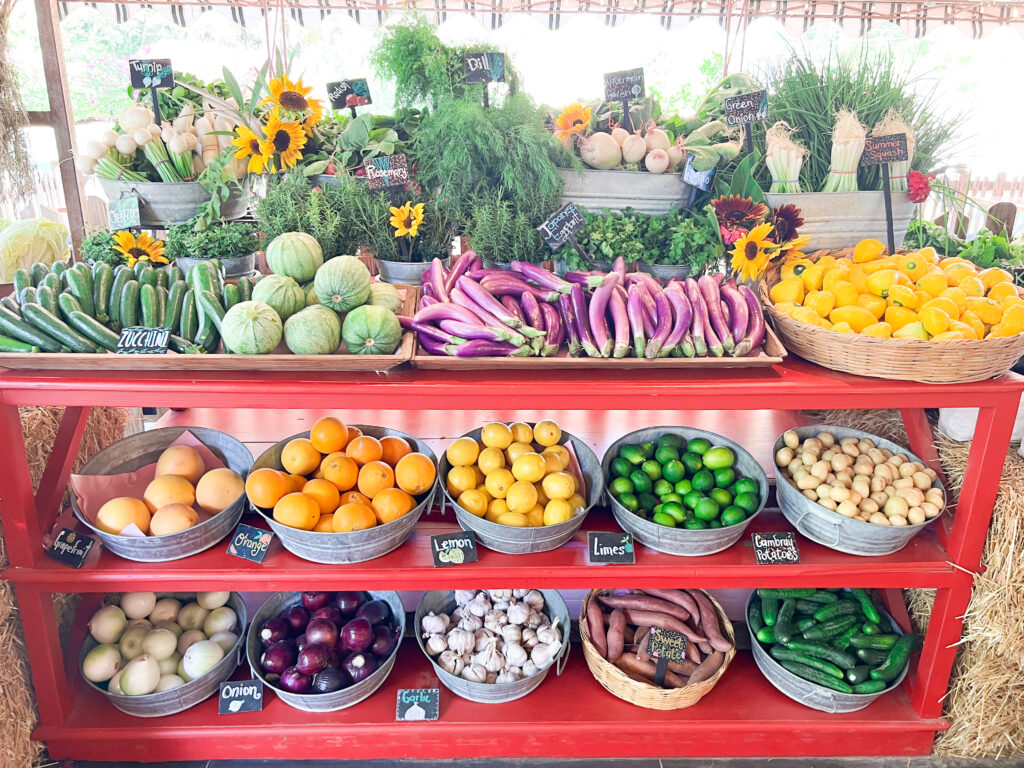 Flora Farms Grocery
While I did not buy any fresh Flora grocery items, I did peruse the fresh produce grocery selections at their grocery store and was in love! Something about the display of it all made my heart sing.
Though I didn't buy grocery items, I did buy a Flora Farms Grocery bag. I am looking forward to using it as a purse of sorts. Call me basic, totally fine. I actually use things like this as purses because they bring me so much joy!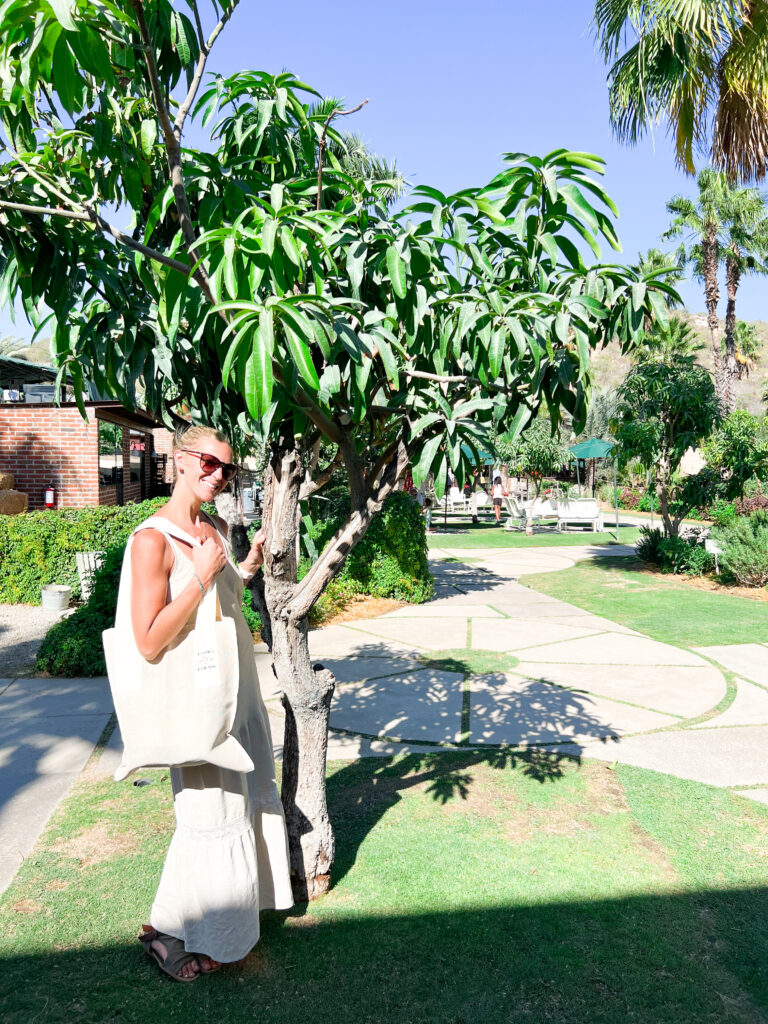 Other notes from Flora's Farms
Here are some other things to know about visiting this farm-to-table restaurant:
We were there from 11am – 2pm, a little over a couple of hours. If there were no kids with us, we would have stayed all day long. You can do the experience in a couple hours, but you won't get the full effect.
Even for brunch at 11am, there was live music. It's simple and lovely.
You are able to do a tour of the farm with a tour guide. I wish we could have done this farm tour because when you do, you get to see the private section of Flora Farms that you otherwise don't.
They offer an interactive cooking class at their culinary cottages
You can join them for special events galore: movie night, songwriter sessions, art classes, native plant tours, and seasonal family activities galore
Real Estate Owners
Apparently you can buy property at Flora Farms. They say it's "invite only," so I'm wondering if and how I might get an invite?
But for real.
You think I'm joking, and I totally am not.
To live there, even for a total of a month per year would be absolutely incredible.
Can you imagine having a place there so that I could host AGG retreats?! I wonder if Gloria Wallace and Patrick Greene would be up a huge gut health space?! Kind of makes sense; whole-body wellness for healing the gut and healing life.
I digress, but actually – get me in touch with the owners.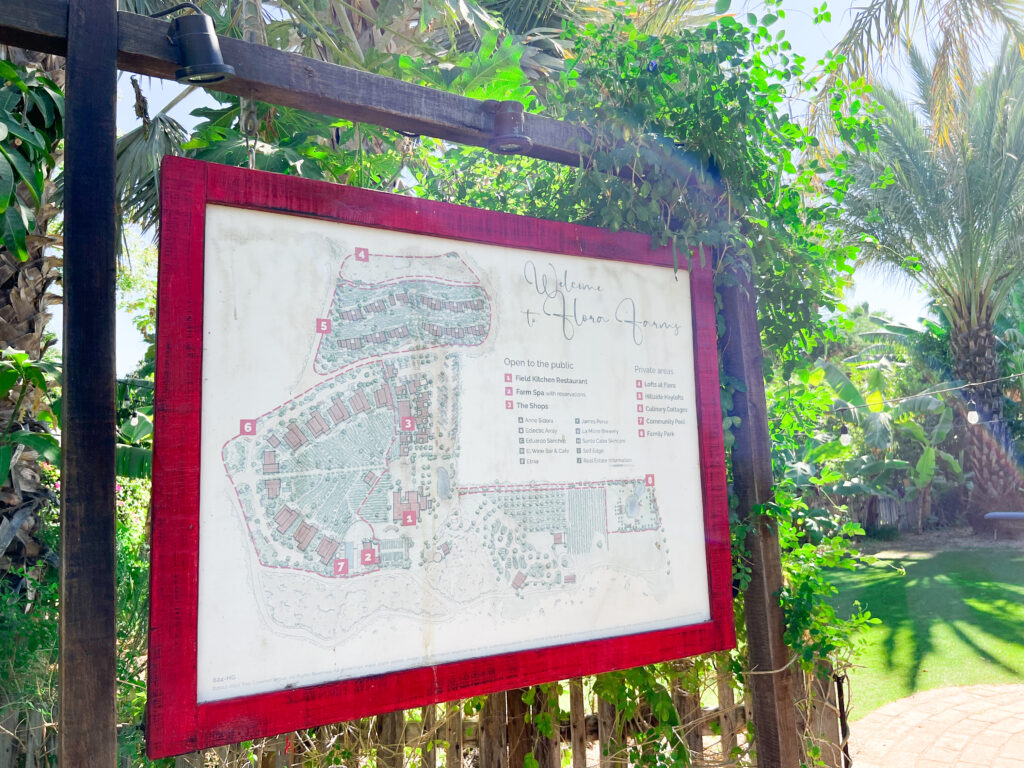 If you liked this post, you might also enjoy:
Xox,
SKH
You will heal. I will help.