23 essential oil sleep blends for diffuser – what are they and why does it matter?
A restful, deep sleep, that's why it matters.
Remember, it would be real easy for me to tell you,
Just take the pill, follow the "diet," and see your doctor every 3 months.
And I'm not saying to not do those things (necessarily). What I am saying is that if you want to heal and I mean truly heal then it's going to take a lot more than just those three things.
Getting a good night's rest and making it a priority is one of the things that can drastically help you heal at a far faster pace.
In fact, I talk about it in this video and I share my top 7 tips for better sleep quality and a good night's sleep.
Point number 5 from the video – my nighttime routine with essential oils – coincides with today's topic.
So, what are the best essential oil diffuser blends to give that sedative effect?
23 Essential Oil Sleep Blends for Diffuser
Click HERE to save this post for later.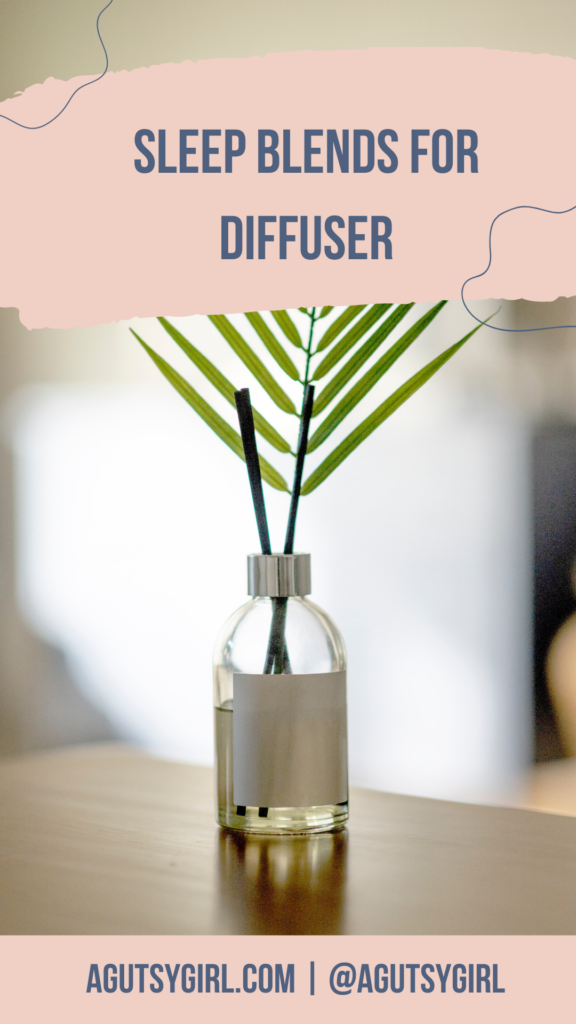 When we think about the best sleep blends for diffusers, what we are really asking are these two things:
Which are the best essential oils that contain relaxing properties?
What scents do I personally prefer for a nightly ritual in order to sleep well?
Think about both of those as I describe various oils.
I am breaking this post down into three parts:
Single Essential Oils: Good for Sleep
Single Essential Oil Blends: Made for Sweet Dreams
Diffuser Blend Recipe: Calming Properties for Sleep
Single Essential Oils: Good for Sleep
The first part are all of the single, undiluted essential oils that are good for sleep. You could use these popular essential oils on their own in the diffuser or you could combine them using various parts in order to create essential oil recipes.
Doterra Lavender
As a single essential oil, lavender has been used for generations for its unique scent and several benefits.
Among these benefits is the distinct benefit for calming and relaxing.
doTERRA specifically states the following use for Lavender: add a few drops of Lavender oil to pillows, bedding, or bottoms of feet at bedtime.
This bedtime ritual is something I have done for a few years now, and swear by it.
Doterra also says this about the oil,
Lavender essential oil is known for its ability to generate a calming environment that leads to a good night's sleep. The oil's relaxing effects assist create a peaceful environment conducive to good sleep.
Roman Chamomile
This single oil has a primary benefit of calming the skin, mind, and body. It makes sense why it would be used for diffusing at night since it's also added to night-time teas for the calming effect.
Clary Sage
Clary Sage is known for its calming effects as well. From a scent standpoint, it's woody, herbal, and floral. Because of this, it is added for a restful night's sleep often.
Sweet Marjoram
According to doTERRA, "Marjoram was known to the Greeks and Romans as a symbol of happiness." But in addition to that, it is also valued for its calming aroma. It can promote restfulness and deep sleep.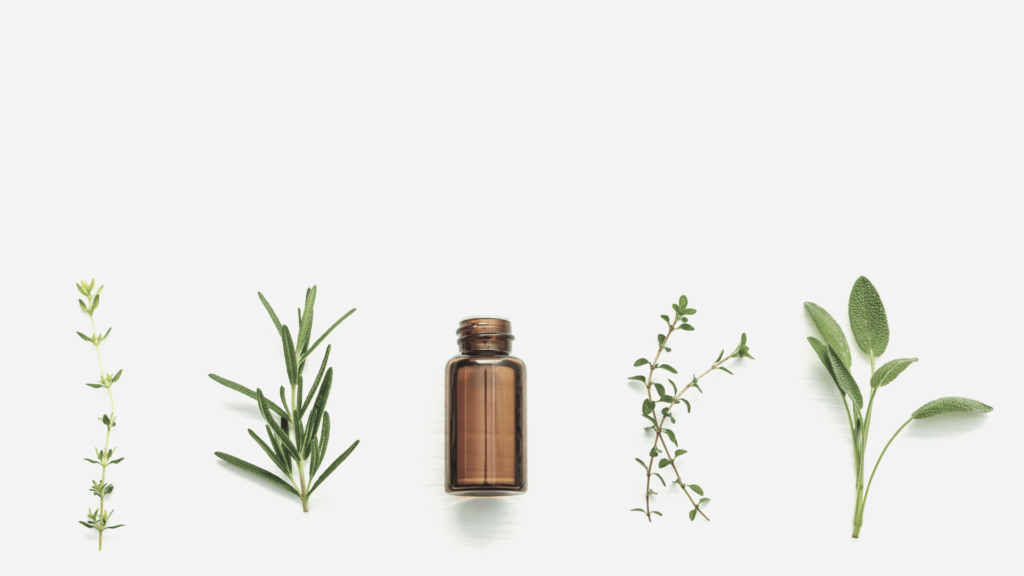 Valerian Oil
Known as the "heal all," Valerian has enjoyed a lengthy history as a medicinal essential oil. Called upon to remedy nervous disorders, combat stress and treat wounds, Valerian is a natural-aid essential.
You can get this oil from Edens Garden, which is a women-owned company.
Juniper Berry Oil
The Juniper Berry contains a woody, spicy, yet fresh aroma that has a calming and grounding effect. It also helps cleanse and purify the air, which makes for a bonus on this perfect sleeping oil.
Citrus Oils
Citrus oils, of all and any type, are calming. In fact, they are oftentimes used to help balance mood, but I also love them for the nighttime effect.
Here are my three favorite citrus oils for diffusing:
Tangerine: Tangerine essential oil's aroma can be used to help soothe anxious feelings and manage stress. It has a sweet and tangy scent for those who enjoy sleep scents such as these.
Wild Orange: Wild Orange is one of doTERRA's top selling essential oils due to its energizing aroma and multiple benefits. It's the leading oil in the "Sarah's Sweet Scent" blend below.
Lemon: Lemon is a staple scent in many households. It's refreshing and uplifting, and when I use it with other citrus scents, also feels calming.
Blue Tansy
Blue Tansy has a rich blue hue and a sweet, fresh scent. Its calming properties are not only ideal for relaxation, but are a miracle on inflamed, red skin.
Plant Therapy is another high-quality essential oils company. They have a top-notch Blue Tansy HERE.
Eucalyptus
I'm borderline obsessed with the tall, evergreen Eucalyptus trees. I find them soothing and stunning, mostly due to their green color.
According to doTERRA,
The main chemical components of Eucalyptus radiata are eucalyptol and alpha-terpineol, making it an ideal oil to promote feelings of clear breathing and open airways and for creating a soothing massage experience.
Because of that, you can see why Eucalyptus makes for a great sleeping oil.
Cedarwood
If the woodsy, earthy scent is your style, Cedarwood is your oil. After a difficult day, diffuse it to create a relaxing environment.
Bergamot
This oil provides both a calming and soothing aroma.
doTERRA states that, "Bergamot is unique among citrus oils due to its ability to be both uplifting and calming, making it ideal to help with anxious and sad feelings."
Single Essential Oil Blends: Made for Sweet Dreams
The next part of this post includes essential oils that are already blended and ready to place in the diffuser.
As-is, these drops of oil, are a great option for sleep, but if you have a hard time putting blends together yourself you'll be covered.
Doterra Balance
The Doterra Balance is a true and great blend which contains:
Spruce Leaf, Ho Wood Leaf, Frankincense Resin, Blue Tansy Flower, Blue Chamomile Flower, and Osmanthus Flower essential oils in a base of Fractionated Coconut Oil.
DoTERRA Balance Grounding Blend has a warm, woody scent that is refreshing.
Blue Tansy and Blue Chamomile are blended with Fractionated Coconut Oil to create an intriguing aroma that offers a serene and relaxing ambiance.
Native Americans employed spruce, one of the oils in doTERRA Balance, for health and spiritual purposes.
Because this product is a blend, it's a simple one-and-done. Simply add three to four drops in the diffuser of your choice and enjoy.
Doterra also states this about the Balance blend,
One of the key advantages of doTERRA Balance is its calming effect. When you're overwhelmed emotionally, take a step back and relax. Diffuse or apply doTERRA Balance topically to create a peaceful environment so you can move forward feeling emotionally balanced and ready to tackle your duties.
Peaceful Sleep
Doterra is not the only essential oil company I respect and use.
I'm also a fan of the NOW Foods essential oils, which I've shared in the past.
They have a sleep blend called Peaceful Sleep. And this is another true essential oil blend.
It contains:
Orange oil, tangerine oil, lavender oil, chamomile oil, ylang ylang oil, sandalwood blend
You'll notice the lavender + chamomile oils, as per the above.
Wondering what ylang ylang oil is? Yes, I was, too.
Ylang, Ylang Oil
Ylang Ylang essential oil is derived from the star-shaped flowers of the tropical Ylang Ylang tree and is used extensively in making perfumes and in aromatherapy.
It is sweet, rich, and spicy, promoting a stress-free and positive atmosphere.
Tranquil, Plant Therapy
Created for stress relief, sleeping, peace, and calm, Tranquil by Plant Therapy is the ultimate mental relaxer.
Tranquil is a blend of Grapefruit Pink, Blood Orange, Patchouli, Bergamot and Ylang Ylang Complete.
You can get it HERE.
Young Living Peace & Calming II
Similar to Tranquil, the Young Living Peace & Calming II creates a relaxing and pleasant aroma.
This blend combines tangerine, orange, ylang ylang, patchouli, and German chamomile.
By the way, German and Roman Chamomile are similar, but not the same. You can see their differences HERE. To be honest, I prefer Roman Chamomile for sleeping.
Unwind Essential Oil Blend
Grove Collaborative also has some high-quality essential oils and blends.
The ingredients in Unwind are the same as Peaceful Sleep:
Orange essential oil, tangerine essential oil, lavender essential oil, chamomile essential oil, ylang ylang essential oil, sandalwood essential oil
Grove states this about their oils:
The essential oils in our functional blends are sustainably distilled either through steam processing of leaves, bark, and roots, or cold pressing fruit peels. They are never treated with chemical solvents.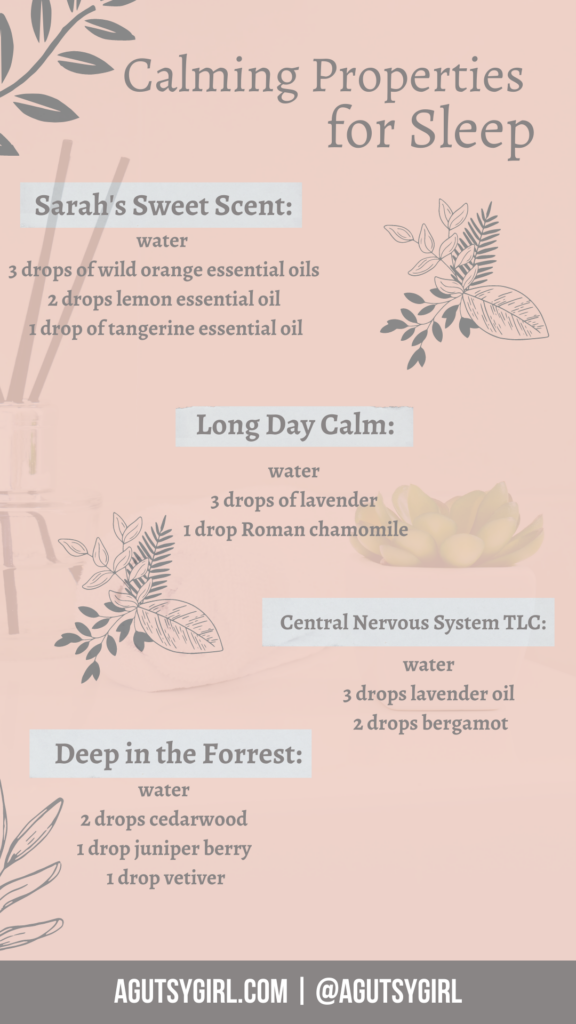 Diffuser Blend Recipe: Calming Properties for Sleep
And last, but certainly not least – my own concoctions. These are the various oil blends, based on personal preference and my own essential oil blends, that I put together in an effective way for the best sleep ever.
Sarah's Sweet Scent: water + 3 drops of wild orange essential oils + 2 drops lemon essential oil + 1 drop tangerine essential oil
Long Day Calm: water + 3 drops of lavender + 1 drop roman chamomile
Central Nervous System TLC: water + 3 drops lavender oil + 2 drops bergamot
Deep in the Forrest: water + 2 drops cedarwood + 1 drop juniper berry + 1 drop vetiver
Full List of 23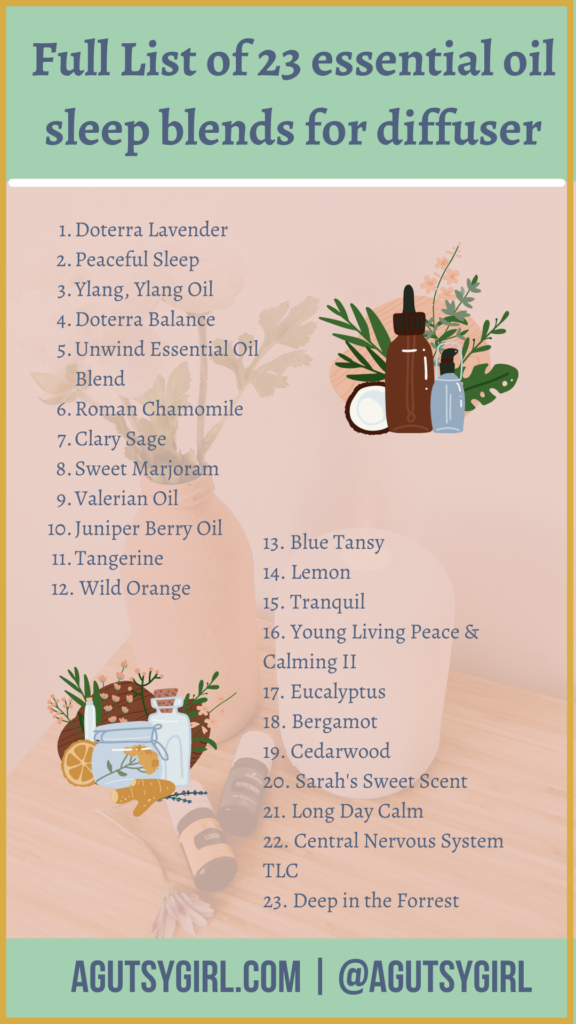 This is the full list of 23 soothing scents that combine many of my favorite oils as single oils and/or the best essential oil blends and/or custom creations:
Doterra Lavender
Peaceful Sleep
Ylang, Ylang Oil
Doterra Balance
Unwind Essential Oil Blend
Roman Chamomile
Clary Sage
Sweet Marjoram
Valerian Oil
Juniper Berry Oil
Tangerine
Wild Orange
Blue Tansy
Lemon
Tranquil
Young Living Peace & Calming II
Eucalyptus
Bergamot
Cedarwood
Sarah's Sweet Scent
Long Day Calm
Central Nervous System TLC
Deep in the Forrest
Highest Quality Essential Oil Diffusers
Finally, in order to diffuse your oils, you'll need an oil diffuser.
I, quite literally, have 20 placed about my house. There is one next to each of my children's beds. In our bedroom, my husband and I each have one on our side of the bed.
So, which diffusers do we have and which should you choose?
Personal Diffusers
We have the following in our house:
When considering the diffuser to purchase, here are some things to take into consideration:
Once diffused, how far will the aroma reach?
What is the reservoir size (where water is stored)?
Is it portable? Is being portable important to you?
What is the weight, size, and dimensions of the diffuser?
How much are you looking to spend?
Do you want it to be aesthetically pleasing?
What is the noise level like?
How long can it auto-set for? 2 hours? 6 hours? 12 hours?
Are there other diffuser features like sounds and lights?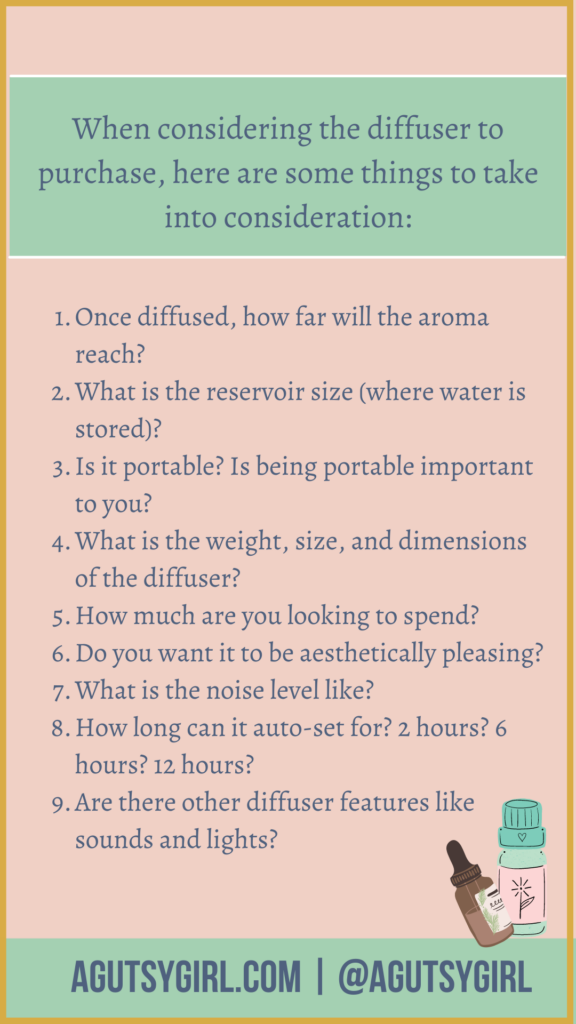 I hope this post has been highly beneficial for you. Remember, this all comes back to sleep. Sleep and gut healing are a match made in heaven, and the sooner you figure this out, the faster you'll heal.
If you liked this post, you might also enjoy:
Xox,
SKH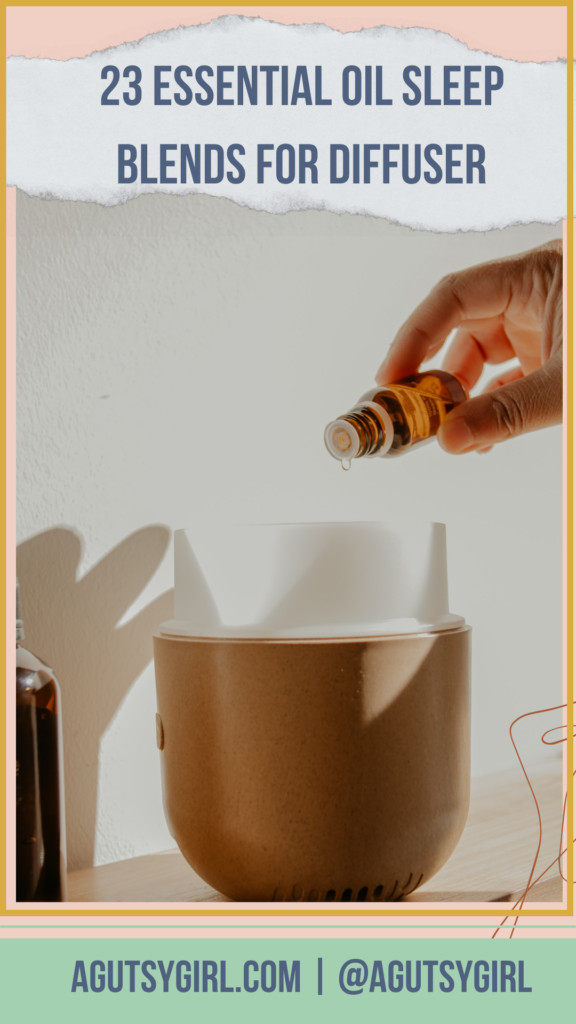 You will heal. I will help.