Oh do I have something for you to try today: Plant Based Lettuce Wraps with Ramen Noodles.
Worried about the "Gutsy" aspect to them?
Don't be.
Today I am going to share one of my current favorite obsessions- ramen noodle lettuce wraps. These wraps are packed full of flavor and nutrients and fresh ingredients, which has made them a go-to. 
This recipe is also so easy to adjust which makes it a great way to get additional nutrients.
You can easily add in as many vegetables as you want without risking clashing with the recipe.
They are about to put the PF Changs recipe to shame – ha!
Health Benefits of a Plant Based Lettuce Wrap 
So of course we are going to talk about just what makes this recipe so good.
This recipe contains both a yellow bell pepper and red bell pepper, which are packed with good micronutrients.
They are particularly high in vitamin C, which is foundational for a strong immune system. They also contain lots of vitamin A and antioxidants, which help to reduce inflammation across the body. 
Broccoli is high in multiple micronutrients such as vitamin C, vitamin L, folate, potassium, and vitamin A. It also contains properties and antioxidants that are also helpful in reducing inflammation.
The recipe includes healthy fats, which help to lubricate the GI tract and are essential for full body function. Ingredients such as avocado, cashews, and coconut oil are all extremely satiating. They help with the absorption of fat-soluble vitamins and the transport of lipids across the body.
The features make these healthy butter lettuce wraps absolutely perfect for gut healing. They not only reduce inflammation but also promote cellular health as a whole.
Plant Based Lettuce Wraps
Click HERE to save this recipe for later – it's also a printable recipe card!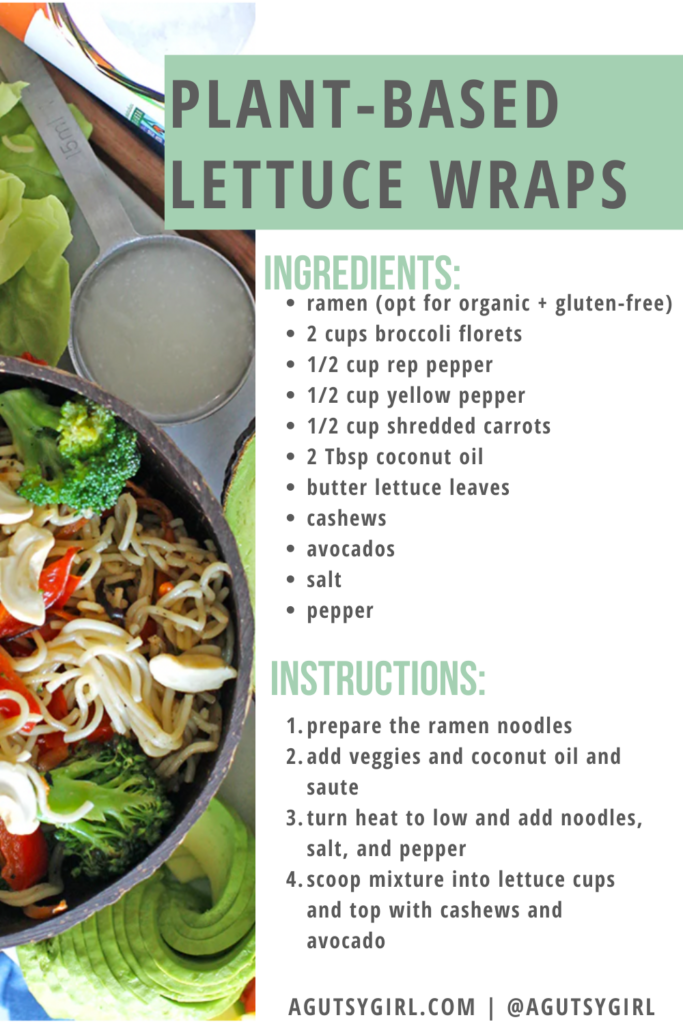 Alright let's get into the good stuff. This is such an easy recipe to make and only take about five minutes to prepare. This makes it the perfect healthy meal for anyone.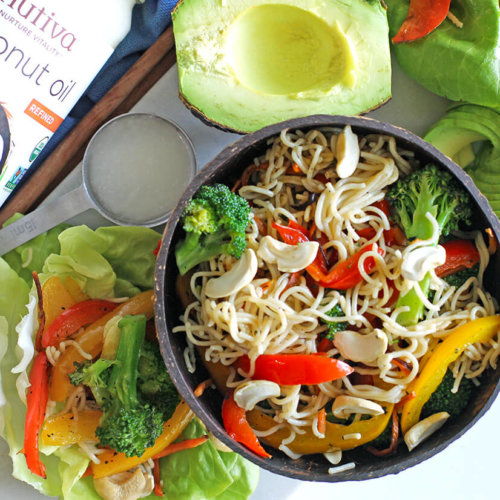 Plant Based Lettuce Wraps
A simple, plant-based lettuce wrap with an added twist of Ramen Noodles inclusion.
Ingredients
1

pack

gluten-free Ramen Noodles

we love the Lotus Foods Ramen Noodles

2

cups

broccoli florets

halved

1/2

cup

red pepper

sliced

1/2

cup

yellow pepper

sliced

1/2

cup

carrots

shredded

2

Tbsp

coconut oil

butter lettuce leaves

as desired

cashews

as desired

avocado

as desired

salt

as desired

pepper

as desired
Instructions
Prepare the Ramen Noodles

Add the broccoli, bell pepper, carrots, and coconut oil in a large skillet and sauté (this is at medium-high heat)

Turn heat to low and add noodles, salt, and pepper

Stir for approximately 1-2 minutes

Scoop the mixture into each of the lettuce cups (cups = a leaf)

Top with cashews and avocado (and some sort of protein if you desire)

Serve or store the leftover filling in an airtight container!
Notes
If you want some added flavor you can also serve with gluten-free soy sauce (Tamari) but I would recommend coconut aminos. They are packed with flavor and much easier on the digestive tract.
You'll find the Lotus Foods Ramen Noodles HERE. You can easily order them through Amazon, but we get ours from Thrive Market Online.
Makes: 2-4 servings
By the way: If you want some added flavor you can also serve with gluten-free soy sauce (which is known as Tamari), but I would recommend coconut aminos! They are packed with flavor and much easier on the digestive tract.
If you have leftovers, just be sure to store them in an airtight container in the fridge. I would not keep the leftover filling piled on the lettuce because the lettuce will get soggy.
Source: HERE
Adjusting the Recipe
Since these are vegetarian lettuce wraps, they are slightly lacking in protein content.
If you want to optimize your nutrient intake, I recommend adding some sort of meat or extra-firm tofu (Organic) filling.
I personally think this recipe pairs great with any sort of grilled chicken, if you don't need the Vegetarian version. Just grill a chicken breast or use ground chicken and add it into the final wrap filling. Easy.
If you are trying to keep it Vegetarian you could also add some plant-based protein like the tofu I mentioned or beans (which I'm obsessed with!).
Be careful with most of the packaged plant-based meats though, as oftentimes they can be extremely processed and lack nutrients.
Other fun additions for these lettuce wraps might include:
lime juice (squeeze of lime at the end)
black beans (another one of the protein options)
fresh ginger (great for the gut and adds a bit of a punch)
gluten-free wontons (adds a nice crunch)
water chestnuts (another great crunchy addition)
red pepper flakes
fresh cilantro
green onions
any sort of spice powder (that isn't inflammatory in nature)
black sesame seeds (I love these as part of my Seed Cycling, too)
shredded or small cubes of sweet potatoes
Like most of the recipes on our website, this is fairly straightforward and is so customizable.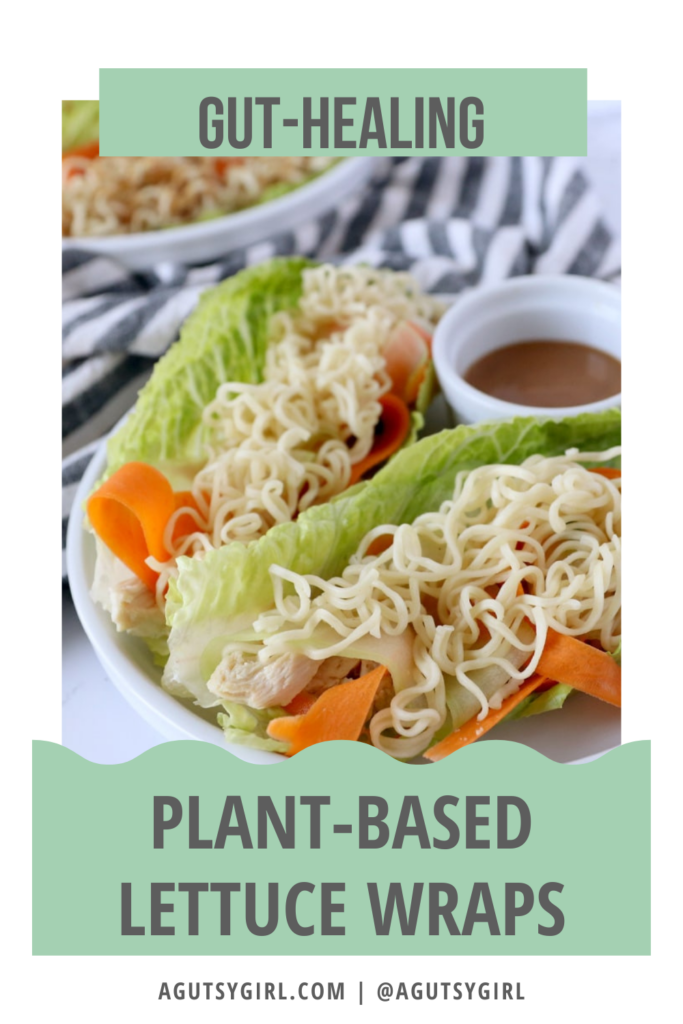 It is really up to you and your preferences.
p.s. You could easily make these low carb if desired. In order to do so, skip the Ramen Noodles altogether or replace them with a Shirataki Noodle of sorts. I get mine from Thrive Market.
---
If simple concoctions like this are interesting to you, then you'll love my book, A Gutsy Girl's Bible: a 21-day approach to healing the gut. In it, you'll find 100+ Creations. Grab your copy on Amazon HERE.
Or, have this book at your fingertips instantly by downloading the PDF now.
Serving a Good Lettuce Wrap
There is no "best way" to enjoy these easy Vegan lettuce wraps.
This dish is great as a main course for lunch or dinner, but it can also just be a delicious snack or appetizer.
One of my favorite parts of this recipe is just how adjustable it is. You can make it fit any occasion or add any vegetables that you want to the mix. 
If you are deficient in certain micronutrients this is the perfect place to add these vegetables in.
Some easy additions would include:
vitamin A

arugula, bell peppers, sweet potato, squash, leafy greens

vitamin B12

nutritional yeast, dairy-based cheese

zinc
magnesium
iron

lentils, spinach, kale, almonds

omega-3

nuts, plant oils (olive oil, sesame oil, or any type of vegetable oil)
All of these could be easily added to the recipe to ensure you are getting an optimal range of vitamins and minerals.
This helps to support not only your gut, but your full-body health.
I hope that you enjoy this recipe and have fun playing around with adding different veggies in.
If you liked this post, you might also enjoy:
Xox,
SKH
Some of the links in this post are affiliate links. This means if you click on the link and purchase the item, I may receive a small commission at no extra cost to you. All opinions remain my own.