I have received many questions about A Gutsy Girl's Nut Butter Recipes: The A Loving Spoon nut butter original recipes since I released it, so today I put together my nut butter e-book FAQs.
Nut Butter E-Book FAQS
Click HERE to save for later.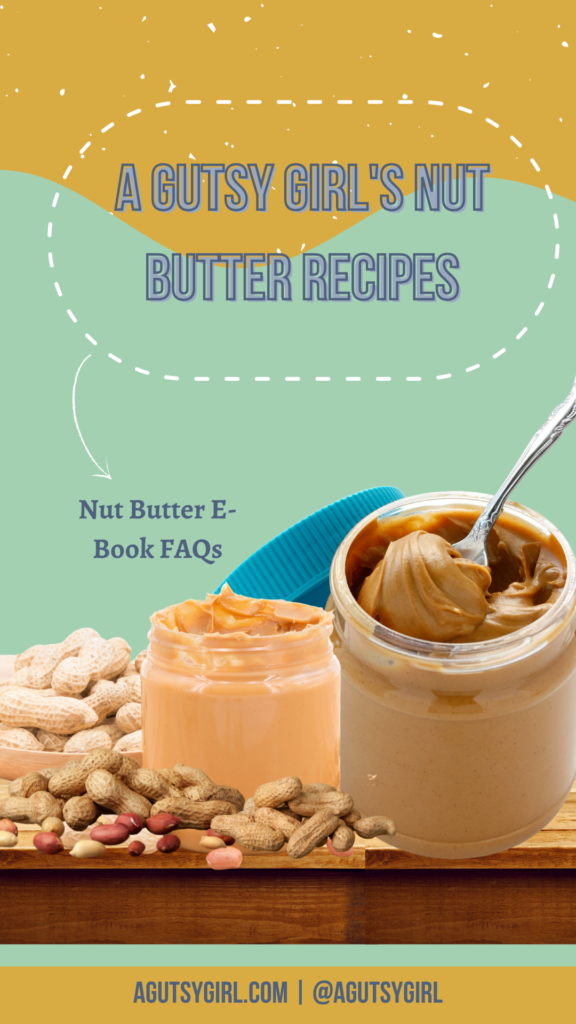 Why did you stop making the nut butters? It seems like such a great niche product.
It was, and if I were in almost any other season of life, I would likely still be running the company. But there were many reasons I chose to say goodbye, and I wrote about it via Goodbye, A Loving Spoon nut butters.
(p.s. if you're thinking of becoming a food entrepreneur, be sure to read the post because you'll learn a lot about what happens and what it takes to grow and take the next step.)
Why did you decide to give the recipes away?
I decided to turn the recipes into an e-book because I know, without a doubt, that I will never desire to re-start the business.
There are a plethora of reasons for this, but my dreams no longer include seeing a jar of nut butter on every Whole Foods shelf. That said, it seemed like a waste to just have them sit there with no one (but us) able to enjoy their delicious flavor. As I stated in the e-book,
In the end, I decided that their best interest was to share them with as many people as possible so that their gifts of bare ingredients, bold flavor, and unprocessed guilt could be enjoyed forever.
Why is the e-book $10?
In today's world where e-books are sold online for much cheaper, $10 might seem like a lot to pay for nut butter recipes. I asked several people their opinion on e-book price point. Some said to go super low for volume, and others said, "Well, I would never give these recipes in the first place because you can't put a price on them."
I just kind of landed on $10 without much reason.
They are the recipes that an entire business was built on, a business that I poured every last ounce of my being into – financially and emotionally.
Yes, of course, you can place into Google search something like, "How to Make Peanut Butter," and you will find hundreds of recipes for free. (I'm serious. Just click that link and you'll see.)
The Difference
So then what's the difference? Two things.
Ingredients matter
Ryan always tells me to never buy any ketchup except Heinz. "Why?" I ask. I mean, isn't ketchup just ketchup? But he is adamant that he can tell the difference when it's not Heinz, even when it would appear that ketchup is just ketchup. This is because ingredients matter.
Two products could contain the exact same ingredients, but taste vastly different. (I learned the art of this when A Loving Spoon nut butters first began and we were formulating the recipes.) For my nut butters it is namely the vanilla used. Vanilla is not vanilla is not vanilla is not vanilla.
I promise you this, and it's for that reason that there is no product on the market or that you will find a recipe for online that tastes like the Honey Vanilla Bourbon Peanut Butter. (Spoiler alert: I give my vanilla source in the e-book. The vanilla is not a product that you would ever find at the grocery store or on your own.)
For the Honey Vanilla Bourbon Peanut Butter, it all comes down to the vanilla.
My livelihood.
Writing and producing content for A Gutsy Girl (this website) is not only my passion but also my full-time job.
I am constantly waking up at 4 am to write something or respond to people and brands, take photos, etc. Most of the time it is unpaid.
But there are also several ways this blog makes money.
And honestly, without the money, I couldn't justify devoting so much time to it. I feel so grateful that I am able to combine my greatest passions with the ability to contribute financially to our family.
We spent a lot of time, money, and resources on developing the nut butter recipes, working with suppliers, and seeing the business to fruition. All of this said the e-book will never sell for less than $10, and furthermore, all of this said, $10 is a crazy steal:)
What happens when I pay for the e-book?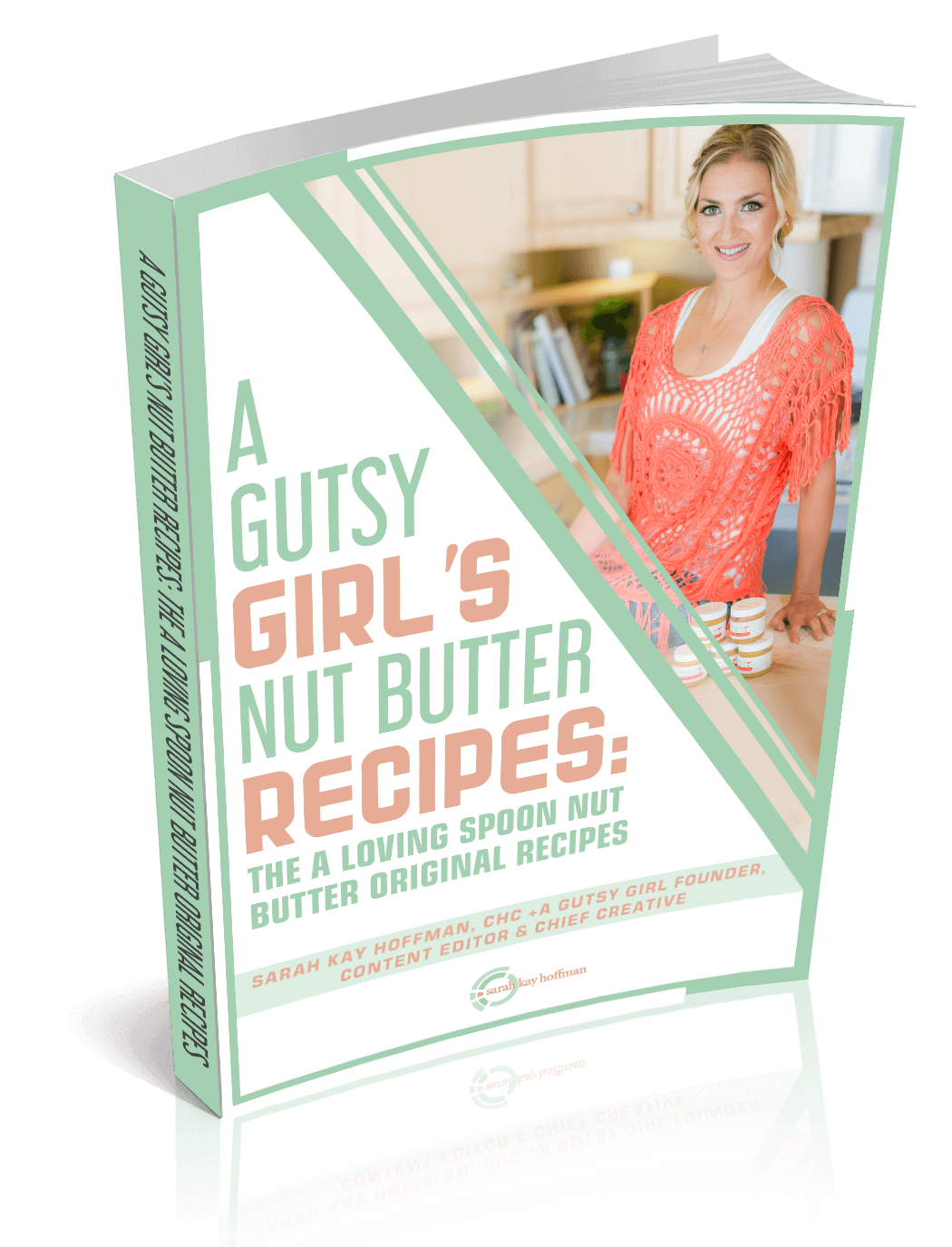 Once you checkout, you will immediately be sent a link to download the e-book. You can save the PDF on your desktop. You can also download it from you iPad or iPhone, and then open it up in iBooks to have the recipes right next to you as you make them.
Did you design the e-book?
Um, no! I am not a graphic designer by any means. In the past, I used to spend a lot of time putting together my own e-books, but then I realized that was a horrible use of my time and I found a designer to work with who produces all of them now. I simply provide all the material and content and images, and then the design and layout are handed off to him.
How many recipes are in the e-book?
There are 7, and they include the following:
Honey Vanilla Bourbon Peanut Butter
Honey Roasted Peanut Butter with a touch of Fleur de Sel
Purely Cacao Peanut Butter
Salted Cinnamon Almond Butter
Java Almond Chip
Carrot Cake Walnut Butter
Samarah's Cinny-Vanilly Peanut Cashew Butter
After I make the nut butters, the oil sometimes separates. Why?
That's the nature of natural nut butters. Go to any store and check out the natural nut butters. You will see oil separation.
Just stir (or store the jar upside down).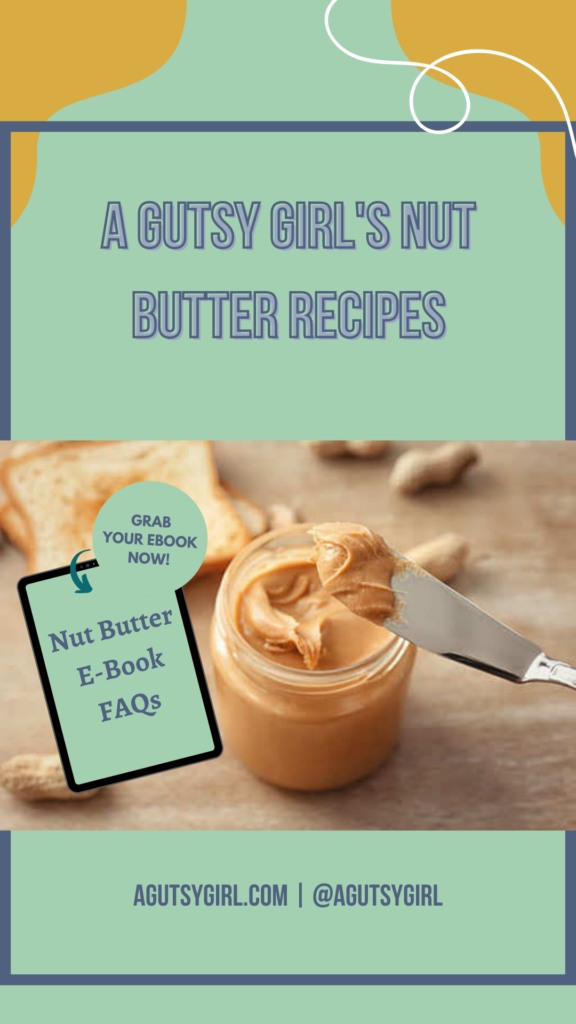 Did you break down the calories, fat, carbs, etc. for each nut butter?
No. We did all of this for the products that were launched nationwide (the peanut butters), and they all were consistent with 80-ish calories, 7-ish grams of fat, and 3-ish grams of carbs per tablespoon.
However, in this house we could ingredients (and quality of those ingredients) vs. macro nutrients. I believe in its power.
Can I buy the e-book for someone?
Of course! All you have to do is purchase the e-book, and when the link is sent to your Inbox, forward it on.
Please only enjoy one copy per household.
Once I make the nut butters, what do I do with them?
Click HERE to learn 10 Ways to Enjoy Raw Nut Butters. The e-book also contains 44 Simple Nut Butter Pairing Options.
On a more literal note, though, you do not need to store these in the fridge. If you enjoy them from the fridge, you can store them there, but in your pantry is perfectly fine. Conservatively, they will last 3 months (but my chemist and co-packer once told me they are fine up to 6 months).
I am a part of the Press and/or a Blogger, and I'd like to review a copy. Can you send me one?
Possibly.
For all Press and Blogger inquiries, please click HERE to contact me. pssst….. @KaleJunkie already reviewed the e-book and made the Carrot Cake Walnut Butter!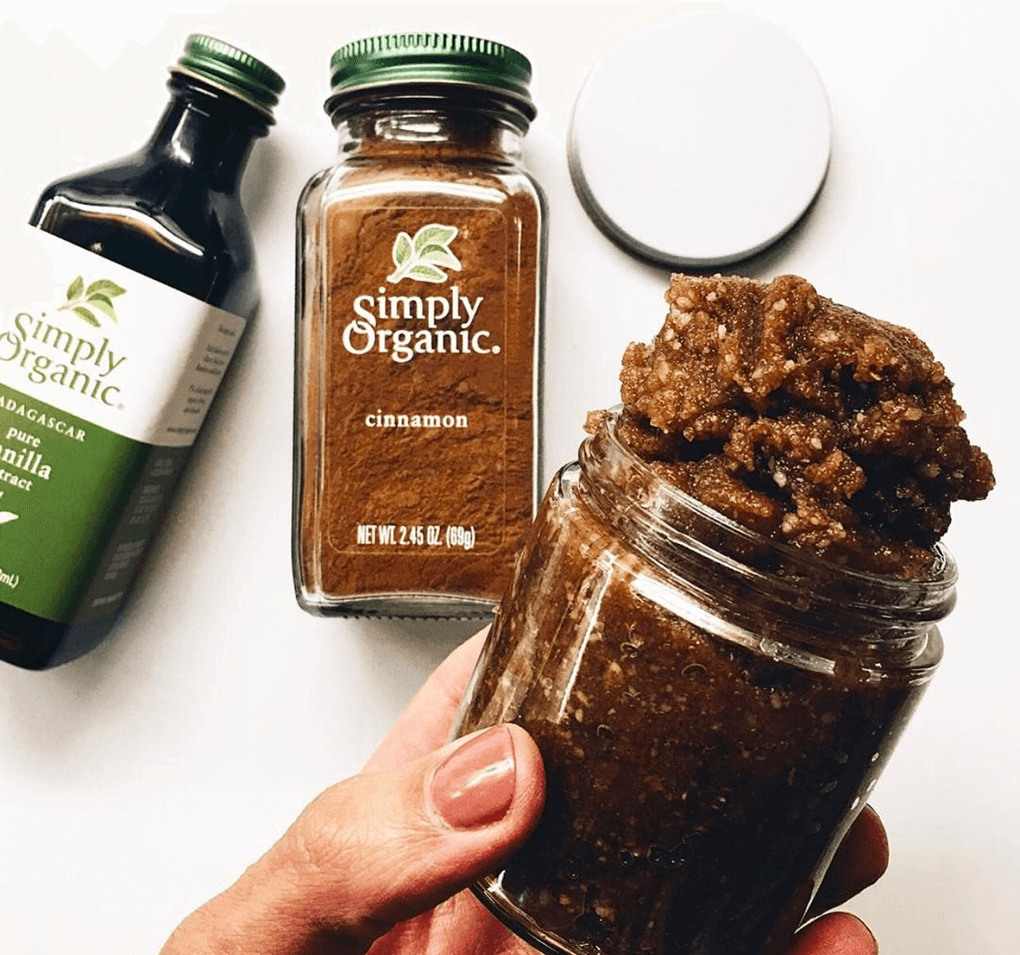 Enjoy Every Last Spoonful!
As I was nibbling on the Java Almond Chip last night, I couldn't help but think of how grateful I am that I put my whole heart into developing these recipes.
There is just nothing else like these, and I am proud of what I created. Most importantly, I am excited to share them with the world!
Thank you for your support!
A Gutsy Girl's Nut Butter Recipes: The A Loving Spoon nut butter original recipes will continue to support my family for as long as we live. And I promise that almost every single last penny goes back to these babies we adore:)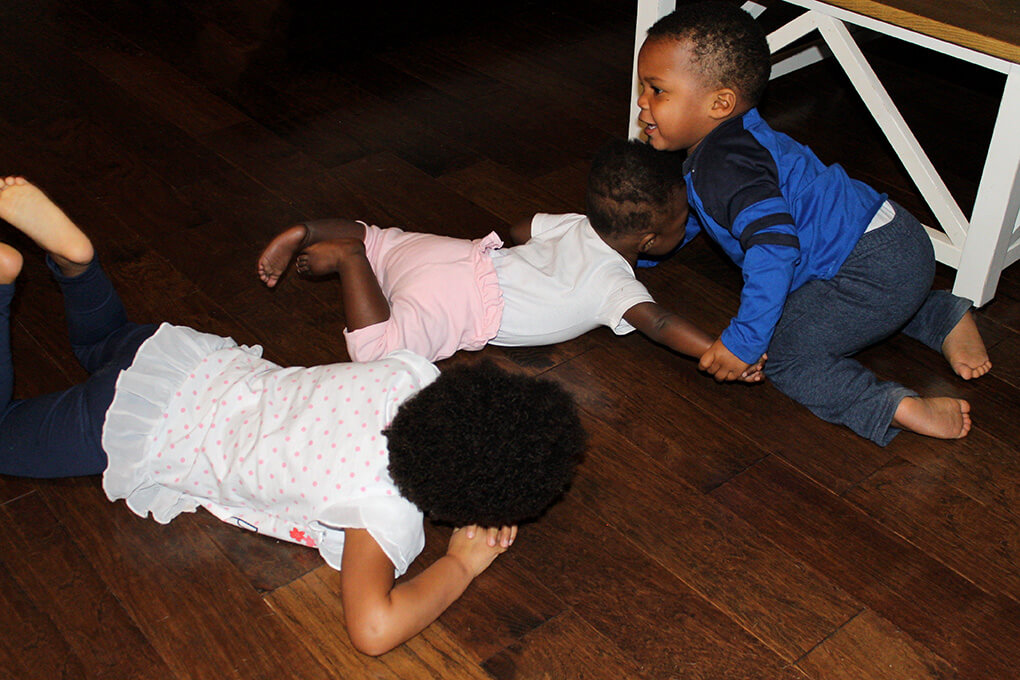 If you have further questions, please feel free to comment below so I can address them and/or click HERE to contact me.
And seriously, click HERE to buy your copy immediately!
If you liked this post, you might also enjoy:
Xox,
SKH
You will heal. I will help.