These Baked Pumpkin Donuts are going to be a hit for everyone at your house.
Bringing Grandma's Donuts Back
Let me tell you how they came to be.
In 2014, I finally received the best version of my Grandmother Josephine's donut recipe.
So, I played around with the original recipe until I perfected it to be my own, Paleo-ish version.
I renamed them, Old-Fashioned Donuts. Then, I then gave this recipe to Nutiva and added a little more holiday spirit to them (think: cranberry).
I made them one year on Christmas morning. And confirmed…..still delicious as ever.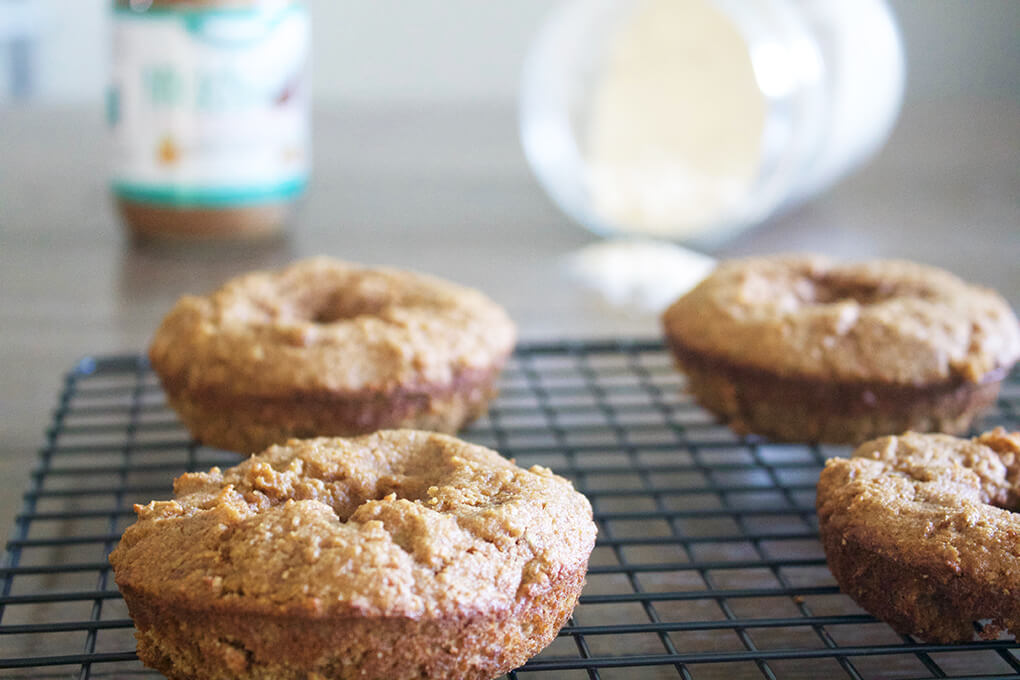 And then, a few weeks ago, I got an email from Nikki's saying they had released a seasonal flavor, "Pumpkin Spiced Donut."
I ordered 5 jars immediately (3 Pumpkin Spiced Donut, 1 Vanilla Cake Batter, and 1 Chocolate Fudge).
A few days later, they arrived. I immediately (literally, it's kind of embarrassing how quickly I ripped the package open) opened the Pumpkin Spiced Donut jar, dug my spoon in and let it sit a moment.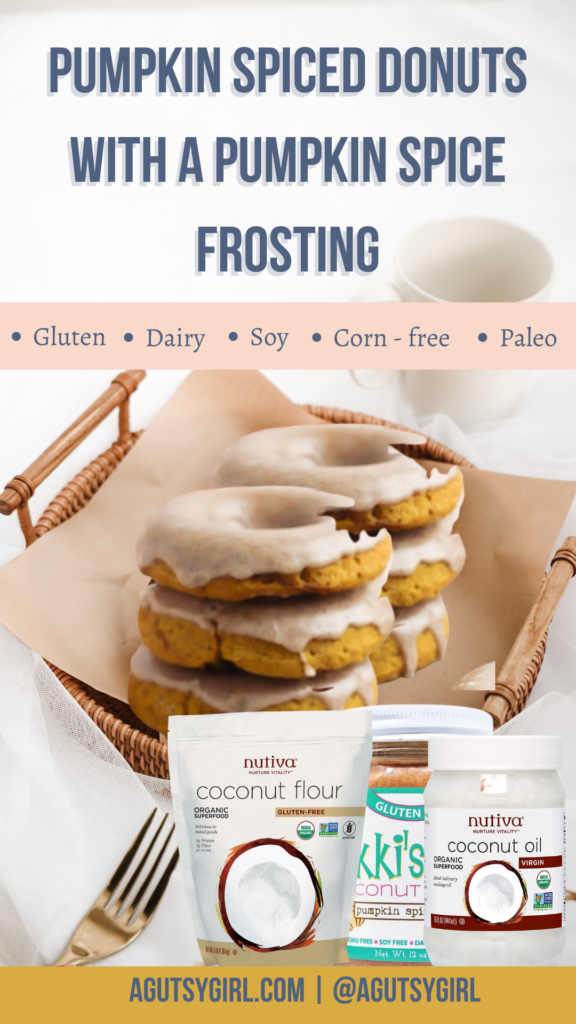 Amazing!
Josephine's Donuts, Pumpkin-style
In fact, so amazing that I instantly thought of a donut, then of Grandma Josephine's donuts, then,
Okay, how can I infuse my donut recipe with this?
On Wednesday, as I was frantically running around the house and kitchen trying to pull myself together from chaos, the ideas for how this donut could turn out just came to me.
I quickly wrote them down so I wouldn't forget. My plan was to make them later that night.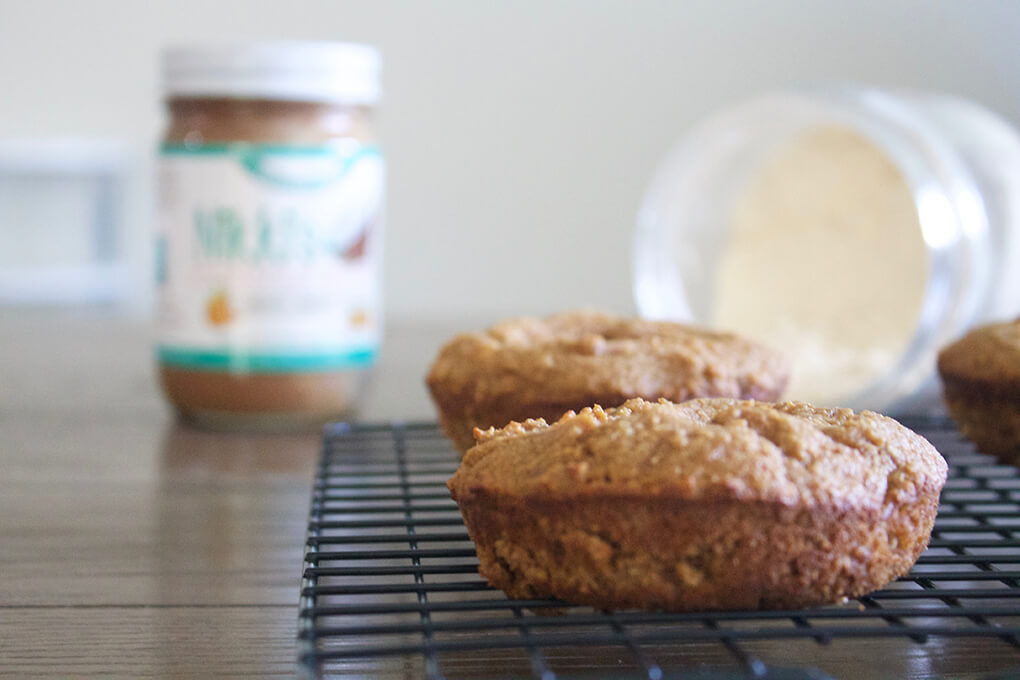 But I couldn't wait. (Because obviously, I'm Captain Impatient.)
And Frosting, Obv.
And so I made the donuts with a Pumpkin Spiced Donut frosting (which was also brought to life from an old recipe I created – cupcake frosting) to accompany, and the rest is history.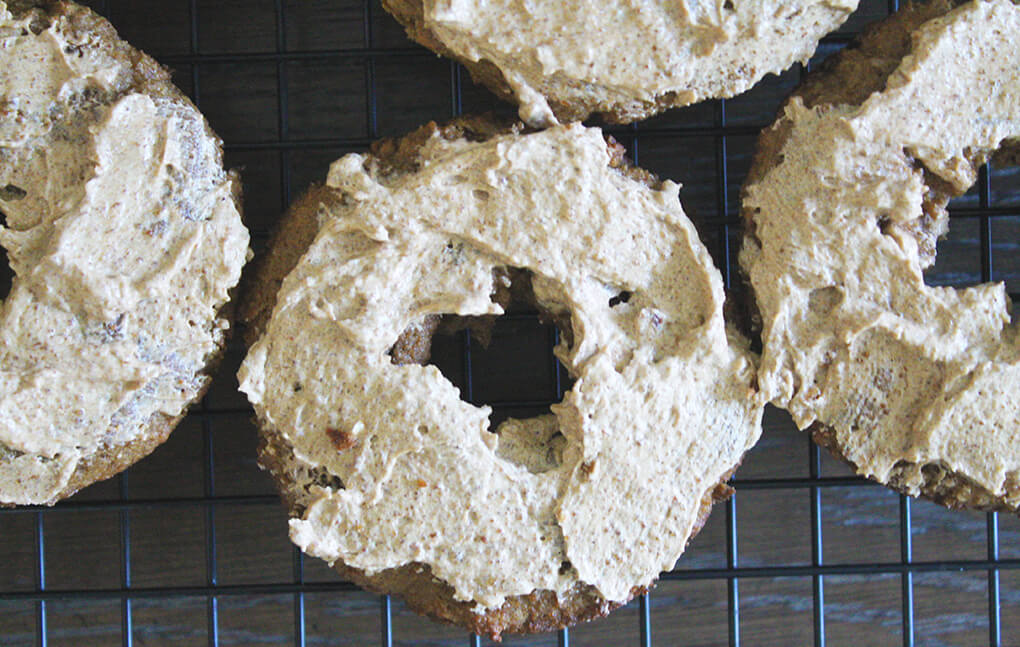 No reason to make anyone wait for this recipe.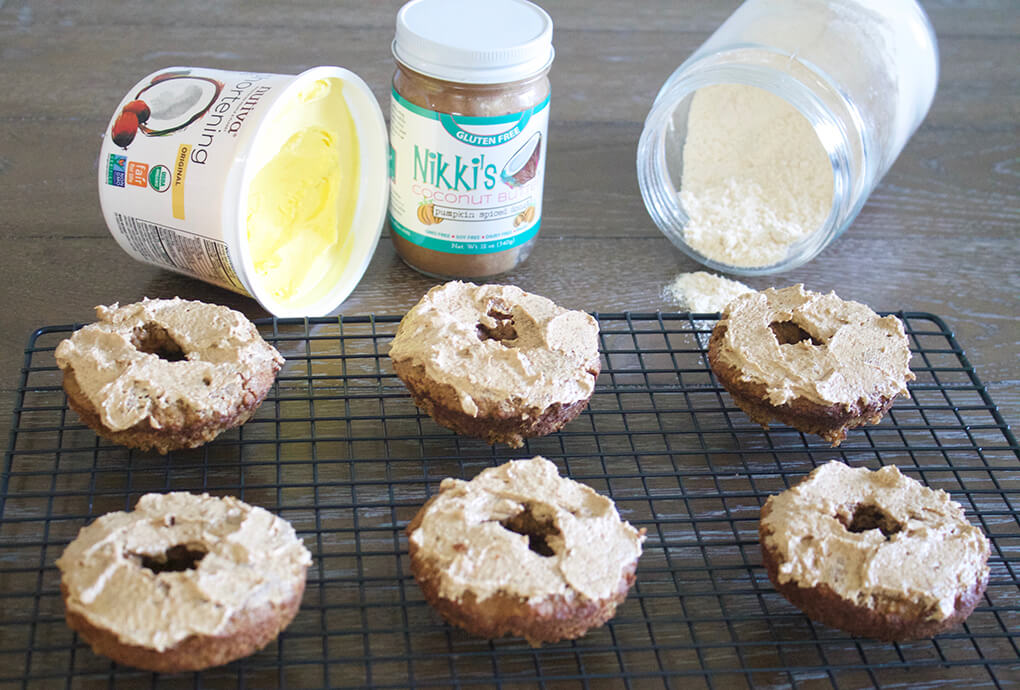 These will be perfect for Halloween, Thanksgiving, and Christmas.
And in case anyone cares….these donuts are gluten free, dairy free, Paleo-friendly, soy free, and corn free.
They use no refined sugars or artificial ingredients.
Baked Pumpkin Donuts
Click HERE to save this recipe.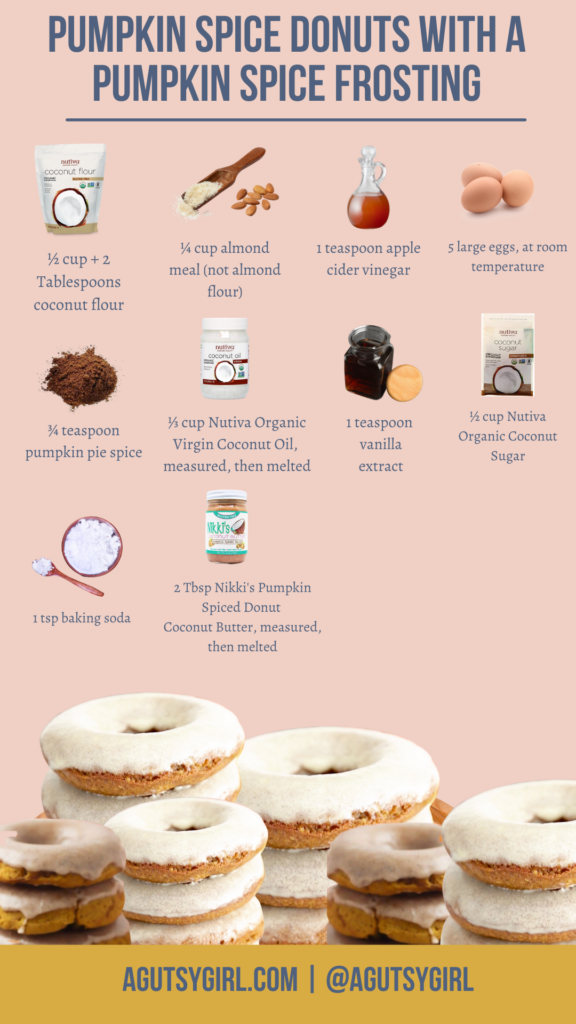 Baked Pumpkin Donuts Ingredients
½ cup + 2 Tablespoons coconut flour
¼ cup almond meal (not almond flour)
5 large eggs, at room temperature
1 teaspoon apple cider vinegar
¾ teaspoon pumpkin pie spice
⅓ cup Nutiva Organic Virgin Coconut Oil, measured, then melted
1 teaspoon vanilla extract
½ cup Nutiva Organic Coconut Sugar
2 Tbsp Nikki's Pumpkin Spiced Donut Coconut Butter, measured, then melted
1 tsp baking soda
Pumpkin Spiced Donut Frosting Ingredients
4 Tbsp Nutiva Organic Shortening
1 cup Nutiva Organic Coconut Sugar
½ teaspoon. pumpkin pie spice
2 Tablespoons Nikki's Pumpkin Spiced Donut Coconut Butter
½ Tablespoon vanilla extract
2 Tablespoons water
Baked Pumpkin Donuts Instructions
Preheat oven to 425 degrees.
Place all dry ingredients (except baking soda) in a large mixing bowl and stir by hand.
Place vanilla and apple cider vinegar in a small, separate bowl and stir.
Add melted coconut oil, coconut butter and vanilla / apple cider vinegar mixture and the baking soda to the dry ingredient bowl. Gently stir by hand until combined.
Add in eggs, one-by-one, until all ingredients are completely blended together.
Pour mixture about ⅔ full in each donut space.
Bake for about 10-11 minutes (as ovens vary in baking times, keep an eye on the donuts beginning around minute 8).
Remove donuts from pans and place on a cooling rack.
Pumpkin Spiced Donut Frosting Instructions
Place your mixing bowl in the freezer for 15-30 minutes.
Grind the coconut sugar into a powder, ½ c. at a time (this will help ensure that it cuts down to the best powder form).
Once all the coconut sugar has been made into a powder, place it in a sifter and sift through one time.
Add all ingredients, except for the water, to your mixing bowl pulled from the freezer.
Beat on high for 3 minutes. Scrape down sides and add the water.
Beat on high for another 3 minutes or until your "whipped" blend emerges.
Donut Pan
To make the Baked Pumpkin Donuts, you'll need a donut pan.
I have this donut pan. It only makes 6 of these, but by using a pan like this you can bake them and you can have them shaped as donuts.
p.s. We also have the mini donut pan, which would also be fun for these. Anything mini makes everything better.
Other
Now, let's say you stumble upon this blog post after Nikki's flavor is gone for the season. Then what should you do?
Easy peasy squeezy. Sub in one of her flavors, which include things like: Cashew Cookie Butter, Dark Chocolate Fudge, Honey Pecan Pie, and Vanilla Cake Batter.
As the recipe is written, all of these flavors would pair with the pumpkin pie spice, except maybe not the Dark Chocolate Fudge. If you want to use the Dark Chocolate Fudge flavor, might I suggest swapping the pumpkin pie spice with cinnamon or cardamom?
If you liked this post, you might also enjoy: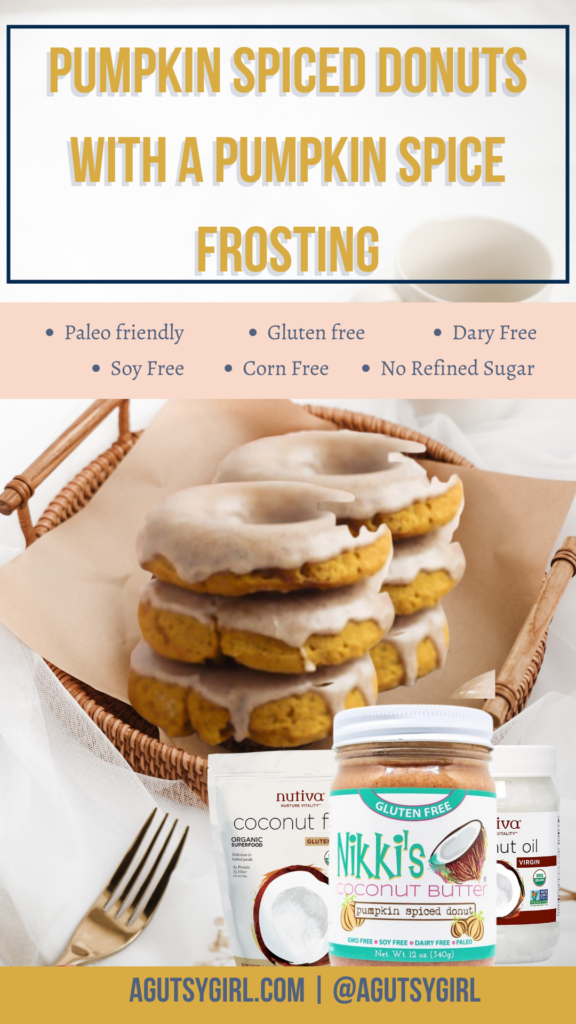 Xox,
SKH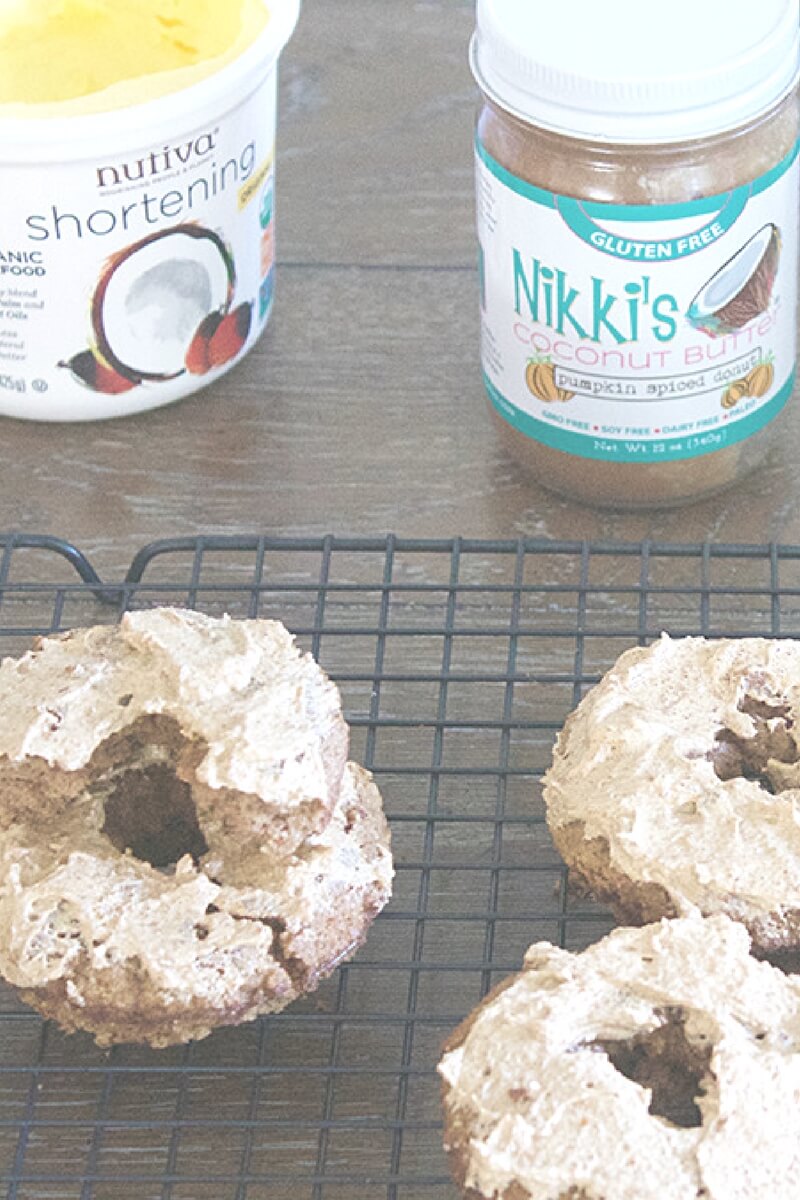 You will heal. I will help.