Back from the 2019 Natural Products Expo West, and I have 36 Gutsy Goods from Expo West 2019 to share.
Besides all the delicious new (and old) eats, my top 4 things from the show included:
Two lengthy conversations with Kiran Krishnan.
Deeper connections with my Delighted By Hummus glitterati (aka team).
Seeing industry friends, making new industry friends, and (mostly) hanging with my Expo BFF, Kiran (That's right – you've never heard the name until today; now you have heard it twice. One is male; the other female.)
Meeting Wellness Mama. Of course you know who she is, Katie. And guess what? I may or may not be recording a Podcast with her in April!
But what you came for today are my 36 Gutsy goods from Expo West 2019. So let's dive in. Make note that all of the below is simply brief, intro information. I'll be hand-picking some of them to dedicate entire posts to. If there is one that's a must-know-about-further, please let me know in the comments below or send me an email.
36 Gutsy Goods from Expo West 2019
Click HERE to save these for later.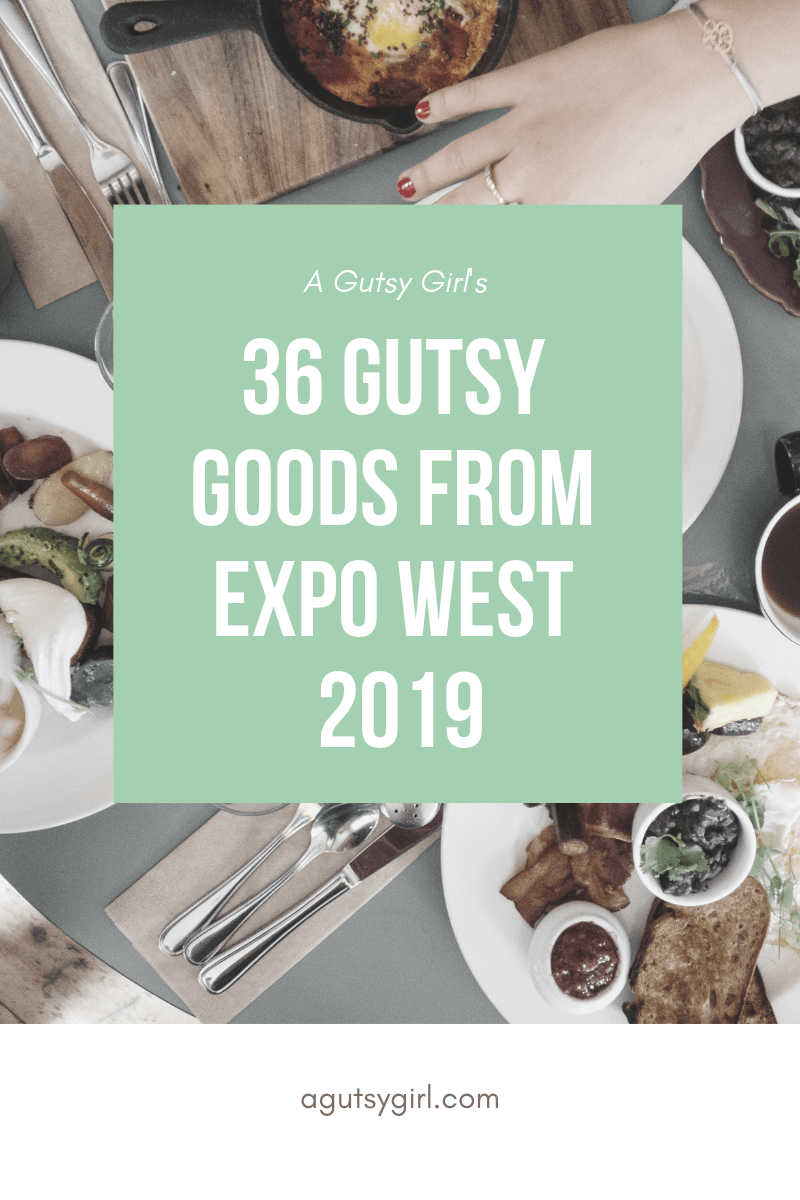 Delighted By Hummus. Key Lime Pie. I wasn't at the booth a ton, but when I was, let me tell you – people raved about the product. Yes, even (maybe mostly) the skeptics. Not surprising. The Key Lime Pie is our brand new flavor. It's not on the market yet, but coming soon. We also debuted another product that will hit shelves soon. Wait for it…..on-the-go snack packs. One side is the Brownie Batter hummus; the other gluten-free pretzels.
Just Thrive Probiotic. I spent an insanely high amount of time with the team and with Kiran learning so many things. Did you see my Instagram Stories during that time? I'm on fire over this company. I have some huge, detailed posts coming for you (in conjunction with Kiran) about probiotics soon. You are going to absolutely love all the information I'll share (for free btw). For today, two things: I I have 100% switched to using the Just Thrive Probiotic (this post is not sponsored by them, they do not pay me a flat fee, and if you buy from my link I only get a small percentage, okay?!) and if you use code AGUTSYGIRL at checkout, you'll automatically save 15%. Don't miss any of the information I'm about to release – sign up for the A Gutsy Girl newsletter HERE.

BLISS Gourmet Foods. Pecan Cinnamon Gluten Free Granola. Get this, in the North Hall of the convention, there was an entire row dedicated just to Minnesota brands. Yes, we are representing! This is one of them, though I'm not able to easily find anywhere online.
Gutsii. Mint Puffdaddii. Won't lie. Was super skeptical. The name and branding are a little above and beyond. Besides, "Gutsii?" So I went to the booth, and tried the Mint Puffdaddii (<– ha ha). Verdict? So. Good. Ingredients: Cocoa Mass, Inulin, Rice Crisp, Cocoa Butter, Peppermint Oil, Vanilla Beans. Is it real? It is. Under 2 grams of sugar; no added sugar. Does it taste like milk chocolate? No! But it was truly so, so good. Stock up and support our Gutsii friends.
Quinn. Creamy Peanut Butter + Dark Chocolate'Y Peanut Filled Pretzels. Not available yet.
Fruit Bliss. Organic Turkish Mini Juicy Apricot Snacks. These are not Low FODMAP, but the ingredients are only apricots and water. I love them for children.
Bobo's Toaster Pastry. Strawberry Jam. Hold your horses right there. Y'all remember Pop Tarts, yes? I grew up on them; you did, too. This is the modern-day Pop Tart. Only this time they are Non-GMO, gluten and dairy free, and vegan. There are still 22 grams of sugar per pastry, but as a special treat (for the kids)? Of course! The taste was spot on.
Nona Lim. Pho Beef Bone Broth. I've always had a soft spot for Nona Lim. They make some incredible broths. This one was also spot on. It's not easy to get my hands on back in the food dessert, Southern Minnesota, so I'll need to work on that.
Pimp-My-Salad. Hemp Parmesan Vegan. So good! I actually think all of their flavors are Certified Gutsy. Ingredients in this one: Hemp (shelled hemp seeds and coarse hemp powder), sunflower seeds, nutritional yeast, garlic, thyme, rosemary and Himalayan pink salt.
Jilz Crackerz. Original (+ all flavors). You want an A+ cracker for your children (ha – and yourself)? This one should be added to the go-to lineup. These are probably not new, but definitely new-to-me. You can also find these on Thrive Market (in fact, if you have a Thrive Market Membership, just search all these products on the site; you'll find many).
Mi Rancho Organic Street Tacos. These are adorable, little things. We are a taco family, but now that gluten and dairy is out for awhile, these are in. You can see the regular Organic Corn Tortillas HERE. Samarah didn't want a taco on Sunday night, so I took the tortilla, spread vegan cheese on it, melted, and then cut into 4 slices like a mini pizza. She loved it!
Lavva Yogurt. Original. To each is own. I loved this, as did my friend Kiran. But my friend Tess did not. She prefers the CoYo (which I also love) and GT's (which I don't love). Anyways, this is a dairy-free, plant-based yogurt with zero sugar. For a plant-based yogurt, the ingredients are spot on. Here they are: (*=organic) Coconut Water*, Coconut Cream*, Plantains, Pili Nuts*, Coconut Powder*, Cassava Root*, Lime Juice*, Himalayan Salt*, Live Vegan Cultures. What are Pili Nuts? Maybe I should do a dedicated post about them?!
Wholly Veggie. Um, wholly everything! Y'all know by now that I eat far less meat than ever before. That doesn't mean I'm eating a ton of processed Vegan things. I really loved their Southwest Beet Vegan Patty. The ingredients: Non-GMO: Beets, black beans, onions, red pepper, egg white powder, rice starch, potato starch, corn starch, sunflower oil, lime juice, pea protein, spices, vinegar solids, tomato powder, onion, garlic powder, dehydrated onions and garlic, spice extractives. Do I love a couple of the ingredients? No, but for a Vegan patty, this is very clean. Also delish.
Urban Moonshine. Organic Digestive Bitters. Stopped by this booth. They weren't overly friendly or wanting to talk, but I'm very curious about the products. Ever tried them? (Also via Thrive Market.)
Justin's Cashew Butter Covered Cashews. Sorry to bust the bubble, but these are insanely incredible yet not on the market yet. A friend is the Marketing Manager there, so I got an exclusive bag. I've hidden it from Ryan and the kids because I'm selfish like that.
Barbara's Puffins. Every. Single. Flavor. Not new, but our jam in this house. Breakfast, snacks, you name it. I order by the shipment. If you live in this small town, they carry one flavor at the local Cashwise. Now who lives in a food dessert?!
Mom's Best Cereals. Safari Cocoa Crunch. You'll find Mom's Best Cereals everywhere, but not the Safari Cocoa Crunch. Remember Cocoa Puffs? Yeah, they got upgraded. More soon!
PopChips. Nutter Puffs. Crunchy peanut butter snacks? Totally in. These are also Low FODMAP ((ingredients: peanut butter (peanuts, cane sugar, salt), yellow corn (degermed), peanut flour)).
Jackson's Honest. Crunchy Sweet Potato Grain Free Puffs. You can get these on Amazon in bulk or via Thrive Market for just $3.19 a bag. With ingredients including cassava flour, organic coconut oil, sweet potato flour, yellow pea flour, and sea salt, these are both Certified Gutsy and Low FODMAP.
FODY Food Co. Sesame Ginger Sauce and Marinade. This company serves the Low FODMAP community. Until the show, I had not tried any of their products. It does contain soy, if you can't do that, but the flavor is so good. The sauce is gluten free certified, lactose free, onion and garlic free, and Non-GMO certified.
Soozy's. Maple Donuts. Soozy's Grain Free came out with a new product; donuts. They are melt-in-your mouth good. No sign of them anywhere online yet, so I'll be waiting for their debut.
Country Life. Gut Connection. I don't believe this line is even on the market yet. I was introduced to it by my good friend, Ashley Koff (yes, the Nutritionist you always see on Dr. Oz). The line contains 8 gut-focused products (energy balance, immune balance, weight balance, digestive balance, mood balance, stress balanace, cognitive balance, and sleep balance). See what they did there? It's a gut line with all those individual things. Why? Because everything plays into the gut. Anyways, I'll dig more and hopefully devote a post to the line for Y'all.
Quest Nutrition. Chocolate Peanut Butter Protein Bar. Alright, time to come clean. I love, love, love Quest Nutrition bars. But no, I do not think they are for everyone on every step of the gut-healing journey. In the depths of mine, I could not do them. Now that I'm thriving, I eat Quest bars often. They are certified gluten free, but the ingredients are nothing to write home about ((Protein Blend (Whey Protein Isolate, Milk Protein Isolate), Isomalto-Oligosaccharides (100% Natural Prebiotic Fiber), Peanut Butter, Water, Erythritol, Cocoa, Peanuts, Natural Flavors, Sea Salt, Lo Han Guo, Stevia. Isomalto-Oligosaccharides are 100% Natural Prebiotic Fibers derived from plant sources.)) All of that said, as an insanely busy mother of three and professional, I live that bar life here-and-there. I think Quest bars are delish, and it's the only product where I make exceptions for the Stevia (because I can't taste it and all back acne is gone). Please tell me you like them, too?
Binnie's Coconut Butter. Dark Chocolate. Don't lie. There is always room on the market for more insanely delicious coconut butter. Ingredients: Organic Shredded Coconut, Organic Extra Virgin Coconut Oil, Organic Coconut Syrup, Organic Cacao Powder, Sea Salt.
Nutiva. Squeezable Chocolate Manna. Same concept, but Nutiva put it in a squeezable pouch. It's not available yet.
Fusion. Vegan Collagen Booster. Alright, many of you have been asking for Vegan collagen. I found one. It's from Fusion, and it's non-GMO, gluten-free, soy-free, and dairy-free. Personally, I'll stick with my Collagen, but HERE is all the information if you're interested in the Vegan one.
Core Bar. Peanut Butter. Can't find this one anywhere, so I'm not even sure it's on the market yet.
Pro Bar Live. Coconut Cashew. Plant-based protein bar that's delicious, and contains probiotics (which you may or may not dig). The taste is great, and it's super dense, so you could use it for a hefty snack or pre/post-workout.
Theo. 70% Dark Chocolate. Incredible dark chocolate with a great mission. Ingredients: Cocoa Beans*+, Sugar*+, Toasted Coconut*, Cocoa Butter*+, Ground Vanilla Bean*. You will find this on Thrive Market.
Gaia Herbs. Calm A.S.A.P. + Mood Uplift. I adore Gaia Herbs as a brand. I'd love to work with them to give you all the information about their products. Check these two out that I sat down to discuss with the Gaia Herbs team.
Elmhurst 1925. Hemp Creamer. I actually didn't even make it to the Elmhurst booth, but I was with the company when they were developing this product, and at Expo West it released. It's innovative, and of course you already know my feelings on the beloved hemp!
Mikey's. Pizza Pockets. They have us all fooled! These Pizza Pockets taste like the original. Ryan loved them, too! I am a huge Mikey's fan, and need to share more of their products with you.
CForce. Water. Do not even be jealous. I met Chuck Norris' wife. Yes, this is their company. Who am I to even put a bottled water on this list? But this water was smooth and perfection. It comes right from their ranch in Texas.
Om. Immune Mushroom Powder. Alright, I realize that mushrooms are not for everyone. But mushrooms do have a ton of health benefits, in the right situations. This blend contains: Proprietary Certified 100% Organic Mushroom Blend: Himematsutake (Agaricus blazei), Turkey Tail (Trametes versicolor), Maitake (Grifola frondosa), Shiitake (Lentinula edodes), Cordyceps militaris, Reishi (Ganoderma lucidum) and Antrodia camphorata mycelial biomass powder cultured on organic oats. Mushrooms and gut health + overall health are a high interest point for me currently. (You'll find a ton of their products on Thrive Market, too.)
Ginger People. Wild Turmeric Ginger Shot. And last, but certainly not least, the Ginger People bringing it home. Ingredients: 30% ginger juice, apple juice from concentrate, water, organic cane sugar, lemon juice, coconut cream, black pepper. Best ingredients ever? No, but let me tell you – when your stomach is nauseous, ginger is incredible. I've used it for years. If you want just straight ginger juice, then THIS will be your jam. I'd love to work with them to bring you all the ginger goods.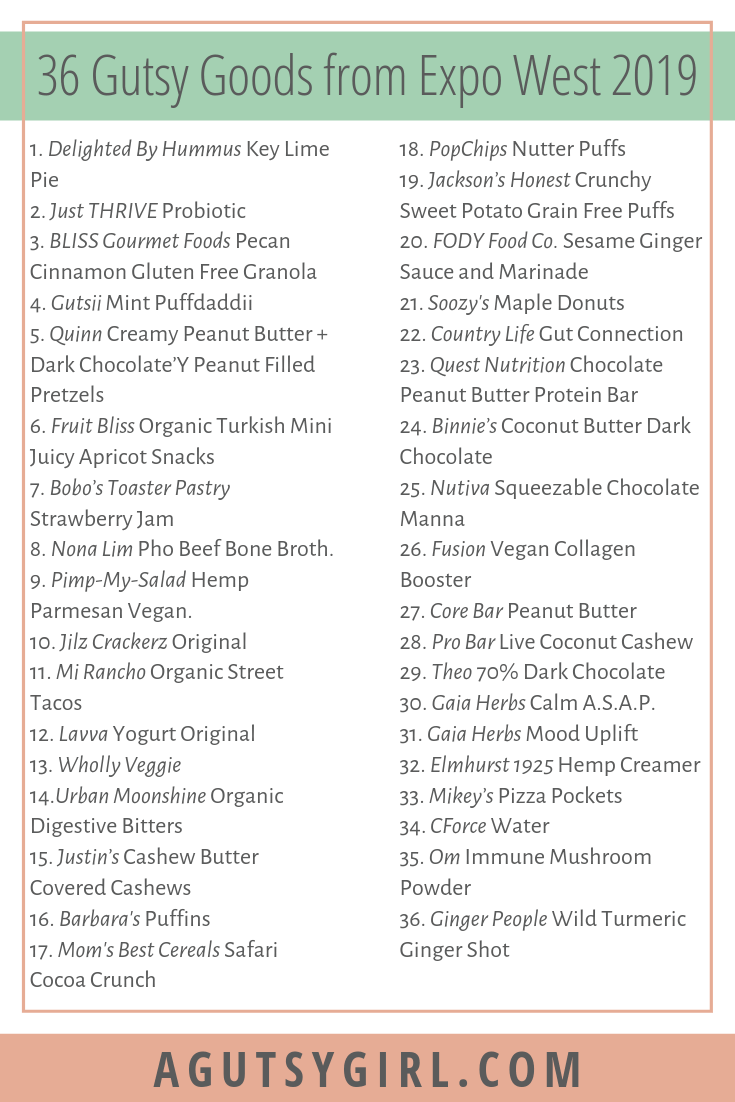 Were you at the show? Thoughts? Of my list above, which items do you want me to provide more information on?
Xox,
SKH
You will heal. I will help.