You'll need just four ingredients to make these Keto Coconut Butter Bites.
This is an adaptation from the original recipe I created for Nutiva long ago, Paleo Coconut Butter Bites.
What changed?
I swapped out the maple syrup; swapped in monk fruit.
And why would I even do that? 
Because that simple switch makes them Keto (another recipe dietary option for you), and there is no discoloration from the maple syrup.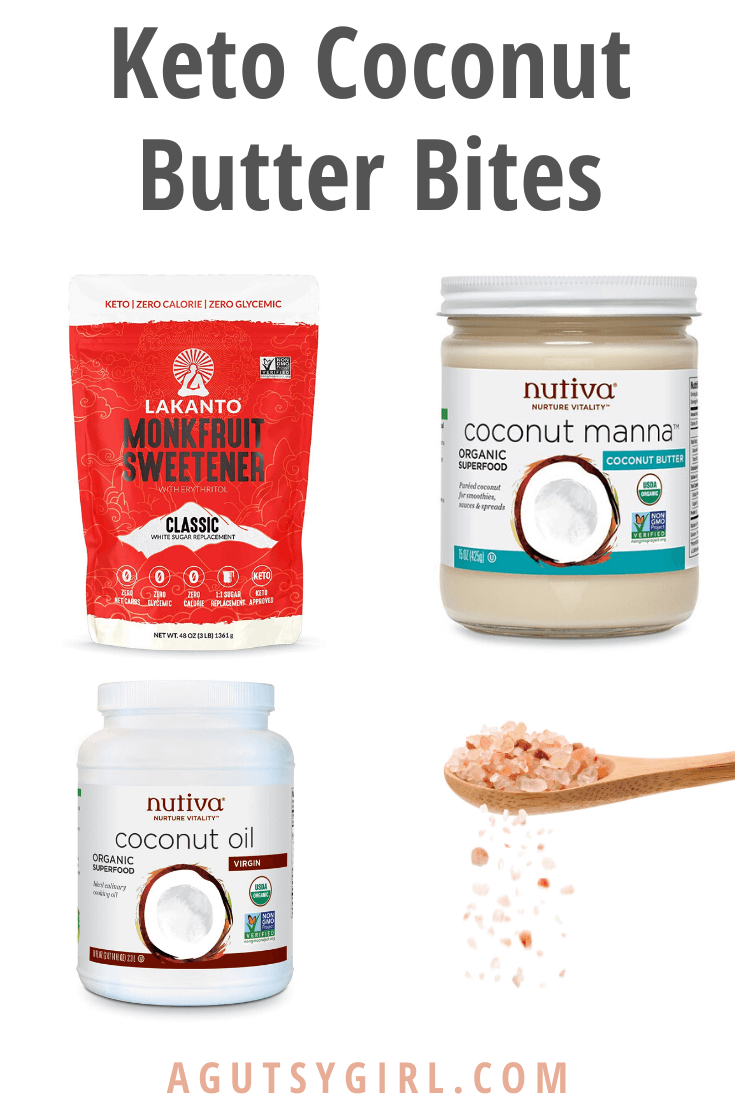 Personally, I don't care if they are Keto are not. But in addition to being Keto, these Keto Coconut Butter Bites are:
Leaky Gut Diet approved!
gluten free
dairy free
soy free
just 4 ingredients
low-FODMAP
grain free
egg free
Paleo
…..and more
And they satisfy a sweet tooth so good!
The process for making these could not be simpler, and the recipe quantity will make just enough for a personal stash of snack meets desserts all week long.
Keto Coconut Butter Bites
Click HERE to save this recipe for later.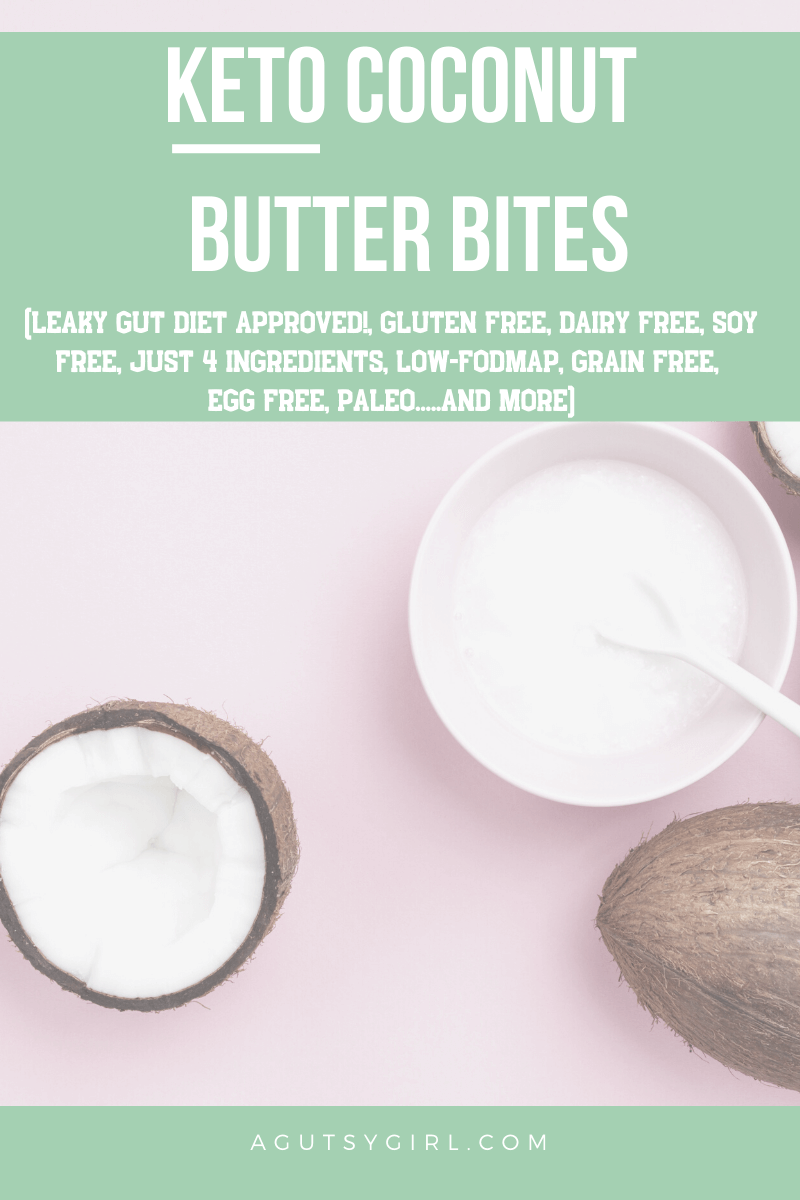 Keto Coconut Butter Bites
Author:
Sarah Kay Hoffman
Prep time:
Cook time:
Total time:
A simple, 4-ingredient recipe to satisfy a sweet tooth while following the Ketogenic diet.
Ingredients
½ cup Nutiva Organic Coconut Manna, measured then softened
1 Tablespoon Nutiva Organic Coconut Oil
1 teaspoon monk fruit
sea salt, tiny pinch
Instructions
Line a mini muffin pan with mini muffin liners.
In a small bowl, soften, but don't completely melt, the coconut manna.
Add the monk fruit, coconut oil, and salt.
Stir until a smooth consistency is reached.
Pour into the liners, about halfway full.
Place in the fridge for at least 4 hours.
Remove from liners, and enjoy!
What the Heck is Coconut Manna?
Nutiva calls their Coconut Butter, Coconut "Manna" because if ever there was a food from heaven, this is it.
The Nutiva Organic Coconut Manna is made with fresh organic coconut meat, which is flaked and conveyed through a hot air dryer, which runs at 170°F, within a few hours of shelling, and is then ground like a nut butter.
The product is not pasteurized or refined. It is a whole food coconut nut butter and it contains protein, carbohydrates, fiber, and oil.
It's also very different from the organic virgin coconut oil, which is just the oil that has been expeller pressed from fresh coconut (also used in this recipe). The manna is ground, whole coconut that has the water removed.
Grab the Ingredients
Click the item name to grab your ingredients:
monk fruit (use code AGUTSYGIRL at checkout to save 15% off this and any of their products)
salt – use any you'd like, I enjoy pink Himalayan salt
Notes
All of those links are easily found in one, simple spreadsheet via A Gutsy Girl's Master Resource links.
You'll also find the ingredients (if you can't find them locally) via Thrive Market, the online organic shopping place resource I've used for a couple years now.
You could use Stevia instead of monk fruit, if desired. Learn more about the differences in Stevia and monk fruit HERE.
If you liked this post, you might also enjoy: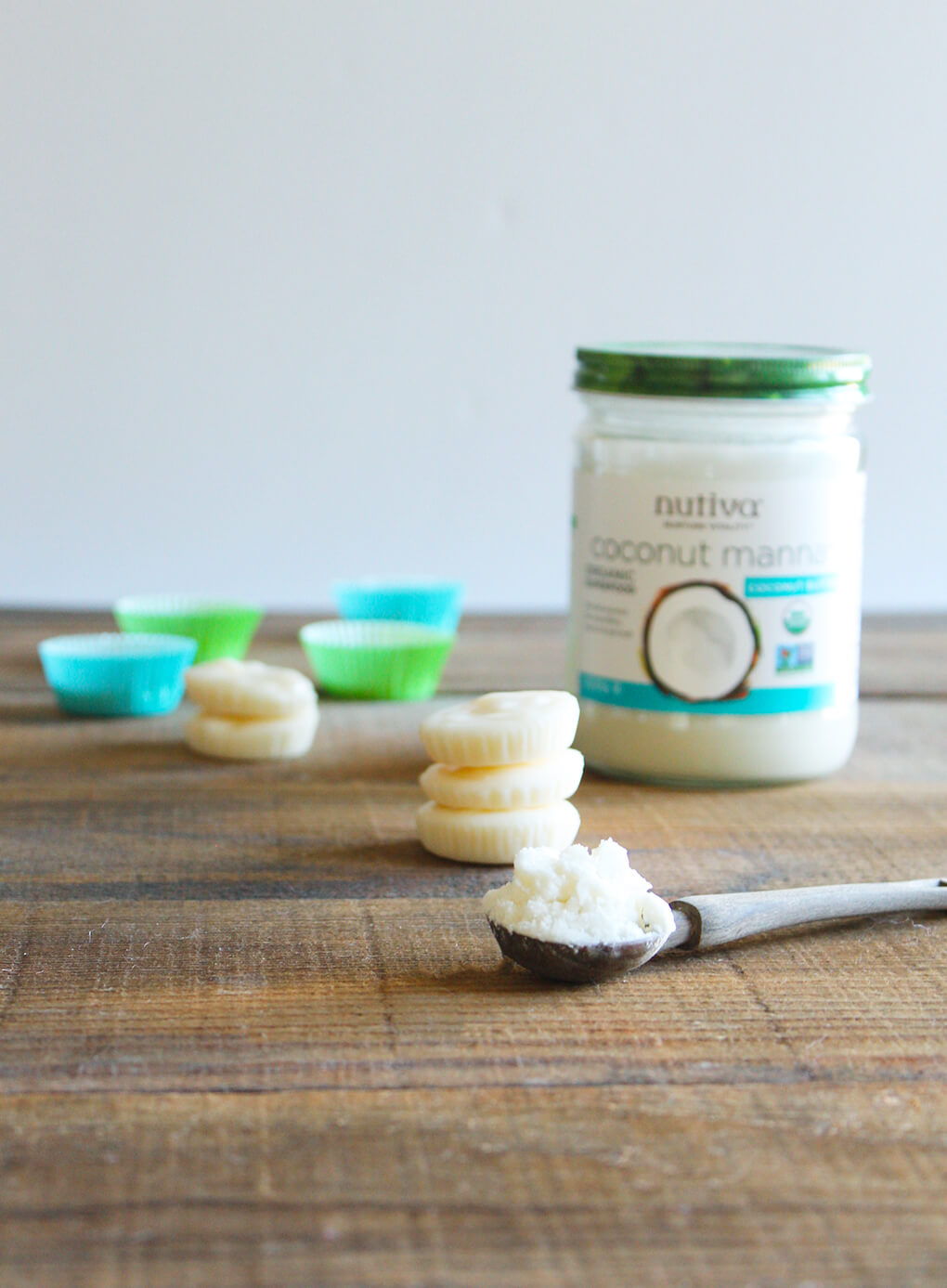 Xox,
SKH
You will heal. I will help.