Don't expect any beautiful images of Tiramisu in this recipe I'm about to give you.
I've been missing Ceci, and while I always had plans to share her Tiramisu recipe she gave to us while we were in Italy, the way I wanted to do it was going to be much different.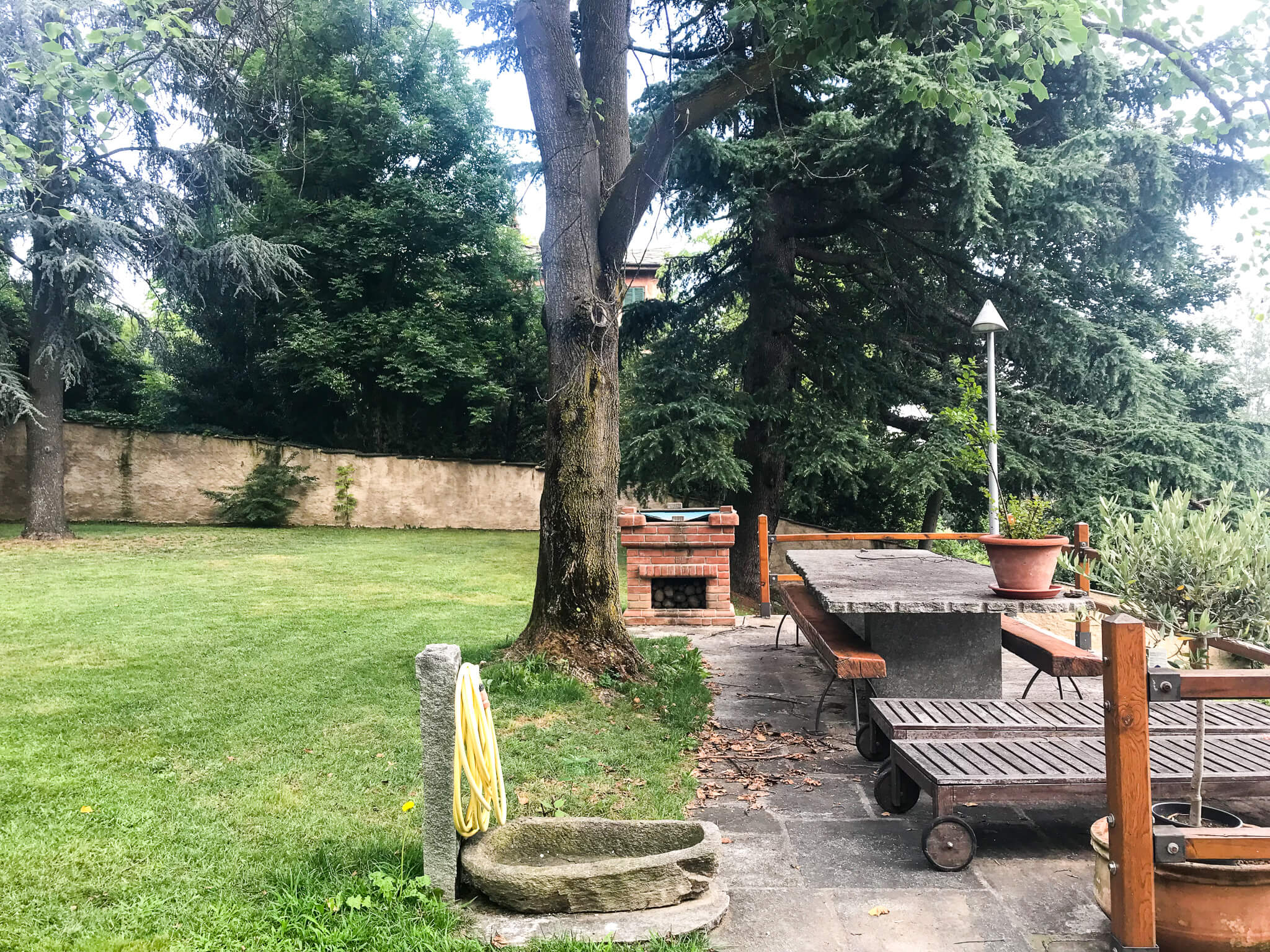 I was going to make it, and then photograph all its beauty for you to see and drool over. But when I went to review the recipe and Ceci and I making it, I felt a sadness missing that girl.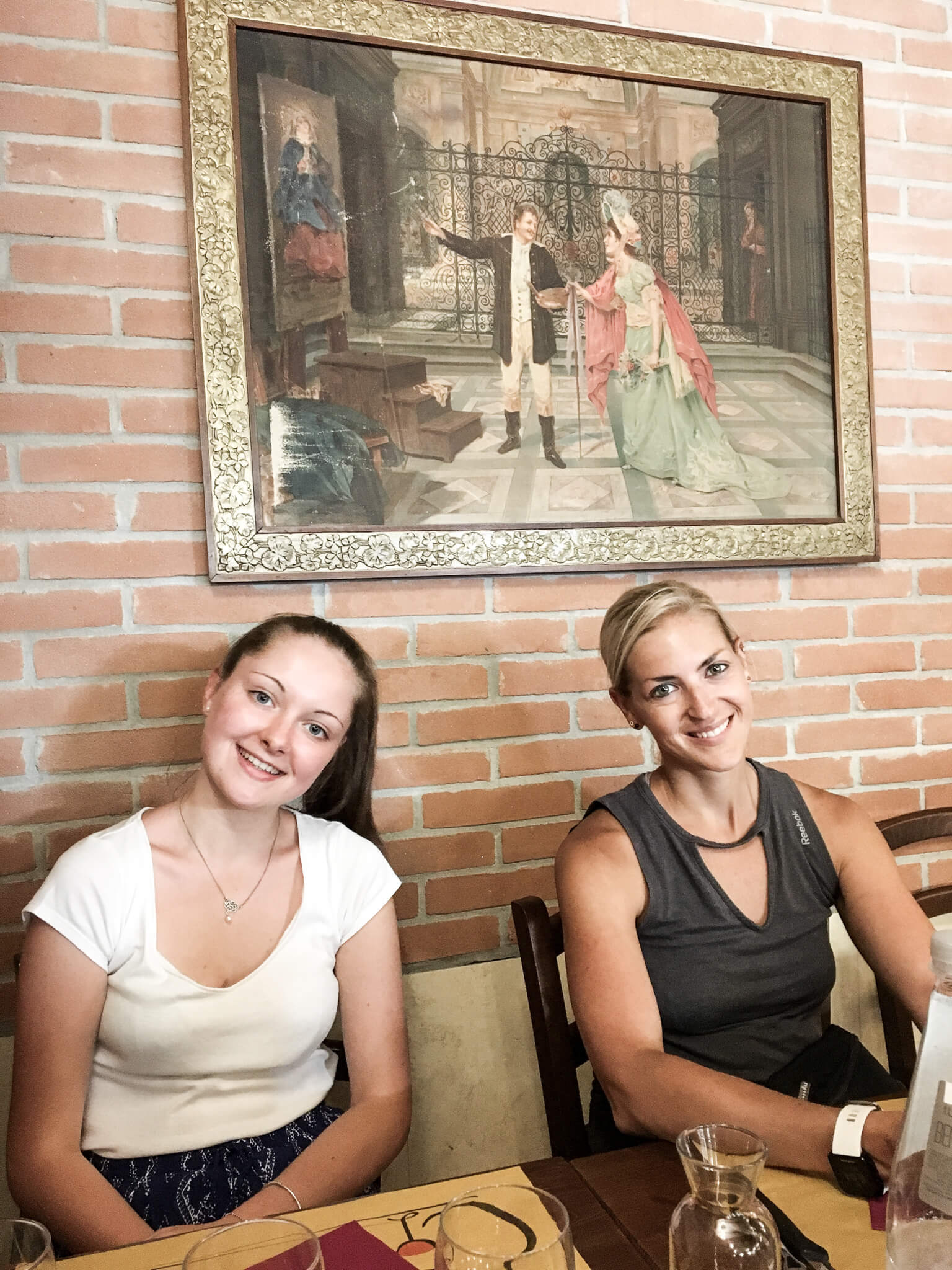 So for the post, I'll share images of she and I making it together. The final product images were super scrappy and taken on my phone in Italy.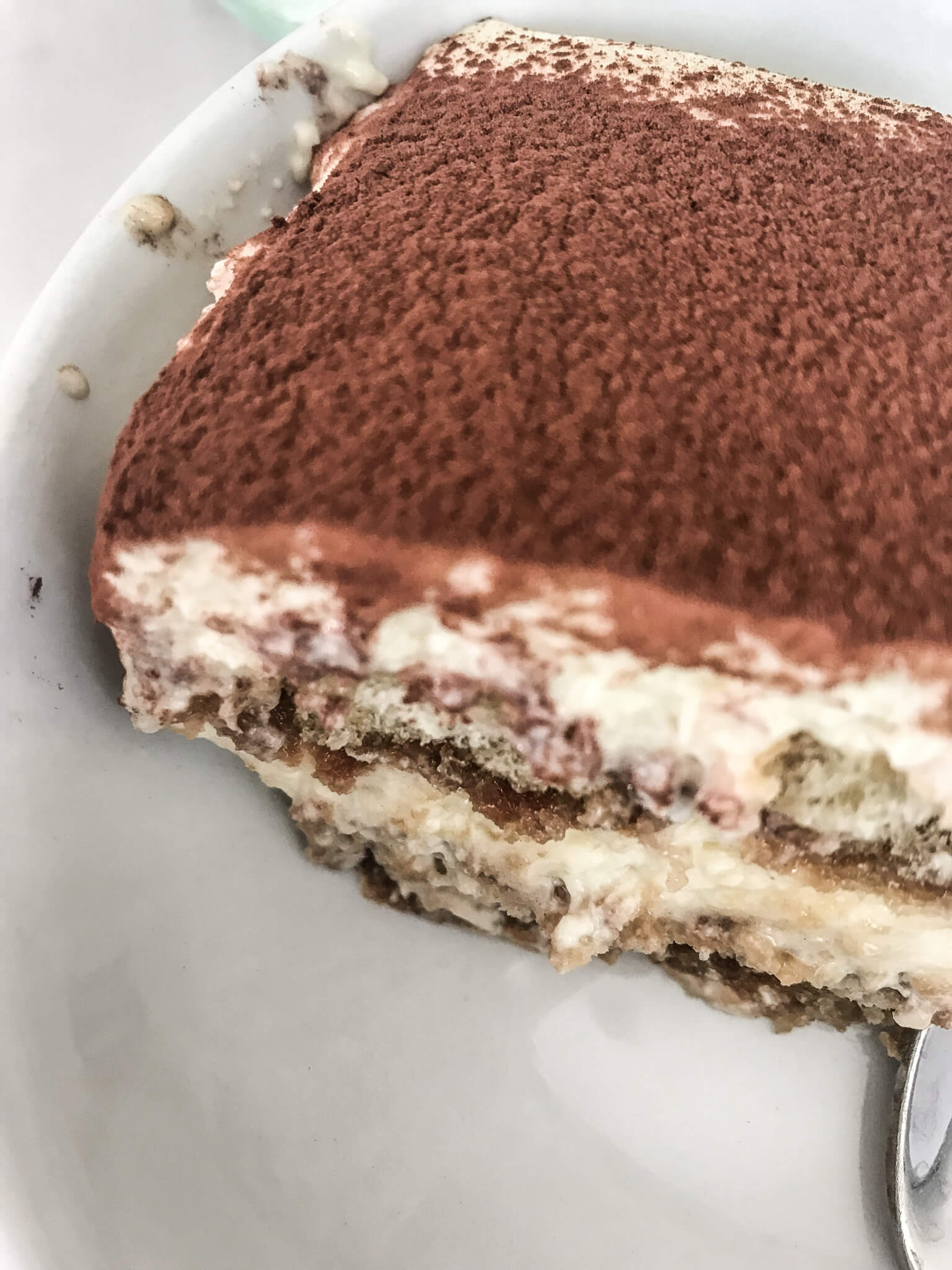 But does it even matter? Will it even matter if there are no beautiful images of Tiramisu here? 
Nope.
Why? 
Because this Tiramisu recipe is so legit.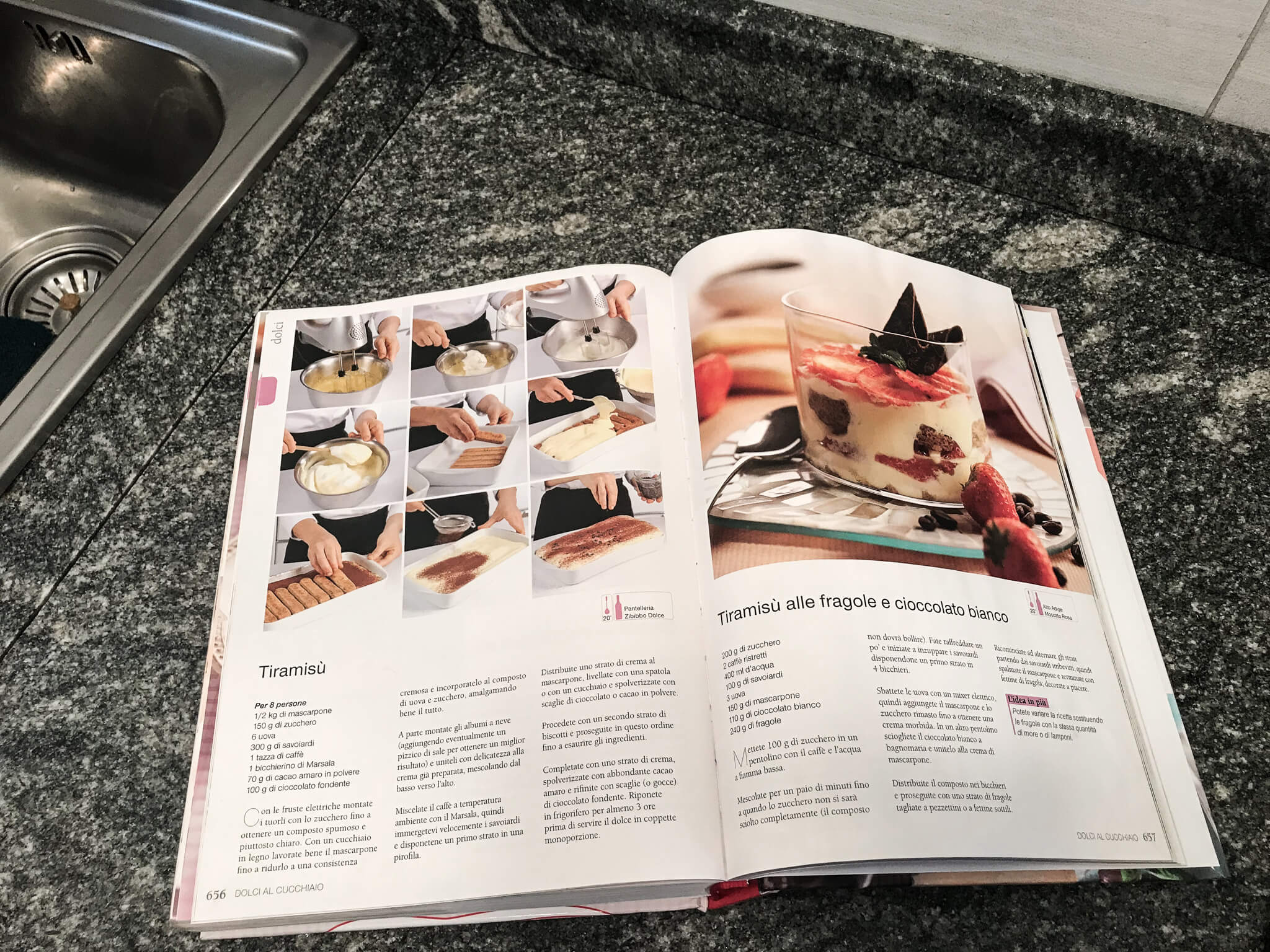 Making a Non-Alcoholic Italian Tiramisu
Click HERE to save this post for later.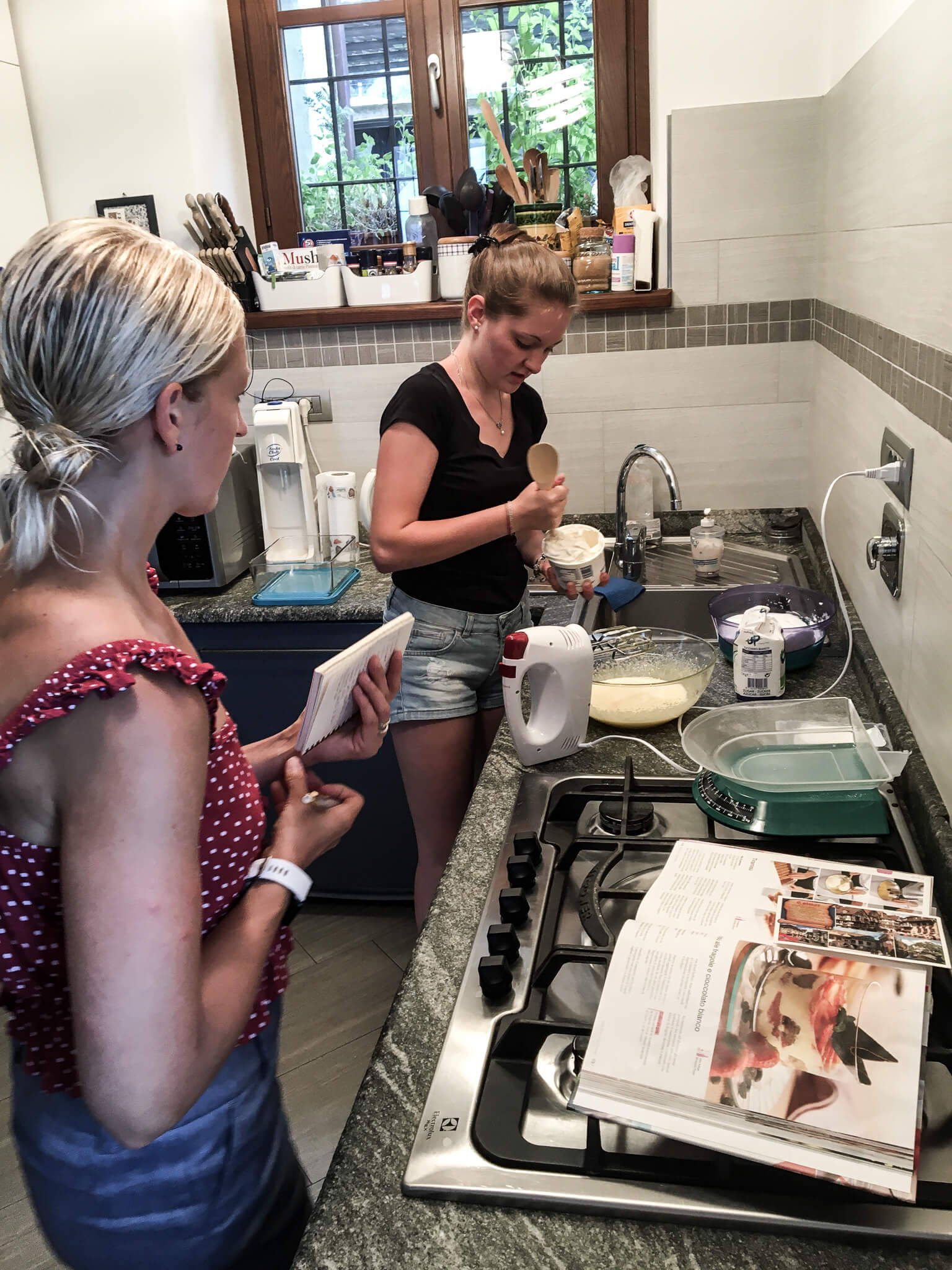 Before Italy, I had never mad a Tiramisu. The reason is that each time I had one while at a restaurant I didn't care much for it. 
Don't ask me why, but I sort of think the reason was that I never cared for the alcohol in it. You might enjoy the brandy or cognac a recipe typically calls for, and if so, then add it to this one. Not me.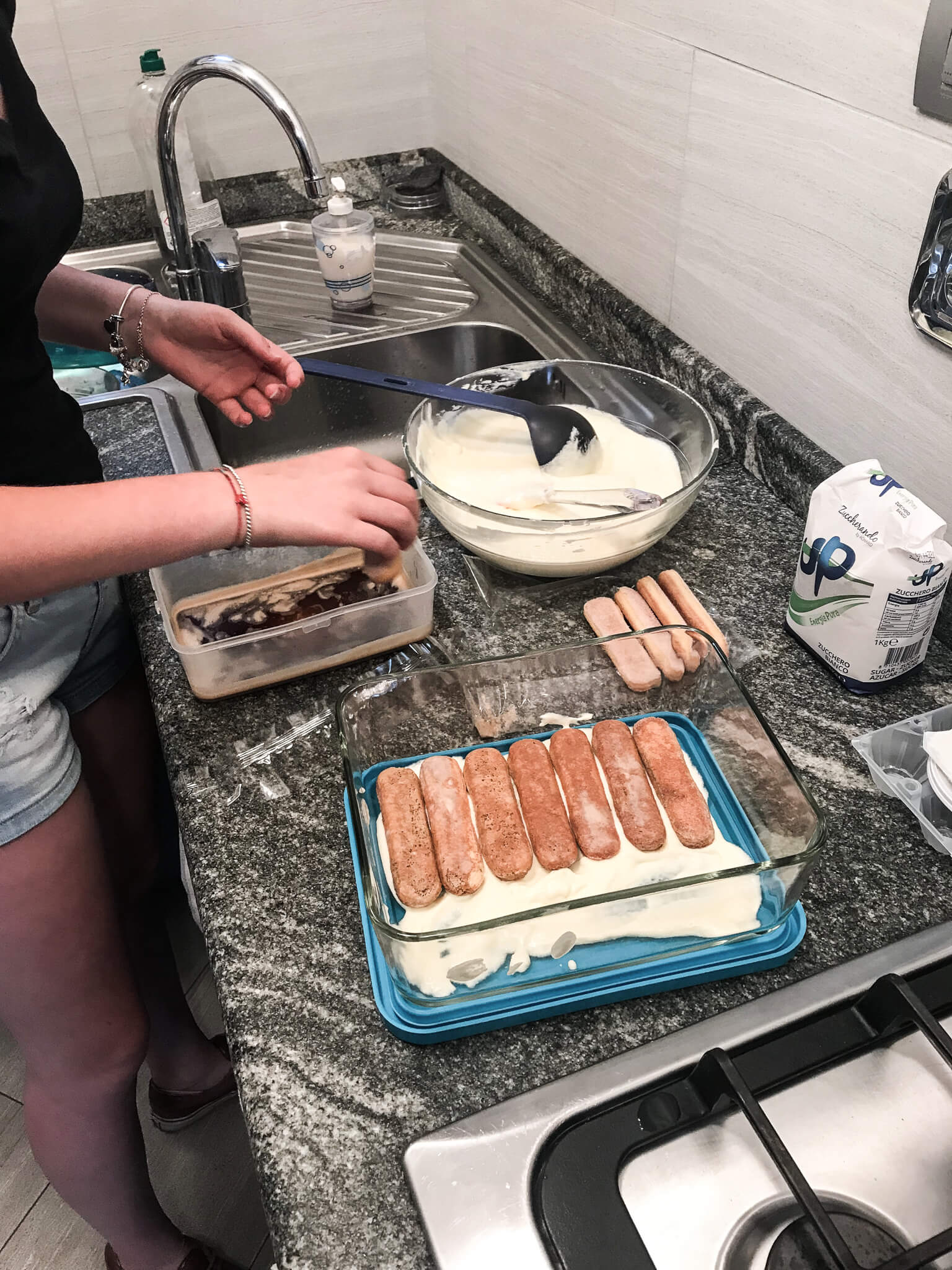 In Italy, Ceci is allowed to drink (even though she's only 18), but still this recipe is a non-alcoholic version which was lovely because I could make it immediately upon arriving home for the babes.
Tiramisu and Eggs
Tiramisu uses eggs. This recipe contains 6 eggs. They should be separated; white from yolk. You'll notice in the recipe instructions below that the egg white is the trickiest part of this recipe.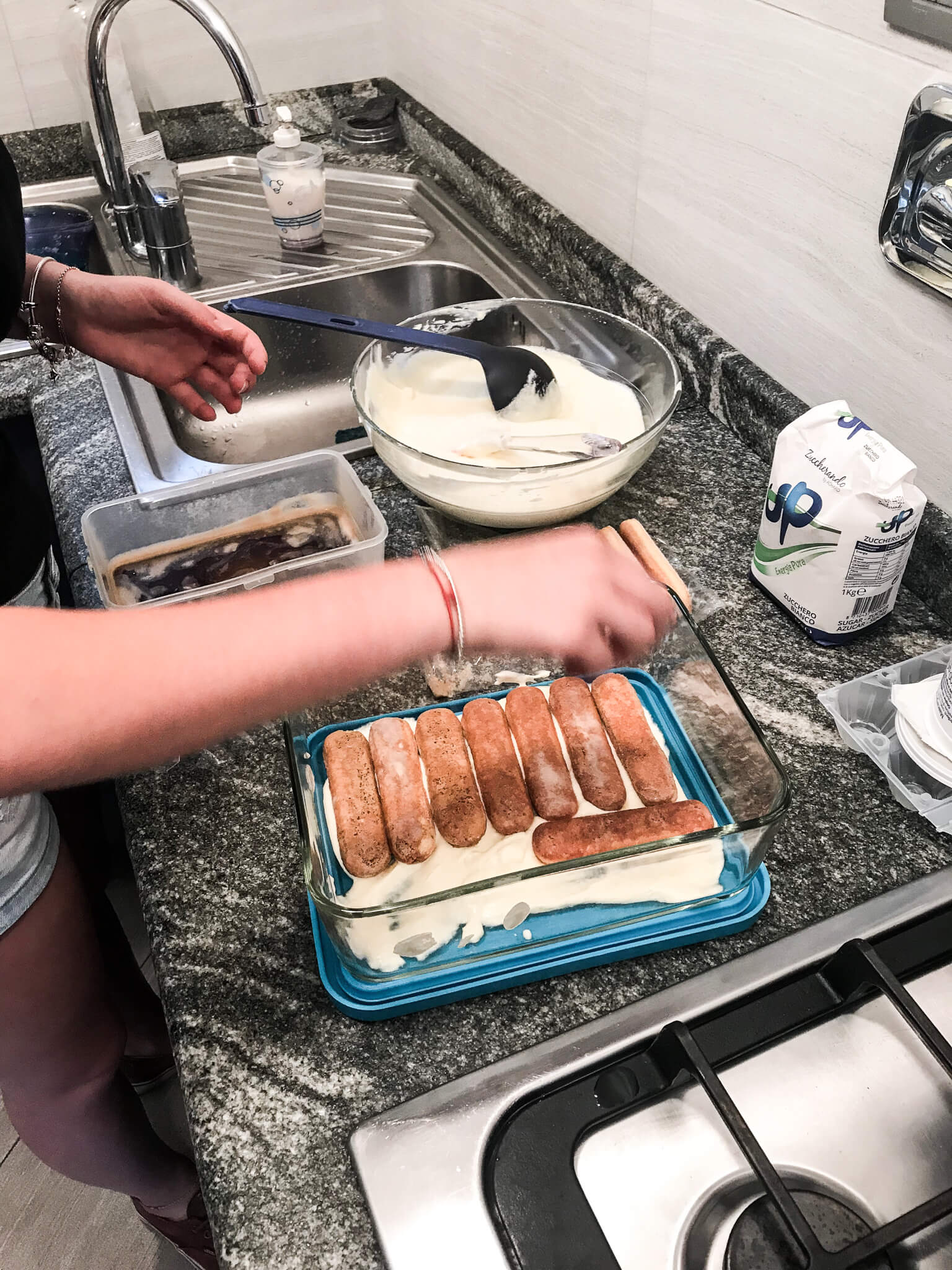 I will keep trying it, but since I could not get it right, I ended up skipping the egg whites altogether. And guess what? It still turned out just lovely.
The thing about the egg whites is that they have to be perfectly whipped and added in just right. If not, they will form a runny substance, which will make the entire Tiramisu runny. It will still taste good; the texture will just be super off which is not pretty nor desirable. But clearly, our girl Ceci has it down!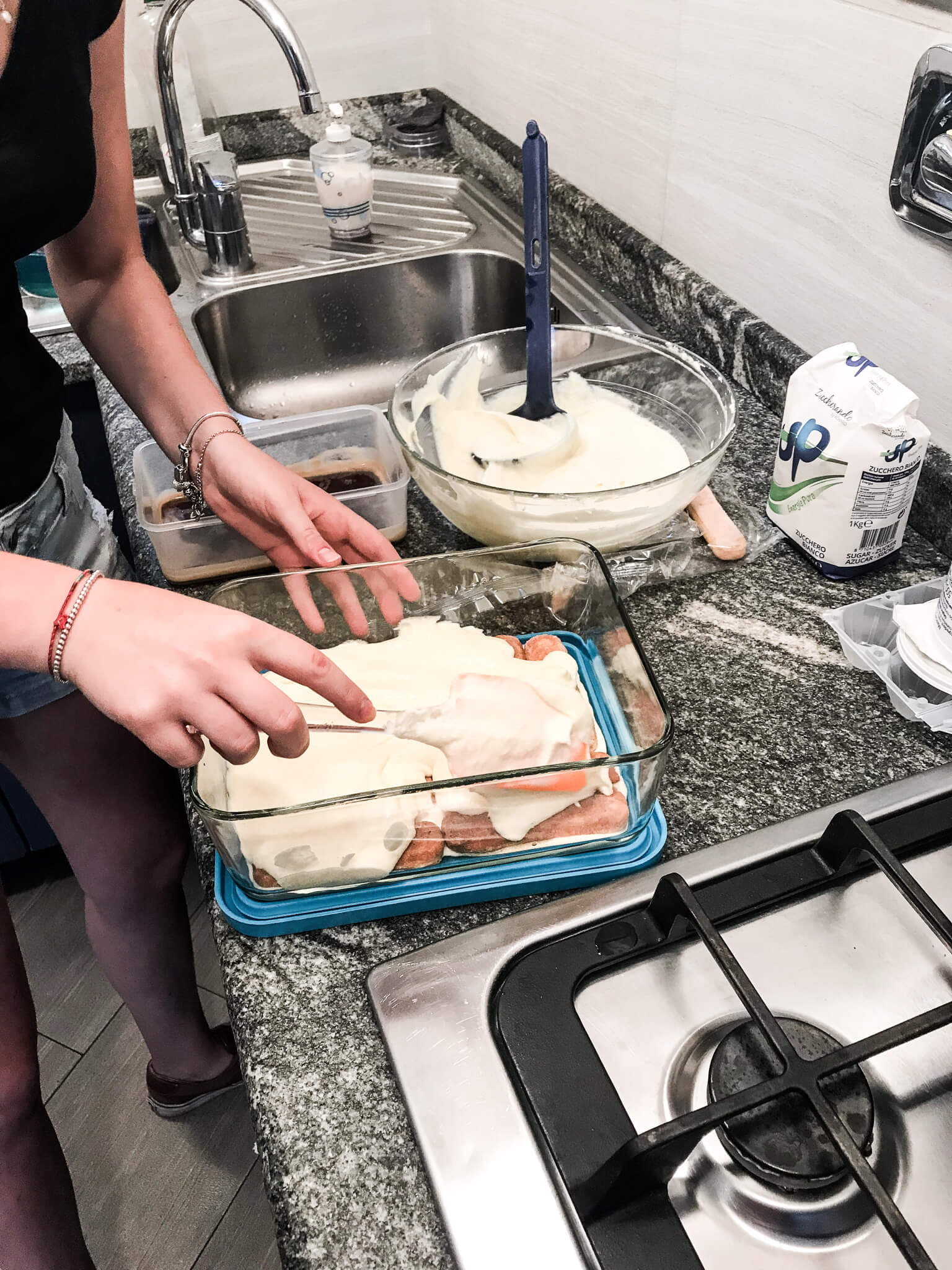 Tiramisu: Not Gluten Free
This recipe is not gluten free. 
I repeat, so that no one comes back angry with me – this recipe is not gluten free. That said, I have some great news for Y'all. With just one simple (Ladyfingers) swap it can be gluten free.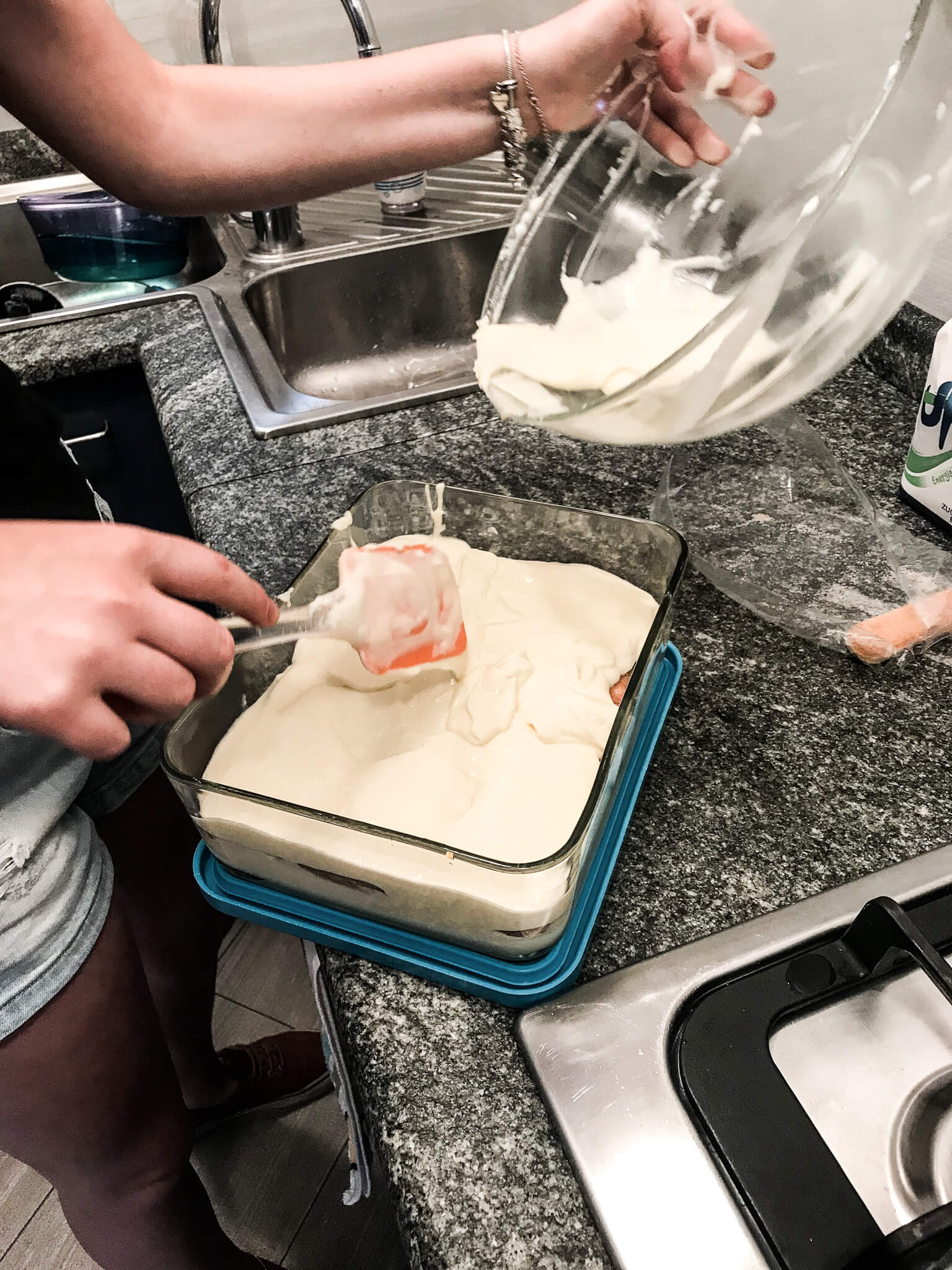 Schar now makes a gluten-free Ladyfinger, so while I will use THESE, you can opt to use THESE.
All other ingredients in the Tiramisu are (naturally) gluten free.
Tiramisu
Click HERE to save the Tiramisu recipe for later.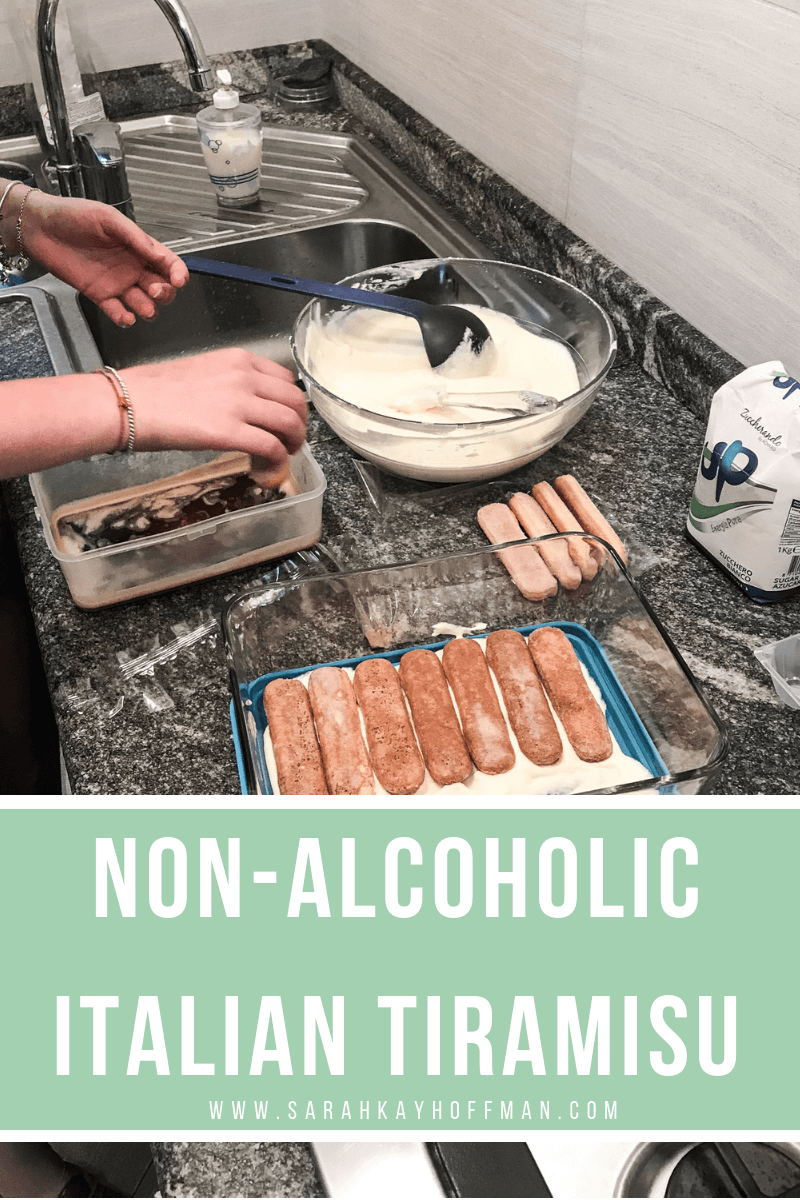 Ready for the Tiramisu recipe Ceci gave to us? Of course you are.
I have stocked up on Ladyfingers because I'll be making it for the holidays. 

Tiramisu
A classic Italian Tiramisu recipe with minimal, simple ingredients that can easily be made gluten free. Non-alcoholic.
Ingredients
17 oz Mascarpone cheese
⅔ cup white sugar
6 eggs, separated
1-2 cups coffee
20-24 Ladyfingers
cocoa, for dusting
Instructions
Brew coffee and set aside.
In one bowl place the egg white, and beat with a hand held mixer until perfectly whipped solid. Set aside.
In another bowl place the sugar and egg yolk. Beat together with a hand held mixer.
Add the Mascarpone cheese to the egg yolk bowl, and beat together with a hand-held mixer.
Then, add in the egg white bowl to the egg yolk bowl. Mix it together by hand from the bottom of the bowl to the top, until it's fully combined.
Build your tiramisu in a glass dish by spreading a thin layer of the cream on the bottom, then dunking the Ladyfingers in your coffee that you previously set aside, fully cover the Ladyfingers with cream mixture, add another layer of the Ladyfingers soaked in coffee, and add a final layer of cream.
Once built, cover, and place in the fridge for at least 4 hours.
When you're ready to serve sprinkle liberally with cocoa (or cacao powder), and serve.
Notes
The egg whites part is, by far, the trickiest. If you don't get it right and it doesn't fluff perfectly the way Ceci got it to fluff, your Tiramisu will be runny and flop. My solution? I actually **skipped** the egg whites, and the Tiramisu still worked (and tasted) perfect!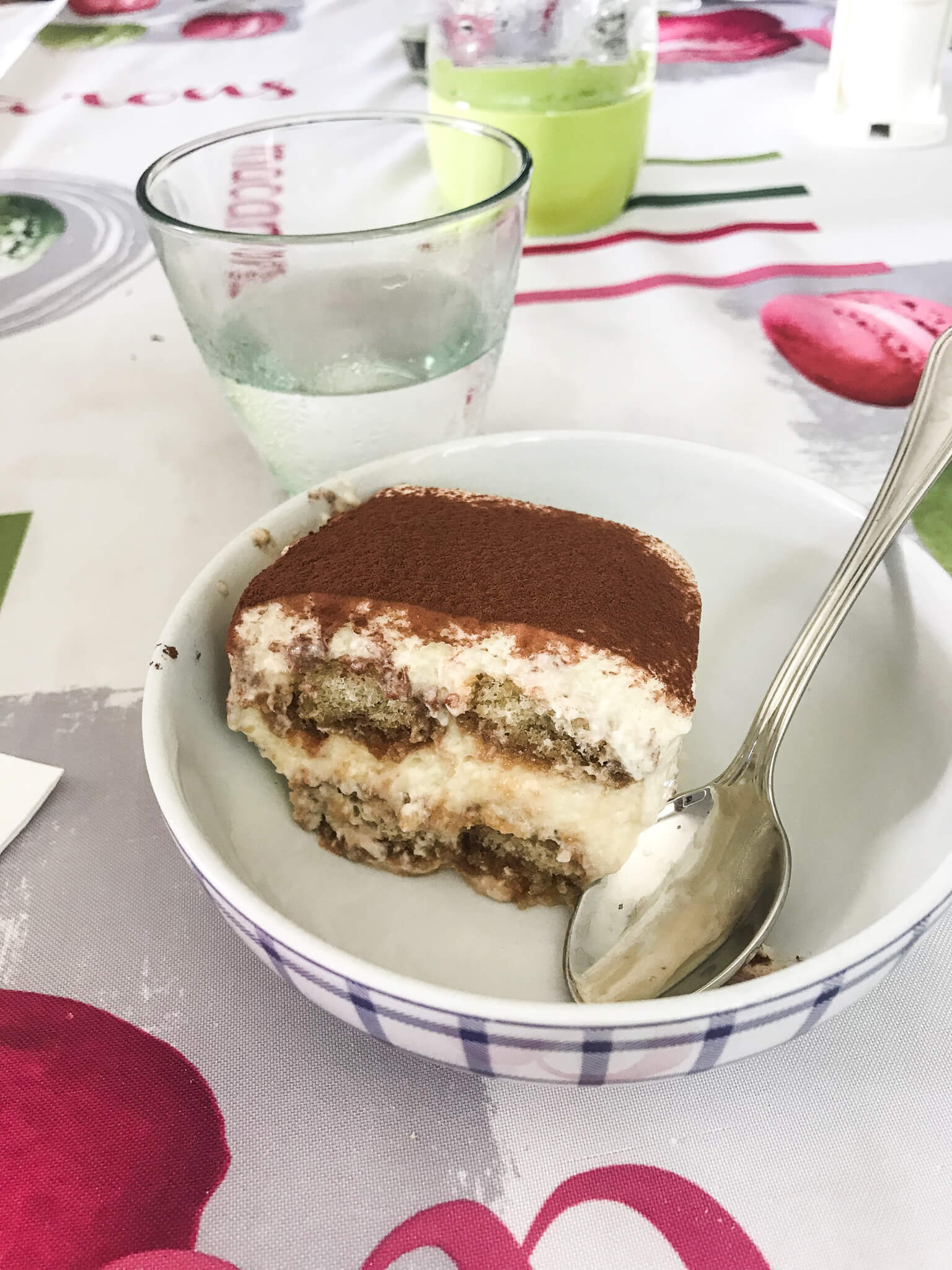 Do me a huge favor. Make this recipe, and then let me know how you like it!
p.s. Missssssssssssss you, Ceci. We are so excited for your visit here!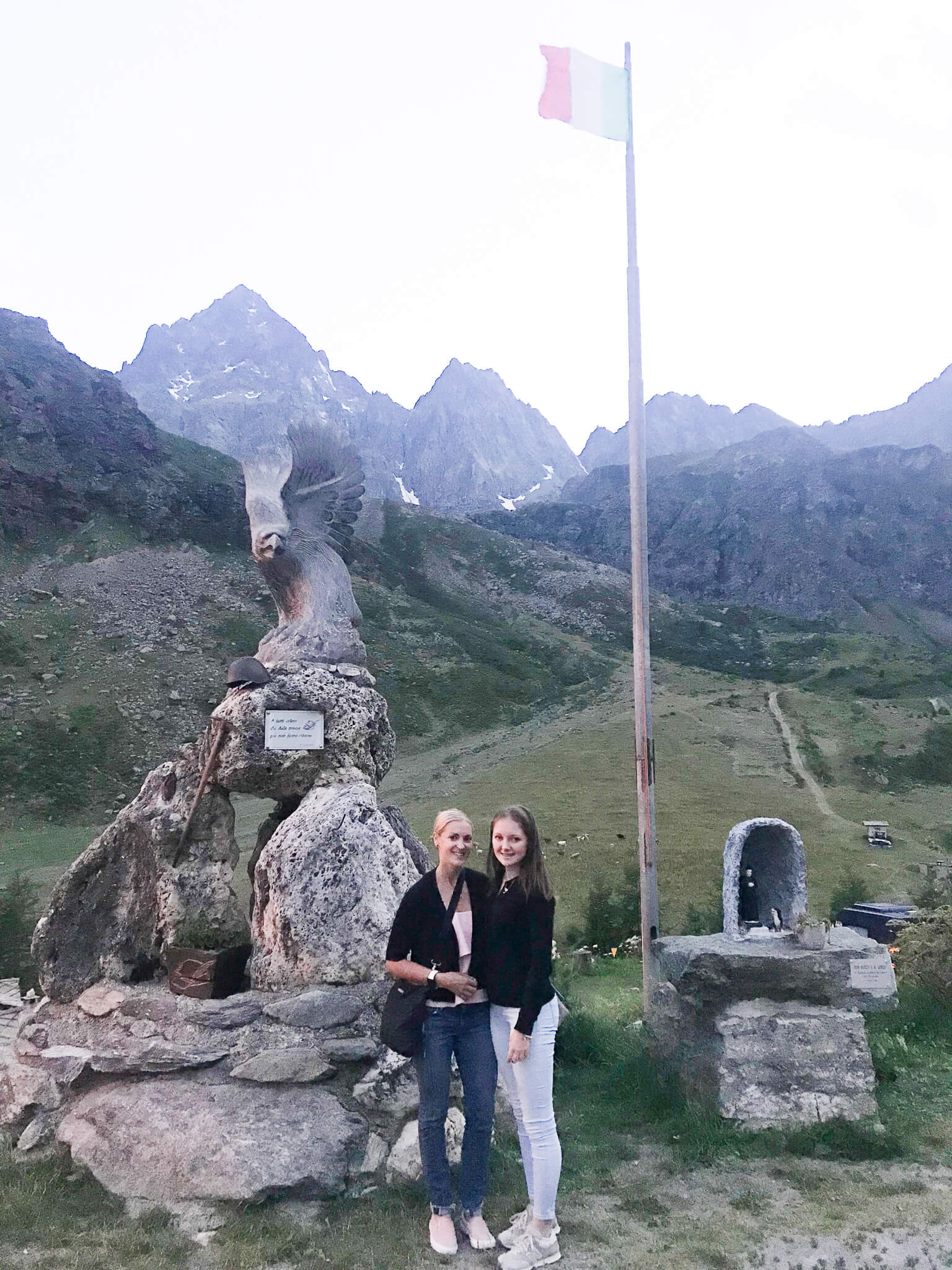 Xox,
SKH
You will heal. I will help.