This is Why Melissa Engel is a Gutsy Girl.
Keep seeking new wisdom and mastering new skills – particularly those that help you live a more satisfying life. Continual learning and discovery help support both health and happiness.
Day 82 of 101 days of blogging. 20 days from now and we will be moving forward from this series!
Why Melissa Engel is a Gutsy Girl
13 Going on Crazy was conceived on the notion that I was looking for a challenge. And in the battle of marathon, half marathon that is, I found it. I signed on for a deranged assignment:
13 half marathons
13 months
395 days
13 races
170.30 miles
One girl, a pair of Asics running shoes and a garmin 405 CX.
Most runners want to improve their running pace. I agree that this is a goal of mine as well, to improve my pace. I, however, have been struggling with this as my GI and health issues have greatly impacted my training this year. I have struggled with being ashamed and embarrassed of my GI issues for years, and as a runner I now struggle with being ashamed of my pace.
I understand that yes, I am at least out there hitting the pavement. While all that might be true, I greatly want to embrace and unleash my inner gazelle and be one of those "fast runners." I am learning to accept my GI issues for what they are, and with time I know that my stomach will settle itself down. I am taking all the proper courses of action toward the road of recovery, which will help my pace tremendously.
I have changed my diet completely. I think that I am allowed to eat 12 items. I am not joking. I have been keeping a food journal for over three months and have been able to stick to my dietary plan.
Previously, I have completed a half marathon in less than 2 hours and 40 minutes, and I know that one day I will be there again. I have 131 days until The Disneyland Half, which is the last race of my challenge, to focus on improving my pace. From now until The Disneyland Half, every run that I complete is a victory. I need to accept myself for who I am and what I am capable of.
In life, you need to pull yourself up by the bootstraps (or in my case my running shoe laces) and keep on going.
13 Going on Crazy is a medium for acceptance, inspiration, growth and self-discovery. I am dedicated to cultivating a healthier mind, body and spirit relationship.
I invite you to explore the site and join me on this journey of self-discovery. Here are some of my personal favorite posts:
Acceptance: Setting high goals in order to achieve the physical stamina that one would need in order to complete a half marathon opened doors to a discussion about personal challenges that interfered with that goal. This gave me the opportunity to come out of the bathroom and share my challenges with having Crohn's Disease.
Goals: My theory on goal setting is get SMART…I established: specific, measurable, achievable, realistic, and time-targeted goals.
SPIRIT: If you could walk around with a neon sign above your head embracing and accepting your inner quirks, what would it say?
I hope that you will check out 13 Going on Crazy and that you, too, will set goals that others might view as crazy. You will know deep in your soul that pushing the limits will help you find your inner peace and serenity.
Thanks for going down the rabbit hole with me and remember wherever you go, there you are.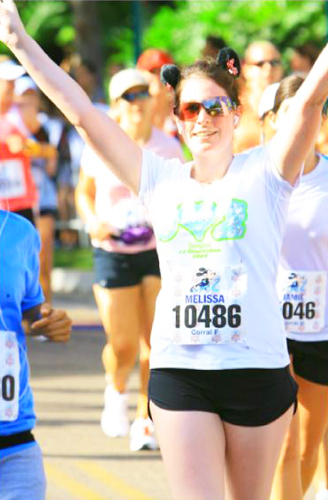 SKH Note: 13 Going on Crazy can also be found on Facebook, Pinterest, and Twitter.
Are you the next Gutsy Girl feature with a story to tell?! Don't be shy! Email me (sarah at sarahkayhoffman.com) or simply click HERE to reach out, and let's get your fabulous self up!
Xox,
SKH
You will heal. I will help.