You're in for a treat today with this fun conversation about sardines vs salmon and healing the gut with my friend, Gigi, aka The Salmon Queen.
Sardines vs Salmon for Gut Healing with The Salmon Queen Gigi (Episode 101)
Click HERE to save this episode and information on sardines vs salmon for later.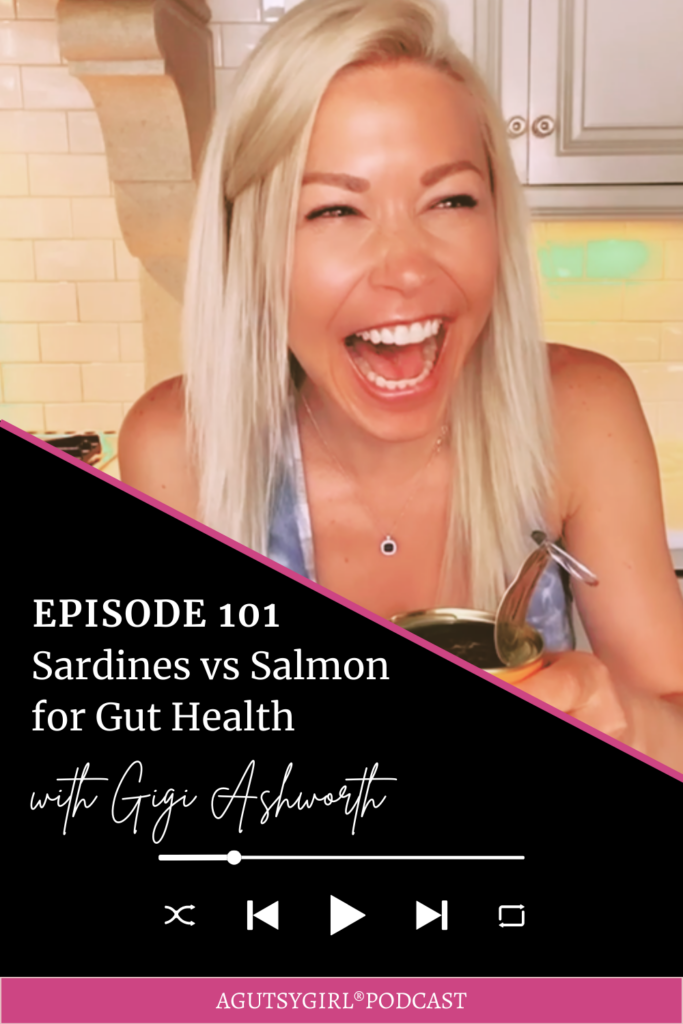 Episode 101: Show notes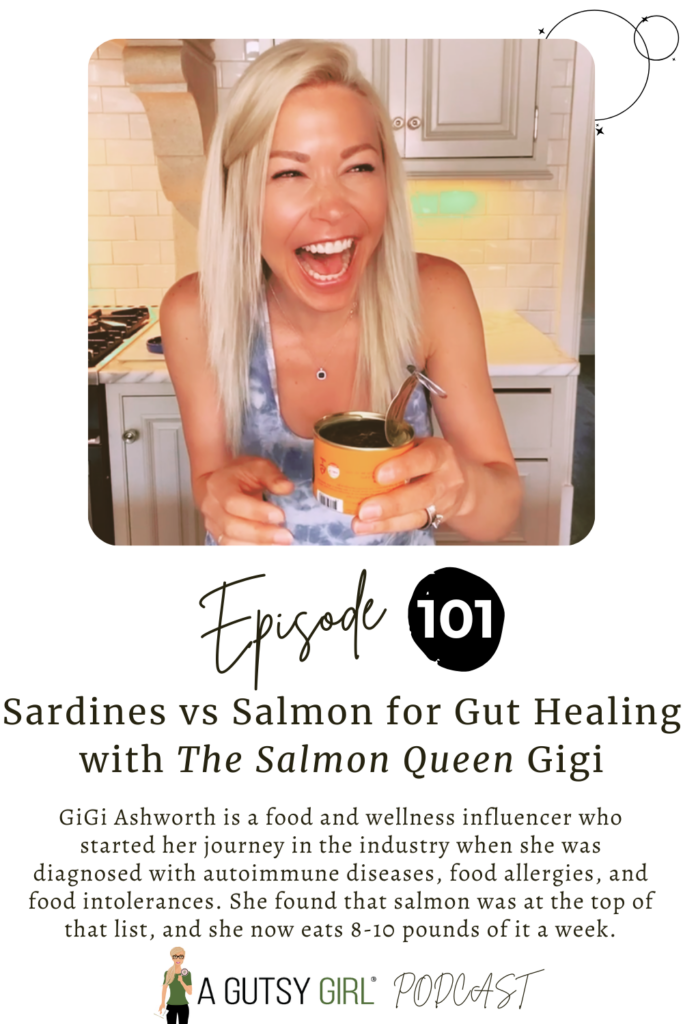 Episode 101 on the 'A Gutsy Girl' podcast: Sardines vs Salmon for Gut Healing with The Salmon Queen Gigi
Today's episode focuses on salmon, sardines and other fatty fish + their benefits for gut health and overall health, and how to naturally incorporate them into your everyday diet.
Subscribe Today:
Apple Podcasts | Google Podcasts | Spotify | iHeart Radio | RSS
In this Episode we cover:
Who IS Gigi Ashworth, aka The Salmon Queen?
Why is Gigi so passionate about your message relating to salmon?
Why does Gigi think salmon is such a healthy fish for overall inflammation reduction?
Where does Gigi get her salmon and what does she think the best options for salmon are?
Why does Gigi talk about sardines, canned sardines in particular, so often?
What are the health benefits of sardines?
As The Salmon Queen, why, and how is Gigi so creative with fish? How did she get this massive obsession and passion for creating with them?
What does Gigi think is, hands down, the best fish from a gut-health standpoint and why?
Is there a fish Gigi would never eat? And why?
All about Gigi's book, Seduced By Salmon. What is its premise, and who would enjoy a copy of it and why?
Gigi was recently on Master Chef. Her experience on the show + what she showcased.
Gigi's list of resources + references for further exploration of all things fatty fish?
Links & Resources Mentioned in this Episode:
Follow Gigi on Instagram
Get her book, Seduced By Salmon
More Omega from A Gutsy Girl's line (code: PODCAST will save you 15% at checkout)
Shop the Internet for high-quality fish: US Wellness Meats, Oshēn, All Fresh Seafood, Vital Choice, Sizzlefish, Yama Seafood, Giovanni's Fish Market, Bakkafrost, Whole Foods (Atlantic salmon is what she prefers)
Wild Pastures (wild-caught seafood – save 20% off every box for life with my link)
More about the A Gutsy Girl podcast
A Gutsy Girl is the podcast that teaches, preaches, and celebrates healing the gut and living a happier, healthier life.
In addition to all the things Gigi and I discuss on the episode, I wanted to put together even more information and resources for you so that you can make the best choice possible.
Why Sardines + Salmon?
I fully believe in incorporating foods like sardines + salmon as part of a healthy diet namely due to the high amounts of omega-3 fats.
In Episode #73: DHA vs EPA, I talk all about the benefits of omega-3's.
PubMed released an article with the title, "Omega-3 fatty acids in inflammation and autoimmune diseases."
In the article it is stated,
There have been a number of clinical trials assessing the benefits of dietary supplementation with fish oils in several inflammatory and autoimmune diseases in humans, including rheumatoid arthritis, Crohn's disease, ulcerative colitis, psoriasis, lupus, multiple sclerosis and migraine headaches. Many of the placebo-controlled trials of fish oil in chronic inflammatory diseases reveal significant benefit, including decreased disease activity and a lowered use of anti-inflammatory drugs.
And two foods with the highest amounts of omega 3's are the fatty fish: sardines + salmon.
So let's break these two down even further.
Sardines
While just the thought of these tiny, oily fish are a major turn off for many, they are a powerful food, containing important nutrients.
Sardines boast the following:
Provide 2 grams of omega-3 essential fatty acids per 3 ounce serving, which is one of the highest levels of omega-3.
The tiny fish contain the lowest levels of mercury of any fish.
Since sardines contain a great source of calcium (due to the sardine bones – which are tiny) and Vitamin D, they support healthy bones, too.
They are convenient. Cans of sardines are a high-protein food that you can take along with you wherever you go for easy consumption. Note: You might want to avoid opening them in larger groups of people, though, as the smell is off-putting for many.
One serving of sardines provides over three times the amount of B12 most people need.
One can of sardines ((3.75-ounce can (about 92 grams) of Atlantic sardines)) packed in olive oil contains the following: 191 calories, 22.6 grams of protein, 10.5 grams of total fat (most of which are unsaturated fats), and 0 grams of carbohydrates and sugar.
A serving of sardines contains 69% the DV of selenium.
Contain a healthy dose of EPA and DHA Omega‑3s and amino acids.
If you have a hard time getting over the fishy smell and/or sight of a can of sardines and/or the fact that they are very salty, here are some ways to incorporate them into your diet:
Mix sardines with lemon juice, chopped tomatoes and basil, oregano or another Italian seasoning. Eat them as-is or with crackers.
Fry or grill them if you are trying to avoid the raw taste of this fresh fish.
Add some mayo into your mixture – this is a common one I'll do, and it's basic. If you want a full recipe for sardines + mayo try Sardine Pate.
Puree sardines in a blender with tomato sauce and other red-sauce ingredients to make a pizza sauce.
I use and love the Wild Planet Sardines in Sea Salt.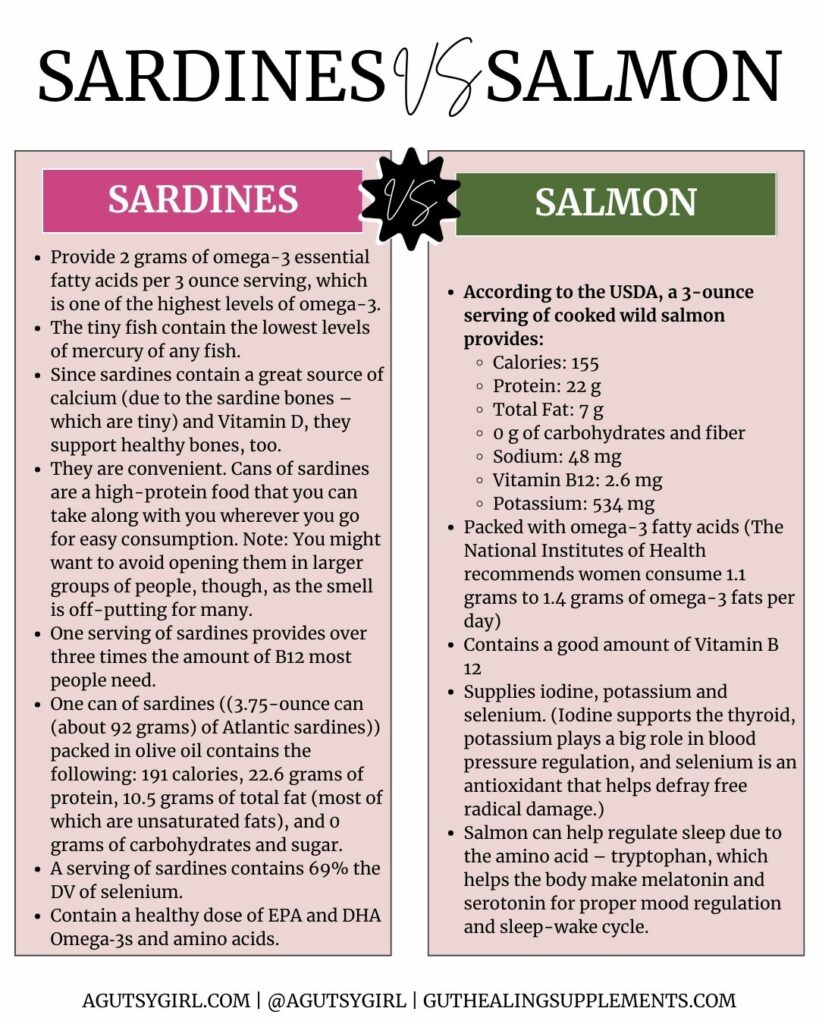 Salmon
Salmon is always touted as a main food for a balanced diet.
According to the USDA, a 3-ounce serving of cooked wild salmon provides:
Calories: 155
Protein: 22 g
Total Fat: 7 g
0 g of carbohydrates and fiber
Sodium: 48 mg
Vitamin B12: 2.6 mg
Potassium: 534 mg
More benefits of Salmon include:
Packed with omega-3 fatty acids (The National Institutes of Health recommends women consume 1.1 grams to 1.4 grams of omega-3 fats per day)
Contains a good amount of Vitamin B 12
Supplies iodine, potassium and selenium. (Iodine supports the thyroid, potassium plays a big role in blood pressure regulation, and selenium is an antioxidant that helps defray free radical damage.)
Salmon can help regulate sleep due to the amino acid – tryptophan, which helps the body make melatonin and serotonin for proper mood regulation and sleep-wake cycle.
How to Eat + Cook Salmon
Unlike sardines, it's fairly easy to add salmon into your diet as it's typically easier to "stomach."
Here are some ways to eat salmon:
Recipe: Wild Salmon, Roasted Beets and Apples
Macadamia Crusted Salmon with Cream Sauce Recipe
Broil salmon with just lemon, olive oil, and a little sea salt and pepper: The time needed to broil salmon depends entirely on how thick the filet is. But if your filets are about 4 and 5 ounces, plan for 5 to 8 minutes.
Air Fryer salmon! I recently purchased THIS air fryer. And with my new gadget, I have been experimenting with allllllll things. One of those has been salmon. Here is the easiest way I've found to make salmon in the air fryer. Since I tend to purchase frozen salmon to extend the shelf life of it, the way I do it is by placing the frozen salmon fillet skin side down directly into the basket. I then air fry it at 390°F for 9-10 minutes. Then, I flip the filet, add a little oil and continue to air fry for another 8-ish minutes. And that's it.
Use canned salmon to make Salmon Burgers. My recipe for this one can be found in the seafood section of The Leaky Gut Meal Plan.
Sill Not Interested in Eating Sardines vs Salmon?
For some, you'll never be able to stomach the thought of sardines or salmon.
While I want to challenge that with everything presented above + from the podcast episode, there is still a way around it. And I'm adamant that we need the EPA + DHA that they provide.
Dietary sources of EPA and DHA (like fish) are essential.
So, you'll want to supplement with something that contains both EPA and DHA.
MORE OMEGA CONTAINS A 1 TO 1 RATIO: EPA TO DHA
If it isn't already apparent, I'm pretty passionate about inflammation reduction through food and lifestyle, including supplements in order to heal the gut and heal the life.
I did it for myself and I want the same for you.
HERE ARE MY TOP 6 REASONS WHY MORE OMEGA IS THE BEST TYPE OF OMEGA-3 SUPPLEMENTATION OUT THERE:
More Omega fatty acid uses the more natural triglyceride form of fatty acids, making it more bioavailable and easily recognized by the body. It's 100% sourced from sustainable wild-caught Alaskan fish and processed to remove PCBs, chlorinated organopollutants and heavy metals.
It also comes in soft-gel form, which has important benefits over the liquid forms of fish oil available on the market today. The first benefit is that once a bottle of liquid fish oil is opened, it begins to oxidate fairly quickly so that by the time you finish the bottle the oil may have deteriorated substantially.
The shape of the More Omega combination of EPA + DHA supplements is long and thin vs thick and round. Like most of you, I loathe swallowing pills, since it was a part-time job on my healing journey. But even though this is a long one, it's super thin. The thick, round ones used to get caught in my throat so now I have PTSD over those. The way I explain the shape is the way children's caregivers explain the way they cut up hotdogs to avoid choking — long and thin vs short and round.
The More Omega soft-gels have added lipase to the formula. Ready for this one my GUTSY friends?! —> Lipase is an enzyme that helps to break down the fat even further to make it readily usable by the body. This is especially important for those with compromised digestion, lack of a gallbladder, or if you just don't want it to repeat on you (ie fishy burps, I know, gross).
Taking only 2 soft-gels of More Omega per day will help you to significantly improve your intake of healthy omega 3 fats which can have a widespread and lasting impact on your overall health and wellbeing. (1:1 DHA ratio to EPA ratio)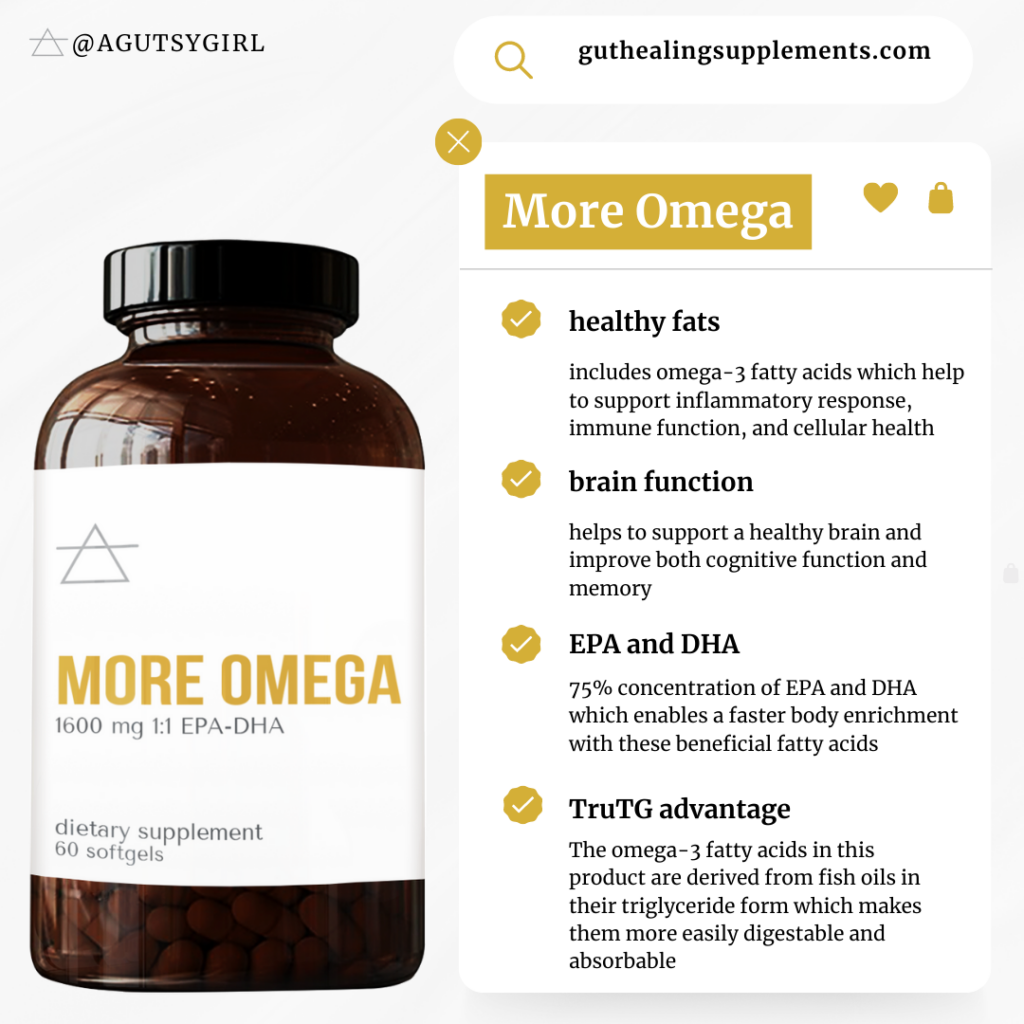 Use code PODCAST at checkout to save 15% off More Omega.
Wrap-Up
As always, a huge goal for this show is to connect with even more people. Feel free to send an email to our team at podcast@agutsygirl.com. We want to hear questions, comments, show ideas, etc.
Did you enjoy this episode? Please drop a comment below or leave a review on Apple Podcasts.
Bio: Gigi Ashworth
GiGi Ashworth is a food and wellness influencer who started her journey in the industry when she was diagnosed with autoimmune diseases, food allergies, and food intolerances.
This sparked a passion in her to learn more about how food affects the body, and she began experimenting with different foods to figure out which ones made her feel her best.
She found that salmon was at the top of that list, and she now eats 8-10 pounds of it a week.
GiGi has her master's certification in nutrition communications from Tufts University and her undergraduate degree in broadcast journalism from The University of Colorado, Boulder.
She currently resides in Georgia with her husband and their two sons, where she spends most of her time in the kitchen experimenting with a multitude of ingredients so as to create her next crowd-pleasing salmon recipe that is free of all popular food allergens!
If you liked this podcast episode on sardines vs salmon, you might also enjoy:
Essential Nutrients + Best Time to Take Vitamins and Supplements
B Vitamins: B Complex Vs B12 Injections
Xox,
SKH
You will heal. I will help.