No more excuses. You've made them long enough now. Let's move on.
In The Gutsy Girl's Bible, I state:
It takes a strong woman to make real change, to really look within and decide that excuses can no longer be a part of her equation if a lifelong change is desired.
Dreams Weigh More Than Excuses
If you desire change and you dream of feeling far better than you do today, then you must stop with any and all excuses.
Excuses (from others) today make me sick and tired because the excuses (I made in my own life) of my past made me (literally) sick and tired.
One morning, many a moon ago, a woman in the gym told my friend and I (in a nutshell) how much of a challenge it is for her to get herself to the gym and to start making changes for her health.
I then saw her there three more times that week.
And did you see I mentioned the time? It was 6 am.
She has chosen health and wellness over excuses and a "poor me" attitude.
No More Excuses
Click HERE to save this post for later.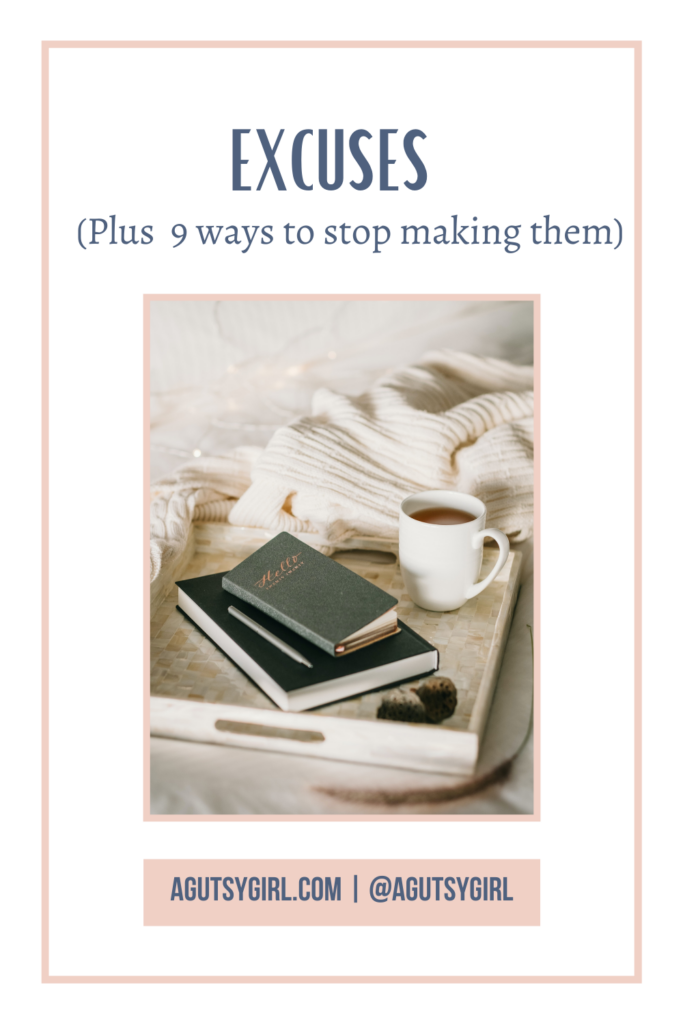 There was a time in my (early) Gutsy career when I ran group programs.
It was a January group program, and the ladies in that particular round were nothing less than impressive, asking the right questions, making new commitments to themselves and (mostly) just showing up each day.
During that same time period (because obviously January is the month for "new year, new me"), umpteen women continued to email me wanting free advice, but not willing to make any changes or take responsibility for the choices they were continuing to make.
It's always some excuse, why we can't do one thing or another.
By nature, I am positive and I don't sit around dwelling for very long on the things which cause me pain and bring me down.
If you've ever read my story, you know that I sure could have sat sat around making excuses.
Instead, I painted them beautiful because I learned that excuses would get me nowhere, that they don't solve problems and that from them positive changes would never occur.
But really, I'm not just here to tell you how frustrated excuses make me. I'm here to share ways with you on how to implement no more excuses.
Excuses Plus 9 Ways to Stop Making Them
Excuse: I hate my job. Quit your job. No, not today, maybe not tomorrow and maybe not even a year from now. But if you despise your work, you must devise a plan for doing something new.

Start researching what you might enjoy doing, keep a running list in a notebook.
Narrow the list to 3-5.

Write out the skills you'll need to make it happen.

Update your resume.
Start sending out resumes.
Network with people in the industry and/or at the desired company, if you need to.

Excuse: I can't lose weight. Yes, yes you can (if you truly need to). Stop eating processed junk foods and drinking alcohol. There is much more to it, but at a minimum, start there.
Excuse: I need coffee to get through the day because I can't function without it. Go to bed earlier. Prioritize your sleep (bonus = sleep and gut healing go hand-in-hand). Wean off coffee because the more you have, the more you'll need. No one needs coffee in order to function. Wanting and needing are two very different things.
Excuse: My gut will never heal, and I've "tried everything." But really, have you tried everything? Start from the beginning. What tests have you gotten for appropriate diagnosis? How have you changed your diet? Have you considered your lifestyle/stress levels? Get on the gut-healing fast track. This is my passion, my specialty.
Excuse: I can't workout because there is no time. But is there time for TV? All you need is, literally, 15-20 minutes. 
Excuse: I can't eat well because I'm always on the go. But can you pre-make food for the road and pack it to go? I made a travel guide to help with options. In fact, the guide hosts 200+ options!
Excuse: I don't have any money to do x,y,z. How are you currently spending your money? Is that $5 latte absolutely necessary? $5 here and there daily adds up quickly! Want to see how quickly it adds up, and how frivolously you spend? Grab the Every Dollar app. It's free for the first 30 days, and you'll be able to get a good picture of where your money goes. Then, use the app to budget for the x,y, and z you need money for.
Excuse: I have no time. Period. Yes, you do. Period.
Excuse: I can't get my child to eat healthy foods. Step back, ask yourself two very important questions:

Do you eat the same healthy foods you desire your child to eat in front of them/along with them? Monkey see, and monkey do.
Have you tried more than 3 times?
Need a tool to help you navigate all of this?
The Healing Blooms from Within 90-day gut healing journey journal is your answer. Either download it instantly HERE (print and use today), or have me ship you the physical, spiral-bound version (you choose your cover color: white or pink).
Now, here is some inspiration to stop making those excuses.
No Excuses Quotes
Excuses Quotes
If you liked any of the no excuses quotes from above, click HERE to save for later.
Darling, we don't get lucky in life.
The things we have came from a decision we chose over an excuse we made.
If you liked this post, you might also enjoy:
Screensavers to help!
Xox,
SKH
You will heal. I will help.