It's true. I talk a ton about how gluten (and many foods in general) affects the gut by displaying symptoms of gas, bloat, and diarrhea, but did you know that gluten's symptoms can be found outside the gut?
We understand and identify with those symptoms.
I was reminded yesterday while watching Dr. Oz. There is more to it than gut symptoms for millions.
I was one.
I realized that I need to re-visit my story to include these things. (I am not sure why I never put them there to begin with.)
You can take the Gluten Sensitivity Self Test to find out for yourself, but here are the various "gluten symptoms" they make note of.
Gluten's Symptoms Can be Found Outside the Gut
Click HERE to save this post for later.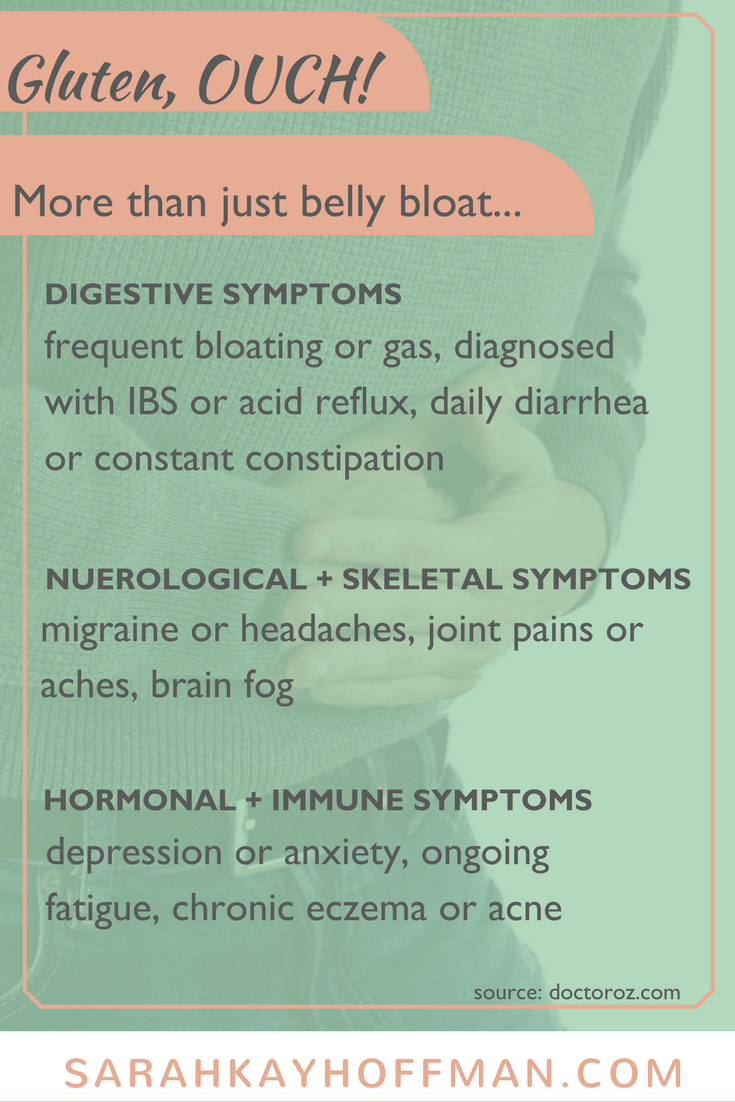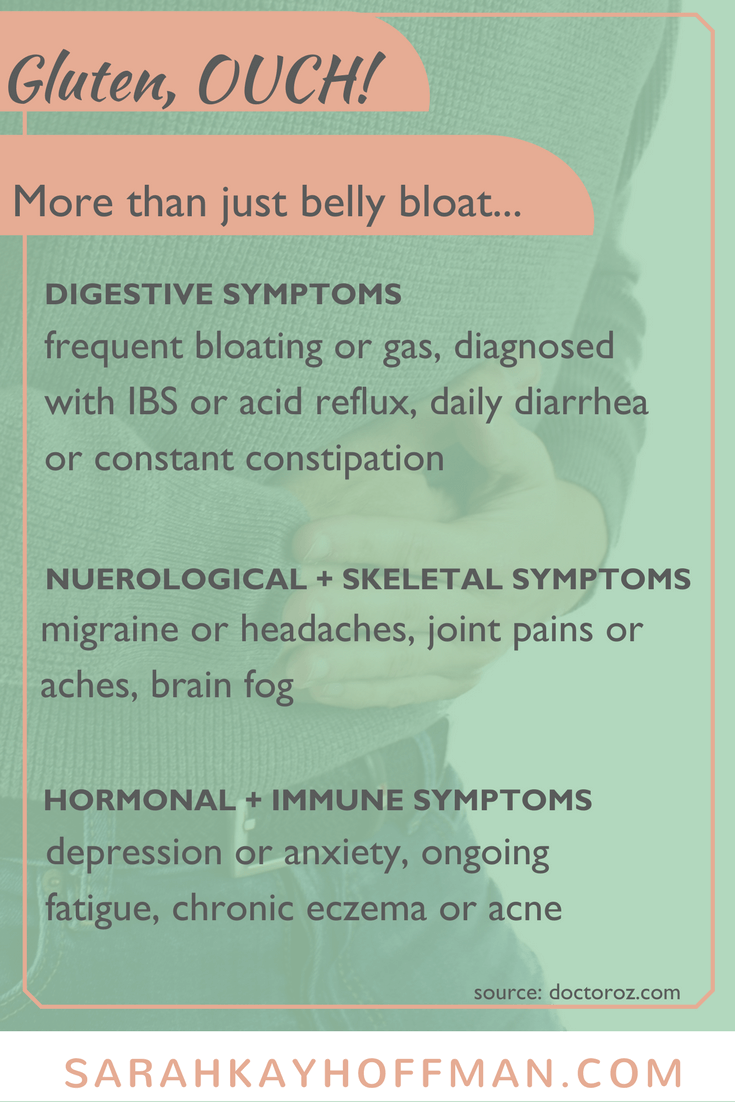 Digestive Symptoms
Frequent bloating or gas
Diagnosed with IBS or acid reflux
Daily diarrhea or chronic constipation
Neurologic & Skeletal Symptoms
Migraine or headaches
Joint pains or aches
Brain fog
Hormonal & Immune Symptoms
Depression or anxiety
Ongoing fatigue
Chronic eczema or acne
4 or more of these, and you could very well have a gluten sensitivity.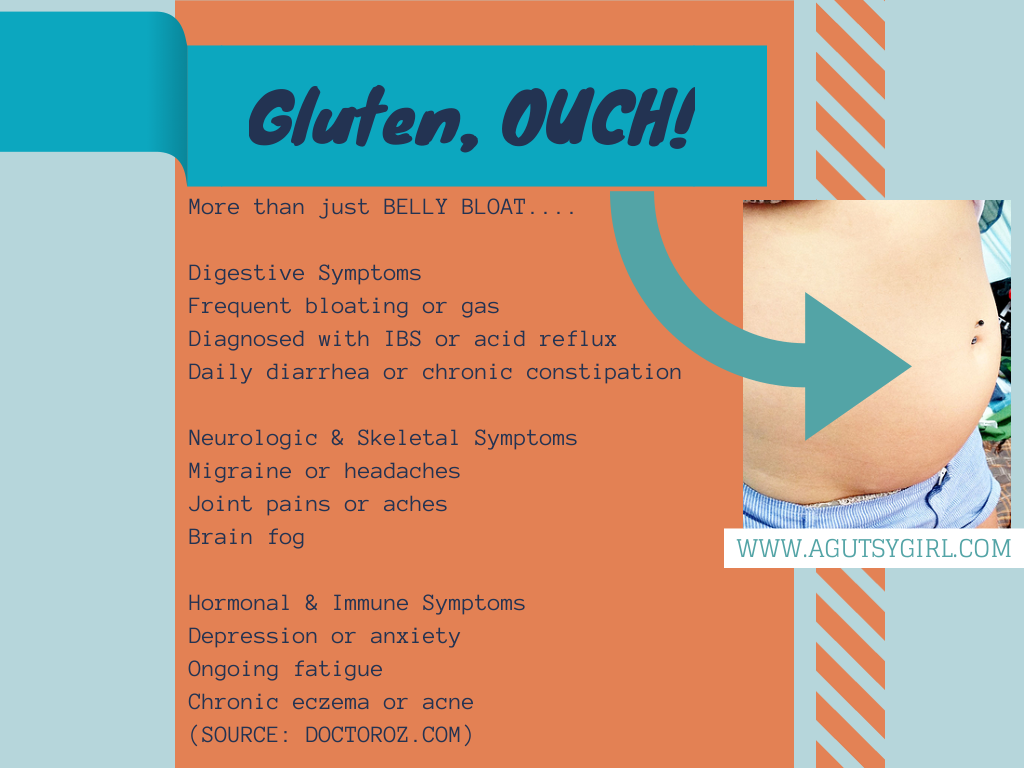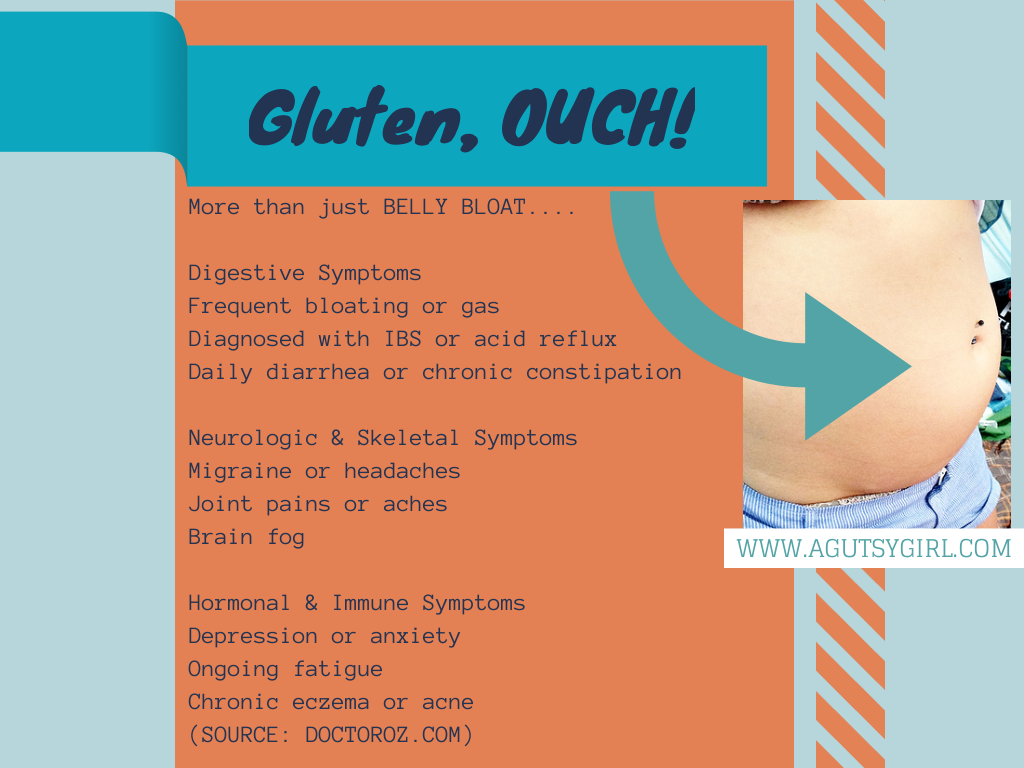 I had frequent bloating and gas, chronic constipation, joint pains and aches, brain fog, anxiety and ongoing fatigue. When I was all-out "glutenized," I'd get terrible headaches.
All of these (and more!), but I was never diagnosed with Celiac Disease. You don't need to be diagnosed with Celiac to have several of the Celiac symptoms.
The immune system is not only the gut. The human gut plays a huge role in immune function, so eating foods over-and-over that we are sensitive to affects the immune system in a multitude of ways.
The reason we don't correlate these symptoms with food is because we have become complacent in our thinking. We believe that "this is just how we're supposed to feel."
We're not.
You're not.
If you feel horrible, even slightly, day-in and day-out, perhaps it's time to look at the foods you're feeding your body.
Dr. Oz recommended consulting your doctor or eliminating gluten for 2-4 weeks to truly determine if the sensitivity is there. In other words, "Elimination Diet."
The Elimination Diet has received a ton of buzz as of late, but it's something I have practiced, preached and mastered over the past several years. It is the primary reason my clients have so much success with their own gut healing.
Don't take it from me, take it from "Oz." Figure out what is making you ill.
If you need some extra hand-holding, consider grabbing The Gutsy Girl's Bible: an approach to healing the gut and/or working with me.
Xox,
SKH
as well as through visual and oral presentations
burberry sale
My Heart Diamond Key Necklace
More Great Coffee Shops in Downtown Calgary
woolrich vest
But if you looking to invest in shoes for the long termMore Great Coffee Shops in Downtown Calgary
woolrich winterjacke herren
But if you looking to invest in shoes for the long term
You will heal. I will help.