I know a thing or two about how to starve gut bacteria. I just haven't had to do it for a long time.
There is no reason to starve gut bacteria or to engage in intense diet protocols unless you know for a fact that it's critical.
Click HERE to save this post for later.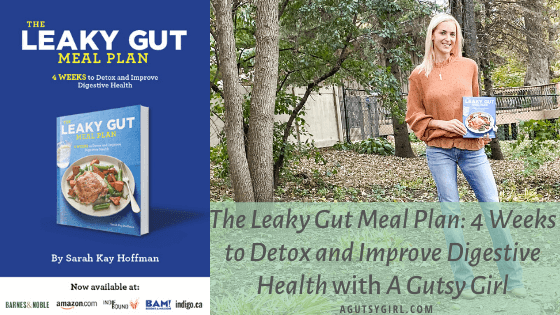 Starving Gut Bacteria vs. Starving
Fact: Starving gut bacteria is different than starving, and I can tell you with 100% certainty that I know the difference. One begins with hobby restriction, the other forced restriction.
I have lived through not eating enough, and consequently, now pay dearly for destroying my hormones with those choices.
And even though I'd love to tell you that starving gut bacteria doesn't involve diet, I simply cannot.
But even still, the two forms of starvation are different.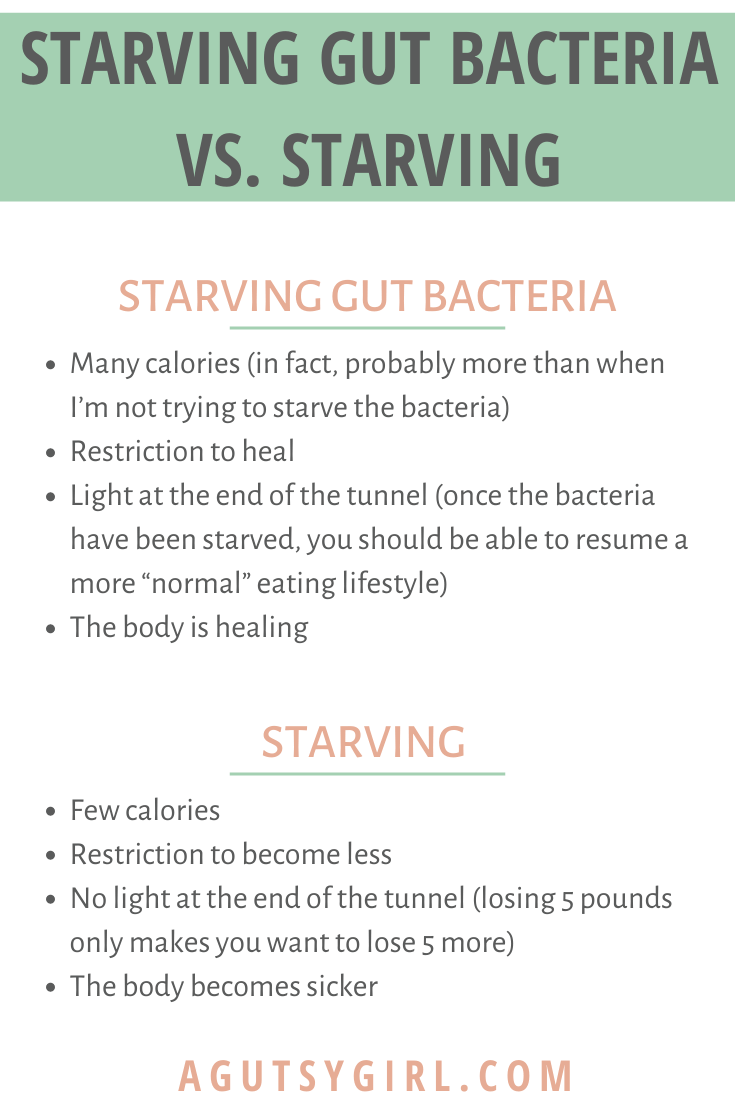 Starving Gut Bacteria
Many calories (in fact, probably more than when I'm not trying to starve the bacteria)
Restriction to heal
Light at the end of the tunnel (once the bacteria have been starved, you should be able to resume a more "normal" eating lifestyle)
The body is healing
vs. to Starve
Few calories
Restriction to become less
No light at the end of the tunnel (losing 5 pounds only makes you want to lose 5 more)
The body becomes sicker
All of that said, there is one way they are alike: Neither one is any kind of picnic.
Do You Need to Starve Gut Bacteria?
I don't know. That's the answer. You need to not consult with Dr. Google, but instead, a real doctor who will perform all necessary medical tests.
Once you have an accurate diagnosis, only then can you determine if you need to starve gut bacteria.
If it's determined that you need to starve gut bacteria, the next step is determining how to starve it because guess what? All gut bacteria starvation does not look the same.
There are four primary diet protocols that help starve gut bacteria: Paleo (maybe even AIP), GAPS Diet, SCD, and Low-FODMAP.
These four diet protocols, while similar, are not the same. Each one allows things the other does not, and various conditions require bits and pieces of them, all of them or none of them. (Learn more about them HERE.)
Today I am only addressing how to starve gut bacteria if you have SIBO because that is what I am hyper-focused on currently.
How to Starve Gut Bacteria
Click HERE to save this post for later.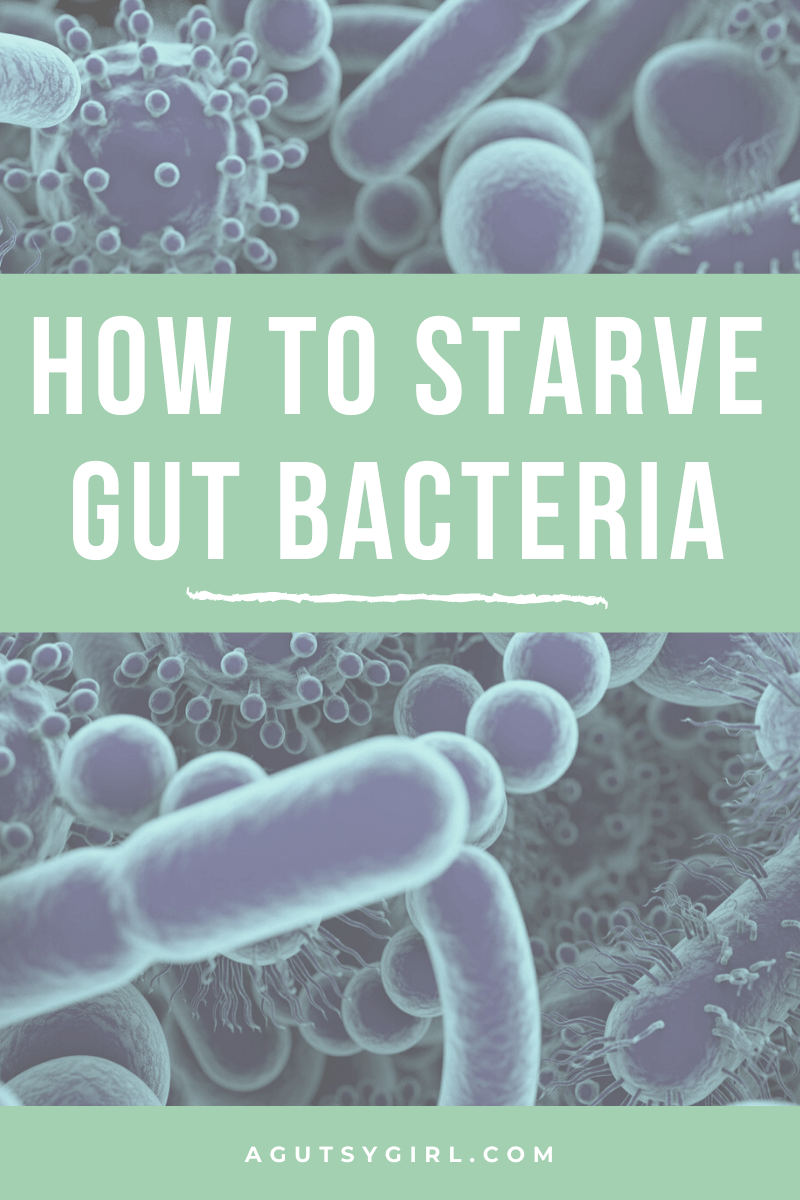 * Remember, per the above statement, this is for SIBO.
The way I'm going to do it is with a combination of Low-FODMAP + SCD, with a few sprinkles of GAPS and AIP mixed in.
Low-FODMAPs
Click HERE to learn about FODMAPs.
Avoiding FODMAP-foods is used to alleviate SIBO symptoms because it takes away the food source for gut bacteria to ferment.
I have discussed at length FODMAPs before, so refer to the posts around it for more information.
SCD
I haven't written much about SCD, at least not like I have with the GAPS Diet (For the record, THIS is why I'm only sprinkling in the GAPS Diet now. Back then, I was not yet diagnosed with SIBO, and because SIBO was my main issue, some of the things I was doing on GAPS were not behooving my healing progress.)
So back to SCD. I think the diet protocol deserves an entire blog post dedicated just to it, but for today I'll give you the short version.
SCD stands for Specific Carbohydrate Diet. It's based off the book Breaking the Vicious Cycle: Intestinal Health Through Diet by Elaine Gottschall (a book I've had in my library for years now, which Elaine made popular, but did not found the concept for – a pediatrician did).
SCD limits complex carbs (disaccharides and polysaccharides), lactose, sucrose and other man-made ingredients.
The allowed carbohydrates are monosaccharides and have a single molecule structure that allow them to be easily absorbed by the intestine wall. Complex carbohydrates which are disaccharides (double molecules) and polysaccharides (chain molecules) are not allowed. Complex carbohydrates that are not easily digested feed harmful bacteria in our intestines causing them to overgrow producing by products and inflaming the intestine wall. The diet works by starving out these bacteria and restoring the balance of bacteria in our gut. (Source)
GAPS + AIP Sprinkles
GAPS rocks, but there are many GAPS-approved foods that are high-FODMAP (avocado, garlic, apples, etc.).
The GAPS diet also allows things like some beans and lentils, which I no longer believe help to fully starve gut bacteria. The heavy push on bone broths is the major GAPS Diet principle I'll continue to use.
I will follow AIP (Autoimmune Protocol) as I did before because I believe it's helping with my skin.
How Long to Starve Gut Bacteria?
Everyone has a different idea about how long you need in order to effective starve gut bacteria. It will come down to the severity of gut issues and the progress you make once you begin.
According to the Monash app, people generally need to avoid high-FODMAP foods for 2-6 weeks.
It is generally accepted that many symptoms begin to disappear within 2-3 weeks of following SCD, however Elaine mentions that one should stick to it for even a year after symptoms disappear.
I will likely not be on it that long, but I need to just take this all a day at a time.
Note: One should not starve gut bacteria any longer than is medically necessary. In the long run, starving gut bacteria damages the microbiome. And a strong microbiome is your best chance at fighting seemingly everything.
Stubborn persistence will pay off.
I already said it, but I'll say it again, there are people who make excuses for feeling horrible and then there are people who do something about it.
In all areas of my life, I do believe I am the latter.
If you liked this post, you might also enjoy:
Take a peek inside my personal microbiome report HERE

Xox,
SKH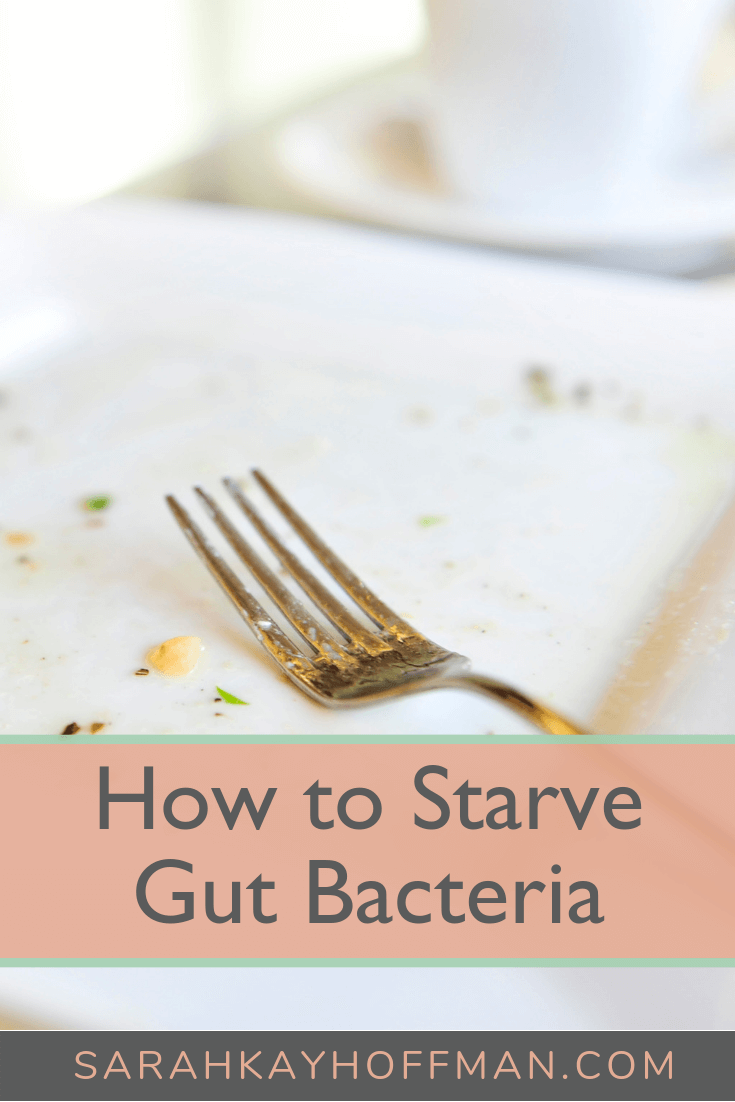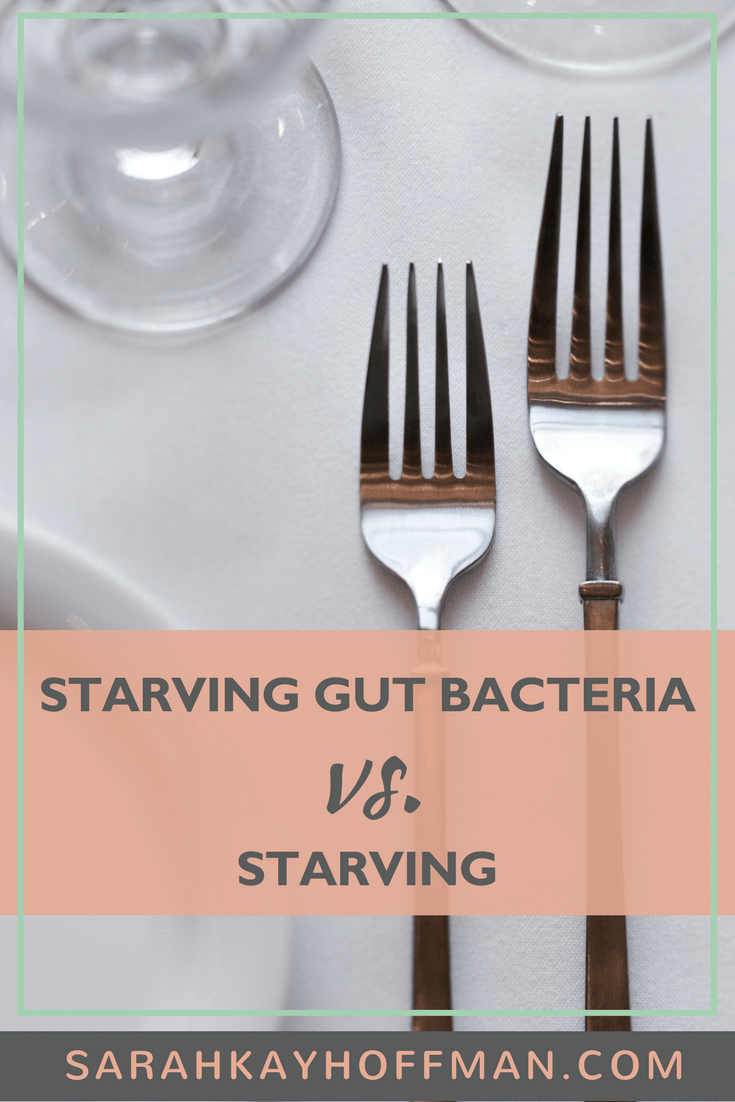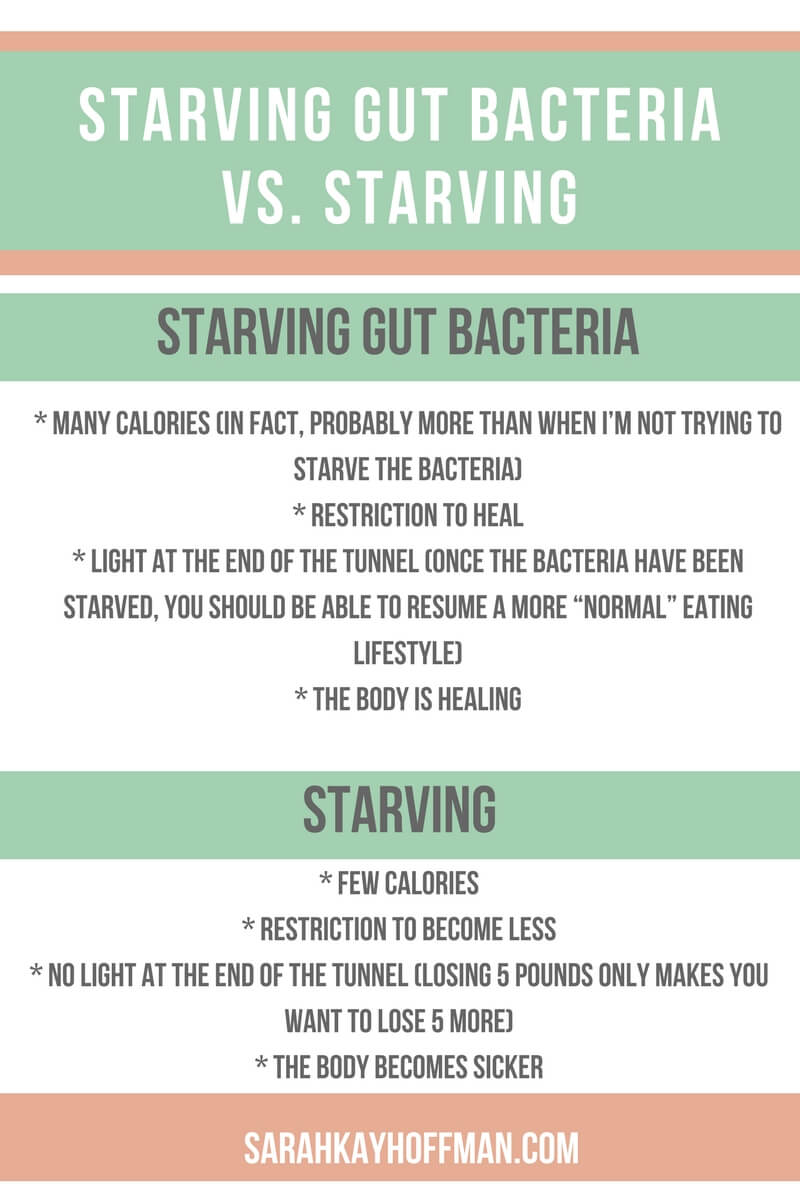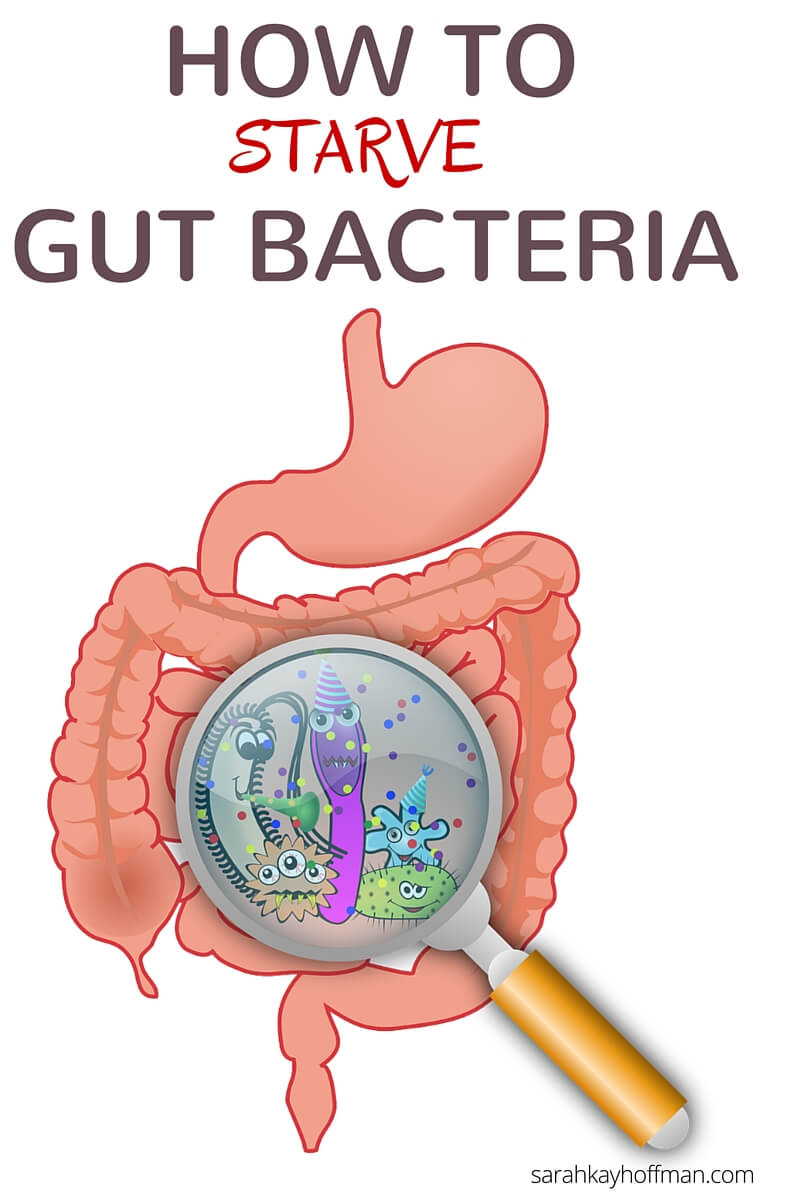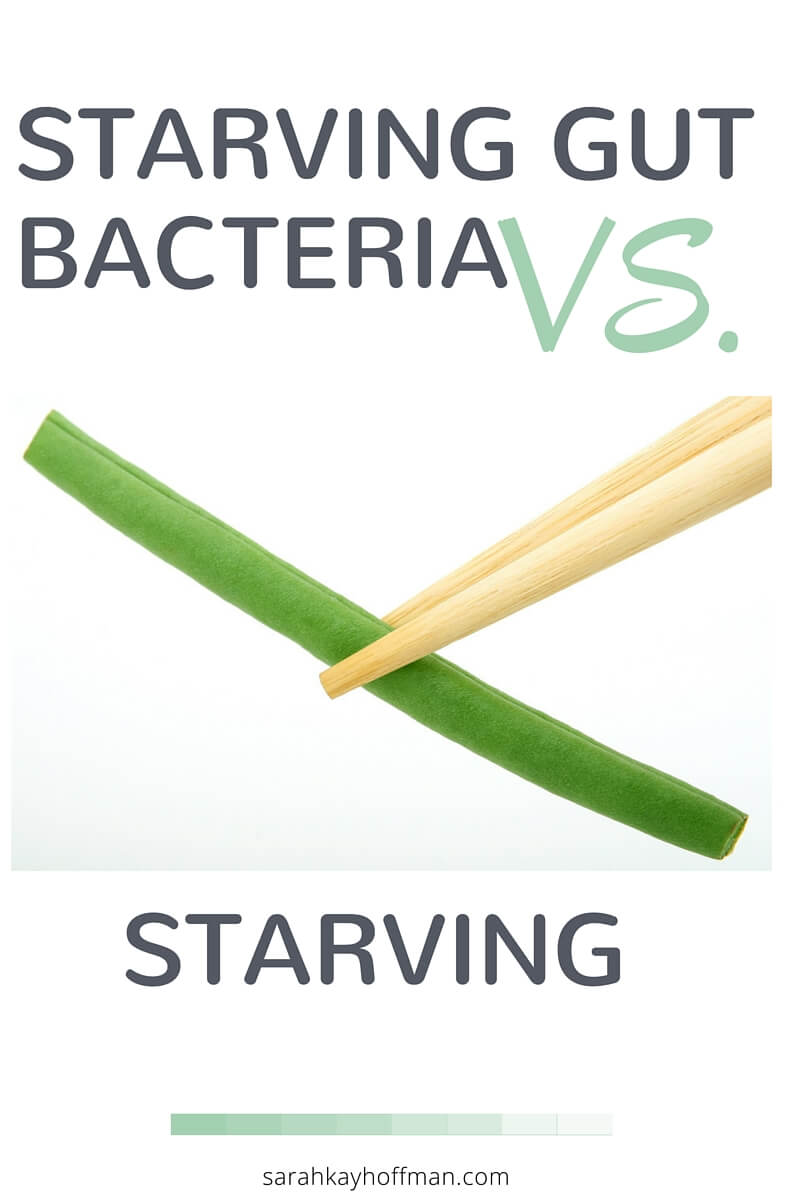 You will heal. I will help.