You're welcome. Here is your grocery list for the Candida diet.
I'm asked a lot about Candida because it's becoming a quite common diagnosis.
I've written about it in the past when comparing SIBO, SIFO, and Candida Overgrowth. For the basic refresher.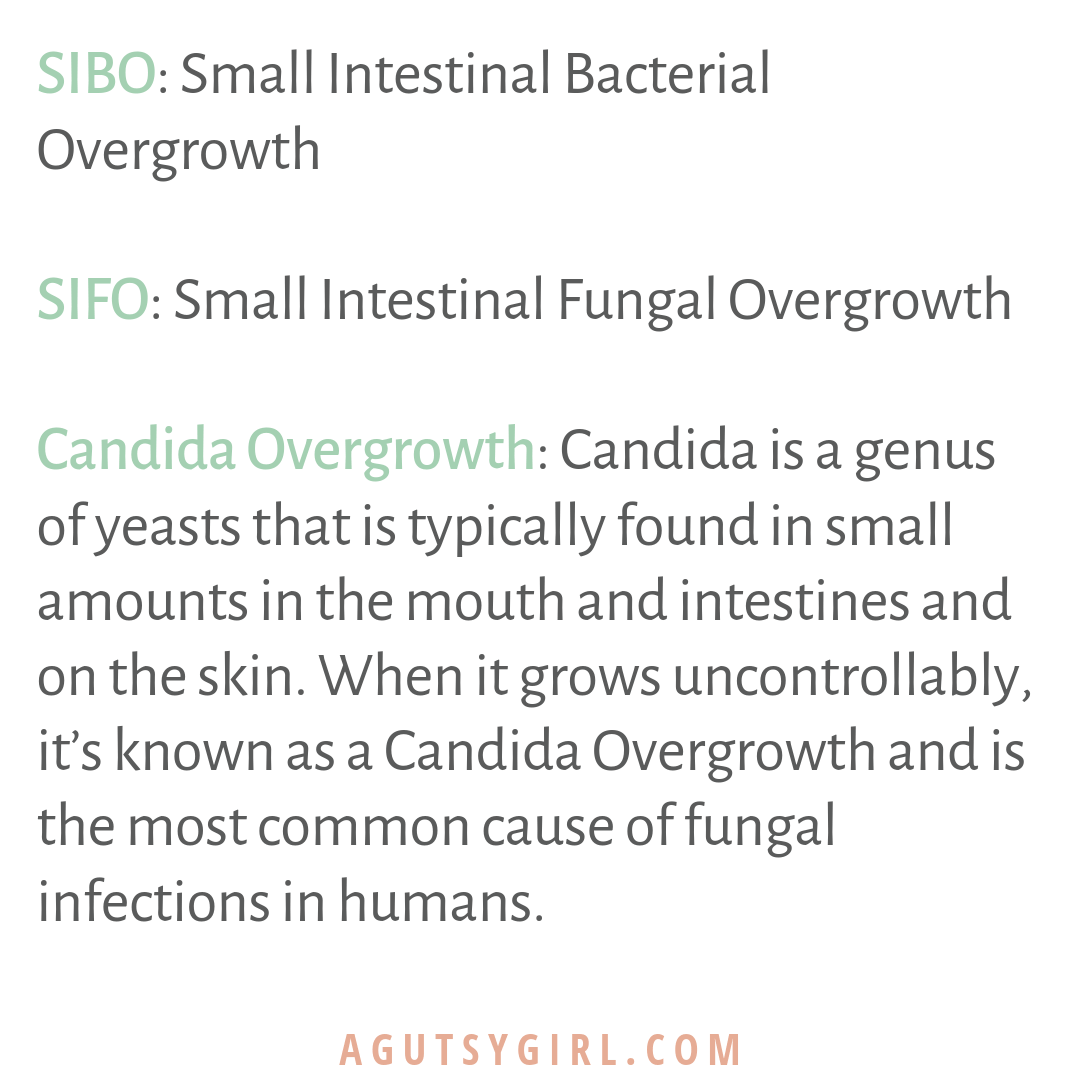 But this post is strictly devoted to Candida.
What is a Candida Overgrowth?
Candida refers to a category of yeasts that are typically found in small amounts in the mouth and intestines and on the skin.
In smaller amounts, there is nothing wrong with Candida.
Healthy bacteria in the body keep Candida levels under control. However, when the Candida grows uncontrollably, it's known as a Candida Overgrowth (from the Candida albicans species) and is the most common cause of fungal infections in humans.
This can be problematic for two reasons:
In those with an already compromised immune system.
Having too much yeast breaks down the wall of the intestine and penetrates the bloodstream, releasing toxic byproducts into your body. This can cause the gut to become leaky.
Candida Causes, Signs and Symptoms
You can learn more about Candida causes, signs, symptoms and more HERE.
For this post, I'm focusing on research that points to foods for a Candida overgrowth.
Candida Diet
First, it's important to make note that…..
"A consistent antifungal diet of at least 5–6 weeks is also essential. It is important to deprive the yeast of their base food. Sugar, sweets, white flour products, and alcohol should be strictly avoided.
Sweet fruit should also be avoided in the first 4 weeks. The focus is on a wholesome diet with lots of lettuce, vegetables, and whole grain products. The high-fiber diet not only strengthens the immune system but also presumably exerts a mechanical cleaning effect by sweeping the fungal nests out of the villi through its fibrous structure and at the same time stimulating the bowel movement.
High-content phytochemicals with an antimicrobial effect make the whole-food diet the ideal antifungal diet—however, success is only permanent if there is a consequent change in diet.'
In the acute diet phase of 4 weeks, patients even have to do without sweet fruits because Candida can also utilize fructose. Only sour apples, lemons, and grapefruit are allowed.
The focus is on a high-fiber diet, which means a lot of salad and vegetables as well as whole grains. Their fiber exerts a mechanical "cleaning effect" by sweeping out the fungal nests between the villi, and they stimulate the movement of the intestine. In addition, fiber is cheap because it cannot be broken down by the yeast in the intestine. We therefore recommend our patients to eat whole foods." (source)
Taking this, and other things, into account….
Grocery List for the Candida Diet
Click HERE to save this grocery list for the Candida diet for later.
Almonds
Avocado and Avocado Oil
Basil
Bone Broth
Chia Seeds
Cilantro
Cinnamon
Cloves
Coconuts and Coconut Oil. (One study suggest that coconut oil could become the first dietary intervention to reduce GI colonization by C. albicans. Dietary coconut oil both reduced C. albicans murine GI colonization and altered the metabolic program of the colonizing cells.)
Eggs
Flaxseeds
Garlic
Ginger
Ghee butter
Grapefruit
Hempseeds
Lemon juice
Olives and Olive Oil
Oregano
Organic meats (fresh, not packaged; ie. no hot dogs or deli meat)
Parsley
Turmeric.
Non-Starchy Vegetables:

Alfalfa sprouts
Arugula
Artichoke
Asparagus
Beans (green, Italian, yellow or wax)
Bok choy
Broccoli
Brussels sprouts
Cabbage
Cauliflower
Celery
Chayote (it's a squash)
Chicory
Collard greens
Cucumber
Dandelion greens
Green onions
Kale
Leeks
Lettuce (endive, escarole, romaine or iceberg)
Mustard greens
Okra
Onions
Peppers
Radicchio
Radishes
Scallions
Spinach
Swiss chard
Turnip greens
Turnips
Water chestnuts
Watercress
Zucchini

Walnuts
Wild salmon (wild-caught fish in general)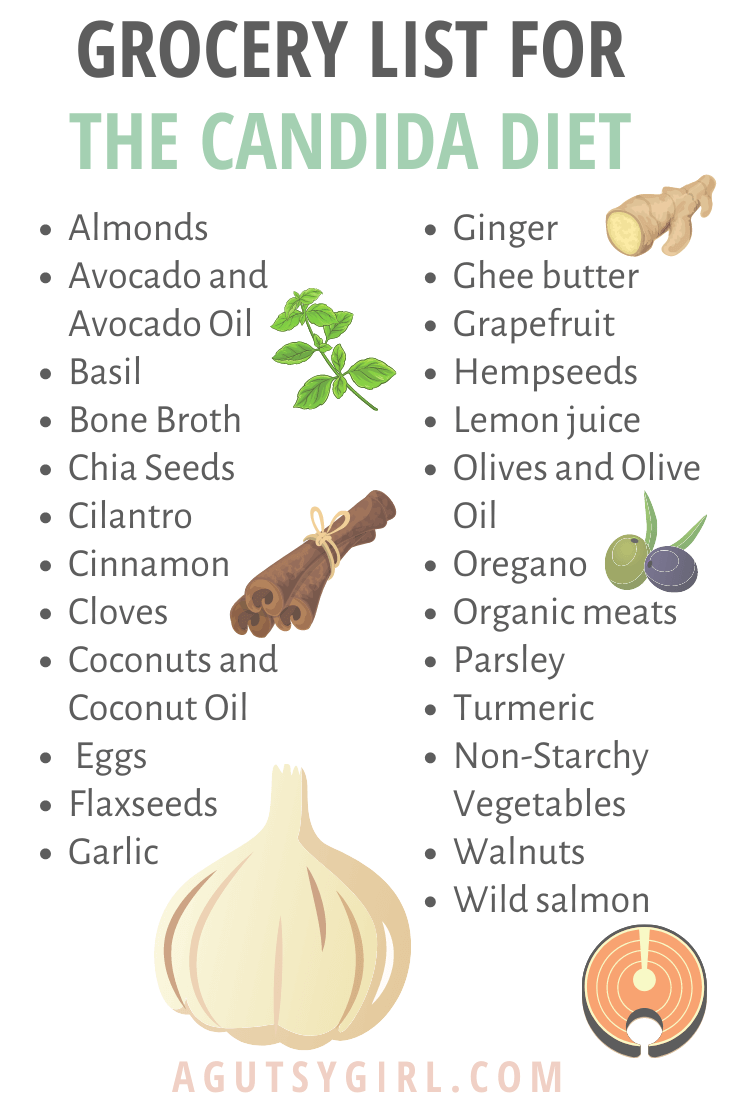 Foods to avoid on a Candida Diet
I think too often we focus on the "do not eat" list instead of "eat more of this." We must figure out ways for eating more, not less.
Therefore, while I don't want to focus on the foods to avoid on a Candida diet, I'll share a basic list.
high-sugar fruits (this would be most fruit, especially in the beginning)
gluten (this includes white flour and actually all 124 Wheat and Gluten Sources and Alternate Names)
deli meats and farm-raised fish
refined oils and fats
condiments
certain dairy products
sugar and artificial sweeteners (192 Sugar Sources and Alternate Names)
nuts and seeds that are higher in mold (peanut, cashew, pecan, pistachio)
caffeine
yeast, in general
mushrooms
alcohol
sugary beverages
nitrates
sulfites
Even a diet rich in fermented foods like Kombucha, sauerkraut, and pickles, can feed Candida.
And, in general (like with most other gut-healing diets), foods that are inflammatory and contain low nutrients should be avoided and/or limited.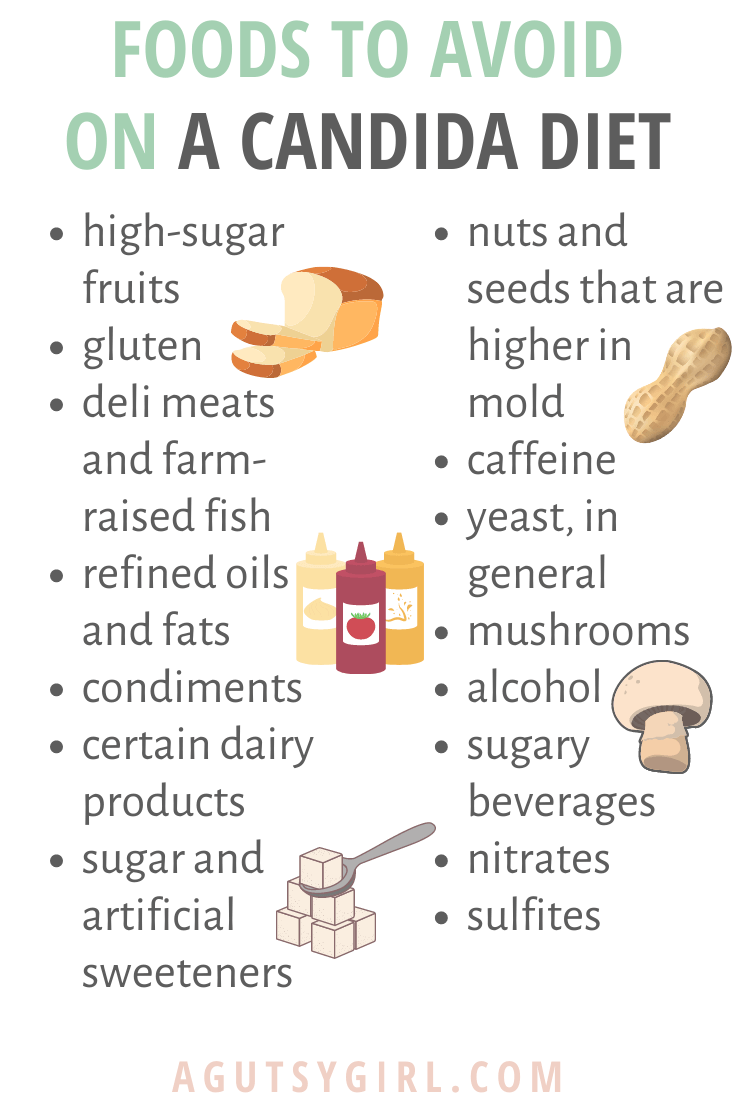 Can I Have Nutritional Yeast on a Candida Diet?
This is one of the top questions I'm asked when it comes to "can I have this for a Candida diet?"
Here is what the research says:
Stay Away from Nutritional Yeast with a Candida Overgrowth
Nutritional yeast, or "nooch", is a dried, inactive form of a yeast called Saccharomyces cerevisiae. It looks like yellow fish flakes, and even though it's high in B vitamins, it's definitely not a superfood. Yeasts almost always contain high levels of mold toxins. They also encourage a yeast-like fungus called Candida albicans to grow in your body, which changes the fungal biome of your gut. (source)
Nutritional Yeast is fine for a Candida Overgrowth
Dr. Seymour Pomper, an expert in yeast explains that because nutritional yeast has not been associated with the Candida albicans strain related to yeast infections, it has proved to be one of the best remedies for chronic candida symptoms, a specific type of yeast infection. It has also shown profound effects on E.coli, salmonella and staphylococcus. (source)
In other words, you can find research on both sides of the coin.
So what do I personally think?
I think that whether or not Nutritional Yeast works for you will be 100% trial and error. Start slow and go, if you really want to try it. Don't eat a ton at any given setting. See how you react, record it in your food journal, and make the best decision for you.

Whatever you do, do not get caught up on Nutritional Yeast as the thing that will heal or not heal the overgrowth.
Sources: HERE, HERE, HERE, HERE, HERE, and HERE.
I'm curious. Have you ever had a Candida overgrowth?
If you liked this post, you might also enjoy:

Xox,
SKH
You will heal. I will help.