I'm frequently asked about what the heck an unprocessed food list is anyways, so I'm sharing that today.
Additionally, I want to quickly teach you how to host an unprocessed holiday party.
Unprocessed foods list meets parties?!
Yes, you can!
Today I'll show you how.
What is an Unprocessed Diet?
On Episode 45 of the A Gutsy Girl podcast, I share everything you need to know about food processing and what it actually means to be a "processed food," including the NOVA Classification System. For full context, definitely tune into this super short episode:
NOVA Food Classification System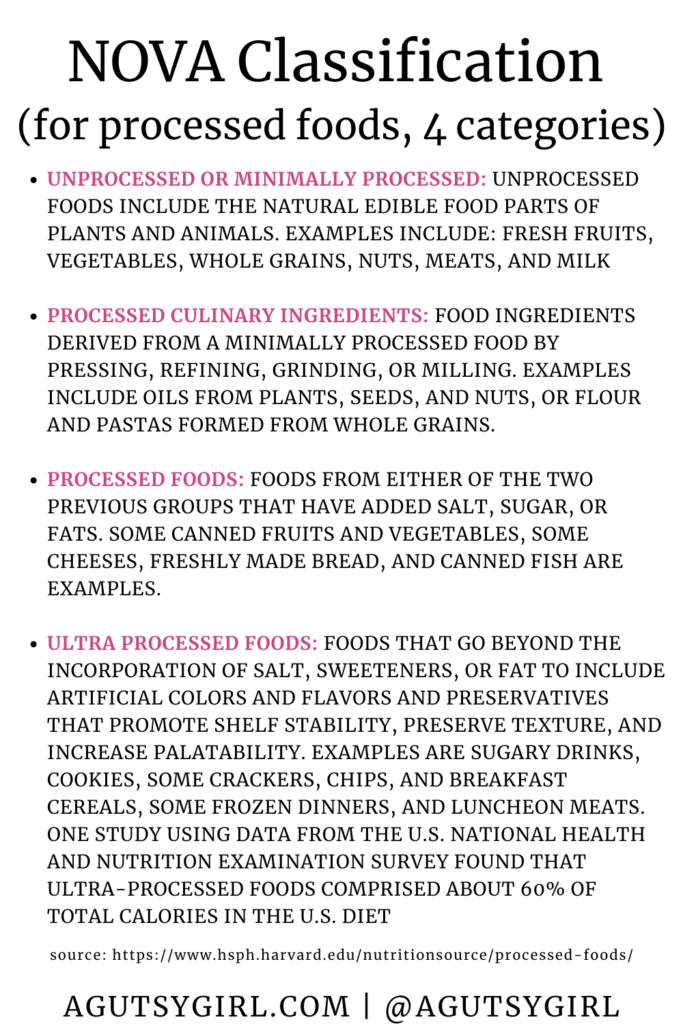 Here is the NOVA system for reference on processed foods:
Unprocessed or minimally processed: Unprocessed foods include the natural edible food parts of plants and animals. Examples include: fresh fruits, vegetables, whole grains, nuts, meats, and milk
Processed culinary ingredients: Food ingredients derived from a minimally processed food by pressing, refining, grinding, or milling. Examples include oils from plants, seeds, and nuts, or flour and pastas formed from whole grains.
Processed foods: Foods from either of the two previous groups that have added salt, sugar, or fats. Some canned fruits and vegetables, some cheeses, freshly made bread, and canned fish are examples.
Ultra processed foods: Foods that go beyond the incorporation of salt, sweeteners, or fat to include artificial colors and flavors and preservatives that promote shelf stability, preserve texture, and increase palatability. Examples are sugary drinks, cookies, some crackers, chips, and breakfast cereals, some frozen dinners, and luncheon meats. One study using data from the U.S. National Health and Nutrition Examination Survey found that ultra-processed foods comprised about 60% of total calories in the U.S. diet.
Unprocessed Food List
Click HERE to save this unprocessed food list for later.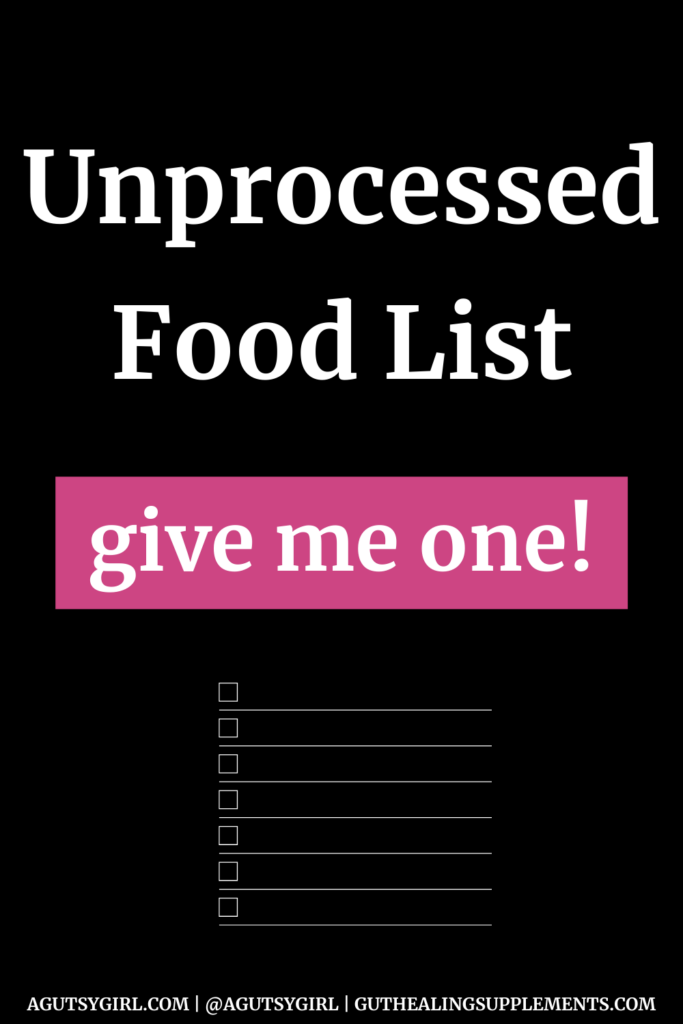 But, you came here today because you need an ingredient list of sorts filled with unprocessed foods.
This basic food list I'm giving you is mostly from the NOVA system #1: unprocessed or minimally processed and some from #2.
Here is exactly what to look for when you go to the grocery store for unprocessed foods:
Short shelf life. Think no more than several days before the products starts to go bad. The longer the shelf life, the more likely it is that the ingredient list is long, containing preservatives.
Just one or two ingredients; no added ingredients. Yes, you will need to check the ingredient labels (if there are any).
Especially no added sugar. While there is natural sugars found in things like fruit and honey, what you don't want is a nutrition label that specifically shows added sugar.
Nothing with a long list of ingredients.
Whole fruits, vegetables, and unprocessed meat (this means just 1-2 ingredients; i.e. "banana," "ground beef," turkey)
Here is what a grocery shopping list might look like when choosing these whole foods in their natural state:
brown rice
olive oil
maple syrup
berries- strawberries, raspberries, and blueberries
greens- arugula, spinach, lettuce, and Brussels sprouts
vegetables- squash, bell peppers, carrots, tomatoes, sweet potatoes
fresh meat / full fat and/or lean meats; (meat food labels should indicate just one ingredient – ie. 'ground turkey')
fish- salmon, cod, tuna
bulk bin section – the bulk bin area is typically on the perimeter (though not always) and again provides bulk quantities in their whole state (mostly and usually)
eggs
The above contains a fresh food list for following an unprocessed diet.
If you want to add more to this, here are resources to help you continue building your clean eating grocery list:
Alright, now lets take your Unprocessed Food List and the insight for how to create one and apply it to hosting an unprocessed holiday party.
How to Host an Unprocessed Holiday Party
Click HERE to save this post for later.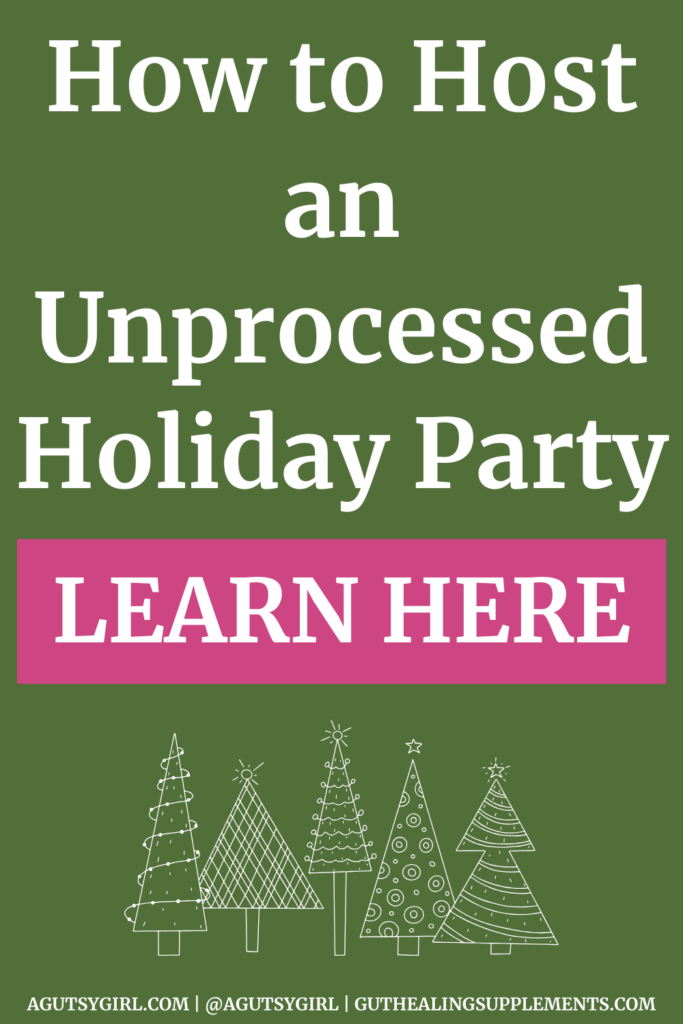 Two Weeks Before Your Holiday Party
Make a list of all the recipes you want to make.
You can search the Internet for your favorite recipes. If they are highly processed, then obviously it's a good idea to make substitutions so they become unprocessed.
Starting two weeks ahead of time will ensure that if you need to do a "practice" run on those altered recipes, you have ample time.
One Week Before Your Holiday Party
Be certain on your final menu.
Make a list of all recipes, along with their ingredients.
Take that list and create another list of the ingredients you do not currently have at home.
Write out all the ingredients you need to buy at the grocery store.
If you're like me, you may need to go to various places to gather the ingredients, so in parentheses next to each ingredient denote where you will purchase the ingredient from.
---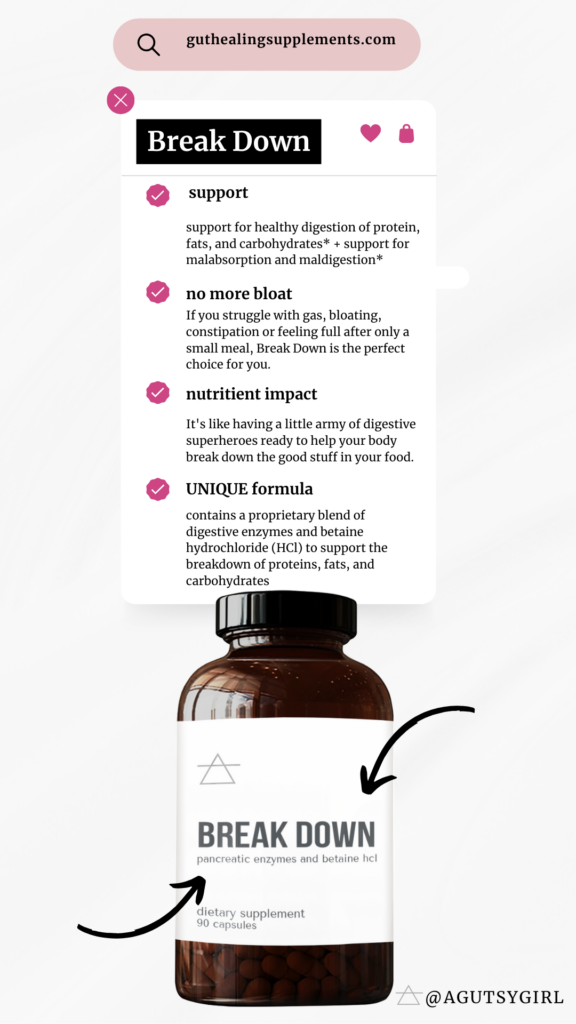 Have your cake and eat it, too! Get help with breaking your food down to avoid bloating during the holiday season with Break Down, the high-quality digestive enzyme with HCL.
Code BLOG at checkout to save 15% off your entire first purchase!
2-4 Days Before Your Holiday Party
Head out to gather all ingredients. If you will be buying frozen things, they can be bought at any time.
However, with fresh ingredients and seasonal produce that spoil quickly, try to only buy them a couple days in advance (i.e. fresh vegetables and herbs).
Day of Your Holiday Party
Early in the morning, gather all recipes/instructions in one place.
For me, I always use my own recipes so the only thing I need is my noggin' and/or my iPad (Did you know that you can open my PDF + e-books in iBooks? When the ebook PDF is sent to you, click on it on your iPad and tell it to "open in iBooks." And ps. if you read recipes directly from your iPad, be sure to grab a screen protector. Splashes are bound to happen.)
Grab a pot cup of coffee and plan out the day.
Depending on your menu, you'll need to plan for prepping (washing, cutting, etc.), grilling and baking to ensure there is enough space and time for it all.
We used the oven a lot, so I had to plan what needed to be done first (and could be "warmed" until consumption) and what needed to be prepared last.
For us, this meant the Mini Bison-Bacon Meatballs needed to be done first and could then go in our 2-slot warmers and the Kale Chips had to be done last (so we could preserve as much of the "crunchy" as possible).
And then, just start. Prep as many things as possible early on in the day. This creates much less stress later on.
Go Time
Keep what you can in warmers or covered in tinfoil or anything else you might need to do to keep the food fresh and delicious!
Eat your own, unprocessed and healthy foods, often throughout the night – obviously the best part.
So what did we make?
Of course I'll share my menu.
Roasted Butternut Squash (recipe HERE)
Warm Fall Salad with Homemade Apple Cider Vinaigrette (gluten free, grain free, dairy free, soy free, egg free, unprocessed) (note: this time, I omitted the apples; everything else was the same -> yes, I even made the Vinaigrette!)
Chicken Tenders (We bought plain, boneless, skinless chicken tenders with no hormones or antibiotics. Ryan seasoned them with just sea salt and pepper, and then grilled them.)
Non-Dairy Tzatziki Sauce Recipe
This is a brand new recipe to go with the meatballs and/or chicken tenders; a great way to add flavor to almost anything using only unprocessed ingredients.
Click HERE to save the recipe for later.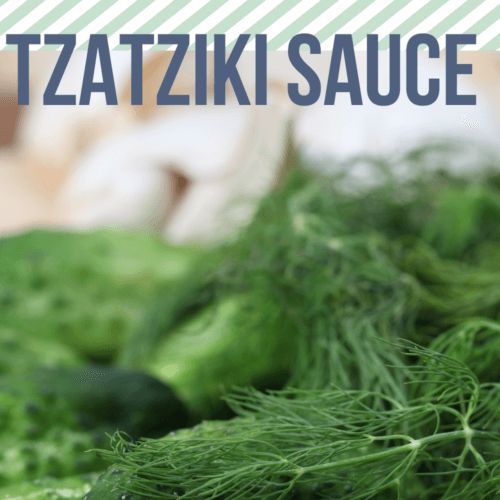 Non-Dairy Tzatziki Sauce Recipe
Dairy-free Tzatzi sauce using minimal, whole ingredients.
Ingredients
1 1/2

cups

full-fat coconut milk

make sure to place in fridge overnight prior to using so it gets really thick

1

cup

cucumber

peeled, de-seeded and diced

1/2

lemon

juiced

1

Tbsp

dill

fresh, chopped

2

cloves

garlic

peeled, chopped

1/4

tsp

sea salt

1/4

tsp

pepper

ground
Instructions
Place all ingredients in a food processor and blend together.

Chill until ready to serve.
---
And finally, I did make Healthy-ish Puppy Chow!
This recipe is NOT unprocessed, but instead healthy-ish for an overall healthy lifestyle 🙂
Secret
It's just as easy to host an unprocessed Holiday Party as it is to throw any other ultra-processed diet party (unless, of course, you cater it all in).
It can also be just as delicious. Are there items that we served that people might turn their noses up at? Um, yes!
But at the end of the day, there was bacon. A lot of bacon. And isn't that what a holiday party is all about?!
If you liked this post, you might also enjoy:

Xox,
SKH
You will heal. I will help.