While at dinner in the mountains in Italy one night, Ceci and her family told us we were having a meal known as "Kilometer Zero."
I gravitated towards the term so much that ever since hearing it, my mind has gone in several directions thinking about how to take it and use it right here in the United States. I decided to start by using the term as the title for this blog post, the one many of you have been waiting around for….food in Italy, what and how I was able to eat all the things while traveling the country.
Ready to dig in?! I sure was (and am).
Kilometer Zero
Click HERE to save this post for later.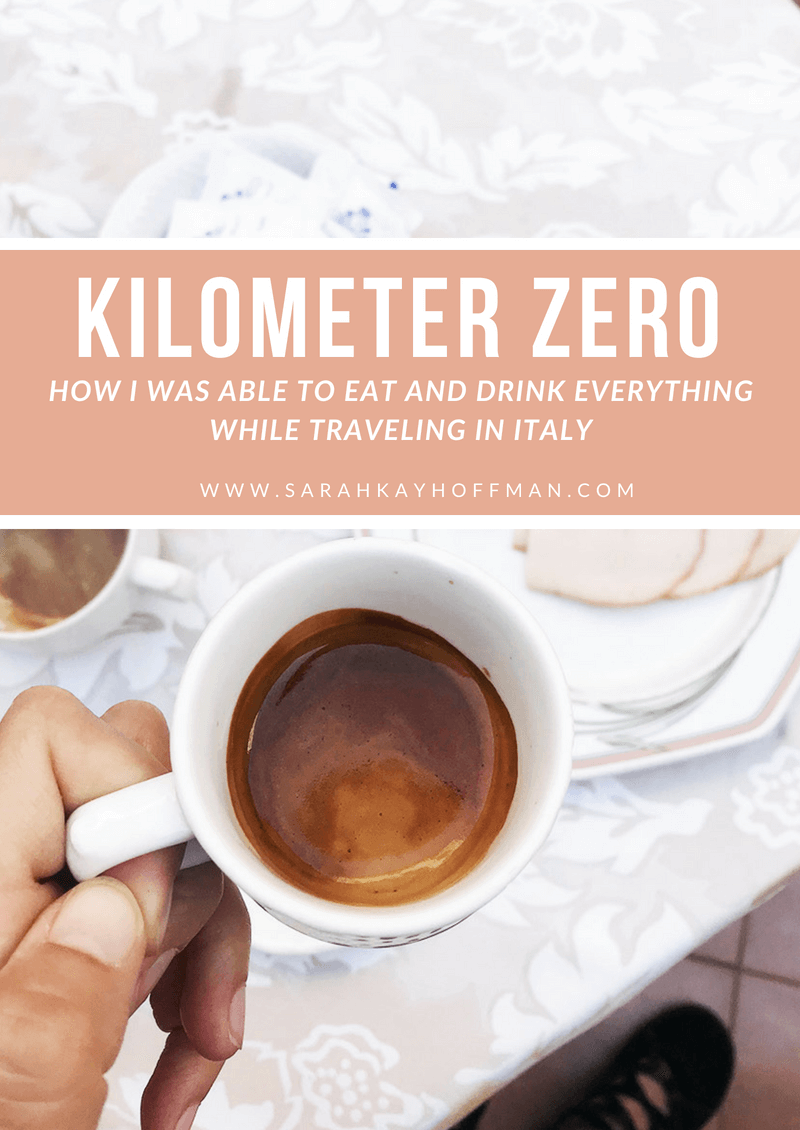 Their Kilometer Zero is basically our "farm-to-table." In other words, a Kilometer Zero meal is made up of things that traveled "zero kilometers" to get to your plate. (I mean, it's not literally zero, but you get the picture).
In the mountains that night we had: polenta, sausage links, wild mushrooms, cheeses, bread, dessert, and drinks. Only the polenta was not considered Kilometer Zero.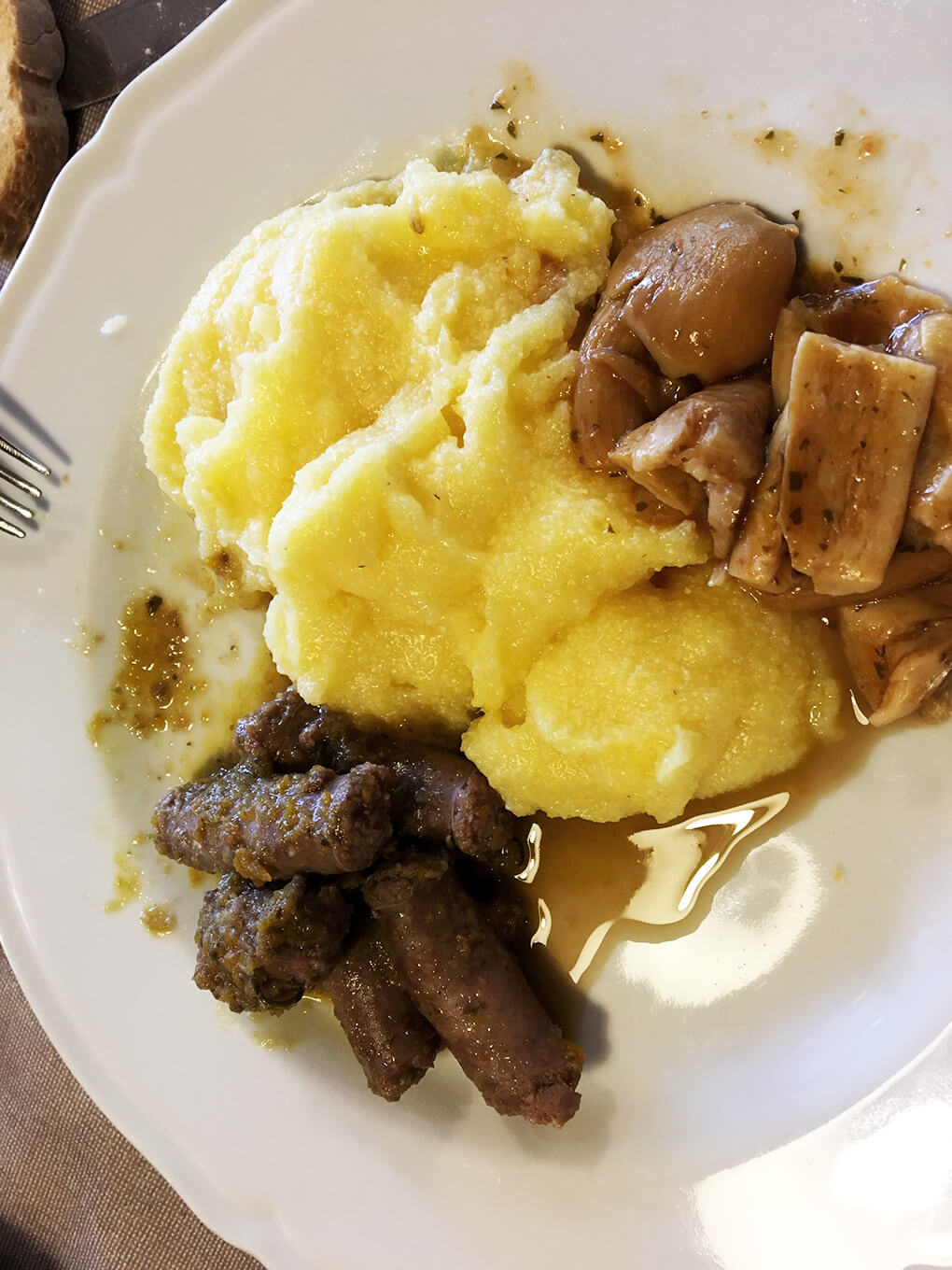 Everything else was from the land right there and the animals they raised which grazed upon that land.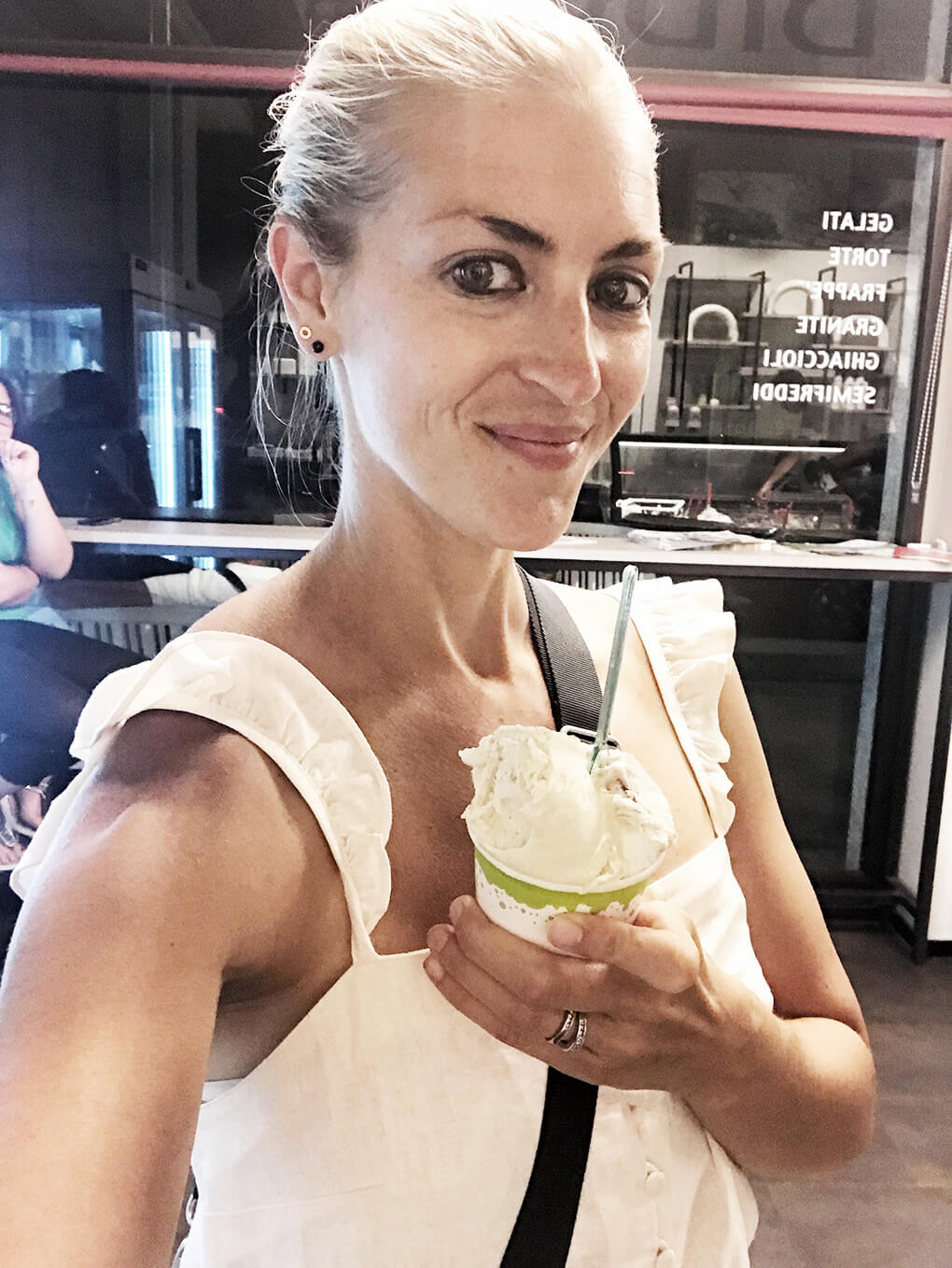 I believe this is one of the reasons I was able to eat all the things in Italy, but it's definitely not the only reason.
This post is broken into three parts.
Part I: Food and Beverage in Italy
II: Everything I Ate and Drank in Italy
Part III: Why I Believe I Tolerated All the Things
Food and Beverage in Italy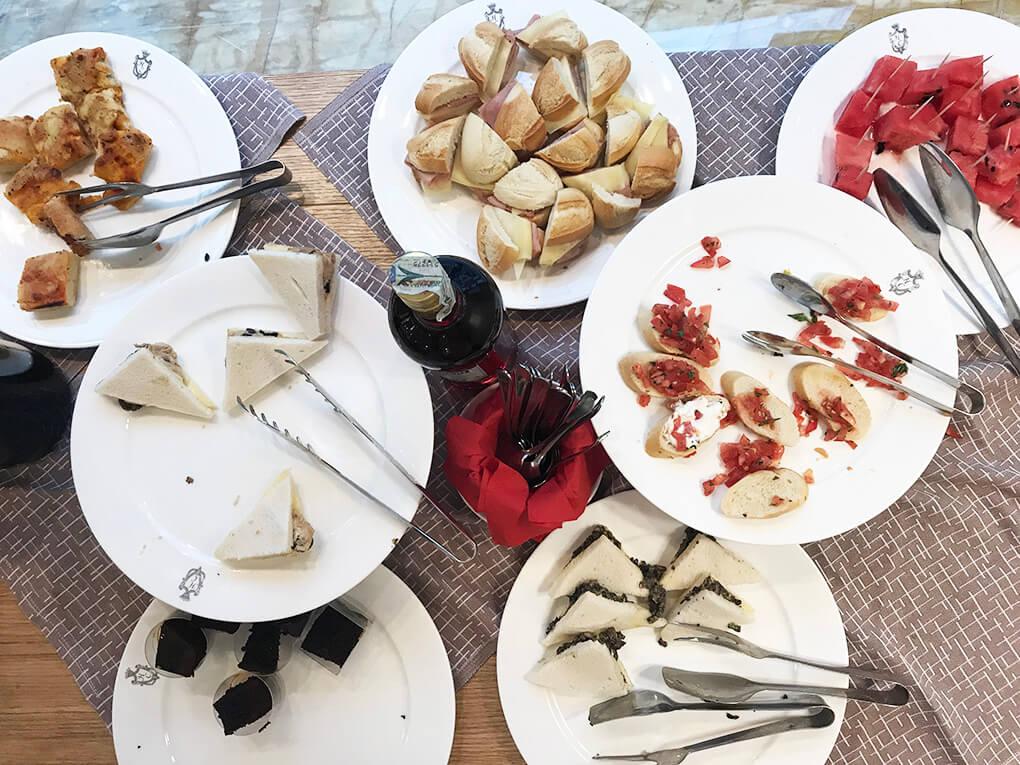 Here are all (okay most of) the things I learned about food and beverage while in Italy:
Ceci's mom told me, "Coffee is my religion." As it's mine as well, I learned as much as I could about coffee while there. Check it out….

In America, every which way you look, you can "stop for a to-go coffee." This is not the case in Italy. You'll rarely see people walking around with to-go cups filled with large coffees. In fact, when Ryan and I wanted one, we typically had to ask a few cafes if they had any before finding one that did. Even when they did, they were never larger than an 8 oz size.
Their coffee equals our espresso.
3-4 coffees per day is totally normal and common.
But on that, their coffees are super tiny – just shots of espresso essentially.
Their coffees are so much cheaper than ours. One day, the three of us got a coffee (for Ceci) and 2 Cappuccinos (for Ryan and I). The total was 3,90 Euros (or a little over $4.00).
This is probably an obvious one for all Y'all, but "Latte" means "milk." And "Misto" means "mixed." And "Venti" means 20. Thought you were so clever, huh, Starbucks?!
You cannot go into a cafe and say, "I'd like a latte with coconut milk." Rarely would you ever find alternative milk. It's straight dairy milk. The end.
They barely ever put a ton of sugar in their coffees. Consequently, we didn't either. And honestly, I didn't miss it nor did I think much about it.

Here's my drink of choice prior to dinner: vodka, water, and a splash of something (like Sprite, lemonade, etc.). I tried ordering that one of the first nights before dinner and found out that: a. It's totally not common there and b. It's not even appropriate to order prior to dinner like that. Noted. 🙂
Pizza is basic – no crazy toppings
Aperitivo time is the most magical 1 – 2 hours of the day. It's a pre-pre dinner event, sort of like Happy Hour only 100 x's as lovely. During the Aperitivo you:

Have drinks (the Spritz – which originated in Venice – is most common, but this is where it was appropriate for me to have my vodka drink)
Nosh on a ton of food like chips, peanuts, pizza, mini sandwiches, tiny desserts, all of it (sometimes they bring it to you; other times it's served via small buffet)
Only pay for the drinks; the food comes with it

Gelato is a huge thing; you'll find it everywhere, all the time. Ceci said many people eat it daily. According to the Kitchn, "Gelato is the Italian word for ice cream. It starts out with a similar custard base as ice cream, but has a higher proportion of milk and a lower proportion of cream and eggs (or no eggs at all). It is churned at a much slower rate, incorporating less air and leaving the gelato denser than ice cream."
Breakfast is nothing like ours. There is no cereal – thank God! However, they do do a lot of sweets – pastries, chocolate-filled croissants, etc. They also have sandwiches which are huge and delightful, coffee, meats, and cheeses.
The Olive Oil is incredible and while the terms "Virgin Olive Oil" and "Extra Virgin Olive Oil" have been diluted in the United States, they are real things in Italy (p.s. I bought this bottle and brought it home).
Different cities are known for different pastas. For example, Pici was the pasta in Siena. Ryan had it and loved it.
No foods are really "off limits." (i.e. "Dessert" for breakfast, carbs, dairy, fat, etc.)
You pay for water at restaurants (yes, even still water).
Their pizza sauce = only tomatoes (maybe salt and Olive Oil).
Granita. My Freshman year of college, I would study at this coffee shop on campus daily. I chose it because they had these frozen Granitas that were out of this world. From what I could tell, the Granita was made of: coffee, ice, heavy cream or full-fat milk of sorts. I didn't care. I drank 1-2 almost every single day. So when I saw "Granita" everywhere in Italy, I wanted one badly. That was until I learned what an Italian Granita is. Basically they are just our version of a Snow Cone, but blended together in drink form (ice and flavored syrup). When I realized I was duped by my beloved Granita in the US, I explained to Ceci what I thought Granita was. She said, "Oh, yeah, we have that, too. Here it's called a Crema Caffe (or Crema al Caffe)." And sure enough, we found a Crema Caffe, and it was almost exactly like the Frozen Granita from my past (but without a ton of ice).
They eat a lot of Fennel and I was totally digging that. Ceci's mom told me she just softens it by boiling for a bit then cuts it up, tosses with Olive Oil, salt, and parsley, then bakes it until golden. p.s. Fennel is super good for digestion.
Baci di Dama = "Kiss of a Girl." These are little Italian Hazelnut Cookies that totally rock and taste like the Elmer Fudge cookies from yesteryear.
Bread is life in Italy. They typically have it before and/or after meals, but they do not have it with pasta (as they are eating the pasta portion).
The Digestivo is common to take right after dinner. It's an alcoholic beverage and as the name suggests, thought of to help digest the meal. Ryan had one most nights, and I would typically take a sip or two (remember, I don't love alcohol – not really my thing). The two Digestivo's that stand out the most were the ones we had in the mountains, both were considered Kilometer Zero:

Genepy = herbs, flower, pure alcohol
Genzena = root, pure alcohol

There was this amazing sauce Ceci's mom made to go over Veal. It consisted of: mayo, tuna, capers, and salt. I'll need to replicate.
The capers we had were not tiny. They were huge and had stems. Who knew?!
Bitters (digestive bitters) are big in Italy. And here I was paying for those supplements. Ha.
At the grocery store, you'll find their eggs on the shelves (vs. refrigerated).
They eat dinner late. I'm all, "So…..dinner at 5 pm?" Nope. Usually 8 – 9 pm.
Everything I Ate and Drank in Italy
In yesterday's post on the Top 17 Things from Italy, I mentioned that everyone was asking me prior to the trip, ""What are you going to eat? They eat so much gluten." While I was scared to go for it (more on that below), I decided that I was going to just live and go for it. If I reacted strongly, I'd pull back. Here were all the things I ate and drank while in Italy:
Cappuccino with full-fat dairy milk. I had two, on average, per day
gluten, general
dairy, general
pizza (Margherita)
gelato (some flavors I had: Nocciola/Hazelnut, Menta/Mint, Noce di Coco (Coconut), Cioccomenta Fabbri (Chocolate Mint), and Gianduia/Chocolate Hazelnut)
pasta
Focaccia bread – one of my favorite things I ate
vegetables galore + tons of them were fermented (fennel, zucchini, artichoke, wild mushrooms, peppers, tomatoes, eggplant, radicchio, celery, carrots, cucumber, and more)
cookies like the Baci di Dama
cheese, tons of varieties; mostly goat and dairy
Polenta
Panna Cotta
Bunet (a dessert Ceci's mom made; was one of Ryan's favorites)
Calzone
meat – any and all; chicken, veal, salami
high-FODMAP smoothie complete with dates and chocolate
eggs – and stuffed eggs
alcohol; wine, vodka, Digestivo, Spritz
Crostini's with all the toppings
fish
Tiramisu (and I learned how to make it from Ceci!)
crackers
Why I Believe I Tolerated All The Things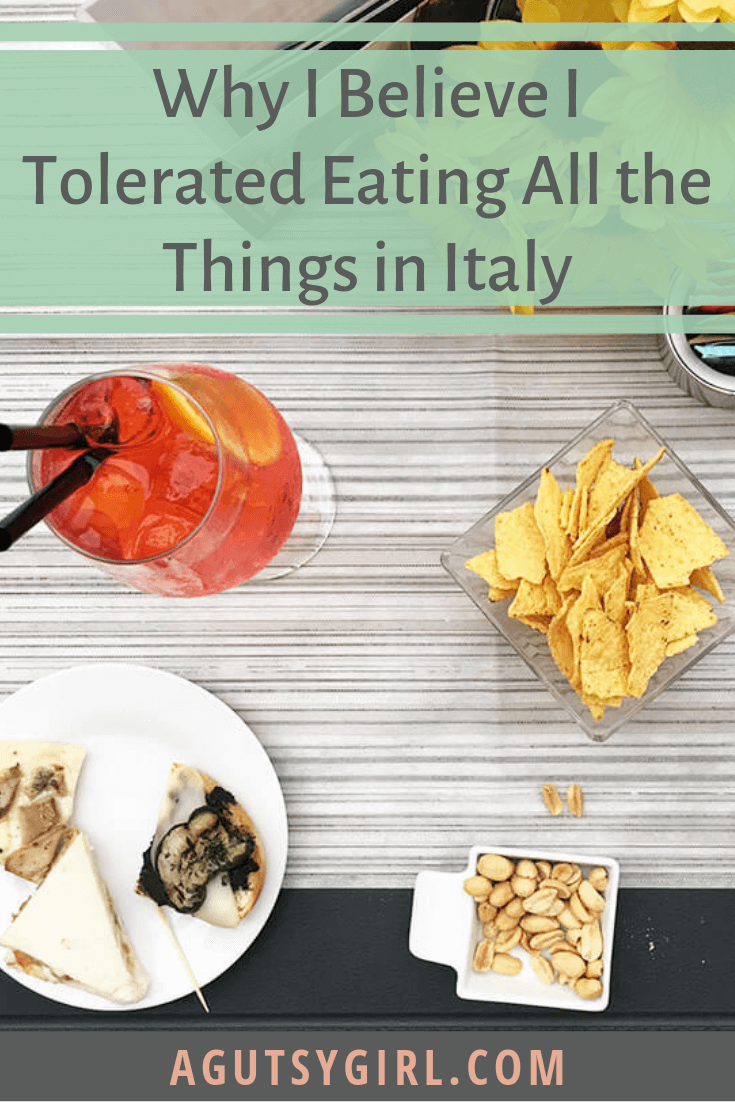 Robyn O'Brien stated,
Are we allergic to food or what's been done to it in America?
We can start here.
In Italy, I think I maybe saw a sign for "Organic" once or twice. It's not common, and yet, the food quality there (because of the lack of hormones, pesticides, chemicals, etc.) is drastically improved from the standard in America.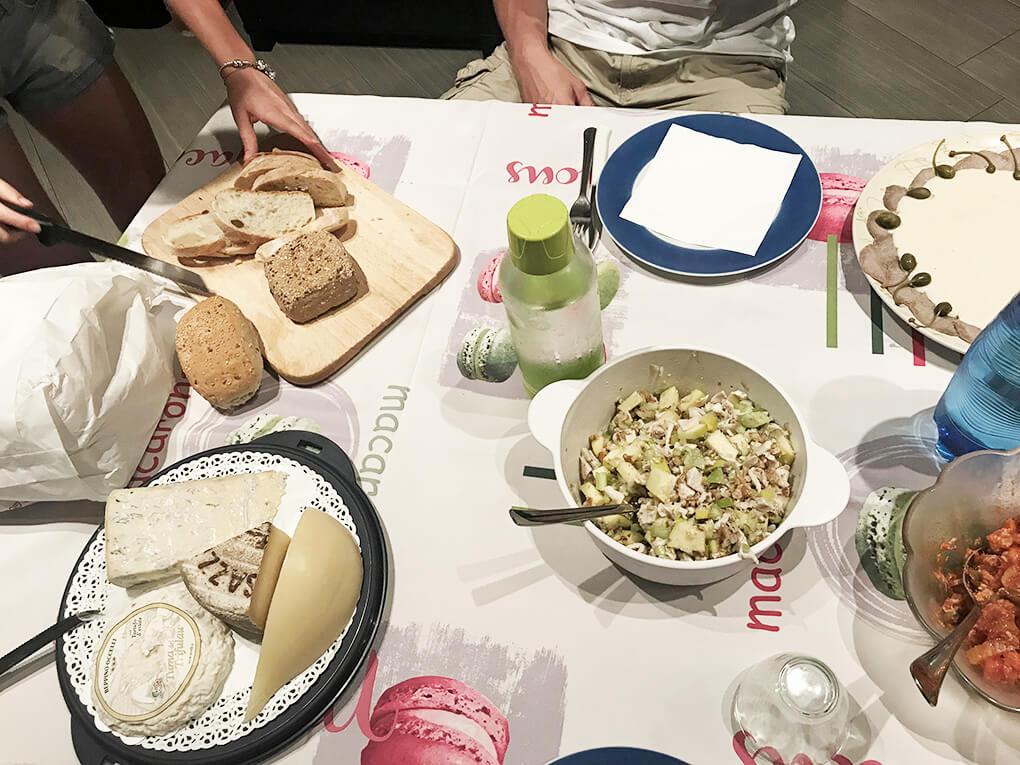 In fact, I couldn't get it out of my mind the notion that in Italy there weren't really "health foods." I went to two grocery stores and not once did I see an aisle dedicated to "health foods," "organics," or the like. And the irony is, of course, that in America we have dedicated an entire industry to it (I would know, it's the industry I am most passionate about, live, breathe, and work on/with 24/7) yet we continue to be chronically sick and overweight.
However, for me to say that the reason I tolerated all the things in Italy was strictly due to food quality would not be telling you the full truth. And if you want the full truth, here is the primary question I explored while eating and drinking my way through Italy….
Do we feel better when traveling in Italy (or wherever food "like that" exists) because:
The food quality trumps that in the United States,
There is significantly lower stress while eating said food (digestion starts in the brain Y'all), or
The combination of the prior two
And here is what I concluded.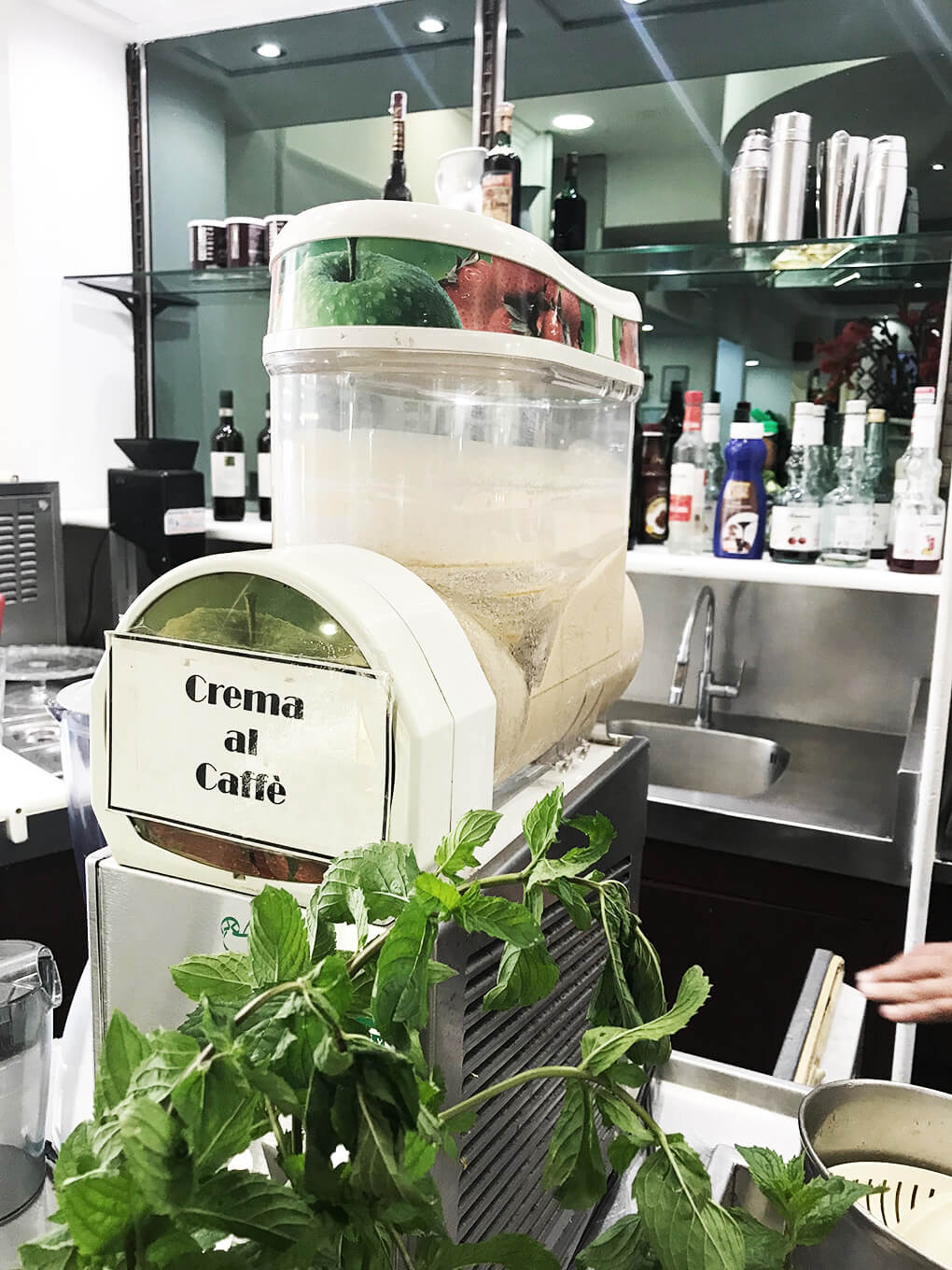 Conclusion
It's 100% the combination of the two, along with the fact that we were walking and moving 24/7 (we did no less than 15K steps per day).
While in Italy I had no mouth flares (one night I did get a red dot in my cheek, but it went away quick and was painless – it's usually from a pizza herb). I went to the bathroom. I barely was bloated, and I made sure to keep that in check by keeping up with my LDN and a few times did the Intestinal Movement (for good measures). There was zero joint pain (which used to be a huge glutenized symptom). My energy was amazing. Skin issues have completely gone away – even all back acne.
And here is what I also concluded during one of my deep introspective moments: What is the point of going back to America to be on a super "strict" diet when clearly traveling through Italy on no diet helped (instead of hurt)? In other words, I essentially just proved to myself that this isn't only (eh – if at all?) about diet.
If we can't figure out #2 ("There is significantly lower stress while eating said food) then we'll never arrive at ultimate healing because in America we simply aren't afforded #1 (total food quality).
So many of the s#$% ingredients American's accept as okay are forbidden in Europe, and as long as America doesn't care, big food gets by with anything and everything.
I thrived while eating and drinking all the things in Italy. I owe all the gratitude to my willingness for seeing that it was about both the food and every single thing I was doing throughout my days there…..eating, playing, praying, loving, being, not-being, enjoying, and mostly LIVING.
Coming back to reality, to the United States, and to my real life, this experience set me up to explore for myself (and to offer the help for my clients) to enjoy these same freedoms from health mis-haps by not just focusing on diet.
And that is the most FREEING thing I have felt in such a long time. Italy….you DID ruin the low-carb strategy. And I totally heart you so hard for it.
Kilometer Zero you've done me so, so good.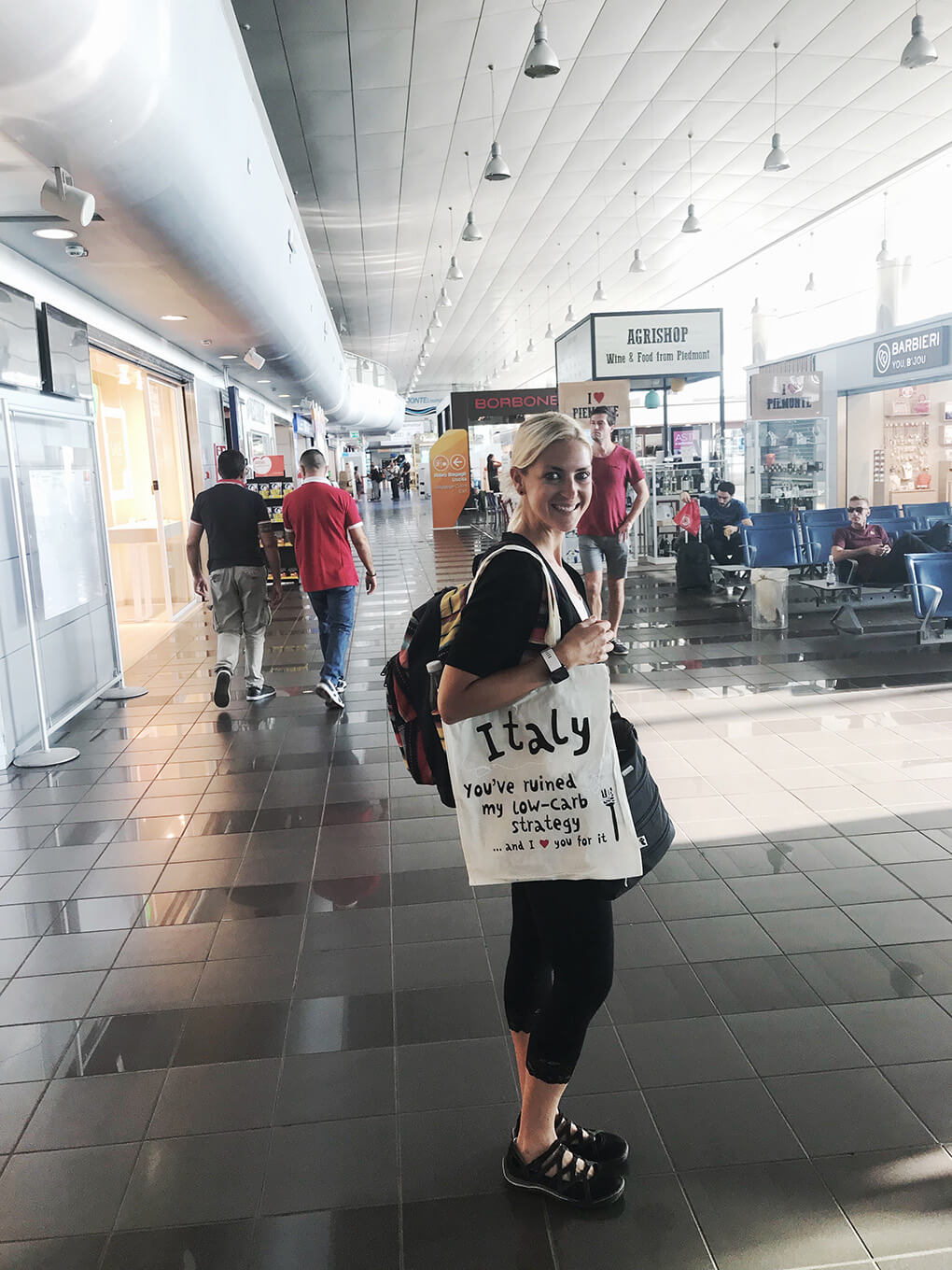 Stay tuned….on the heels of this, I'm sharing with you my Colonoscopy and Endoscopy results.
Xox,
SKH
You will heal. I will help.