There is nothing like a guided journal to help on your healing journey.
My goal today is to show you how, by having the best guided journal, your healing journey will be easier.
Guided Journal
Click HERE to save this post for later.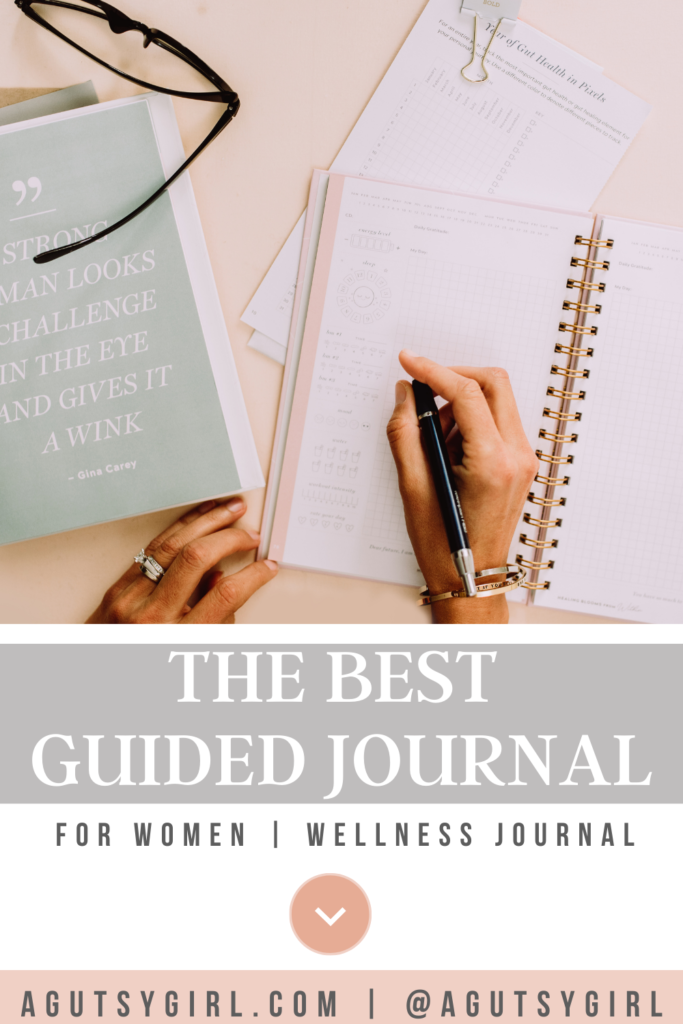 First, I know there are many different journals out on the market today. So when choosing the best one for you and your personal journey, here are the top 3 things you should look for/ask:
Is it a general journal or specific? If you are trying to hit a certain fitness goal or business goal, you'll want to find a guided journal specific to that.
Does the creator have real life experience with the journal topic? In other words, would you buy a guided journal with the intention of building your own, 7-figure business if the journal creator was someone who has never owned their own business? How can they guide anything if they have not been through what you're trying to achieve?
Is the journal guided so I know how to use it, yet still able to be customized for me?
Journals for Women
When I set out to create the best gut health and gut healing journal on the market, I thought of every single point above.
And then I thought about it some more.
I focused even more, ensuring that it also fell under the category, "Journals for Women."
In fact, I get asked all the time if a man can use the journal. My answer,
Well, sure. Anyone can use it. However, the colors and design are 100% feminine. Additionally, the language throughout is feminine. And finally, there is a place at the top of each page for one to record CD, which stands for Cycle Day.
For females the above is all important.
So what are some components to a great gut health and gut healing guided journal?
In addition to the 3 things from above, you'll also want to look for a journal that includes self discovery.
Self Discovery
You will never fully heal if the journey isn't custom to and for you. And you'll do this via massive self discovery with the Healing Blooms from Within journal.
Self discovery allows you to acquire insight into your character.
While this might not seem relevant to gut healing, I assure you it is.
Who you are, what your passions consist of, what your demeanor entails, how you process life events, the way you entertain the everyday mundane, etc. matters for your healing outcome.
In the gut healing guided journal I provide, self discovery comes daily.
This is done through the daily pages and the master (massive) Journal Key that you're provided with.
On my own journey towards everlasting gut healing through the journal and self discovery, I learned:
The effects lack of gratitude was having on my health.
How critical sleep was for every last piece of my daily routine.
If I didn't tap into therapy (mental and emotional), I might never fully heal.
There is a time and place for medication; no guilt needed.
And more.
Wellness Journal
I desperately want you to heal your gut in order to fully heal your life (or vice-versa, if that's what you believe most).
For this reason, not only is the 90-day gut healing journal specifically a guided journal for gut health and gut healing, but it's also for optimal wellness.
Wellness, as defined in the dictionary means,
the state of being in good health, especially as an actively pursued goal
And this is truly the epidemy of what the journal will do for you, even after you have "healed" whatever gut issues you might currently have going on.
While you're using the journal on a guided basis for gut healing, you can also simultaneously be using it to approach and achieve gut health.
To this day, I use it for optimal wellness.
Many pages in the gut healing guided journal are conducive for wellness:
Every single page contains an inspiring quote. You'll be surprised by how much this delights your days. Delight is part of whole wellness.
Habits trackers – customizable for wherever you're at on your journey.
Gut Healthy Food List
Doctor's Visit Log (you can use these for any part of your wellness journey)
Medical History
Notes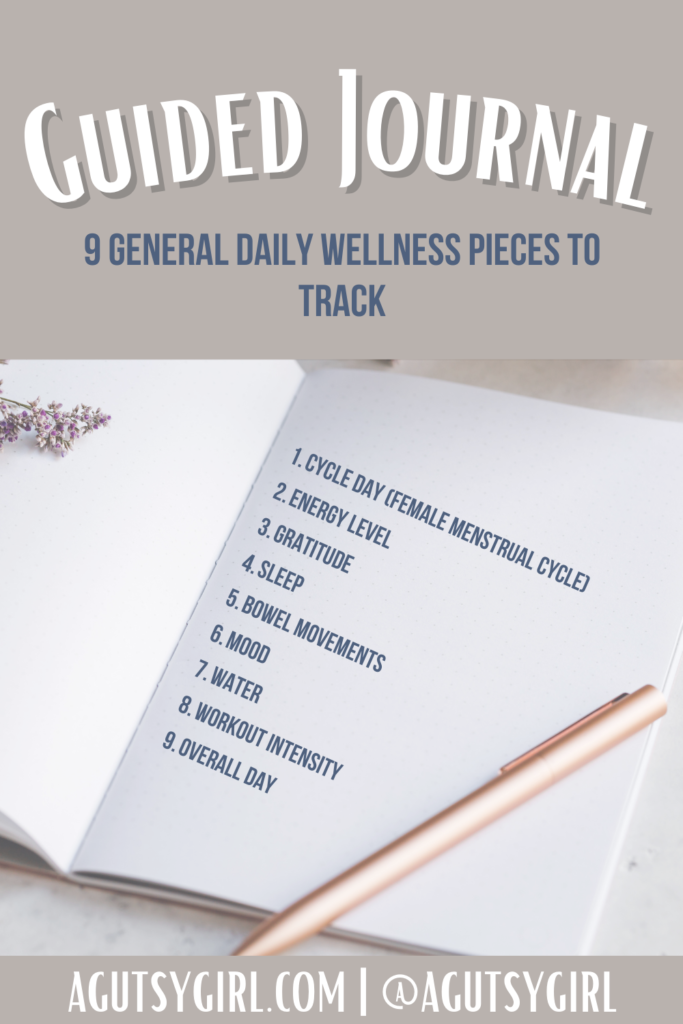 Additionally, there are the following general daily wellness pieces:
Cycle Day (female menstrual cycle)
Energy Level
Gratitude
Sleep
Bowel Movements
Mood
Water
Workout Intensity
Overall Day
Self Care Journal
Now let me tell you yet another reason you'll become obsessed with this self care journal.
I have made a guided journal for gut healing in both a physical journal and PDF version.
Until recently, I never realized why this was so cool.
Here is an Etsy review that came in.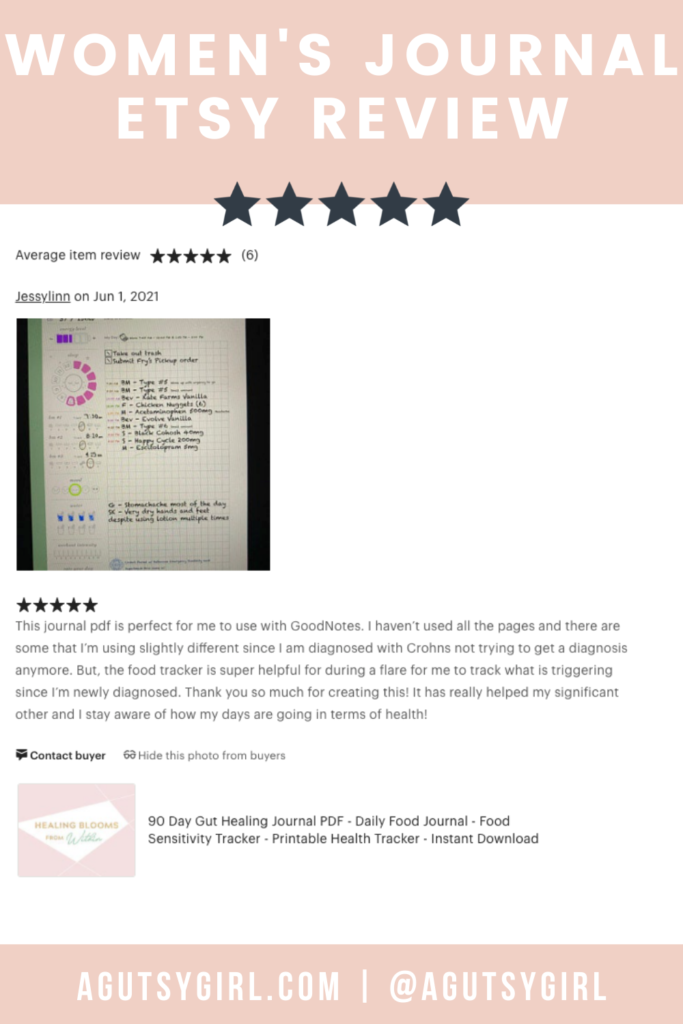 I love many pieces of that review, but one thing in particular stood out: GoodNotes.
Guided Journal App
Yes, I'm online almost 24/7, but no, I had never heard of the GoodNotes app.
And no, GoodNotes was not made to be a guided journal app. However, with this app, you can get the PDF version of the 90-day gut healing journal (which is 1/2 the price, btw), then upload it into your iPad and use it as digital paper.
Bottom line: get yourself a guided journal. If the journal is used to its fullest potential, it's a decision you are not going to regret.
If you liked this post, you might also enjoy:
Xox,
SKH
You will heal. I will help.