Your 90-day gut healing journal system, Healing Blooms from Within, is finally here!
Not only is it signed and sealed, it is now also delivering to the Gutsy community worldwide. Free shipping within the United States; conservative shipping for the rest of the world.
While I've been talking about it for months, I've actually been working to create it for over a decade.
Yes, you read that correctly, a decade.
The very first healing journal I ever kept was in 2006/2007 when I did my first ever 21-day "detox" and wrote down what I was eating. 
In case you're interested in seeing this process and what that very first journal looked like, I created a timeline HERE.
Healing Blooms from Within
Click HERE to save this post for later.
Over a decade later, and Healing Blooms from Within has finally come to life.
I wish I could remember exactly how the title came to be, but I don't fully. What I do remember are these three things:
While "My Poop Diary," "What the Gut Bug is Going On?" etc. is cute, awesome, and fun, the reality is that most women really don't want to carry something around for healing purposes and have it out there in the open like that. With a simplistic front cover and title, Healing Blooms from Within, the Gutsy journal is in disguise as any other beautiful, classy journal.
"A Gutsy Girl's Journal" would mean it was mine. While I created it and will even use it, the journal you'll hold in your hands is yours. Every last thing on the inside you'll make unique for you.
Healing really does bloom from within. Without properly planting, watering, and nurturing the inside, it's hard to flower on the outside. In other words, if you don't take care of everything going on inside (physical, mental, and emotional), the outside struggles.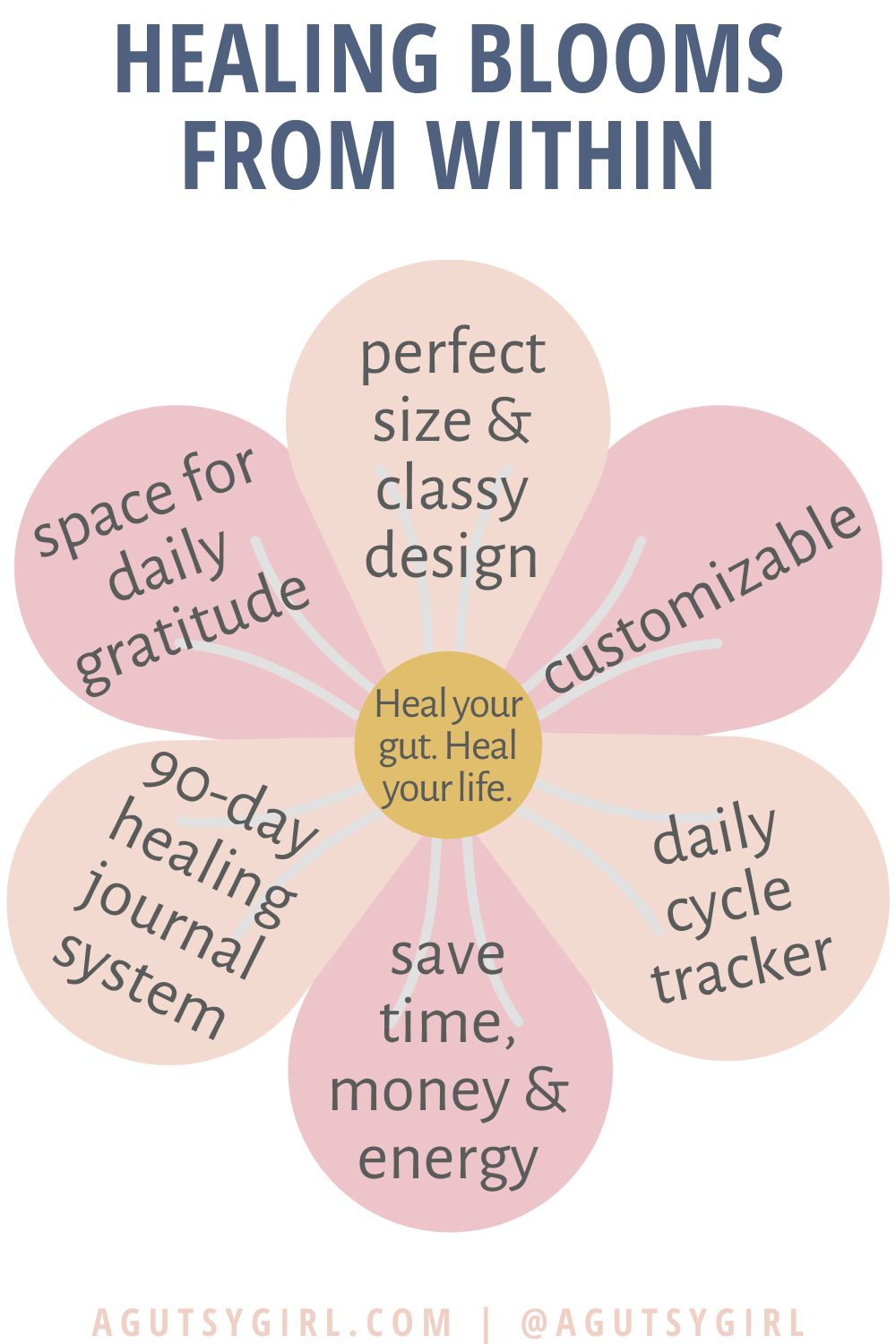 The word bloom is so lovely. As a verb it means, "produce flowers; be in flower."
And "to flower" is "the state or period in which a plant's flowers have developed and opened."
It's a process that results in taking something from seed to full beauty and life.
This is my reminder that it's your time to bloom.
And even if you are starting with just seed, by watering it daily and giving it the chance to bloom, it will.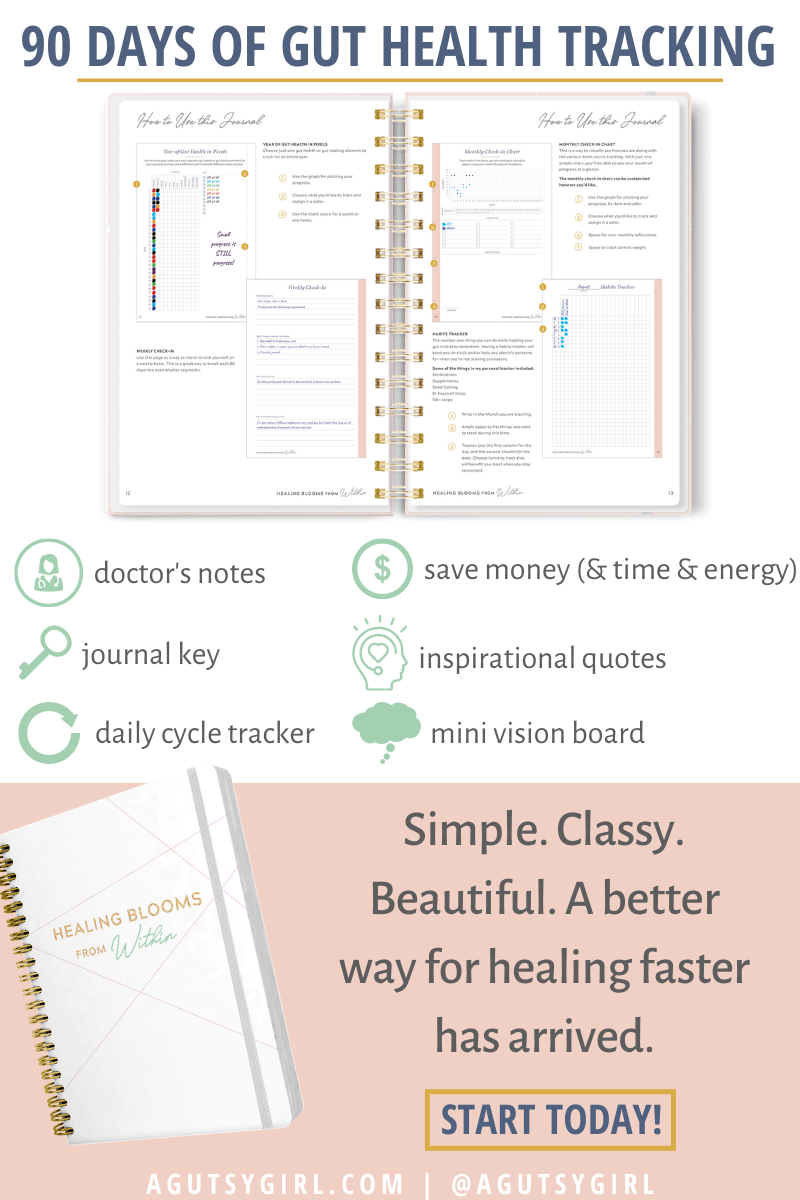 All-in-One Gut Healing Journal
I'm sure there are some I'm leaving out, but here are all the various journals I've kept over the years:
plain spiral notebook
empty bullet journal
fancy-cover journal
food log journal
gratitude journal
period tracking app / journal
inspirational quote journal
strict protocol (then combined with something above usually)
Don't think I'm saying for one second that any of those journals did not work. They did. All of them, in their own right. But it wasn't until I learned a system for combining them all that I would truly heal.
The reason?
Healing blooms from WITHIN.
It ALL matters, and it matters in a much greater way than so many know.
So here is what I did.
Healing Journal Swaps
I meshed all the good things from over a decade of journaling into one, concise space and system.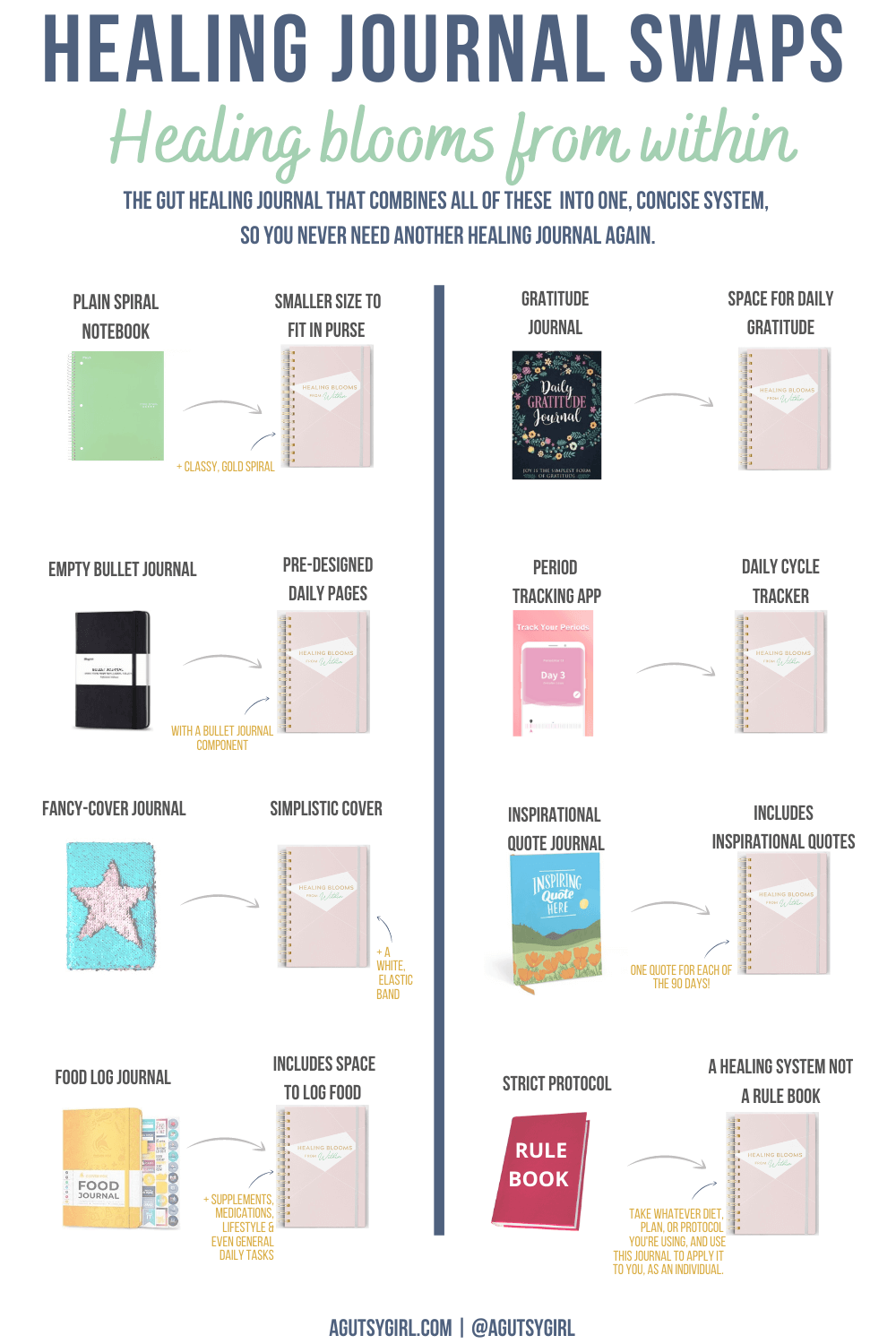 Yes, you take all of the above and merge them in order to realize faster, easier healing.
You'll no longer need all the things; just one thing, Healing Blooms from Within.
Of course, this will save you time, money, and energy.
But maybe the most important thing this journaling system will do for you is to help you realize how powerful you truly are!
Who is the 90-Day Gut Healing Journal For?
It's for you, darling.
Seriously.
It's for the women out there who are either still sitting in silence, miserable or vocal about their misery and still not stumbling upon answers.
You are the person I was before I realized the power in perfect pillar balance.
But do you want in on a little secret?
It's really hard to understand this balance and then apply it to your own life without using a journal. This journal is not only your basic food journal tracking food, bowel movements and emotions, but it is detailed.
The journal includes pieces and information for every single part of the 3 pillars I stand staunchly by today and forever.
There is a method you'll use which comes in a concise journaling key.
I promise you've never seen a gut healing journaling method like this one before.
The tool to empower you on your gut healing journey
By using this journal and recording via the system I've developed, you will instantly feel more empowered.
No longer will you have to step into a doctor or nutritionist's office and tell them something that's seemingly theoretical.
Instead, you'll have a notebook filled with information – all the information they will need and want to see.
When you have a comprehensive trail of information, you'll feel more confident to ask for what you need and also to be adamant about the things you don't truly feel you need.
If you only knew how exciting it is to know that Healing Blooms from Within is going to change your healing trajectory…..
Well, you'll see!
Now, maybe the physical copy is not ideal for you, for whatever reason. You can purchase the instant PDF download right now. This is the exact same journal, only you'll need to print it off yourself.
Note: If you choose to go this route, I have put together a bunch of fun things for creating this journal custom to you. Simply navigate to the JOURNAL ESSENTIAL tab via the Master Gutsy Spreadsheet.
To learn more about the journal, see the official journal FAQ page HERE. If you have questions, feel free to leave them in the comments below and/or reach out to the team HERE.
If you like this type of information, you'll also enjoy:
Xox,
SKH
You will heal. I will help.