Welcome to the Journal Resources page for Healing Blooms from Within.
Be sure to BOOKMARK this page for future reference.
I can't even tell you how grateful I am that you are here and have joined the gut healing journaling community.
If you're reading this right now and thinking, "What the heck is she even talking about? I don't have a gut healing journal."
Well, then, darling, you better grab one.
Healing Blooms from Within Journal

And if you already have your journal, but are needing a brand new one, click one of those links above and then enter in your special code (from your current journal) to save 12% on your entire purchase. The code will work for both the printed and e-journals.
---
Journal Resources
Click HERE to save this page for later.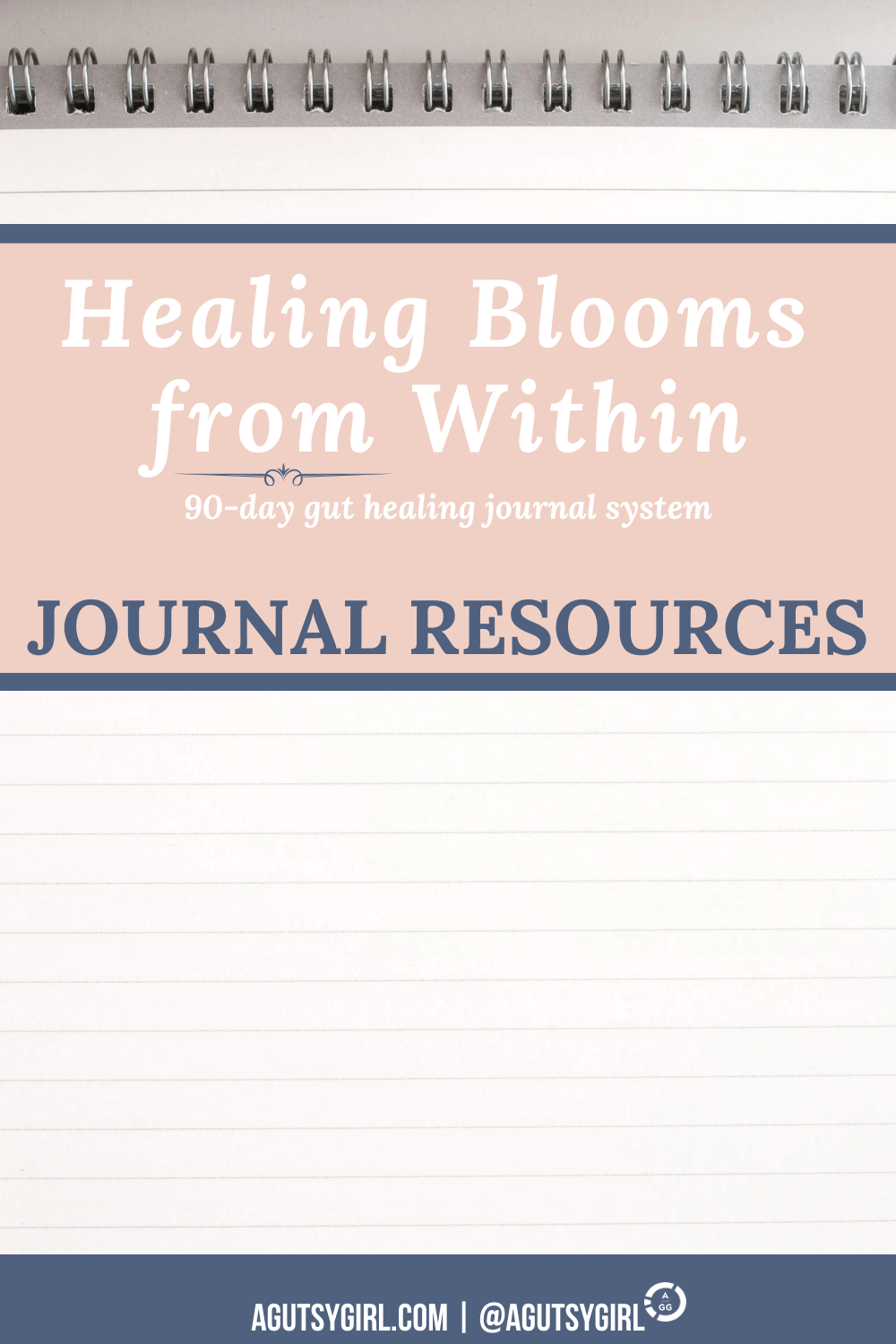 If you pointed your camera phone at the QR code in the journal and you were lead here, these are the journal resources you're likely looking for:
---

More Gut Healing Journal Resources
….but wait, there's more!
I wasn't kidding when I said that I've been at this gut healing journaling life for 10+ years now. Because of it, there is so much more to help you on your gut healing journaling journey.
Healing Blooms from Within Journal Resources
These are resources specific to the Healing Blooms from Within journal. These resources will help you understand your journal even more. They will help you use it to its fullest.
General Resources
These are resources that are specific for the Healing Blooms from Within journal, but also useful for journaling in general.
---
Healing Blooms from Within Journal Affiliate Program
If you loved the journal and want to make money sharing that love, consider becoming an affiliate.
Click HERE to learn more.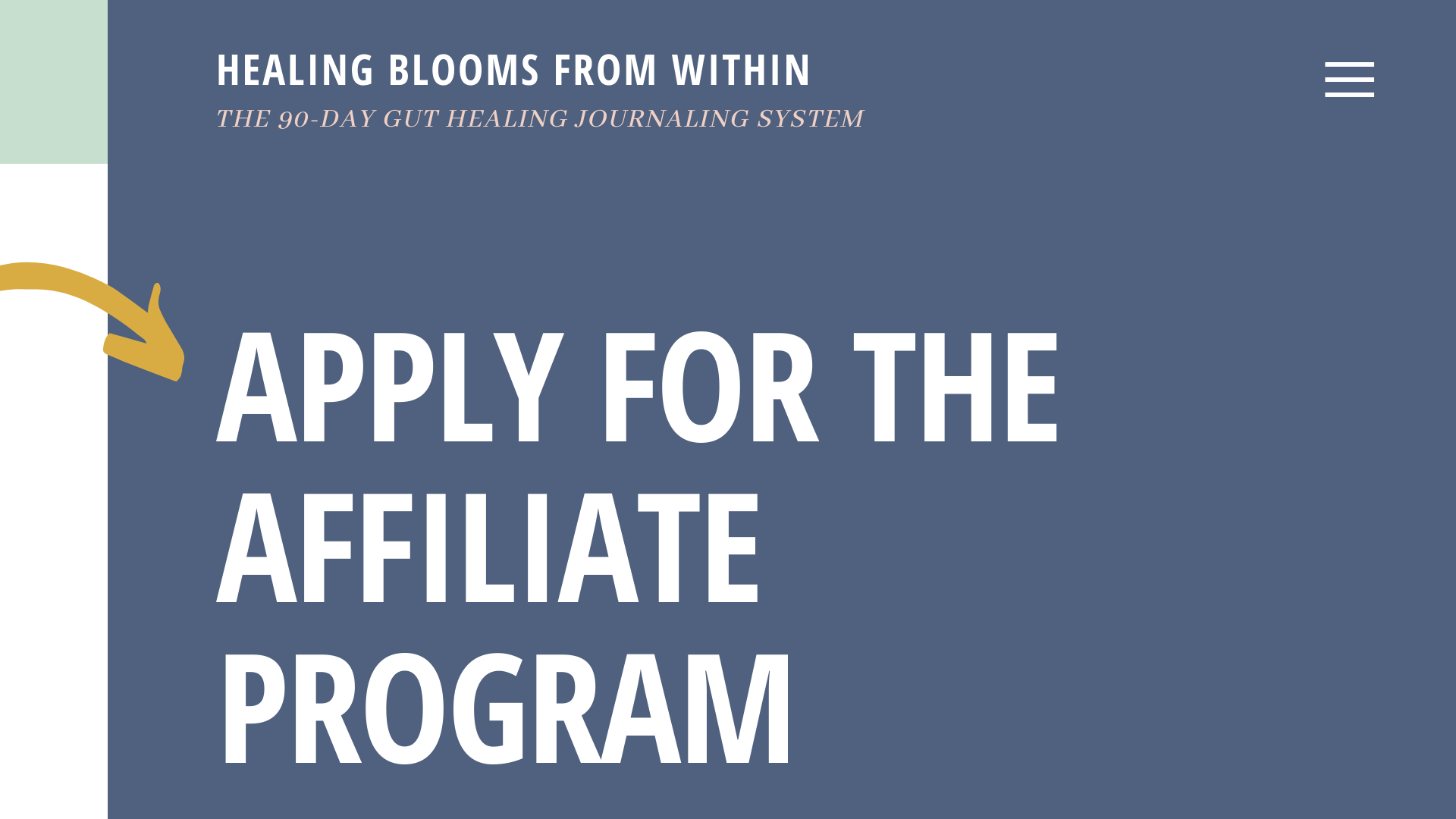 ---
Additional Information, Sources, and Resources to Use in Conjunction with the Gut Healing Journal
Whenever you purchase anything from Just Thrive Health, you can use code AGUTSYGIRL at checkout to save 15%.
Just Thrive Probiotic.

The spore strains in Just Thrive® are the only on the retail market clinically proven to heal leaky gut within just 30 days! In fact, studies have shown that oxidative stress is a major driver of leaky gut. Researchers believe that the antioxidants produced by the bacillus indicus strain (HU36) in Just Thrive® Probiotic are the "heavy hitters" in the formulation and are responsible for helping to combat the oxidative stress on the intestinal lining.

Just Thrive® is not trying to simply reseed the gut with typical "other probiotic" ingredients (like lactobacillus/bifidobacteria strains) that simply pass through the intestines and do not colonize. Instead Just Thrive® goes in to actually recondition the gut. (Grab the Just Thrive Probiotic HERE. Use code AGUTSYGIRL at checkout to save 15%.)

Just Thrive Prebiotic

Just Thrive developed this cutting-edge Precision PREbiotic formulated to support only the growth of our beneficial bacteria for optimal digestive and immune health. Prebiotics and probiotics have a symbiotic relationship. Prebiotic fiber is the main food source of probiotics, and probiotics cannot thrive without it. Taking a probiotic supplement or food with a prebiotic fiber supplement delivers the indigestible prebiotics straight to the gut where probiotics consume them. (Grab the Just Thrive Prebiotic HERE. Use code AGUTSYGIRL at checkout to save 15%.)

Just Thrive Ultimate IgG

Your immune system responds by sending out antibodies – also known as immunoglobulins – as its front-line soldiers. Your body's most important and abundant soldier is called Immunoglobulin G, or IgG, and it works very hard to keep you safe from invaders. Sometimes, though, your body needs extra help to fight off the constant attack of antigens… Just Thrive Ultimate IgG can help.

Immunoglobulin G works together with probiotics to boost the number of beneficial gut bacteria and strengthen the intestinal barrier. By eliminating harmful antigens, IgG makes it easier for probiotics to survive and thrive in the gut. Plus, IgG and probiotics join forces to support optimal intestinal barrier function. (Grab the Just Thrive Ultimate IgG HERE. Use code AGUTSYGIRL at checkout to save 15%.)

Xox,
SKH