Bloating after eating any meal is common (not normal), but today I want to address the rise 'n shine. I have 9 ways to avoid bloating after breakfast.
The focus is breakfast because I know you struggle with that. And I did, too. Here is what a typical morning looks like for you:
wake up, okay
physically get up, average
eat anything, even a crumb, bloated to 9 months pregnant
Because I've been in those same shoes, I want to help.
2 Reasons to Avoid Morning Bloat
But first, here are 2 reasons it's critical to avoid the morning bloat:
1. Sets the tone
The morning, like it or not, sets the tone for your entire day. It's why I focus so much on nailing the morning routine on A Gutsy Girl. (See: 8 Ways to Begin a Meaningful Morning Practice and 5 Morning Power-Up Rituals)
I know that what happens in the morning can make or break your day. If bloat is part of the equation, you'll struggle to make it.
2. Journaling is more difficult
Yes, the art of journaling for gut healing.
I'm never going to stop talking about it because I whole-heartedly believe in as part of the healing process. But when bloat occurs first thing in the morning you will feel much less motivated to use the journal.
More than that is you'll need to record even more in order to have clear understanding. Even if you don't need to, you'll believe you do. It's exhausting.
Alright, now let's discuss how you can avoid bloating after breakfast.
9 Ways to Avoid Bloating After Breakfast
Click HERE to save these 9 ways to avoid bloating after breakfast for later.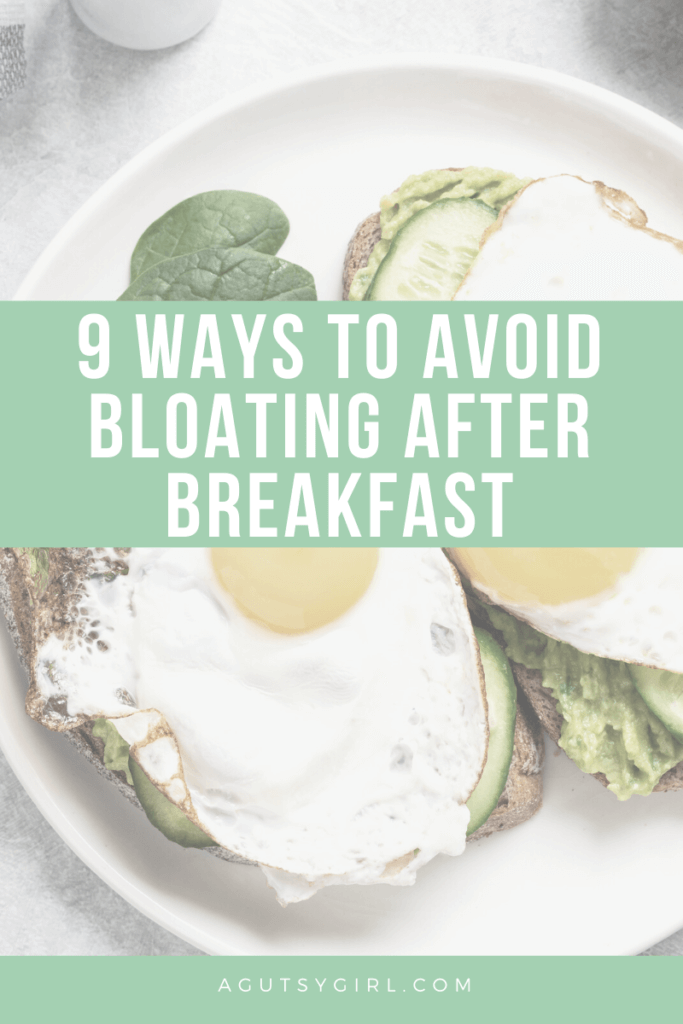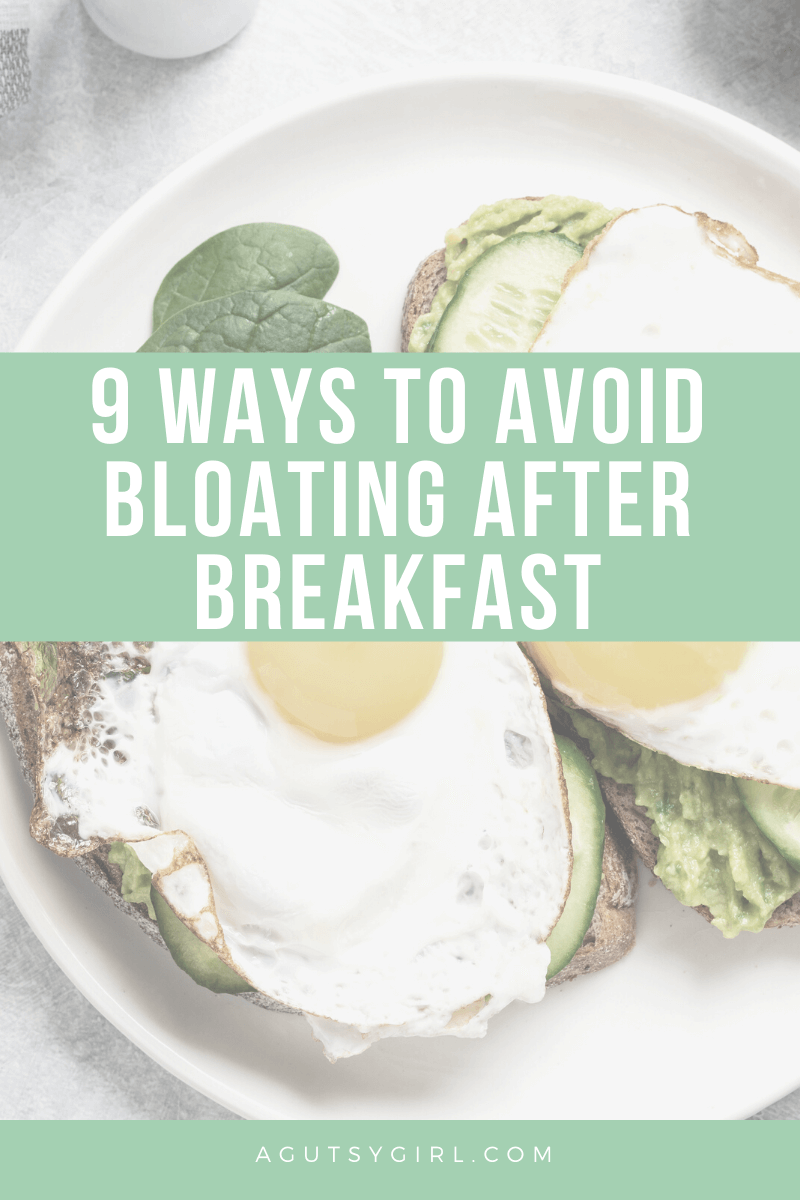 1. Fast
Wait to break the fast.
Actually, truly, and 100% one of my very best ways for avoiding bloating after breakfast. Don't eat it at all. Now, before the hormone and intuitive eating police come after me, let me be very clear. Intermittent Fasting (IF) is not now, nor will it ever be, for everyone under any circumstance. However, if you practice IF appropriately for your unique circumstances, it can be life changing.
It was for me, and it has been for many others. And remember, just because you don't eat breakfast per the usual, doesn't necessarily mean you don't eat it at all.
I still eat breakfast, but it's just later and always plump full of calories and gut-health foods. 
2. Choose the right breakfast
What is "right?" That is completely dependent upon you and your own, unique situation. What I can tell you, though, is that if you have been eating the same 3 breakfasts for the past several months and each day you're bloated after breakfast, something is clearly not working.
This is where your gut healing journal will come in handy.
I could list out many different breakfast options, but again, it would mean nothing for you. Because only you know your full health status.
There are, however, many ideas and options, that you can customize for you, in A Gutsy Girl's Bible.
Note: if you want to hear more about my mornings, including intermittent fasting and breakfast, I recorded an episode with my daily routine.
---
---