Are you ready for 100 days of summer healing? I'm asking myself (and inviting you to ask the same), "….but what if you fly?"
Back to mindset we go, darling.
The Ultimate Gut Healing Journey Journal
If I told you I was more excited for this journal to release than I was my first book, The Leaky Gut Meal Plan, would you believe it? The answer is a resounding YES! In fact, you can now sign up to be notified as soon as it goes on sale HERE.
Here's why: the pieces that make up this gut healing journal are like nothing you've ever seen before. It's my highly-customized, extremely unique 10-years-in-the-making process.
I am brining to life exactly what women worldwide have been searching for for their own gut healing and health journey.
But here's the thing – it took me so long to finally move forward and make this gut-healing tool a reality.
While walking the lake this week I realized why: my mindset was never right. Instead of "what if I fly?" and change millions of lives, it was always, "It's probably not good enough."
This past year, though, with both my dad's death and the Pandemic, I've realized that the only time is now.
100 Days of Summer Healing
Click HERE to save this post for later.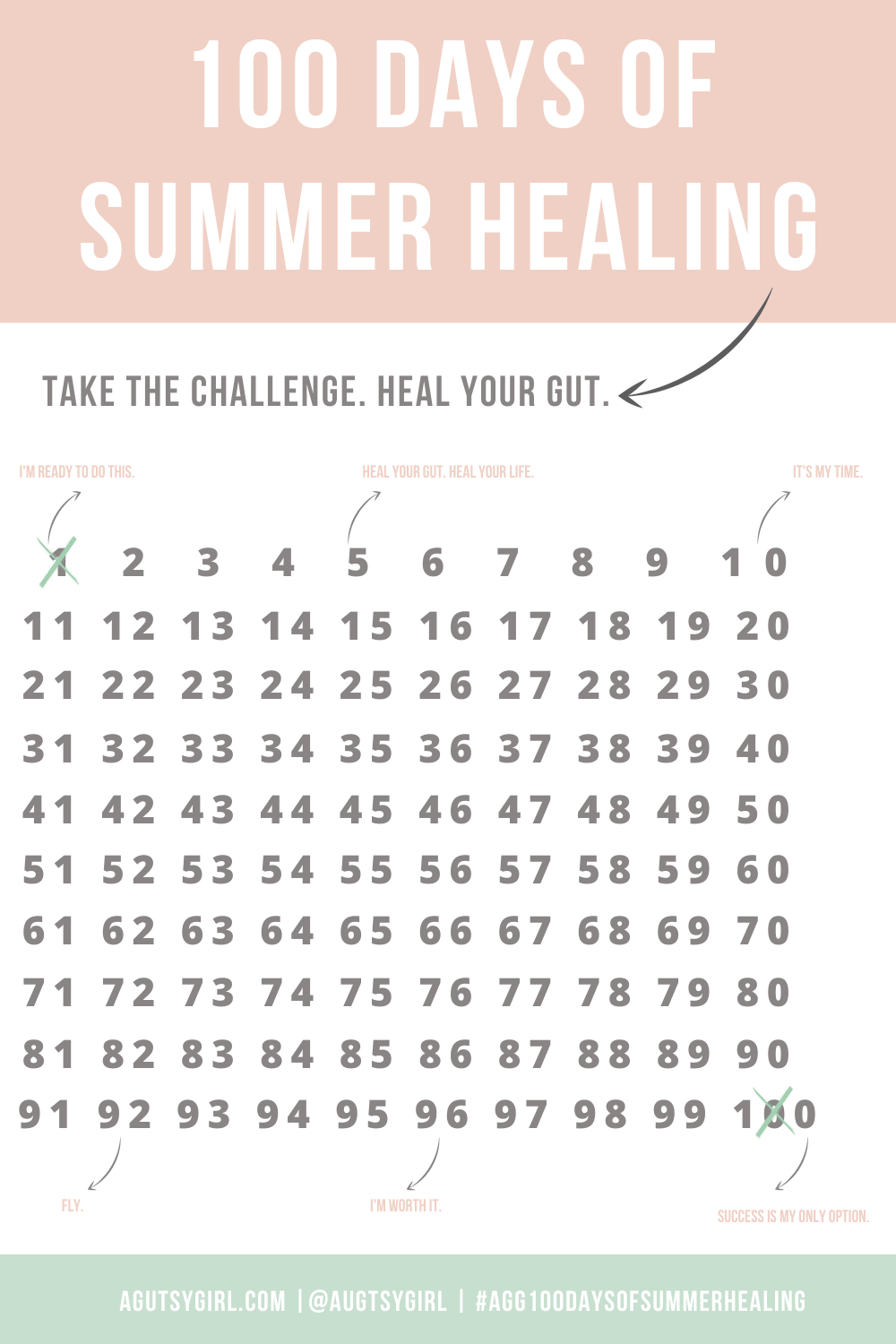 The 100 days of summer is simply a challenge – for you and for me.
It's one that you will customize however you want. This is not a diet. It's not meant for you to have such strict and rigid rules that summer flies by without you even embracing it a single day.
This summer, I'm inviting you to get your mind right and ask, ""….but what if I fly?"
These 100 days and this challenge is really just my way of inspiring in you the motivation and inspiration to get your mindset right through daily action.
And because the journal will release this summer as well, the 100 days will lead directly to the launch as well.
What If I Fly?
The theme was set in conjunction with MantraBand.
(This post is 100% not sponsored. The only money I make from them is if you purchase anything from mantraband.com. But should you choose to purchase anything on their website, use my code AGUTSYGIRL to save 10%.)
The mantra comes from this:
There is freedom waiting for you,
on the breezes of the sky,
and you ask "What if I fall?"
Oh but my darling,
what if you fly?
– Erin Hanson
Today on my Instagram I'm giving away 5 of these bracelets. I have the one in rose gold. Actually, I have several of their bracelets with different bands and mantras. If you want to enter the giveaway, see it HERE.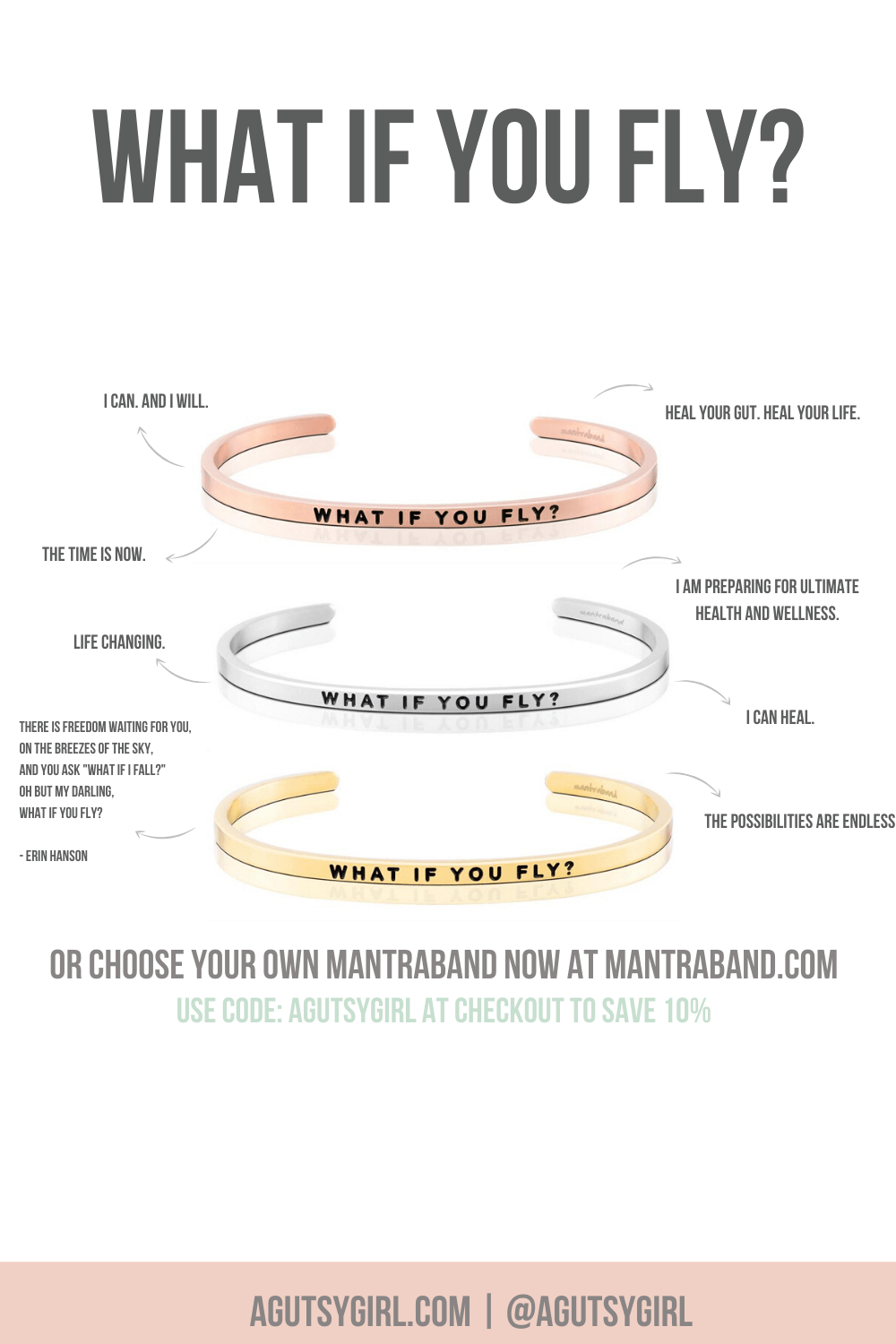 So how does this work anyways?
Create Your Own 100 Days of Summer
The 100 days of summer technically starts on the first day of summer which is Saturday, June 20 this year. It ends on Tuesday, September 22nd, which is the last official day of summer.
It consists of two main steps:
2-4 daily actions; things you'll commit to for healing
……and one of those actions will be a mantra or something positive written out.
More on each….
Now is the time to take action.
Prior to beginning, you should write down 2-4 daily things you will do for a better mindset and actionable items to find you more gut health, peace, and/or happiness.
You've been reading my blog, book, e-books, etc. for a long time now. There is so much information and sometimes with all this information no action is taken.
As long as you remain just a student filled with knowledge, healing won't happen. It's why the first pillar in my 3 ultimate pillars to gut healing is diagnosis vs. Dr. Google.
Here is an example of some daily things you might commit to:
30 minutes of gentle movement (not high-intensity workouts)
1 gallon of water per day
10 minutes of morning meditation
3 meals per day filled with adequate calories and nutrition enjoyed only while seated in a calm state
at least 90-120 minutes rest (meal spacing) between each meal
daily Squatty Potty use
be 100% consistent with the supplements your doctor said you need to take
no electronics 3 hours before bedtime
keep a journal or sheet of paper with all negative thoughts and clutter to transfer them from your mind to the paper (ultimately, you will burn this journal or sheet of paper!)
One thing you must do (aka one of the 2-4 things to commit to) daily is write a mantra, positive thought, or mindset-shift idea down. This is simple.
You only need to write one word or one line.
Mantras
Here are some ideas of things you could choose to write:
What if I fly?
or find your own MantraBand saying HERE (bonus: you can then wear it, too!)
The possibilities are endless.
I am preparing for ultimate health and wellness.
…..any of these 31 Gut Healing Mantras
You don't have to share any of this with anyone.
Your 100 days are for you.
Just do the work.
The point is to do it now. And see what 100 days of summer healing might turn into.
(In case you do want to share because you're excited and/or want accountability, leave it in the comments below. Or upload it to Instagram using #AGG100daysofsummerhealing) I'm listening.
Way back when, I wish I would've stopped telling myself, "what if I never heal?" And instead, got busy doing specific things, on a consistent basis, to improve my life.
Ready to fly?!
I am. During these 100 days, I'll have the OFFICIAL gut healing journey journal ready for you.
If you liked this post, you might also enjoy:

Xox,
SKH
You will heal. I will help.