The Paleo (Paleolithic) Diet is hot, hot, hot, but there are 6 reasons why I am not Paleo and today I'm going to tell you them.
Robb Wolf gives a fantastic overview of, "What Is The Paleo Diet," and in it he provides the basics for:
Okay to Eat
fruits, vegetables, lean meats, seafood, nuts and seeds, healthy fats
Avoid
dairy, grains, processed food and sugars, legumes, starches, alcohol
The Paleo Diet seeks to provide everything from more efficient workouts to reduced allergies and fat loss to stable blood sugar. For all of these reasons, I am a huge fan. As a matter of fact, for many, many reasons I am a huge fan of the Paleolithic ways and practices.
Most assume I religiously follow the Paleo Diet. I don't. And you should know that many people who preach Paleo and pump out Paleo-ified recipes aren't necessarily accurate either. (Note: I still mark my recipes according to what they are so that, in case you do follow a specific diet, you instantly know if you can enjoy the recipe or not. I.e. "gluten free, Paleo, egg free, soy free, dairy free, grain free, sugar free, etc.)
Prime example: Baking Powder. I have seen more recipes on "Paleo" blogs that use baking powder. Baking powder contains starch (usually corn starch). Starch is on the Avoid list.
The use of baking powder is not why I am not Paleo. But in fact, I'd don't use baking powder, simply because it is a starch that my gut says "no, no, no" to. And this is just the beginning….
6 Reasons Why I Am Not Paleo
Click HERE to save this post for later.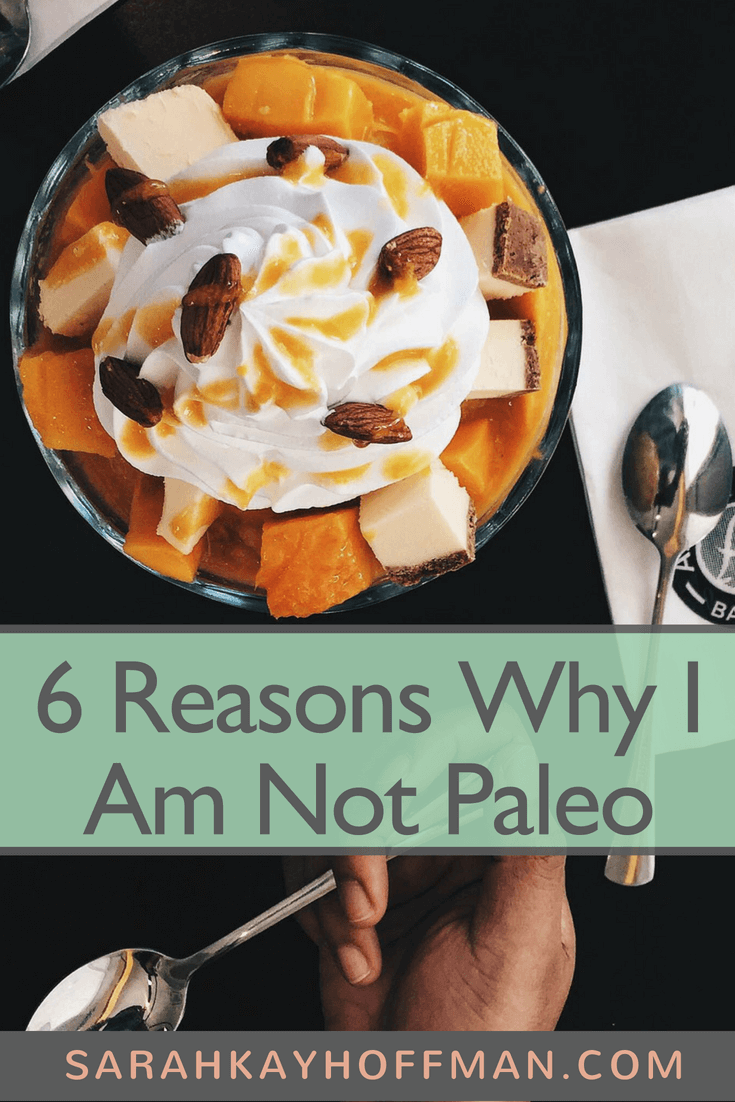 I do dairy. No, I don't do conventional dairy any longer, but I definitely have raw dairy when I can get my hands on the Organic Pastures raw cream, cheese, butter and kefir. Raw dairy has helped my gut. I never thought I'd see the day when I could say that, but here I am – I am saying it. The fact remains, and yes I thank God for my cream, cheese, butter and kefir.
Grains….maybe. I have not had any grains since June, and I have been feeling phenomenal, but excluding grains for my whole life is not a part of the master plan. I will never eat most grains again, but there are a select few that, within the next year, I'm hoping to try again. I believe that grains are in fact extremely tough on the digestive system and critical to avoid when healing, but I'm not sold yet on the fact that they should all be excluded forever. Besides, rice.
Peanut Butter obviously. Peanuts are a legume, so if I was Paleo there would be no peanuts, no peanut butter and it would be tricky for me to be as passionate as I am about A Loving Spoon nut butter. I currently test every batch that comes out of my Commercial Kitchen. Yesterday, while tasting, all I could think was, "Dang it feels good to just eat awesome, delicious, pure and whole ingredients that my body loves."
Red Wine is delicious. I rarely drink anymore because I learned that I will react to even moderate amounts of alcohol. But I cook with White Wine (had it with Wild Cod two nights ago), and occasionally enjoy a glass or two of Red Wine.
Vegetables. I see recipes on Paleo blogs all the time that use a ton of vegetables. This is awesome! This is powerful, and it is something I desire for the long haul, but it's still not my reality. Vegetables are nowhere near a focal point in my current diet.
All foods under the "X" category are always okay. Kind of along the lines of #5, but when you are truly Paleo, then entire categories of food either are or are not allowed. I could break this down for me, by each category, but for example: seafood. I can do things like salmon, cod, walleye, sole and snapper, but cannot do (at least not very well): shrimp, scallops and tuna. Complete categories are/are not complete categories in my diet.
Like many, I could be Paleo and simply just "make exceptions." I hear this from people all the time,
I'm Paleo, but sometimes I have peanut butter or cheese.
In fact, if you read my story, you'll see that I make note:
Today I am committed to a Life Unprocessed. My diet is a mix between SCD and the GAPS Diet.

I don't claim "gluten free," or "dairy free" or "Paleo" or anything else (even though most of those I 100% am).

I march to the beat of my own drum lifestyle.
At one point I called this the GAPS Diet, which stood for:
Gut and Psychology Sarah Diet.
This is precisely my point. This isn't about the 6 reasons I am not Paleo. This is the fact that everyone tries to mold into a perfect way, a perfect diet.
There is no such thing – even if you have IBD or IBS.
There is one way that works.
That way is your way. It is carefully crafted and created. It can take a very long time to nail it down, but once you do, I guarantee your life will forever be changed.
Stop molding. Start paving.
Define a lifestyle for you. Heal in a way that suits your best interest.
If you need more help, check out The Gutsy Girl's Bible: an approach to healing the gut.
Xox,
SKH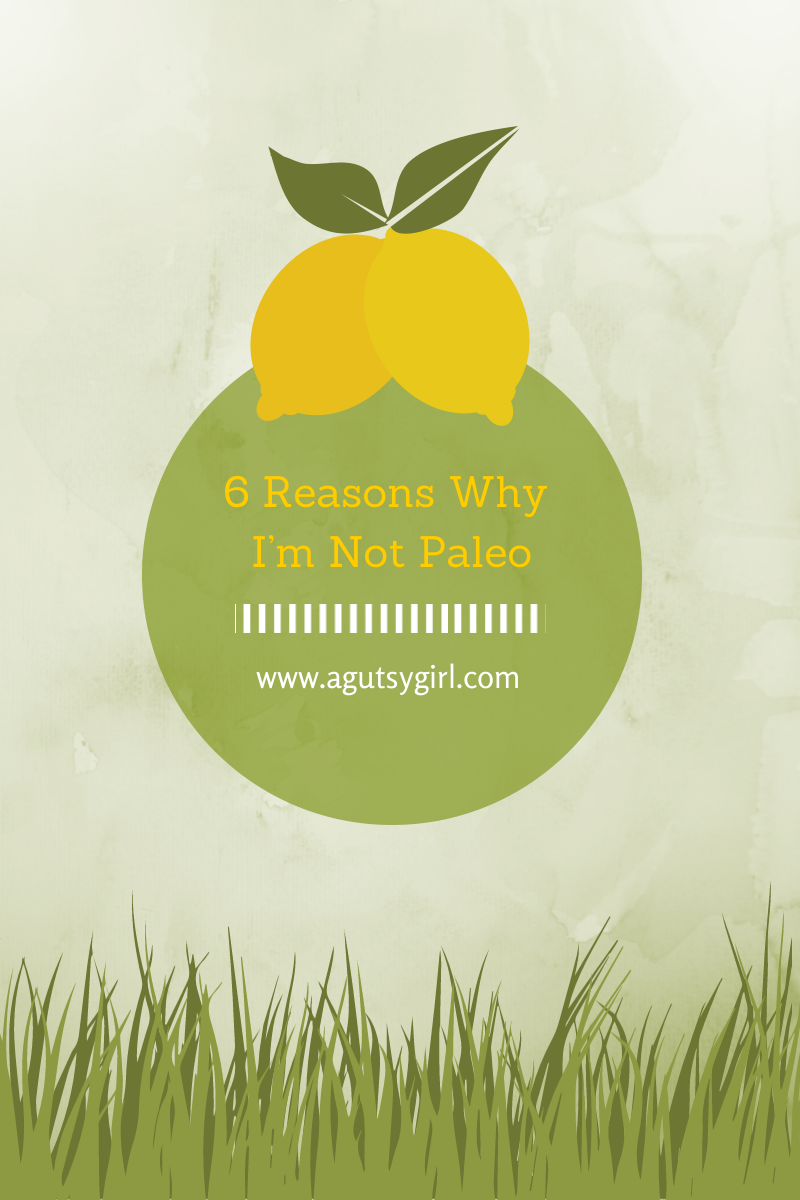 You will heal. I will help.