I put together a list of 36 New Year resolutions that have nothing to do with weight loss because I think they should be readily available as ideas for anyone who might want or need some extra inspiration.
First of all, let me be very clear. There is absolutely nothing wrong with wanting and/or needing to lose weight. In fact, I have helped clients lose weight, even 13+ pounds of weight. But I would say that for the majority of women I know and work with it's not weight – real weight – they need to lose.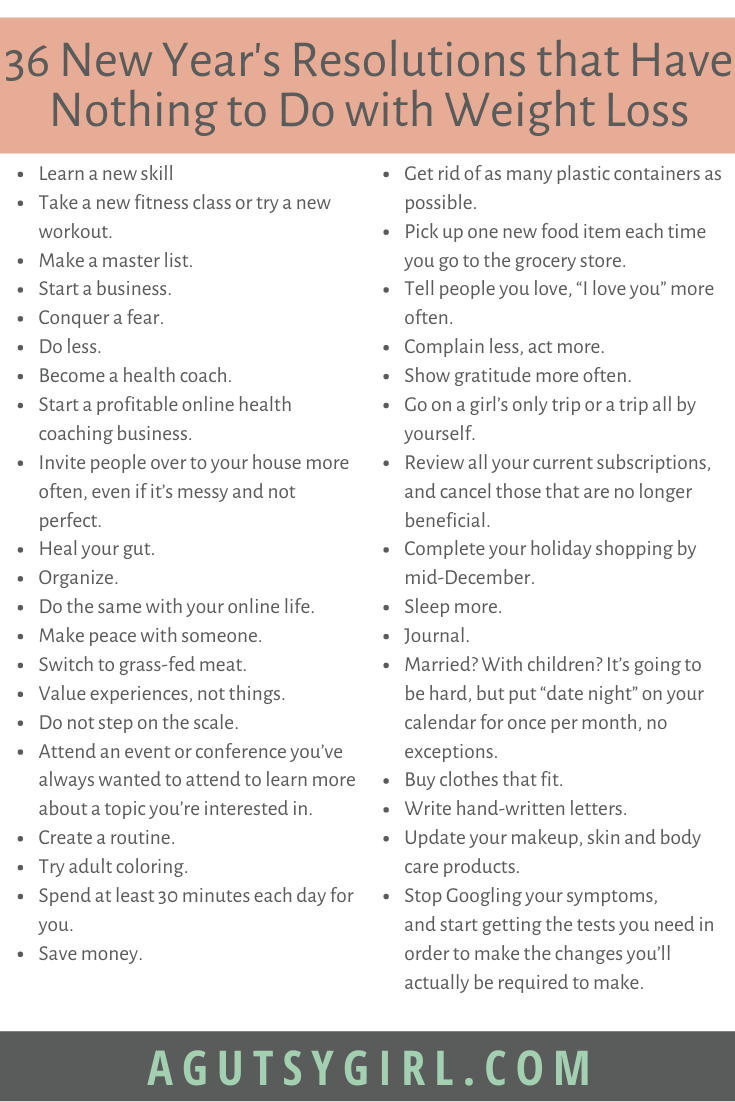 The weight that needs to be lost is either bloat weight or the weight of unrealistic expectations (or both). (I'd argue that the latter is worse.)
I have been smaller and I have been larger. What I know for certain is that I was never happier than I am now, healing my gut and living without restriction and obsession.
I believe that with a little help, a mind shift and the desire, this next year can be the same for you, too.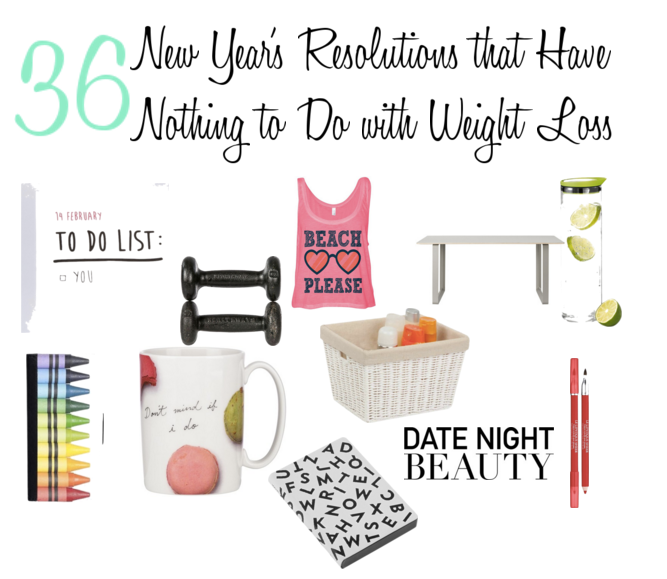 36 New Year Resolutions that Have Nothing to Do with Weight Loss
Click HERE to save this list for later.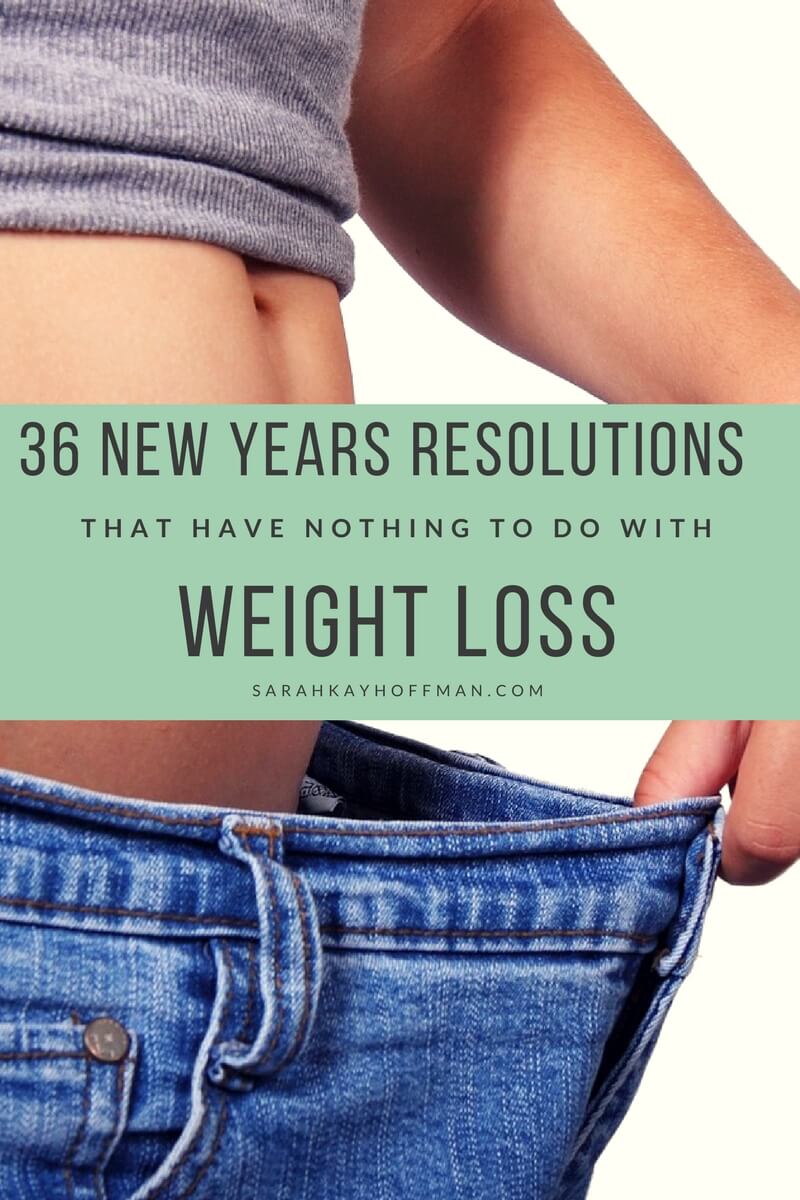 Learn a new skill. It could be anything. I talked about this a little in Mastering New Skills, but honestly, anything. You are never too old, and it is never too late to learn something new.
Take a new fitness class or try a new workout. Never tried yoga? Always wanted to Salsa dance? Considered lifting weights for the first time? Try something new. (Want to keep it minimal? Here are three 29-minute workouts.)
Make a master list. Try something like 105 in 1,095.
Start a business. Have you had an idea lingering, but have not taken that leap? If you have the time and desire, just start. HERE are some ideas.
Become a health coach. Take your passion for real health, get some education under your belt and then seek out to help others. I went to The Institute for Integrative Nutrition, and you can learn all about it via Institute for Integrative Nutrition FAQ.
Start a profitable online health coaching business. Are you currently attending a health coaching program and/or will you be finishing soon but are still unclear about your direction? Consider an online health coaching business.
Invite people over to your house more often, even if it's messy and not perfect.
Heal your gut. Guess what? In case I haven't said it five million times already, all diseases begin in the gut. Even if you think you aren't sick and/or have been diagnosed with IBS/IBD, something might very well be manifesting without you even knowing it. A happy, healthy gut is the key to ultimate vibrancy, energy, and wellness. This I know for sure.
Organize. Clutter creates chaos, and I am going to focus heavily on this this upcoming year. Without all the extra clutter in an unorganized environment, you'll find that stress levels naturally decrease. (Tip: Maybe start with the pantry organization?)
Do the same with your online life. Clean through all files. Remove yourself from email lists and blog subscriptions which no longer provide you value. Unfollow and unfriend draining pages and people.
Make peace with someone.
Switch to grass-fed meat. In fact, take it a step further and switch to grass-finished meat when at all possible.
Attend an event or conference you've always wanted to attend to learn more about a topic you're interested in.
Create a routine. I'm not saying you have to abide by it 24/7, 365 days a year, but research shows that those who have a routine and create consistency with their lives are more successful with whatever they are trying to achieve.
Try adult coloring. No, seriously. Try it.
Spend at least 30 minutes each day for you.
Save money. Just save it.
Get rid of as many plastic containers as possible. I love Weck Glass Jars.
Pick up one new food item each time you go to the grocery store.
Tell people you love, "I love you" more often.
Complain less, act more.
Show gratitude more often.
Go on a girl's only trip or a trip all by yourself. I did!

Review all your current subscriptions, and cancel those that are no longer beneficial. Cable? "Fitness" magazines?
Complete your holiday shopping by mid-December.
Sleep more. Just make it a priority. (Bonus: Sleep is good for gut healing.)
Married? With children? It's going to be hard, but put "date night" on your calendar for once per month, no exceptions.
Buy clothes that fit. Rock what you are and who you are. Remember: those who matter don't care, and those who don't don't matter.
Write hand-written letters. Send them via snail mail. Surprise people.
Update your makeup, skin and body care products. Say goodbye to the never list and hello to all of this!

Stop Googling your symptoms, and start getting the tests you need in order to make the changes you'll actually be required to make.
Xox,
SKH
You will heal. I will help.