Today I put together A Gutsy Girl's List of 36 Essential Cooking and Baking Tips.
It was inspired by:
More time spent at home. Now is the perfect time to start cooking and baking for healing, if you haven't yet.
Children at home. My list is basic, so these are things that children can do, too. Remember what I said yesterday about the palate? Childhood is the perfect time to start exploring and training the palate.
My love for lists 🙂
A Gutsy Girl's List of 36 Essential Cooking and Baking Tips
Click HERE to save this post for later.
Cooking Tips
Have THESE kitchen essentials for slow-cooking, steaming, etc. Slow-and-go cooking is your friend.
Avoid vegetable oil at all costs.
Make your first-ever batch of bone broth. It's not hard, just intimidating. Best tip for this is to get an Instant Pot, and use my exact recipe, Chicken Bone Broth, for your first batch. 
Salt on an individual basis. If you choose to put salt in your creations, use very minimal. Salt can always be added at the end by the individual.
Don't cook wet meat or fish. Blot it first with a paper towel before preparing.
Get an instant read thermometer. I have a beautiful roasted chicken recipe in my book, The Leaky Gut Meal Plan. When I first started making that meal way back when, I was always nervous that the chicken wasn't properly cooked. Having this thermometer allows you to know for sure. Measure in the thickest part of the meat.
Buy seasonal ingredients. Doing so is cheaper and better for the environment.
Don't overcrowd a pan. In order to cook foods evenly, it's best not to overcrowd your pan. Spread the food about evenly for best results.
Herbs and spices are life. Keep many different herbs and spices on hand. Be sure they are kept in cool, dark places to keep fresh. Try using just 1-2 at a time to discover the flavor profiles of each. 
The basic ratio for making your own vinaigrette is about 3 parts oil to 1 part vinegar. Salad dressing or vegetable sauté sauce in a quick minute.
Tamari is the gluten-free version of regular soy sauce. It tastes the exact same.
Use my 2-ingredient coconut yogurt as a healthy substitute for mayo, sour cream, heavy cream and more.
---
By the way, I teach you the easiest + most cost effective way to do the above via A Gutsy Girl's Bible:a 21-day approach to healing the gut. Click HERE to purchase the physical copy on Amazon. Or grab the instant PDF download below.
---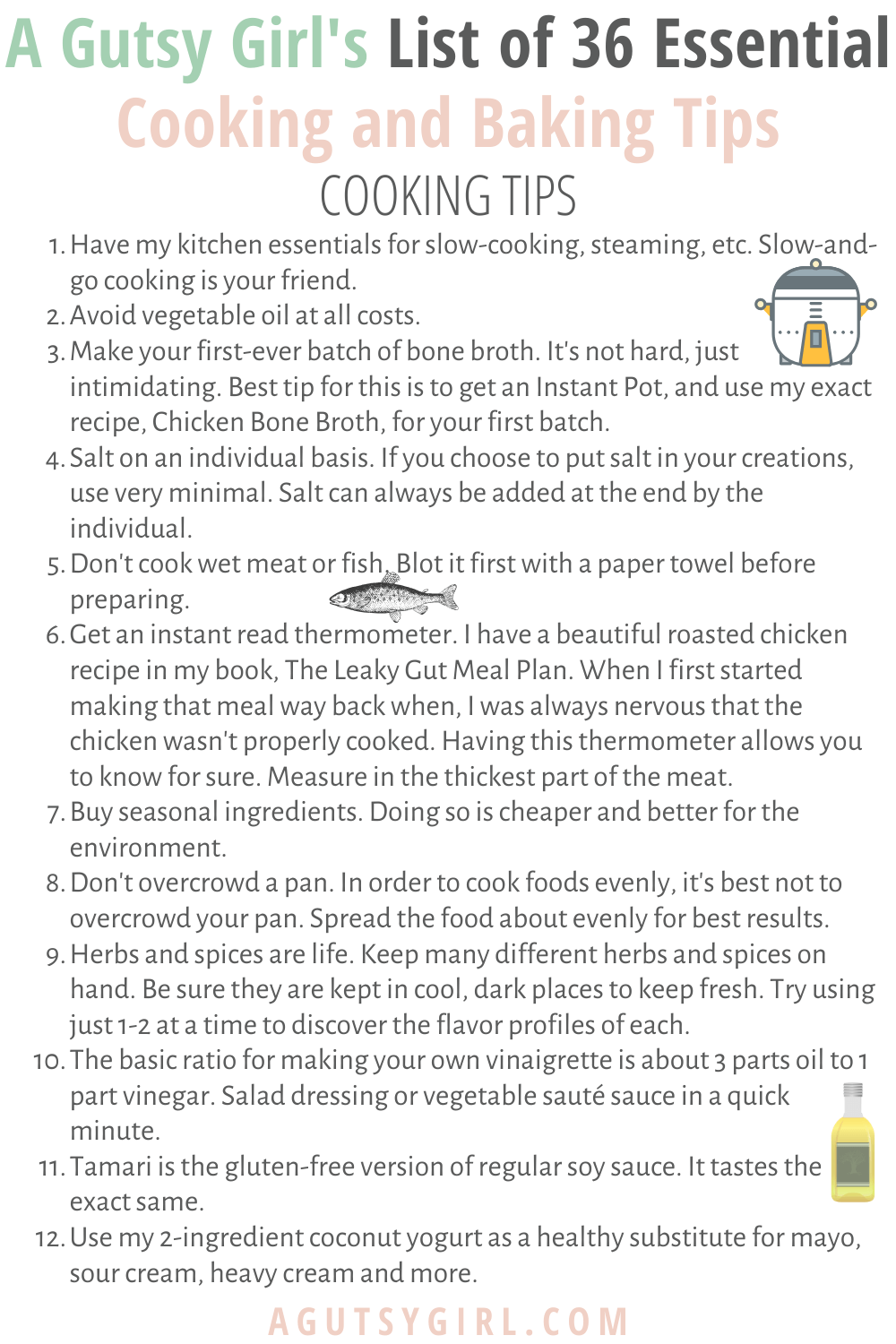 Baking Tips
Play with sugar substitutes.
Coconut flour is not to be used 1-for-1 with regular flour. And yet you should still consider creating something with the beautiful flour.
Almond meal and almond flour are not the same things.
Chia seeds, flaxseed, and gelatin can replace egg. But don't try to do this when using coconut flour.
Low-FODMAP baking isn't easy, but can be done. HERE is a list of 50+ low-FODMAP baking ingredients.
Save the mess. Line your goods with an eco-friendly, kraft parchment paper. Avoid tinfoil whenever you can.
Baking soda + apple cider vinegar or lemon can replace baking powder.
Grab the essentials. If you're gluten free, HERE are some baking essentials.
Measure, measure, measure. Baking is so much science. Ingredients have to be exact; time baked on point. Many times, measuring spoons and cups might not be enough. Consider a food scale if you'll be baking a lot.
If you're looking for an alternative milk to choose, but unsure on the right one for you, I've got you covered HERE.
Ingredients should be at room temperature before starting.
Separate wet and dry ingredients. And then combine them for best results. In fact, the way I started doing it is wet in one, dry in another (except for the baking soda/powder). Then, I'll mix the wet and dry together and finally add in the soda/powder.
General Tips
Understand the difference between ingredient s vs ingredients. Use ingredients instead of ingredient s almost always. This might be one of my top tips.
The easiest recipe equation for a 1-2 serving smoothie looks like this: 1.5 cups liquid + 1 cup fruit + 1/2 – 1 cup green/vegetable + ice, if desired. My children do this weekly.
Store fresh herbs in a glass of water in your refrigerator.
Choose olive, coconut, avocado or another high-quality oil instead of using pan spray. Avoid pan spray at all costs, unless it's a simple one with only 1-2 ingredients. No Pam!
Use the highest-quality ingredients you can afford. No one needs to buy everything organic. But the flavor and food-quality are reflected by ingredients used.
Start by building a pantry conducive for cooking and baking. You don't need a pantry to do this, either. These are just the items to start gathering.
Use a timer. This simple tip can give you so much more confidence in the kitchen, especially for baking since time is always of the (baking) essence.
Add, don't subtract. You can always add more. But you cannot subtract. This coincides with my salt tip.
The mess is okay. You don't need to clean the kitchen as you're cooking and baking, especially in the early days. Mono-task, and focus on the cooking or baking task at hand. You'll have more fun and it will be far more successful.
Follow instructions. When you're new to cooking and baking, just follow the direction. Doing so builds confidence. Confidence leads to creativity and improvising.
Know simple kitchen conversions. You'll find some on my board, Cooking with Colitis.
KISS. Just keep it simple, silly. Seriously. The simpler you make it in the beginning with fewer ingredients and instructions, the better off you'll be.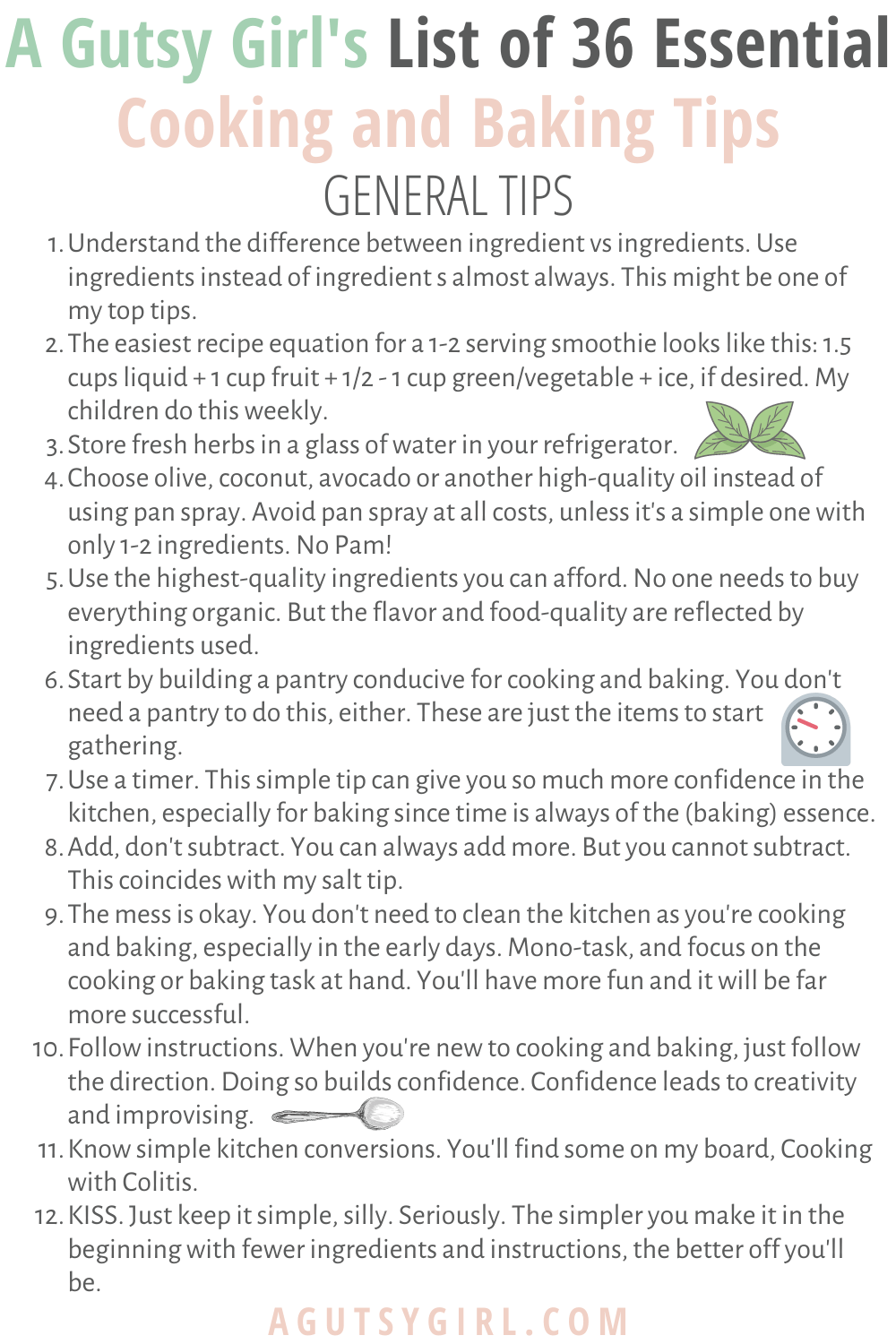 Just Start
I used to be so nervous in the kitchen. Today I can take whatever I'm craving and create my own version of it. I did it with the Poppy Seed Sheet Cake Recipe. And I do it on a weekly basis.
I'm teaching this to my children as well. In fact, my oldest has a "recipe" posted on the fridge for a favorite salad she created on her own.
The number one tip I can provide is to just start. You'll never know until you try, and confidence cannot be gained until you put the tips into motion.
If you liked this post, you might also enjoy:
Xox,
SKH
You will heal. I will help.