Once you have my Gluten and Dairy-Free Almond Poppy Seed Sheet Cake Recipe, staying inside won't seem as daunting.
Almond Poppy Seed Sheet Cake Inspiration
Love my relative, Lorna. She always shares super delicious-looking recipes on her Facebook page. However, rarely are they Gutsy approved. Sometimes, now that I'm fully healed, I'll just make the recipe as-is. Other times, I see the recipe as an opportunity for playing in the kitchen and getting creative.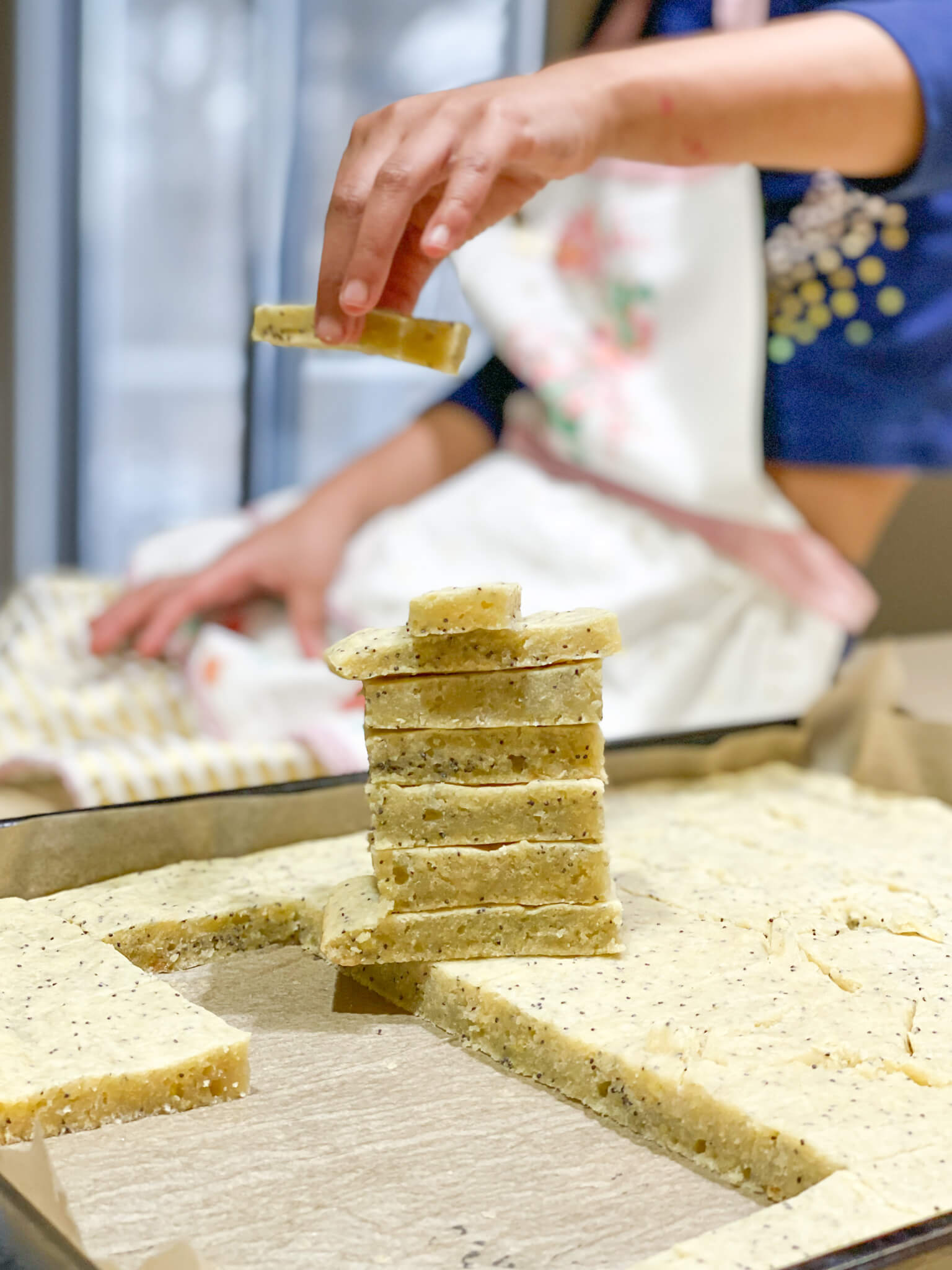 This is so that you will benefit as well.
Anyways, full credit for the recipe idea goes to Lorna who shared THIS original Almond Poppy Seed Sheet Cake recipe.
I first want to share the original ingredients before I share exactly what I used. This is so you can easily see the swaps I made.
3 eggs
2 C granulated sugar
3 C all-purpose flour
salt, 1/2 tsp
baking powder, 1/2 Tbsp
1/2 Tbsp vanilla
almond extract, 1/2 Tbsp 
1 tsp butter emulsion
1 1/2 C whole milk
olive oil, 1 C 
1-2 Tbsp poppy seeds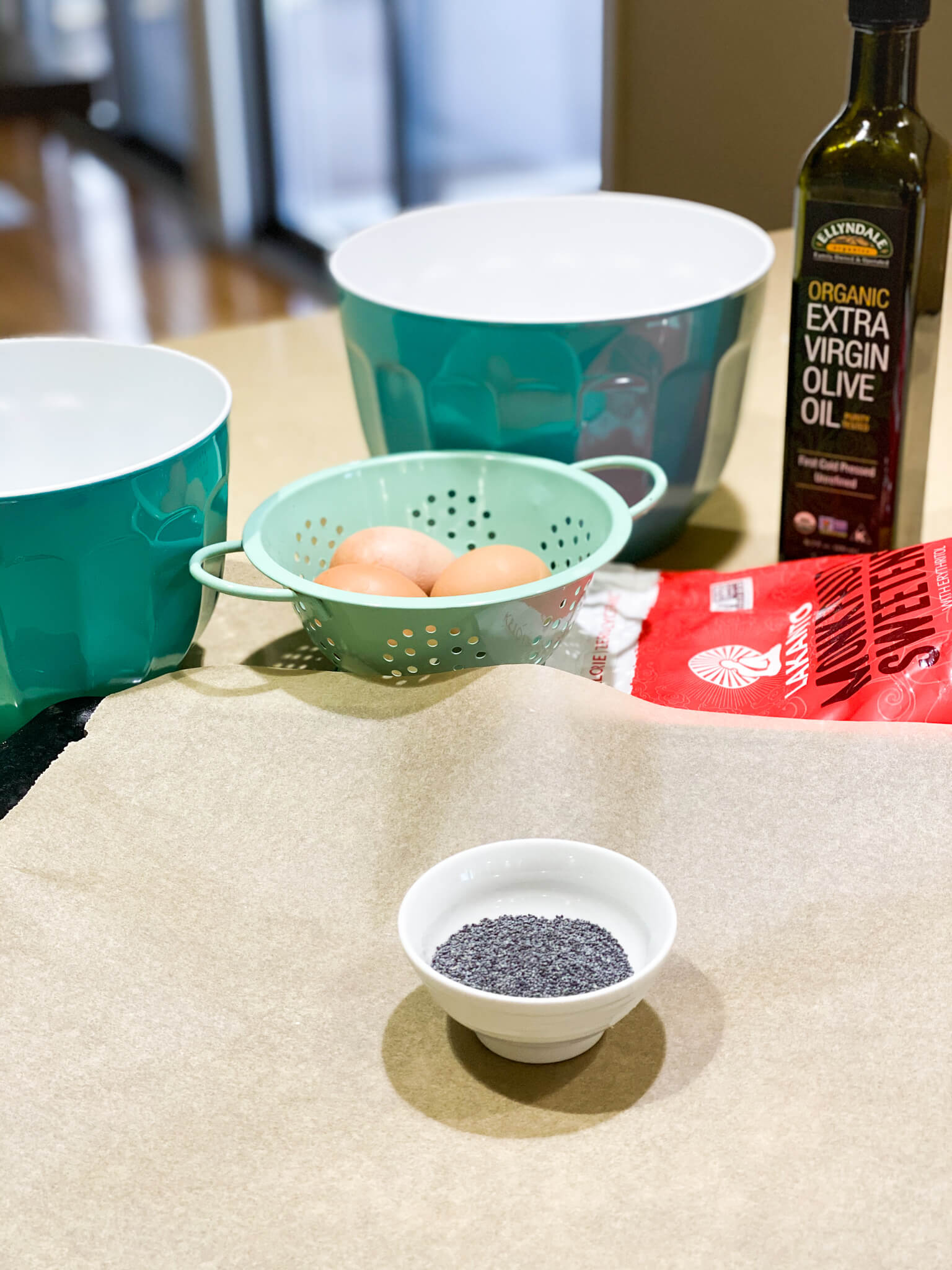 And by the way, we have now made this recipe several times (the gluten and dairy free version). It is incredibly delicious! I never made the version above, but I'd put mine against it any day.
If you're ready for the recipe, here you go.
Gluten and Dairy-Free Almond Poppy Seed Sheet Cake Recipe
Click HERE to save this recipe for later.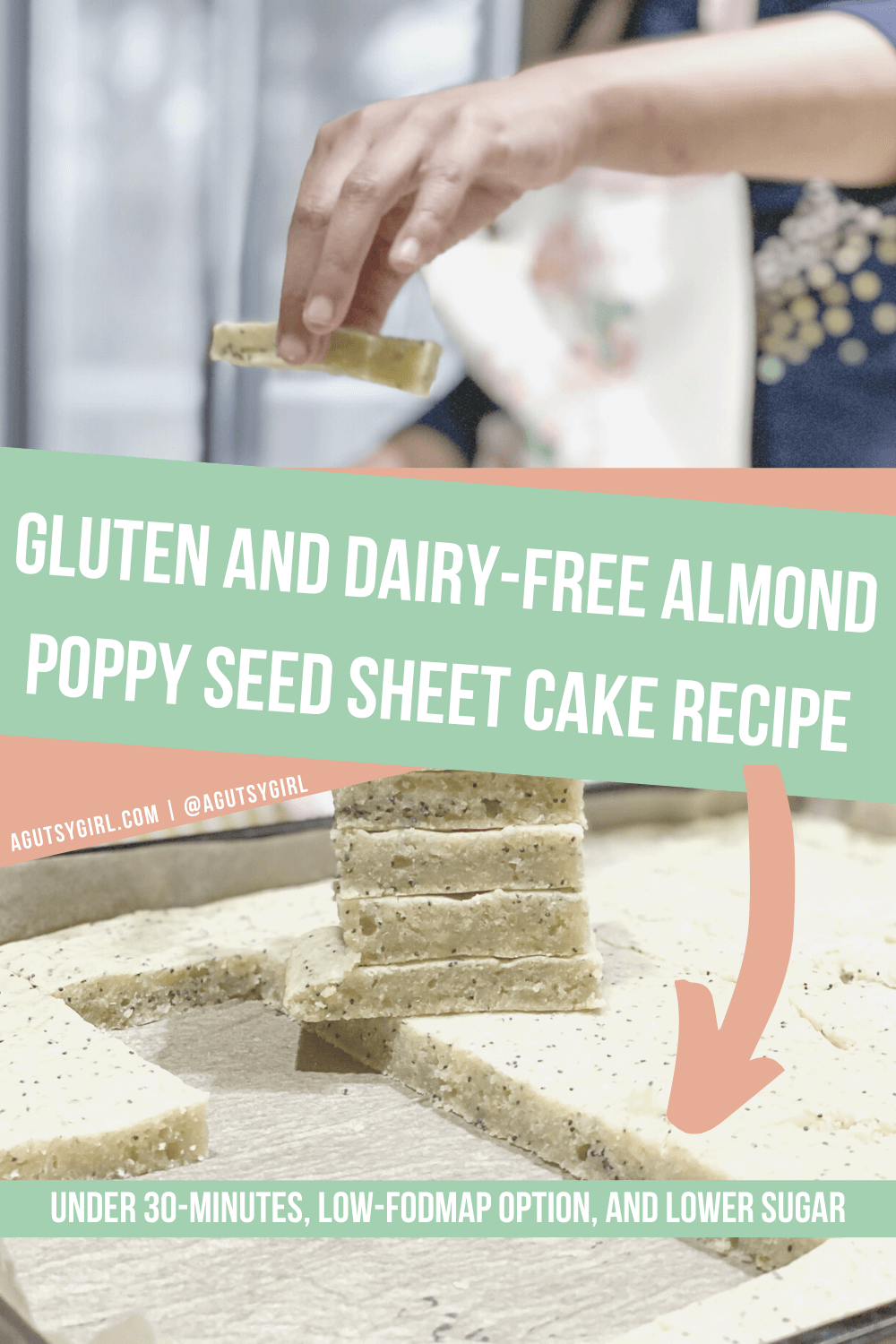 Gluten and Dairy-Free Almond Poppy Seed Sheet Cake Recipe
Prep time:
Cook time:
Total time:
A gluten and dairy-free spin on the classic Poppy Seed Sheet Cake recipe that also contains less than ½ the amount of sugar.
Ingredients
¾ cup monk fruit sugar
½ cup organic granulated cane sugar
3 cups gluten-free 1-to-1 all-purpose flour
½ teaspoon salt
½ Tablespoon baking powder
3 eggs
1 Tablespoon vanilla
½ Tbsp almond extract
1½ cups full-fat coconut milk
1 cup olive oil
2 Tablespoons poppy seeds
Instructions
Preheat oven to 350
Cover a 13x18 inch baking sheet with parchment paper.
Place the sugar, flour, salt, and baking powder in a large bowl. Mix by hand.
Add in the eggs, vanilla, almond, coconut milk, and olive oil. Hand whisk / mix together until smooth.
Fold in the poppy seeds.
Pour mixture onto the parchment-covered pan.
Bake for 20-21 minutes, then let cool for a couple more.
Notes
20-21 minutes MAX for baking time. You do not want to over-bake or they will harden.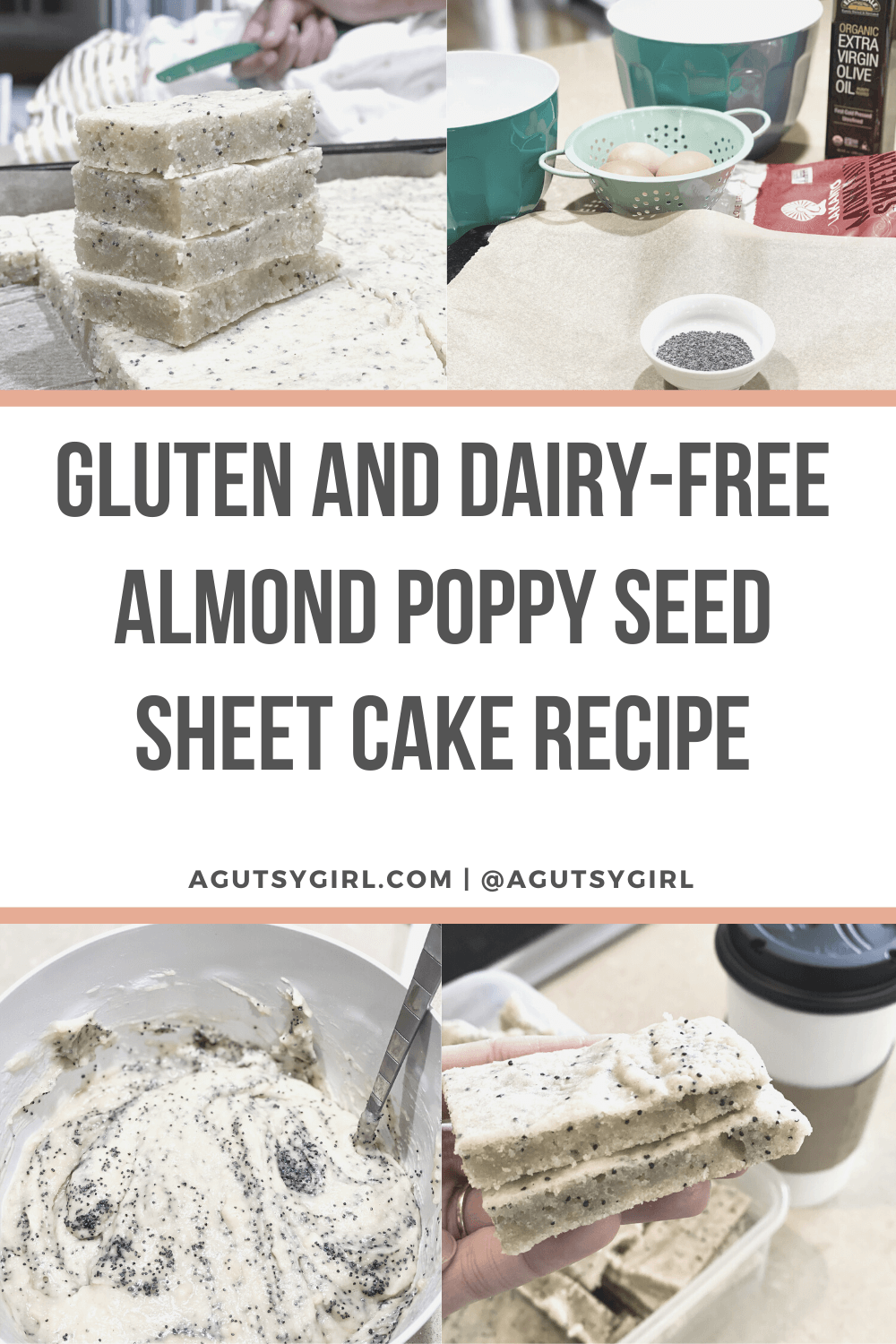 Gluten and Dairy-Free Almond Poppy Seed Sheet Cake Recipe Notes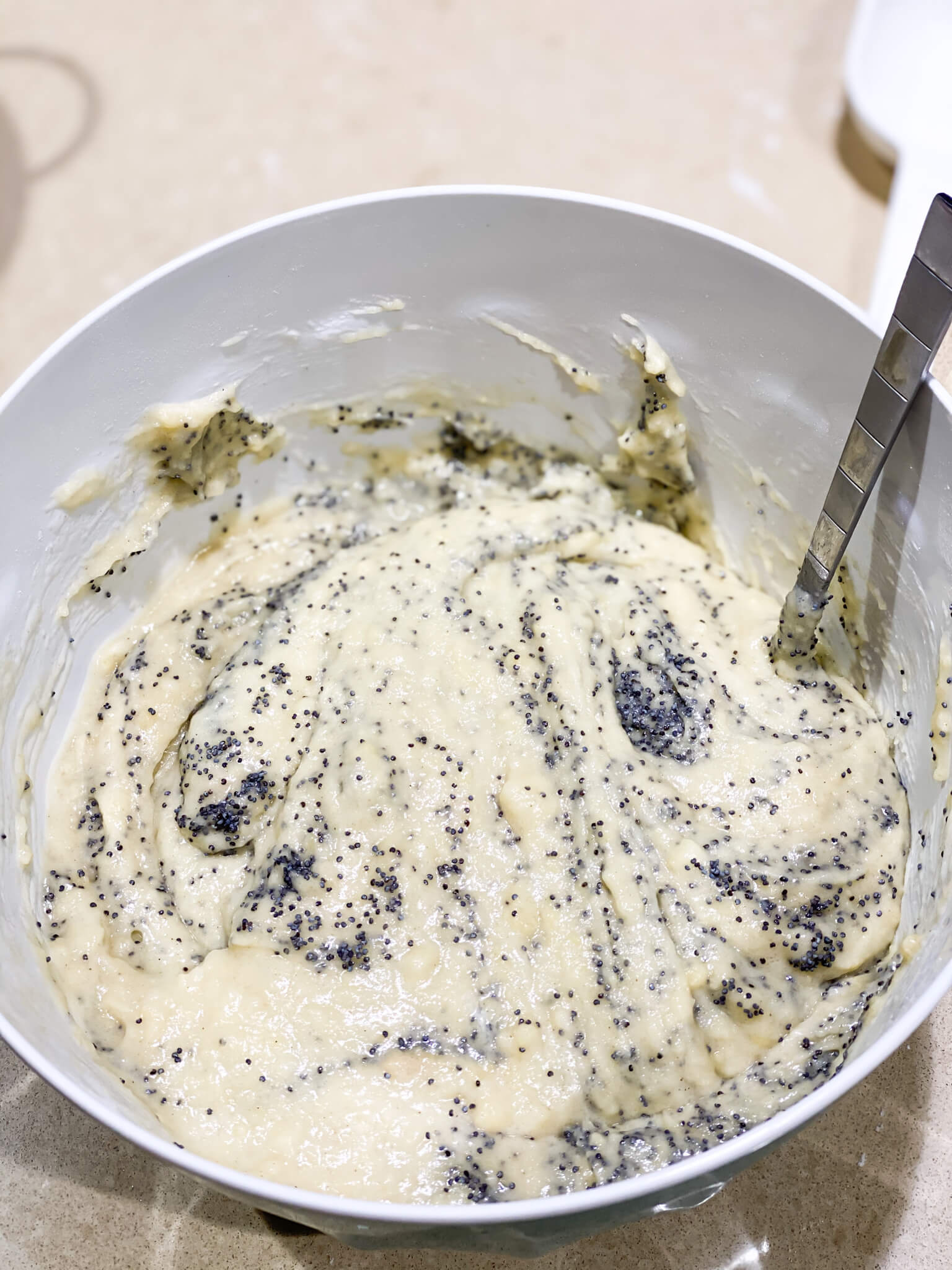 And that's it. 
Now all that's left to do is make the recipe and enjoy it. 
Wait, one more thing. You're asking, 
But what about the cream cheese frosting she used on it?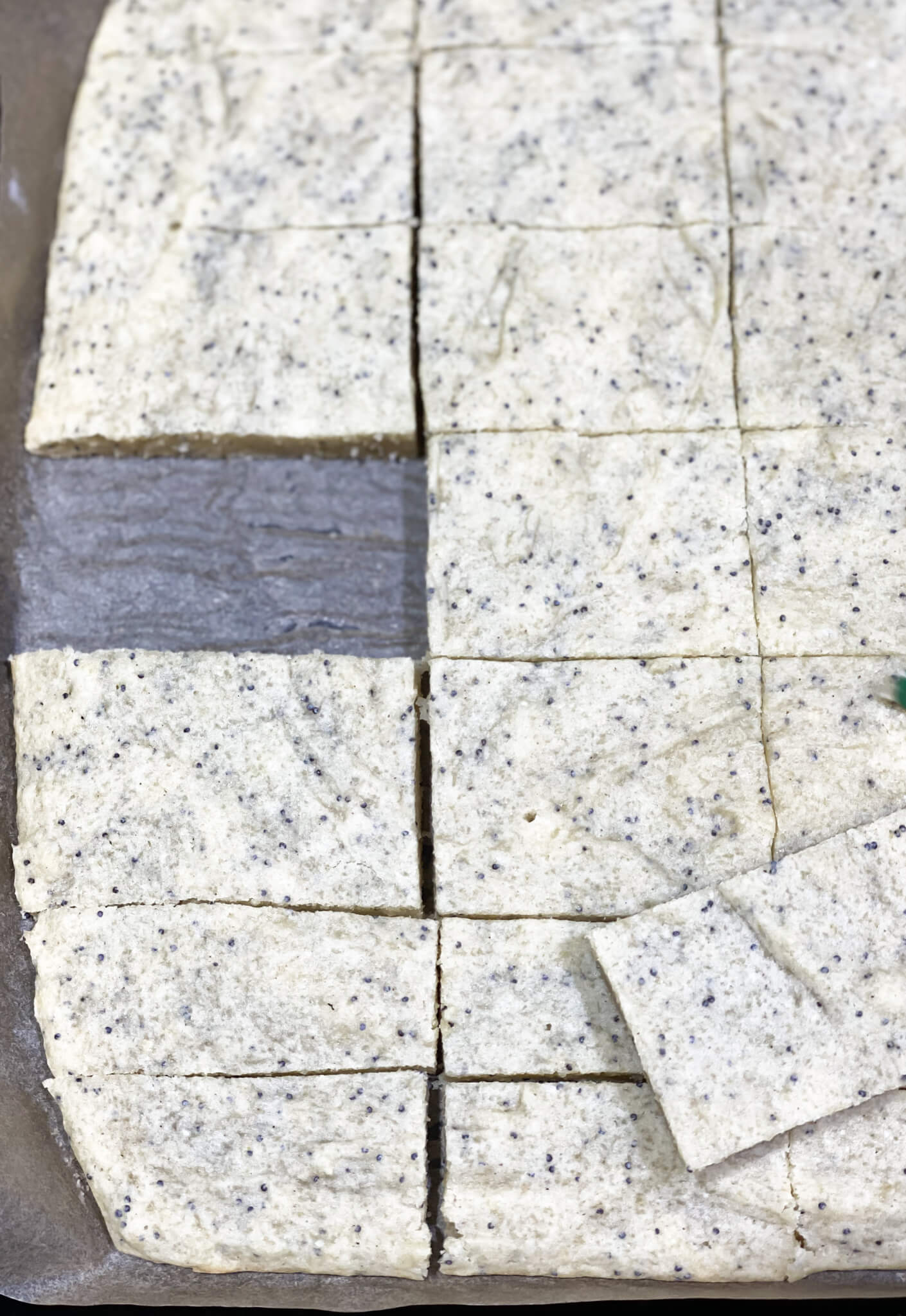 Well, I didn't use any frosting. The reason is because:
It's sweet enough as is, and I'm obsessed with the plain version.
You can make hers if you want. Swap the cream cheese for Miyoko's Vegan Cream Cheese and instead of the powdered sugar, just grab the Baker's Bundle HERE. Boom.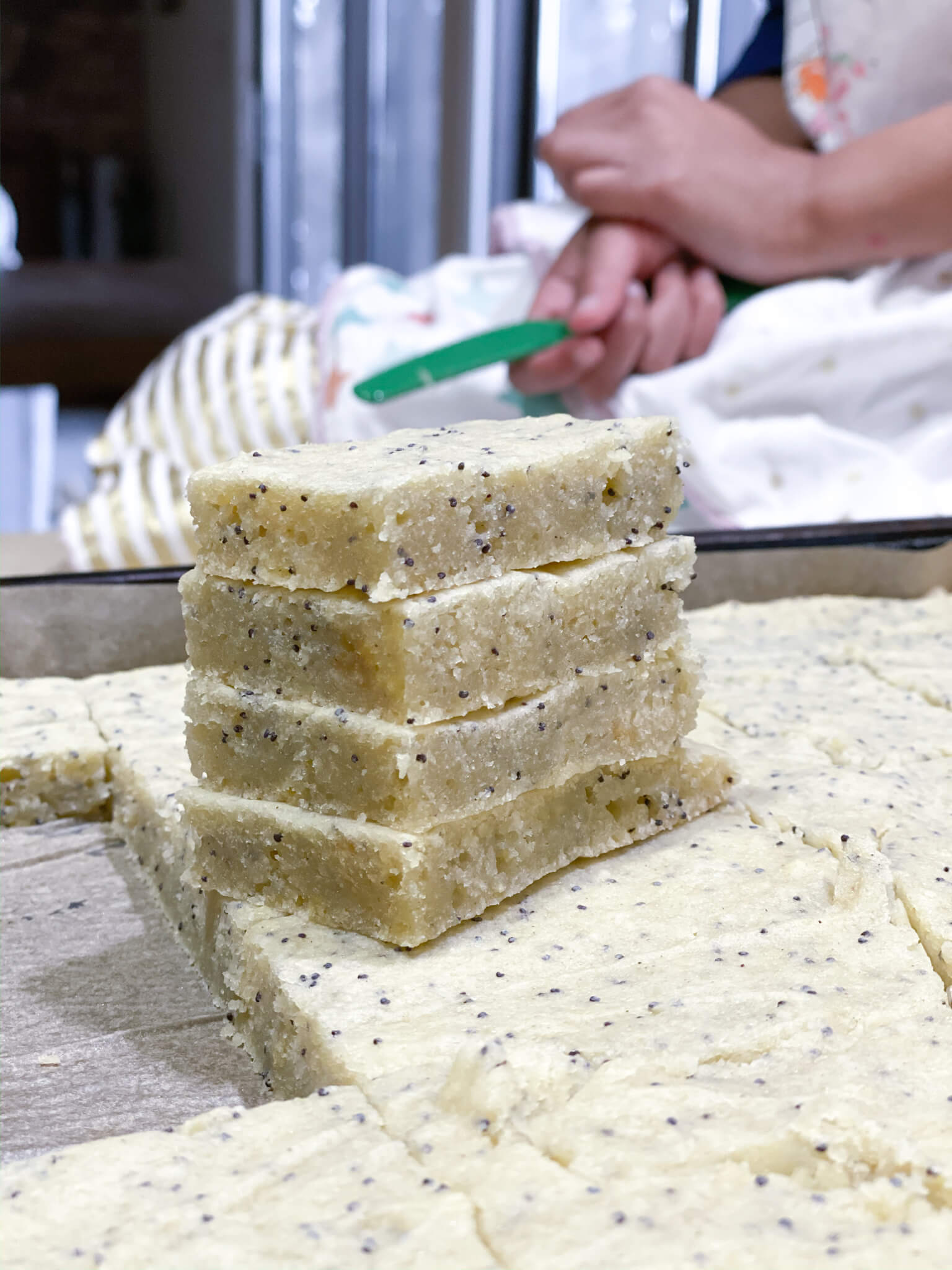 If you liked this post, you might also enjoy:
p.s. Wait, I kind of lied. I didn't put any frosting on, but my sweet little baking assistant, Samarah and her baking buddy Uni the Unicorn, did. I'll link to it when it's up on A Thyme for Milk and Honey.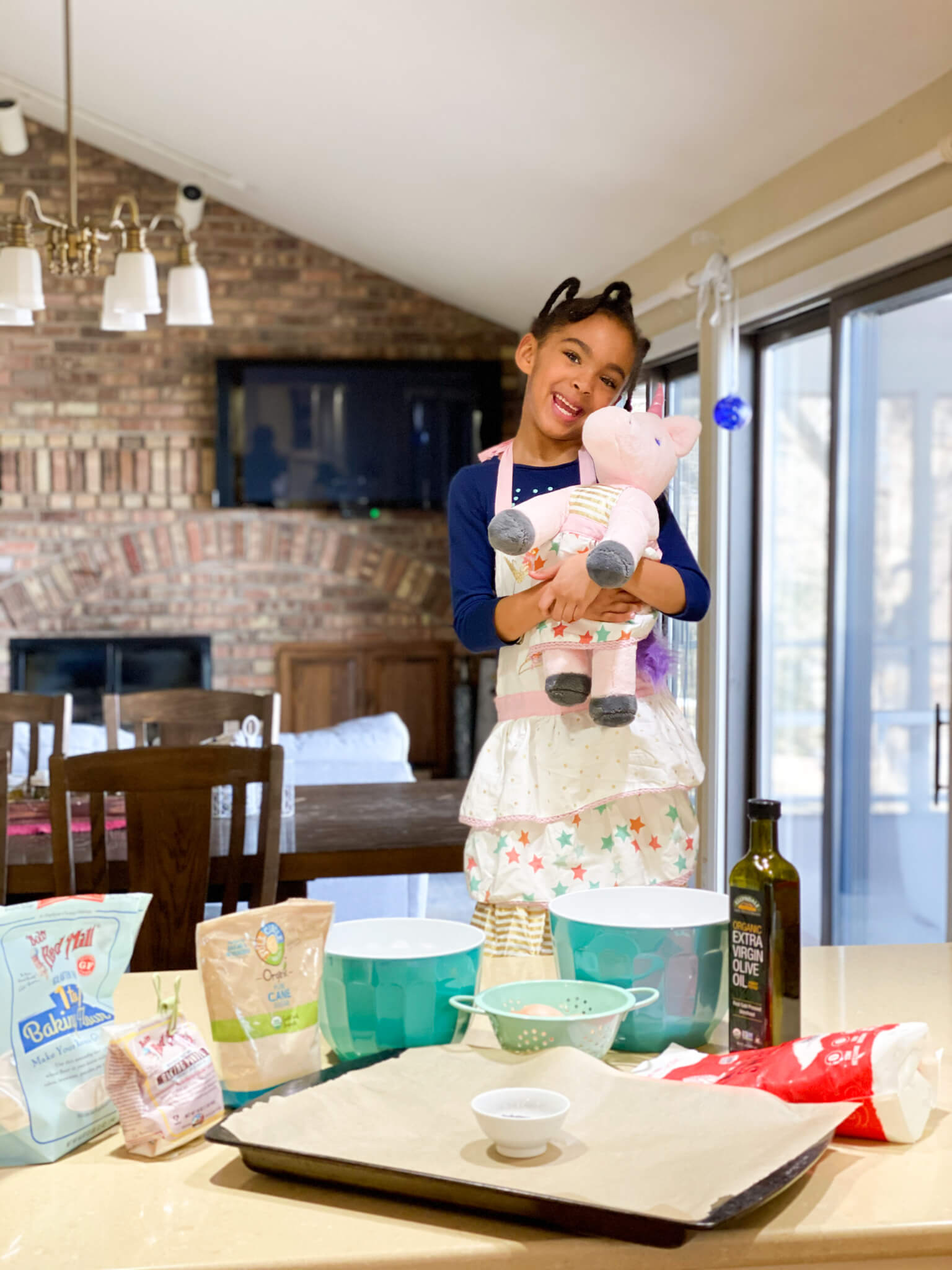 Xox,
SKH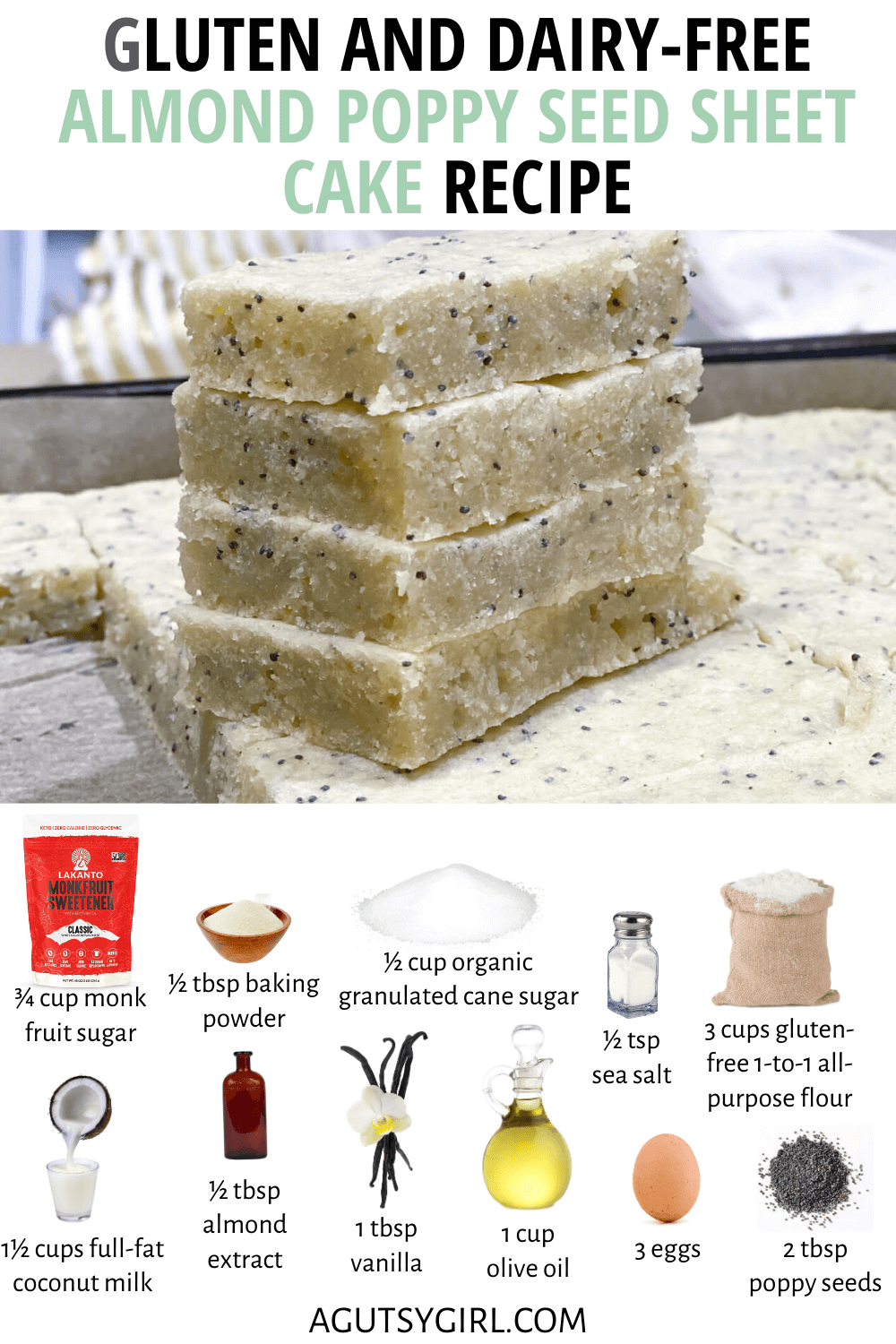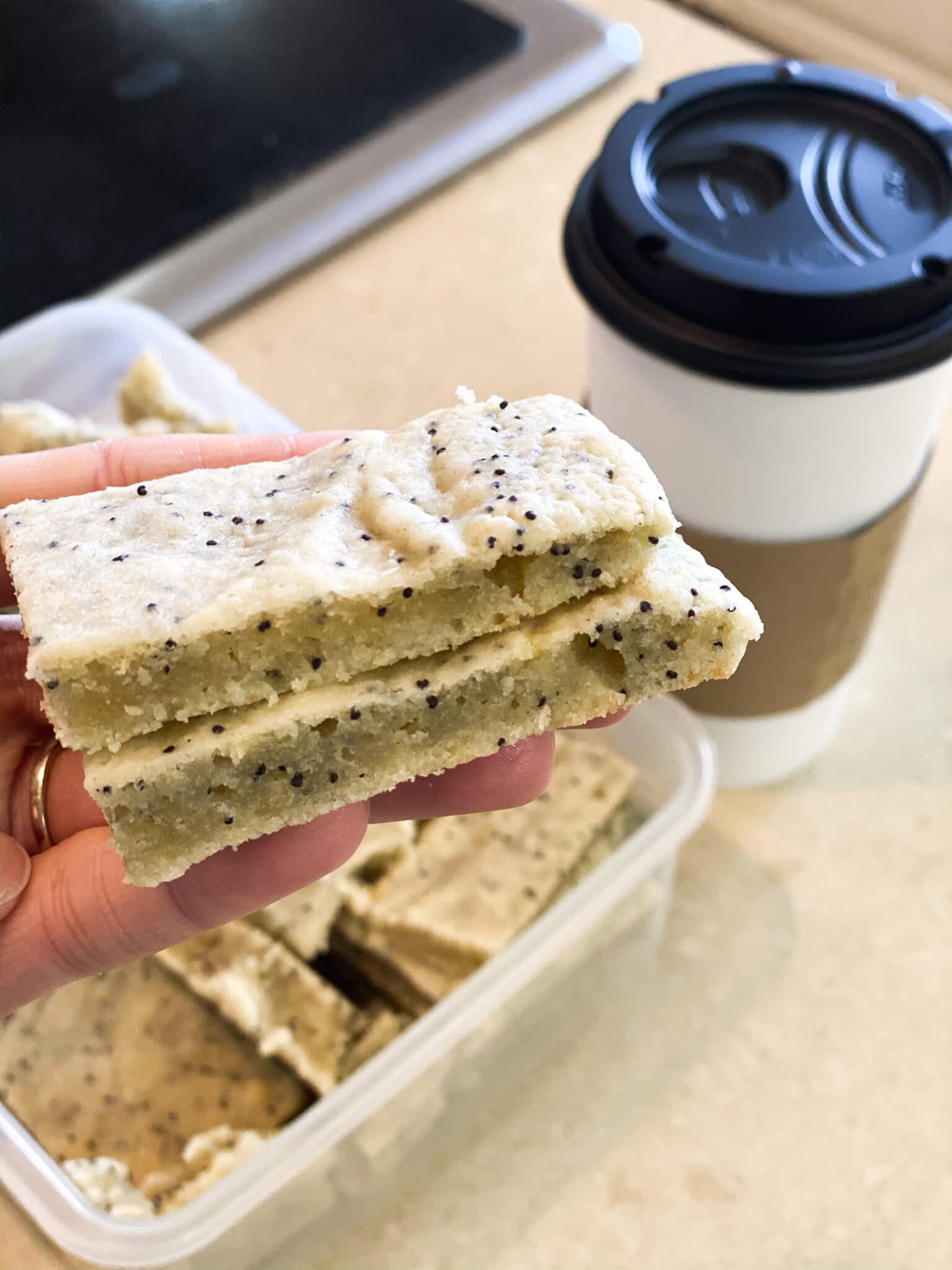 You will heal. I will help.