Though they are endless, today I'm sharing 4 benefits of knowing basic cooking and baking skills.
My (Early) Cooking and Baking Credentials
Let's first get this out of the way. I didn't know the basics of cooking and baking until I got sick (and realized I was sick).
While I made a mean almond and raisin "sandwich" during the first 21-day healing stunt I ever performed, that's about as far as it went.
In college, I lived off of shells 'n cheese, canned goods, and microwavable items.
Even in the early days of our marriage, Ryan cooked more than I did. I could sizzle veggies in the Wok, but I don't remember doing much beyond that.
Lack of the Essentials
While I don't believe that my diet was the only reason I fell ill, I do believe diet is almost always a contributing factor.
My lack of the essentials made it difficult to transition into ultimate gut healing because in the beginning it required 100% cooking and baking at home.
There were no if's, and's, or but's. 
I remember the first time I slow-cooked a whole chicken. Yes, I literally stewed over it for days, filled with nerves. I had Ryan "watch me" do it, just to make sure I didn't do anything wrong. The instructions I followed were to a 'T.'
There was so much relief once that first chicken was done.
In hindsight, I do wish I could go back and show any sort of interest in wanting to cook and bake with my mom and/or grandma's. If I could have even learned the basics, everything might have been easier.
Now that I'm able to look back and see it all so clearly, here are 4 benefits of knowing basic cooking and baking skills.
4 Benefits of Knowing Basic Cooking and Baking Skills
Click HERE to save this post for later.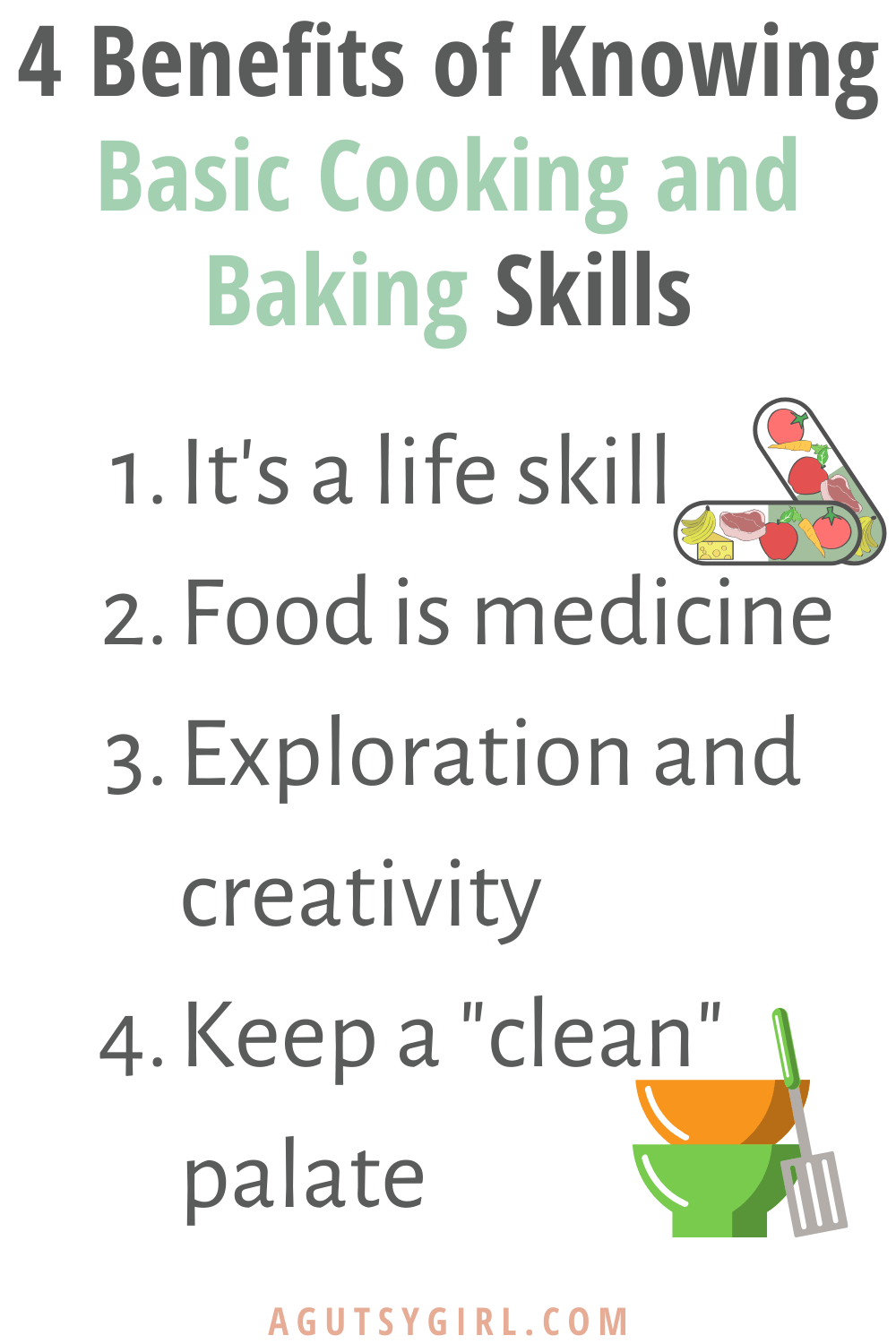 It's a life skill

I used to think home economics was such a joke. The teacher hated me because I couldn't even make a Peanut Butter Cookie right. Or maybe it was that I talked too much.

Anyways, Samarah is learning the basics at her tender age of 6. These are things she'll need for life. You know, reading, writing, and counting. By the time she's in high school learning derivatives and basic Chemistry terms, it's not so likely that will be relevant the rest of her life. Cooking and baking, though, are things we do every single day. We must eat, so we must embrace the life skill.

Food is medicine

And if we choose not to embrace this life skill, opting for fast-food and processed garbage 24/7, illness will come. But on the other hand, knowing how to cook and bake empowers us to realize how food is medicine.

In the early days of my healing, bone broth was literally my medicine. I sipped it throughout the day. And I once even heard it called, "the magic potion." I actually believe it. But making that bone broth from scratch, at home, was a basic skill I had to learn. It can make all the difference in your life from a health-standpoint.

Exploration and creativity

Now, my brother loves to fish. I'd rather watch paint dry. So, cooking and baking will not be the explorative and creative outlet everyone is looking for. All I'm suggesting is that it might be and you don't even know it. That was me. Once I learned the very basics, my confidence improved.

With more confidence in the kitchen, I felt safe to explore ingredients galore and get creative making eats, treats, and desserts while still healing. In fact, it even lead to the birth of A Loving Spoon nut butters.

Keep a "clean" palate

The sooner this one starts, the better. It's very hard to teach an old dog new ways. The palate I kept until I got sick craved cookies, pancakes, cakes, and anything sugary, doughy, and filled with empty carbohydrates only. Part of this was because of all the packaged and processed foods I consumed. Don't think the food industry isn't smarter than your will power. Big food almost always wins.

However, if you can learn to cook and bake at home most of the time, your palate will begin to change. It did for me. After a while, and learning baking basics, extra-rich foods were too much for me. Fruit tasted sweet again. And the daily cravings stopped. And all of this was critical on my healing journey.
I might not have cared until around the age of 25, but now that I'm a mom and fierce advocate for Gutsy women and children's health, I thought it would be fun to put together a list of my top essential cooking and baking tips.
Now is the perfect time to implement these life skills for both you and/or your child(ren).
---
By the way, I teach you the easiest + most cost effective way to do the above via A Gutsy Girl's Bible:a 21-day approach to healing the gut. Click HERE to purchase the physical copy on Amazon. Or grab the instant PDF download below.
---
If you liked this post, you might also enjoy:

Xox,
SKH
You will heal. I will help.