I believe there are 3 essential items for the Colitis kitchen. I mean, 3 essential items that I believe every woman with Colitis should own.
3 Essential Items for the Colitis Kitchen
Click HERE to save this post for later.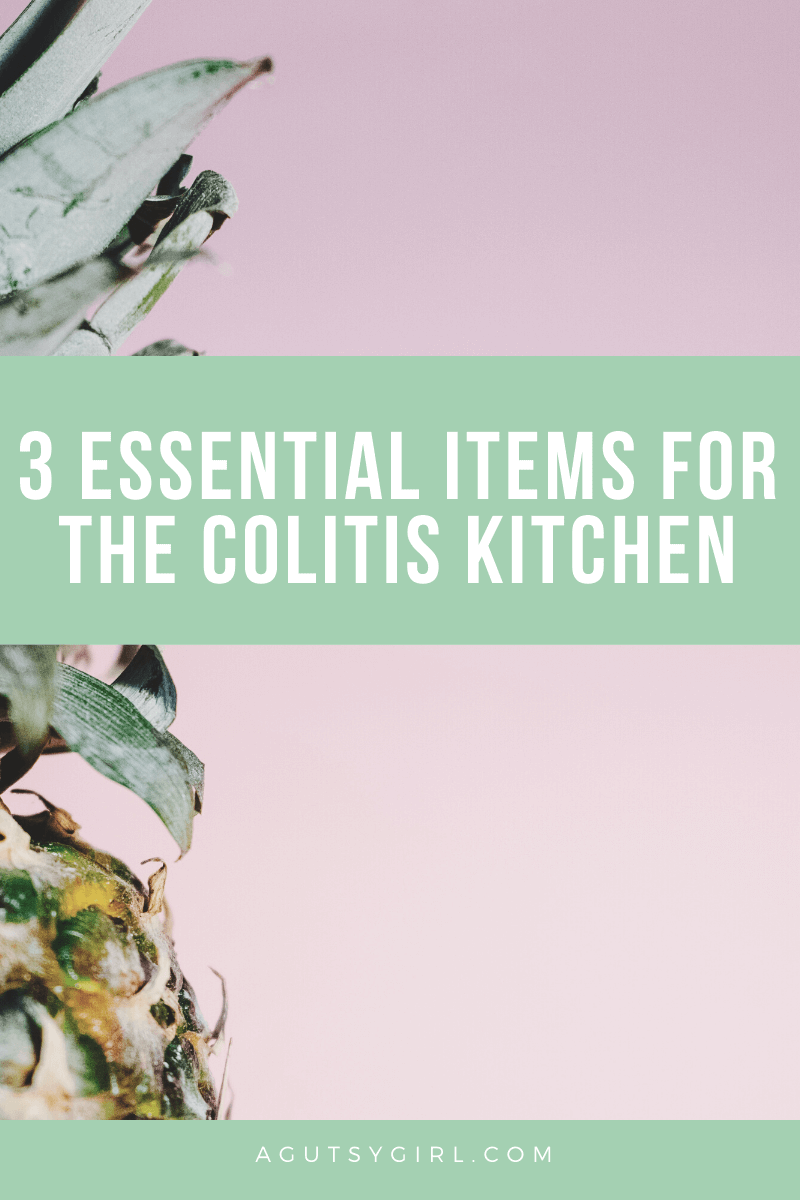 These are in no particular order, though.
slow cooker
steamer
juicer
Whether I'm feeling great, better than great or miserable (aka Colitis flare up), all 3 of these are used weekly.
Slow Cooker
Not only is the slow cooker the Gutsy Girl's best friend, but it's also the lazy girl's best friend.
I have 2 main slow cookers and another smaller one that has 3 compartments. To say that I believe in the product is a complete understatement.
The slow cooker allows you to make your whole chickens and then subsequently the chicken broth. I believe that both are critical for the Gutsy Girl. If you would like a step-by-step picture tutorial of this process, click HERE. If you would rather just watch a video on the process, click HERE.
The slow cooker will take a task that could seem difficult and make it very simple.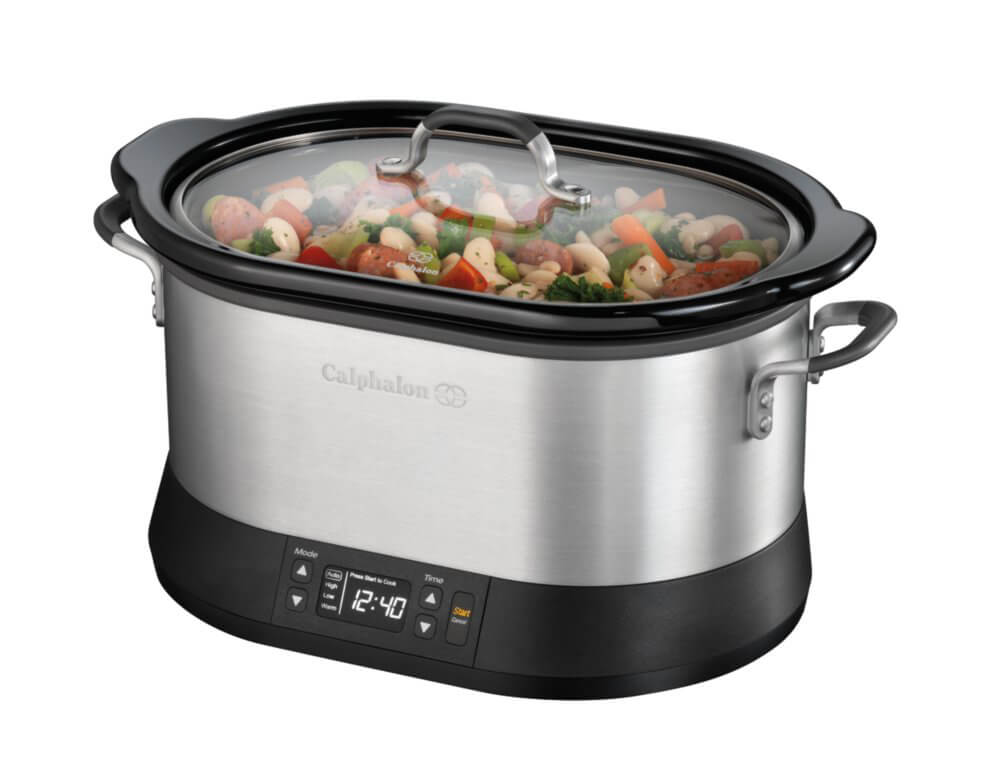 For example, you'd love to come home after work to a roast dinner with fresh vegetables. You don't know how you'll accomplish this since that could take a few hours. By the time you get home from work, that's the last thing you want to think about, right? Slow cooker to your rescue. Let your slow cooker work for you while you are gone for the day. Simply place your meat, vegetables and even potatoes (if desired) in the slow cooker before going to work. Slow cook on low and go. Those combinations typically take anywhere from 6-8 hours.
Dinner is served!
People always ask me which slow cooker I recommend. THIS ONE. However, I love super simple ones, too. Like THIS, nothing fancy, and they kill it in the kitchen!
p.s. Apples can be really hard for the gutsy girl to digest. Store bought applesauce is just a mess with all the added things. But my homemade, slow-cooked applesauce? Approved.
Steamer
The steamer is another tool for not only the Gutsy Girl's kitchen, but again for the lazy girl's kitchen as well.
I'm a pro with my steamer.
The steamer is invaluable. I only use the steamer for vegetables. Raw vegetables can be very hard for us to digest.
I take pride in the 3 minutes that it takes me to….
Place steamer on counter

Fill steamer bottom with water
Fill mid section with array of herbs
Take frozen veggies out of the freezer
Place frozen veggies in steamer basket
Cover steamer basket
Steam for 35-45 minutes
From each "batch," I get back a few days worth of freshly steamed vegetables. For me, they usually come in the form of broccoli. But for you? The steamer sky is your only limit.
The steamer could be your saving grace when it comes to vegetables (just be sure that if you use frozen vegetables that they are just the vegetable and not any added sauces, seasonings, additives, etc.)
Again, people always want to know which steamer I recommend. And again, I always say, "Choose basic. Like THIS one."
Juicer
The age-old question: Juices vs. Smoothies?
Or perhaps I should say, the new-age question: Juicer vs. Blender?
I have both a juicer and a blender, but the reason the juicer (vs. the blender) is on this list is because juicing is very easy on the digestive system.
The act of juicing removes a lot of the roughage, fiber and hard-to-digest pieces that a blender does not. This ultimately makes it a kitchen tool similar to the slow cooker and steamer in that whether you are having a flare up or not, the juicer can be used.
A juicer will allow you to get so many more vitamins and nutrients than you might not otherwise get due to the hard digestibility of eating fruits and vegetables plain and raw.
The juicer is an item that you do not want to go cheap with. This I can promise you. The clean up with a juicer is a nightmare if you go cheap. I have been using my Breville for the past couple of years. Recently, I got the BELLA NutriPro.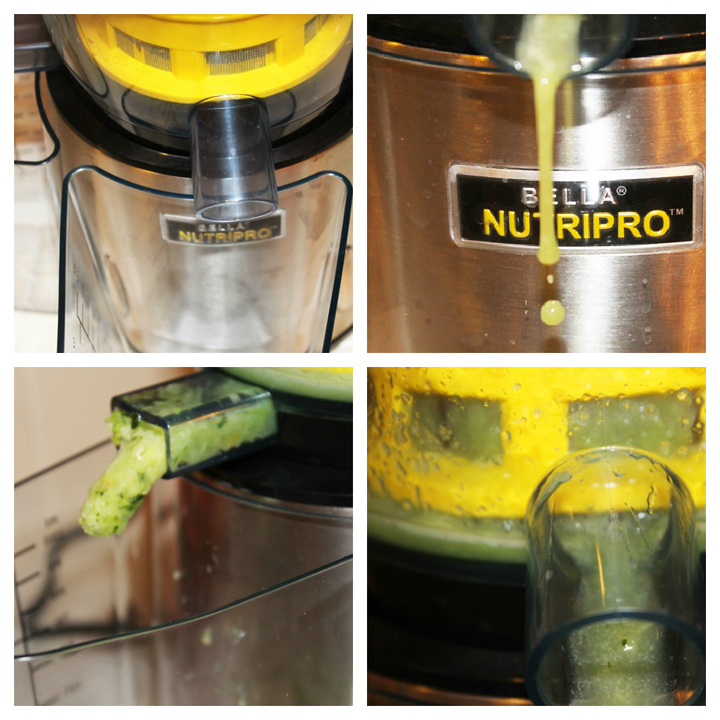 When I first used it, the main thing that stuck out to me about the NutriPro vs. my Breville was the sound.
Each time I used my Breville it sounded like a horrid rock concert in our house – so extremely loud! The NutriPro was so quiet that at first I was certain I must be doing something wrong.
2 other things I loved and noticed immediately about the NutriPro:
More juice. It seemed as though my Breville gave to me much less juice than the NutriPro. I don't know about you, but my organic produce dollars are not to be foolishly spent 🙂
Easy to clean. All the parts are removable and…..dishwasher safe. Ta-da – just throw 'em on in.
Finally, while learning a little more about the product, I discovered 2 more things you will love:
Its bladeless technology preserves more nutrients. When healing, sometimes we can be "afraid" of food, thus making it difficult to get all the nutrients we need. This helps in addressing that problem.
The NutriPro allows you to juice some frozen fruits and, when frozen, the pulp spout will eject a creamy, fresh fruit sorbet that can be enjoyed in moments. This is my dairy-free ice cream dessert dream!
Full disclosure: I was given the NutriPro, but all thoughts and opinions are my own.
Needless to say, I'm keeping the NutriPro and getting rid of the Breville.
And that's a wrap….3 essential items for the Colitis kitchen.
Do you have an essential kitchen item? If so, what is it?

If you liked this post, you might also enjoy:
Master Gutsy Spreadsheet with all kitchen recommendations
Xox,
SKH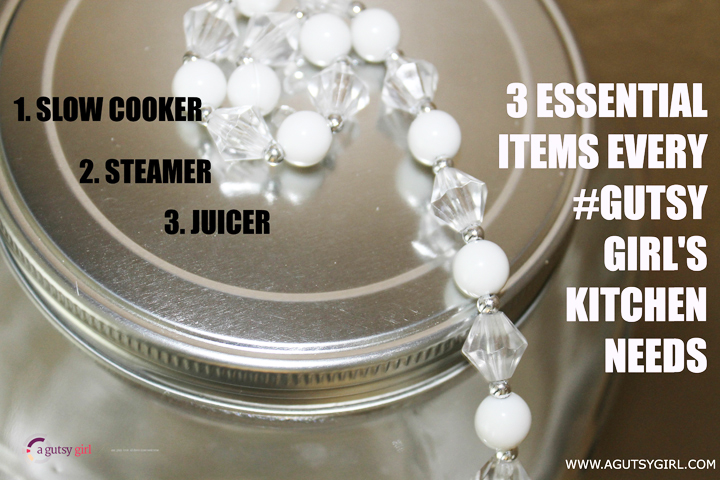 You will heal. I will help.