There are so many reasons for why I won't stop fighting.
I won't stop fighting until we stop treating symptoms and start addressing problems.
Why I Won't Stop Fighting
Click HERE to save this post for later.
These stories will come full circle. They always do.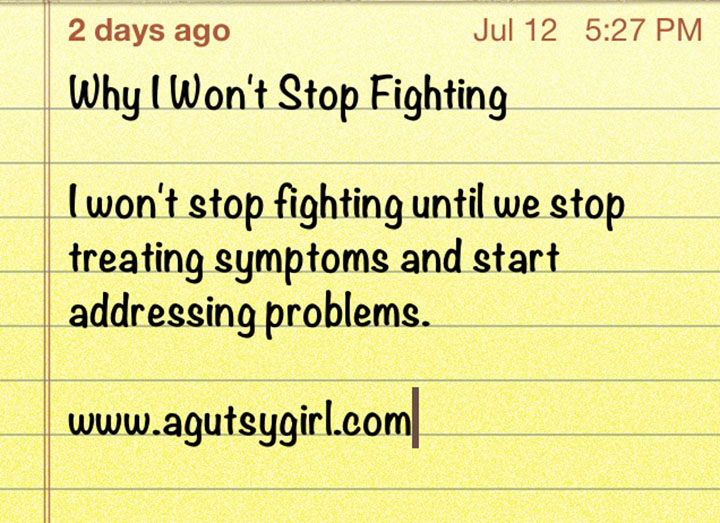 The rashes around my nose, on my chin and on my cheeks were prevalent from middle school until I went completely gluten free. I reviewed (on Friday) all my medical records from ages 11-18. From ages 13- 18, I was seen by a doctor for these rashes. On four different occasions (ages: 13, 14, 16, 18, not including all the dermatologist visits), they sent me home with a topical treatment or medication. As I got older, I stopped settling for the treatments and medications. I wanted answers.
Fast forward to 2008, when I was 24. I was diagnosed with Colitis. I was immediately given suppositories, and if I became severely distended I was told to go to the pharmacy, grab a bottle of liquid calcium-magnesium-citrate and chug it. I stopped seeing my GI. I told him I didn't want anymore medications and false bowel movements. He said "food didn't matter." As I learned more, I never looked back (and in the process have nearly healed myself).
Bounce ahead even more: January 16, 2012: The Scariest Day. I ended up in the position only because the dentist told me I had roughly 6-7 cavities to fill (about a month earlier). They "fixed" a few, but in the process "overfilled" and made other mistakes which landed me back in the seat to fix them. Only that time, they put too much Novocain in me and I couldn't swallow….go ahead, read about what happened. Immediately, I switched to a new dentists. First visit, "no cavities." I went for my 6-month cleaning again this past week. Still, "no cavities." I knew there was something wrong with my first dentist. Doesn't it seem odd that one dentist says I have 6-7 cavities; the next, none?
Here I find myself today, July 15, 2013. I am fighting another battle. Too early for me to talk about it here. But I will say this….I have fought this for over 4 years at this point. This is not a pain that has anything to do with running. Yet, a year ago I was told, "It hurts. You stop running. Simple." <- NO, that is treating the symptom, not the cause. This cause is not running, since I have the pain on random days, during other workouts, etc.
I switched doctors – yet again – she tells me on Friday,"You don't have XYZ. But here, if you want to take care of it anyways/stop the pain, I will give you X or Y. Give me a call when you decide what you'd like to do."
Wrong. Wrong. Wrong. Wrong.
She never once asked to have my medical information sent to them. She barely listened for 5 minutes to my story. She looked at me, fairly topically only, and said, "You look great!"
If I didn't have XYZ (which so many suspect I, in fact, do) then why would she just offer up nasty medications – just 'cuz? And furthermore, she assumed that I am naive and uninterested about my health. She gave me the wrong facts about a procedure and diagnosis, when I knew that what she was telling me was misinformation. I called her out on it. She denied. I confirmed with the Mayo Clinic when I got home. I was correct.
I spent a lot of time crying on Friday night. I messaged friends, and of course my mom.
But then I simply got angry (well first I actually got a foot massage:) ).
Our medical system is so off. We value drugs and medications, masks and temporary relievers. I have YET to meet a doctor who will simply LISTEN. (<– caps are critical there.) We teach children the art of listening, paying attention, getting facts, making sound decisions, attempting compassion. So why is it that the medical system (whom we pay thousands and thousands and thousands to) can't get it right?
I will not stop. This current battle, like the rashes when I was a child, Colitis and dentist, will be won.
I won't stop fighting until we stop treating symptoms and start addressing problems.
p.s. In 2014, I finally found a doctor who listened and who figured out much of what was going on.This post documents the beginning to that journey.
Xox,
SKH
You will heal. I will help.