I want to share 37 ways to beat the exercise boredom.
Working out should not be a chore. It should be something you look forward to. And if you are constantly changing it up and finding new things to add into the mix, you will likely never be bored.
One main thing you must do, though, is to view exercise as a privilege – instead of a chore. Once you understand that a simple walk is something many people could only wish to do, finding a way to move seems basic.
37 Ways to Beat Exercise Boredom
Click HERE to save this post for later.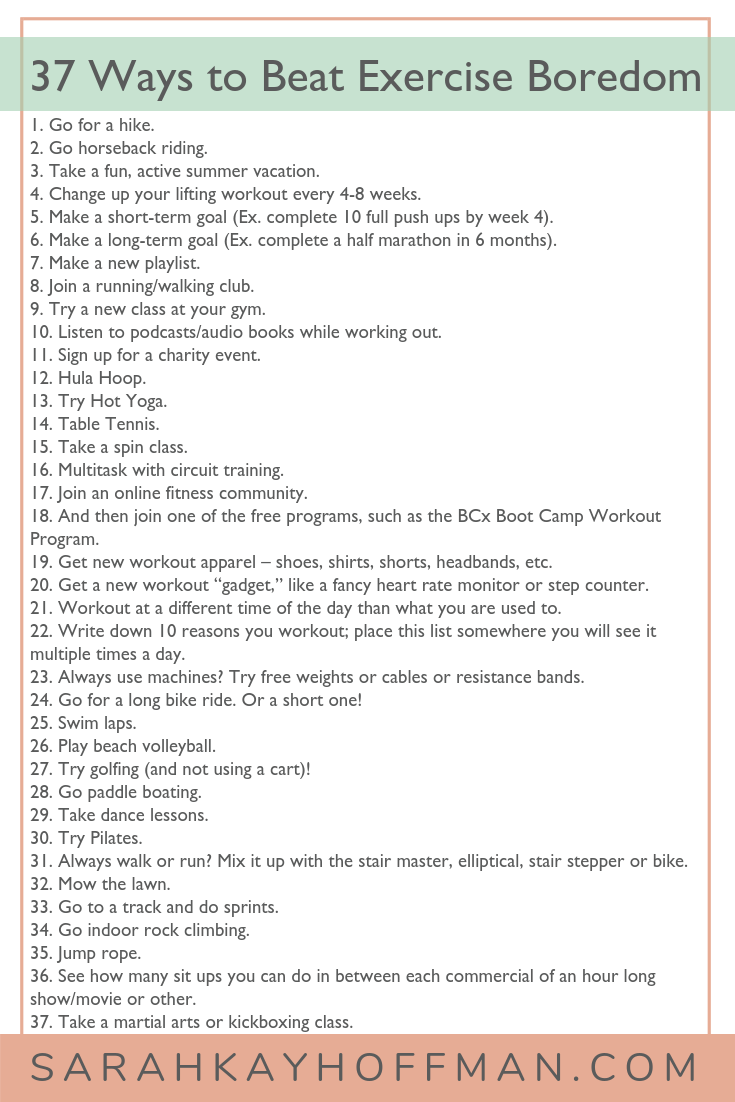 Go for a hike.
Go horseback riding.
Take a fun, active vacation (or day trip).
Change up your lifting workout every 4-8 weeks.
Make a short-term goal (Ex. complete 10 full push ups by week 4).
Make a long-term goal (Ex. complete a half marathon in 6 months).
Create a new playlist.
Join a running/walking club.
Try a new class at your gym.
Listen to podcasts/audio books while working out.
Sign up for a charity event.
Hula Hoop.
Try Bikram Yoga.
Table Tennis.
Take a spin class.
Multitask with circuit training, Tabata, or HIIT.
Join an online fitness community.
And then join one of their free programs.
Get new workout apparel – shoes, shirts, shorts, headbands, etc.
Get a new workout "gadget," like a fancy heart rate monitor or step counter.
Workout at a different time of the day than what you are used to.
Write down 10 reasons you workout; place this list somewhere you will see it multiple times a day.
Always use machines? Try free weights or cables or resistance bands.
Go for a long bike ride. Or a short one!
Swim laps.
Play beach volleyball.
Try golfing (and not using a cart)!
Go paddle boating.
Take dance lessons.
Try Pilates.
Always walk or run? Mix it up with the stair master, elliptical, stair stepper or bike.
Mow the lawn.
Go to a track and do sprints.
Go indoor rock climbing.
Jump rope.
See how many sit ups you can do in between each commercial of an hour long show/movie or other.
Take a martial arts or kickboxing class.
Workout Because You Can!
If, after reading this list of 37 Ways to Beat the Exercise Boredom you are still bored, then perhaps it's just your attitude that needs an adjustment! Living a healthy lifestyle is about more than countless hours in the gym.
It's about moving daily, not making excuses and being creative to find the balance between them both.
How do you beat the exercise boredom?
By the way, PLEASE never misunderstand this post. I am not saying that you need to engage in hard-core workouts. In fact, I don't believe those types of workouts are great for gut healing.
All I'm saying is that if you currently loathe even 10 minutes of dancing in the kitchen while making dinner, is your life even fun?! 🙂
p.s. Don't want to go to a gym? That's fine. Consider grabbing some basic equipment for at-home and start there.
You will heal. I will help.