Have a bucket list? Don't yet, but want to make one? You must add, "Hiking Yosemite" to that list.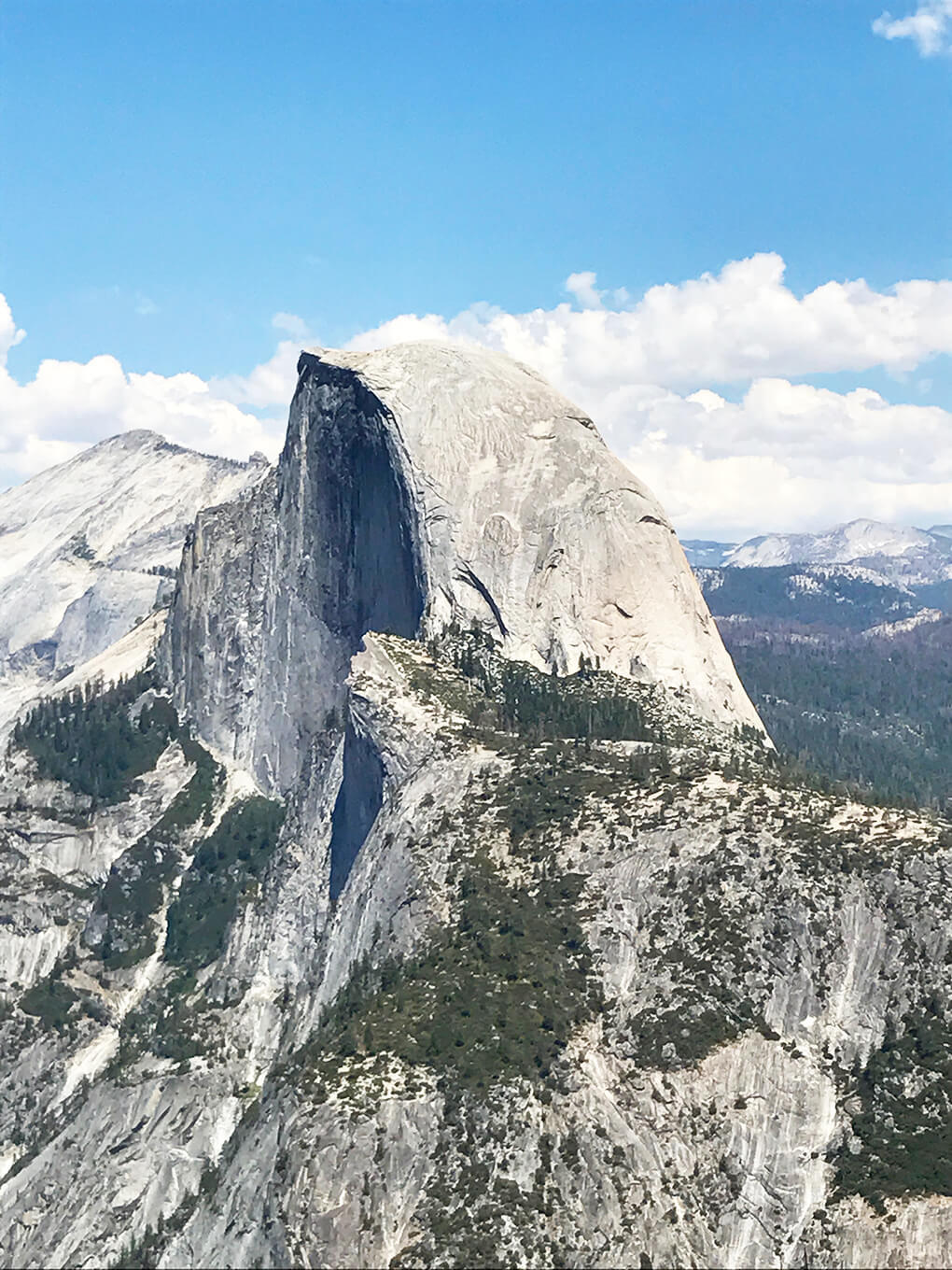 Before Christmas last year, I decided I was going to make 2017 the year of being unafraid. In that blog post I mentioned, "I have been afraid of heights my entire life, so we are entering the lottery to hike Half Dome." We convinced my brother, JJ, to enter the lottery with us as well. We all got pretty excited about the possibility, and for Christmas, he bought me this book, One Best Hike: Yosemite's Half Dome.
I entered us in the lottery when the time period opened up, and shortly after the cutoff (on March 31, 2017), we got an email saying that we were not selected in the lottery.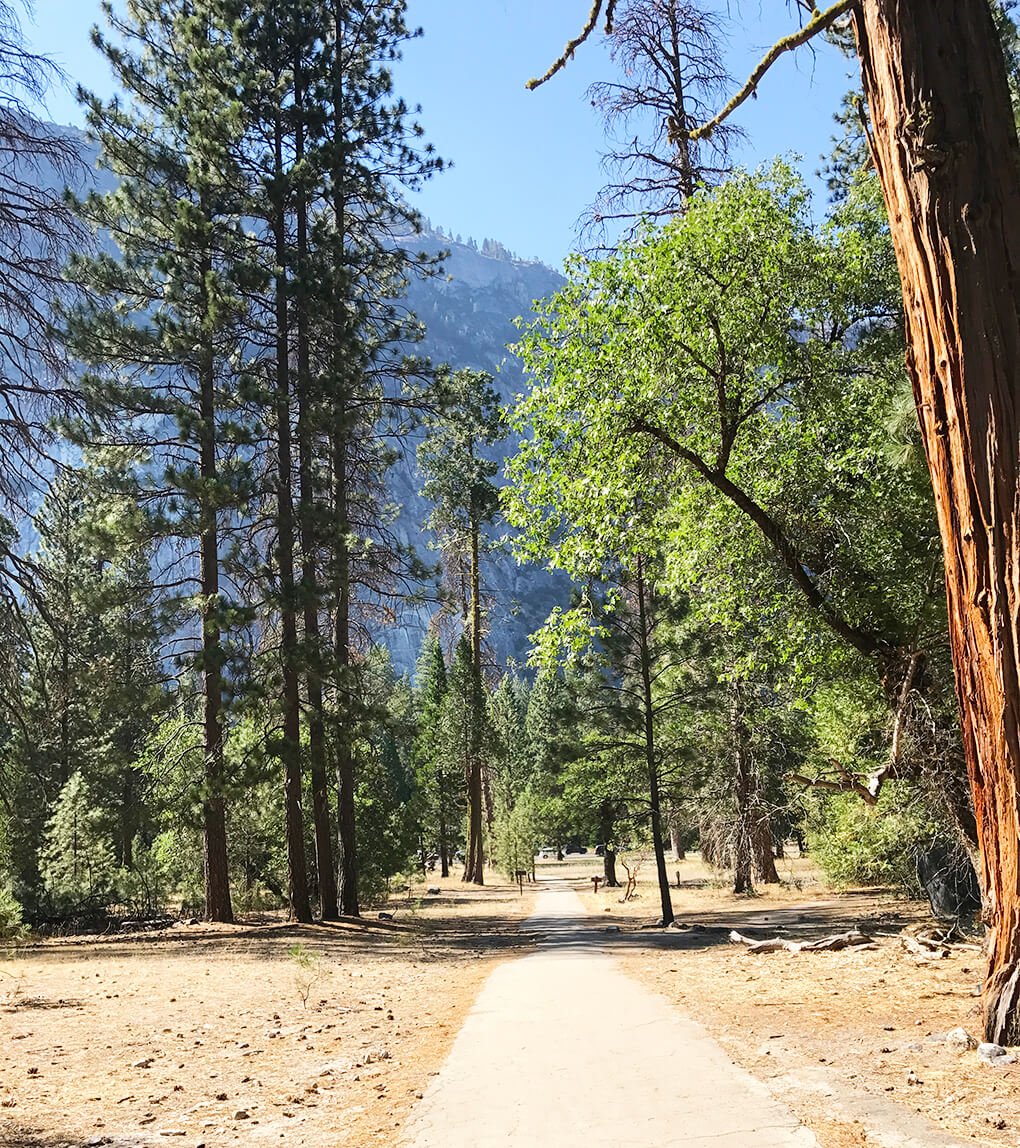 Like a stab to the heart.
I messaged my brother to tell him the news. He thought I was joking….."ha ha, good one, punked, right?"
But no, I was not joking. Of all the dates we gave as options (all of which, by the way, were during the week so we would have a greater chance of getting selected), we did not get selected.
This tells you, and told us one main thing – it's a huge feat to accomplish Yosemite's Half Dome, but maybe even more than that, hiking Yosemite is highly sought after. My tip for you guys, never forget to take your hiking boots with you.
Hiking Yosemite
Click HERE to save this post for later.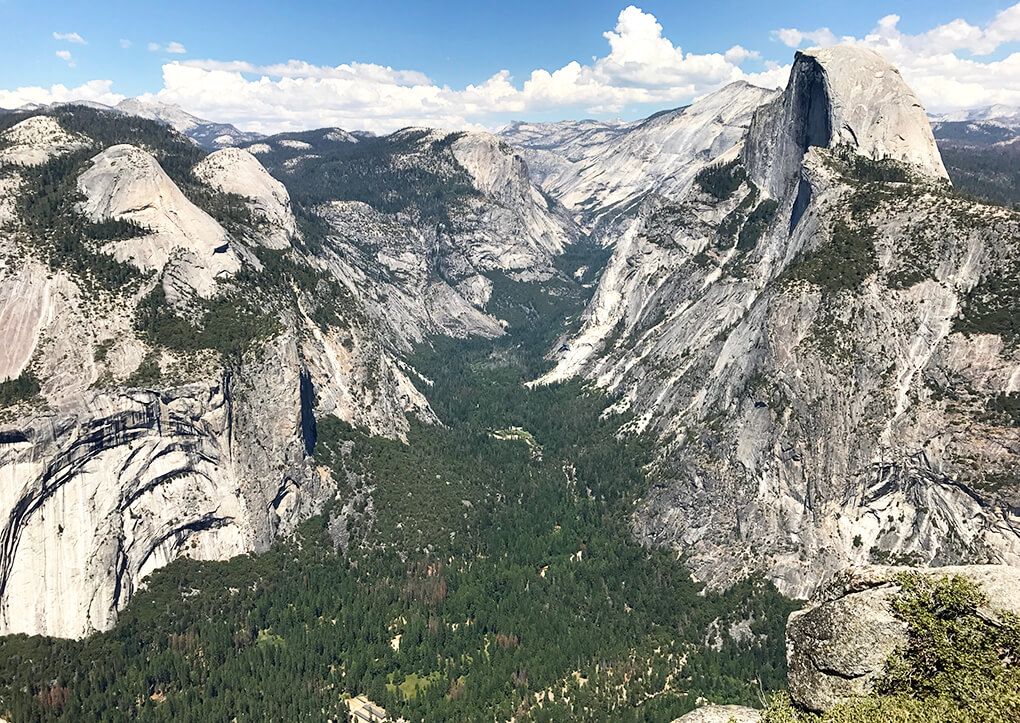 We told my brother to still book his flight and come out. We would hike Yosemite – some piece of it – for Ryan's birthday on Friday, July 28.
We left around 7 am that morning without much of a plan. The only thing we knew was that we would have about 5-6 hours to hike, and we wanted to climb as much as possible during that time.
Upon arriving (just a couple hours later – we are literally 1-3 hours from every single incredible thing California has to offer!) we made a pit stop to ask advice on what trail to do.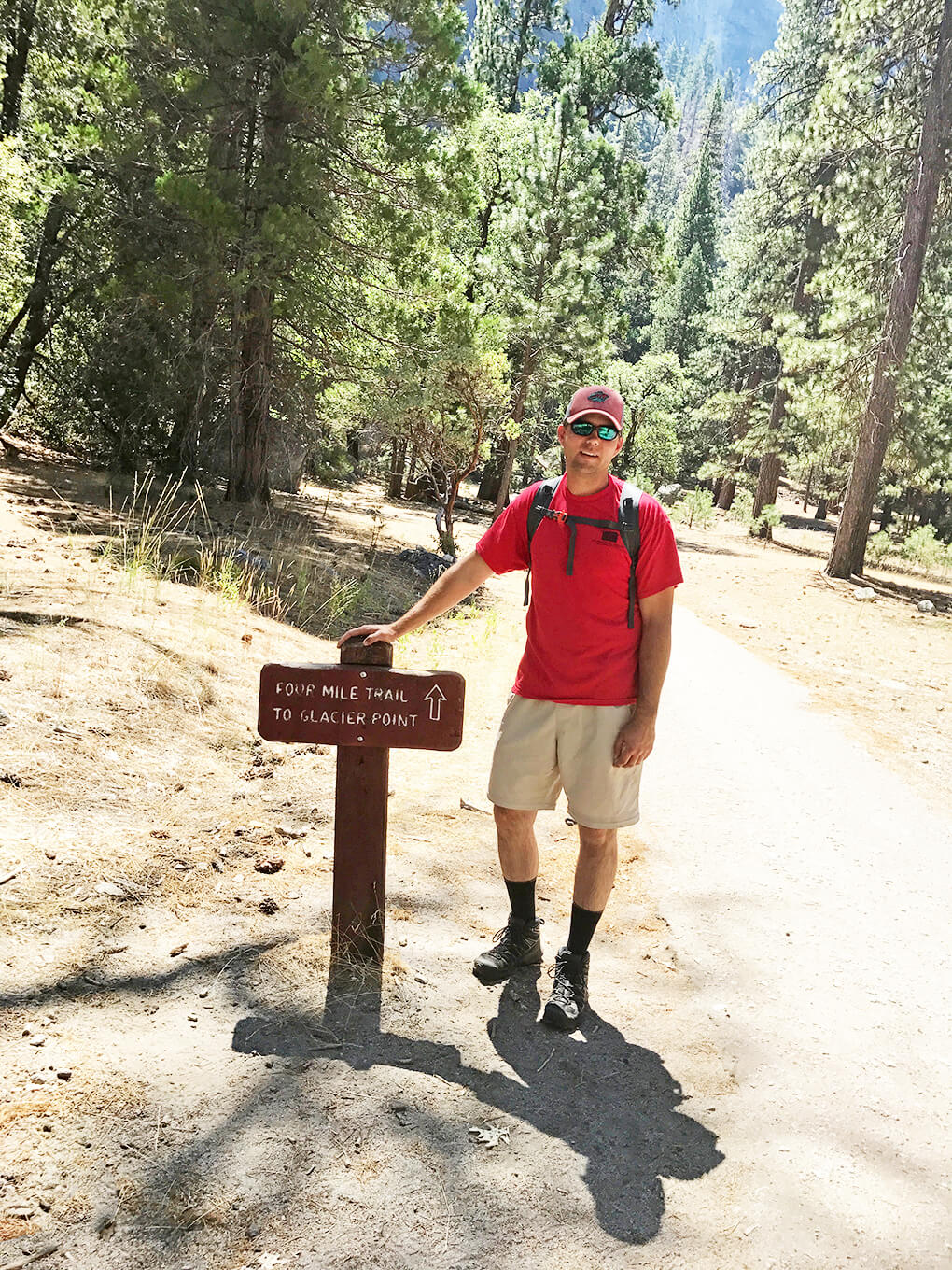 Based on what we were looking for and the time we had available, Glacier Point is what they recommended. Both Ryan and JJ had looked that hike up prior to going, and it was one they were interested in any way.
According to the National Park website for Yosemite, Glacier Point is a strenuous hike. Now that we have completed it, I will say that would be 100% correct.
We did the Four Mile Trail, which is 4.8 miles (7.7 km) one-way. The park says each way takes approximately 3 to 4 hours to complete. As I mentioned, we did it in about 2-2.5 hours each way.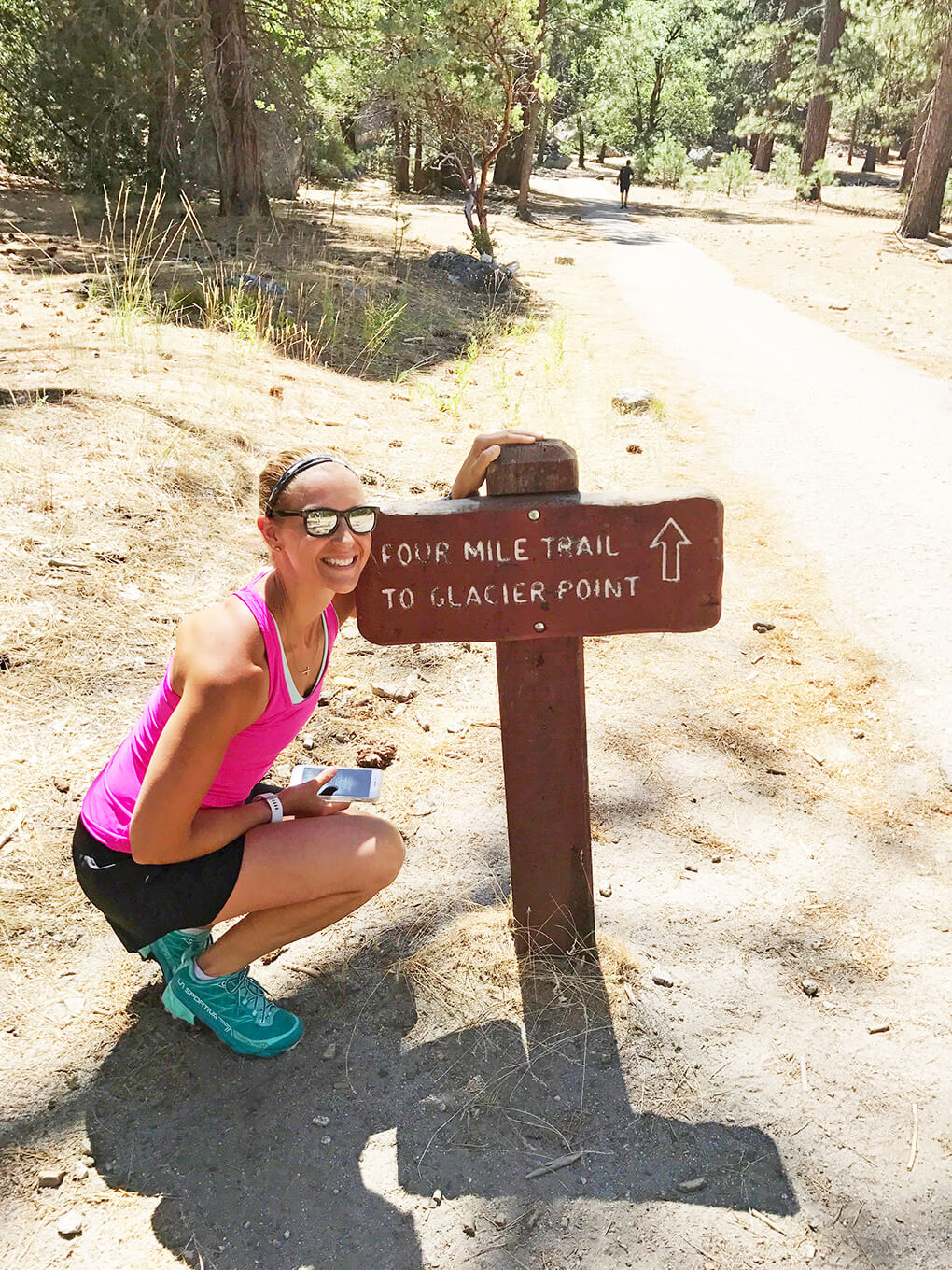 The climb is around 3k feet in elevation, and even though that's "only" the amount of elevation I climbed at the Bear Creek Half Marathon last weekend, the 3k climb to Glacier Point was much more intense. Why? Because we climbed that much in less than half the distance of the half marathon.
Essentially, once you start the incline climb at Glacier Point, you are going straight up for most of the walk. The heart rate gets ridiculous but with the increase in heart rate and elevation also comes the increase in stunning views.
We climbed and climbed, and did switchbacks galore (which is the worst part for me – in both hiking, trail running, and driving), but eventually, we made it to the first main stop and lookout point.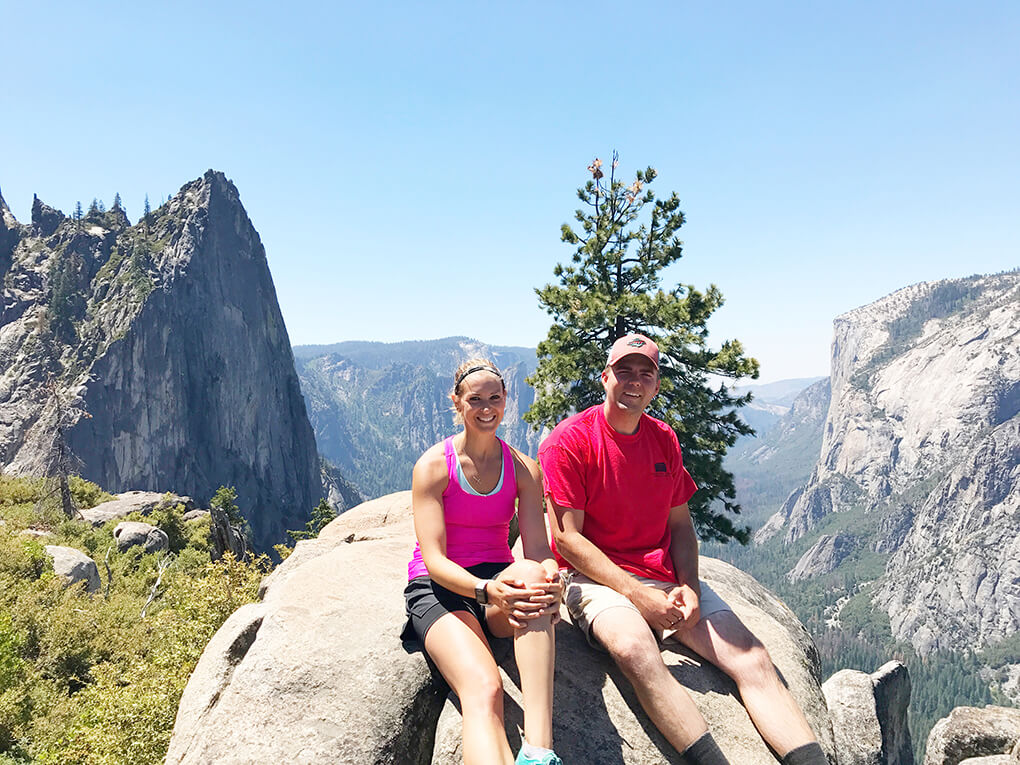 And it was stunning.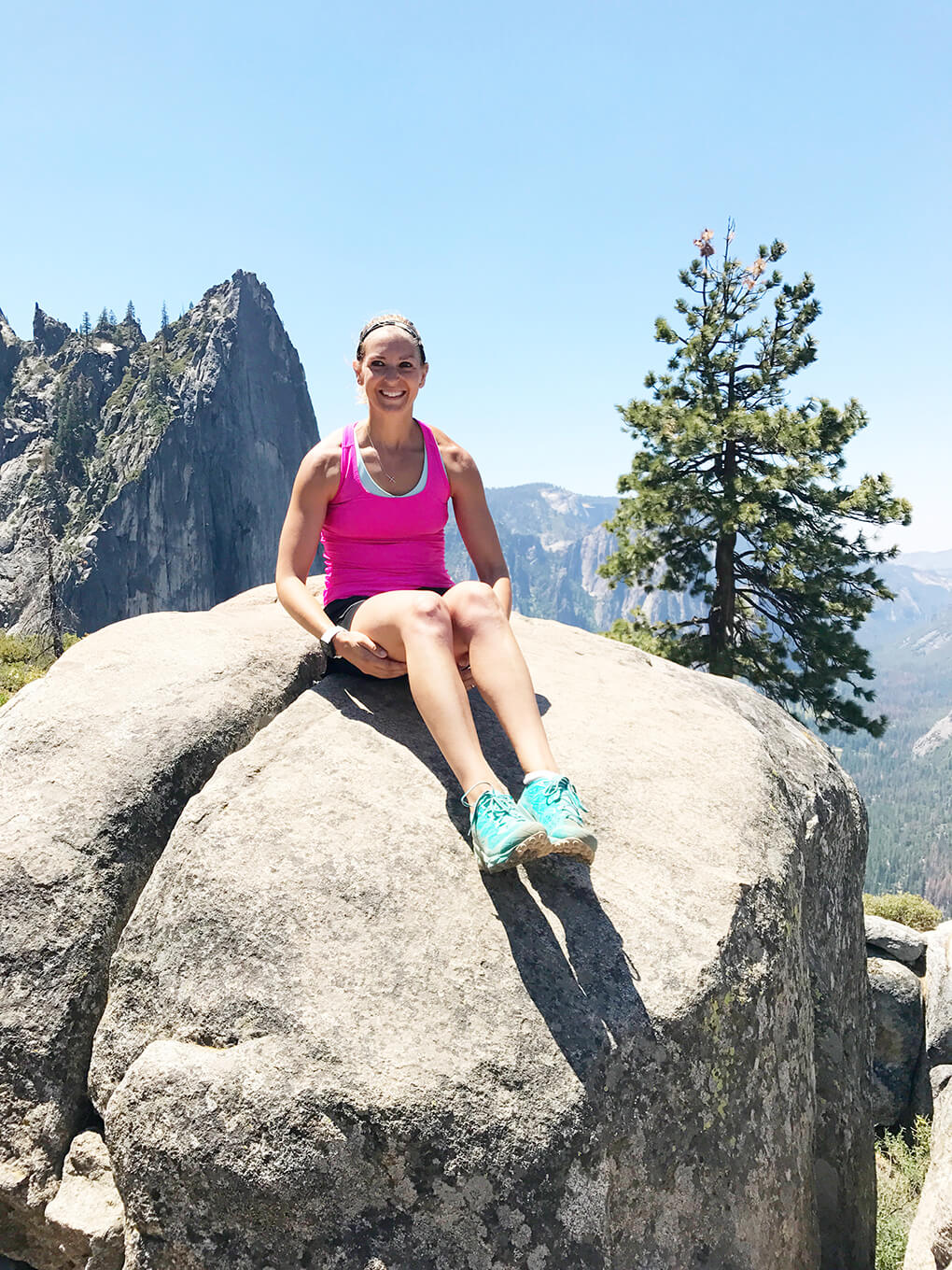 By this time, we were all pretty tired already, but had come so far and could not wait to hit the top.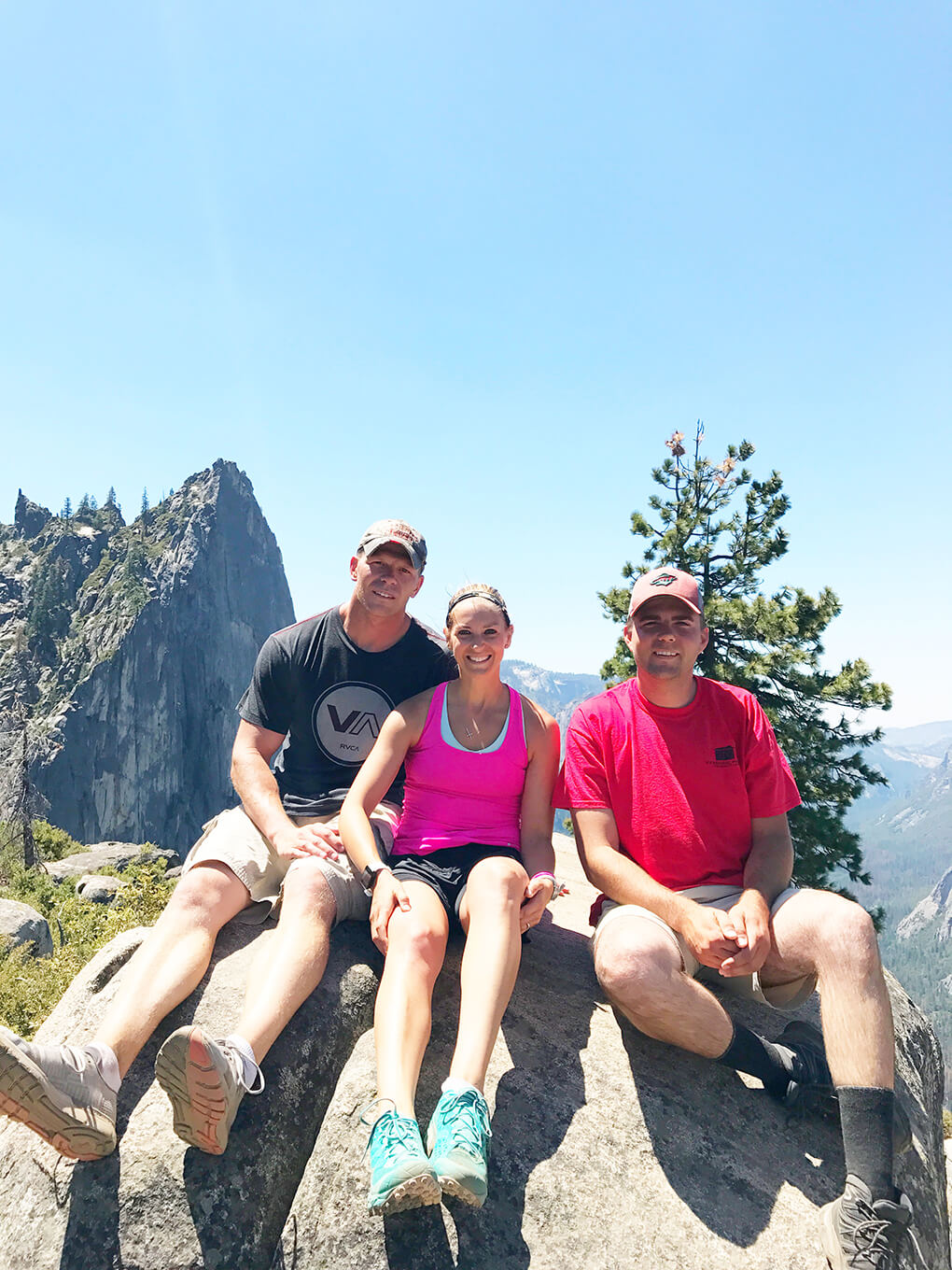 So we kept on going.
During that last hike to the top, a man stopped us and said, "Hey, I don't want to alarm you guys, but right ahead, on your right is a Rattlesnake. He doesn't seem vicious, but wanted to let you know he's there."
Heart. Stop. Immediately.
There it was, my #1 fear. JJ looked at me and smiled.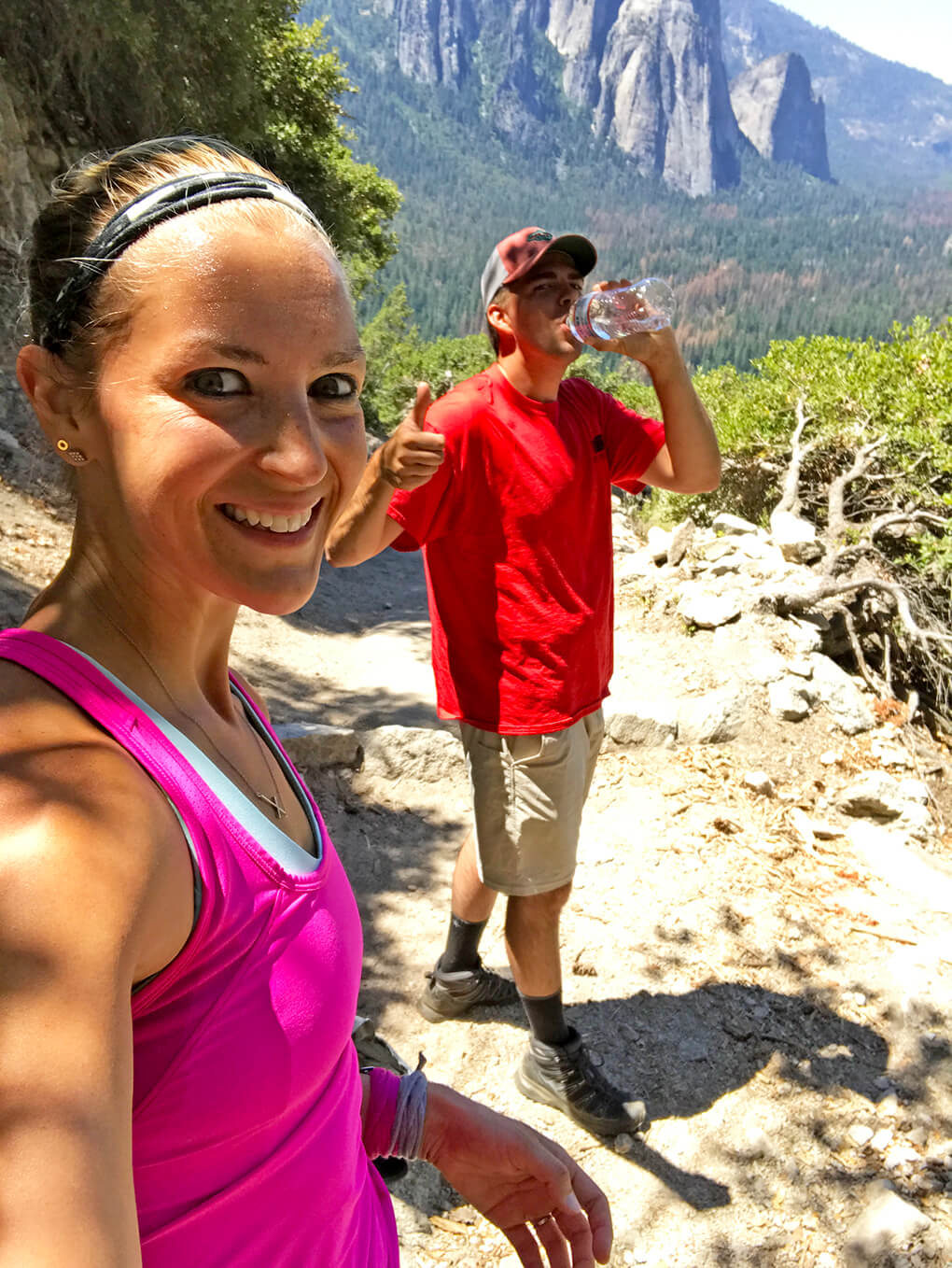 We kept going, but a few steps ahead and it had already retrieved to a hole because these 2 kids were trying to get at it. (I mean, for real? It's a Rattlesnake! Why on God's green Earth do you want to try to see and entertain it? I. Just. Can't.) Anyways, JJ dropped a Google marker on his phone so we would know the spot when we came back down the hill. We never did see it, and funny thing – just like the Bear Creek Trail Race last weekend – you don't actually need to mark where a Rattlesnake is at. Truth is – they are everywhere. These places we seek adventure are their homes. Onwards….)
Shortly before reaching the top, we all started craving weird foods and drinks. We were hungry and thirsty like crazy. Go figure! I wanted soda (yes, seriously – I have a soda like quarter to never, but my body needed fizz), and that was not normal. They wanted tons of trail mix.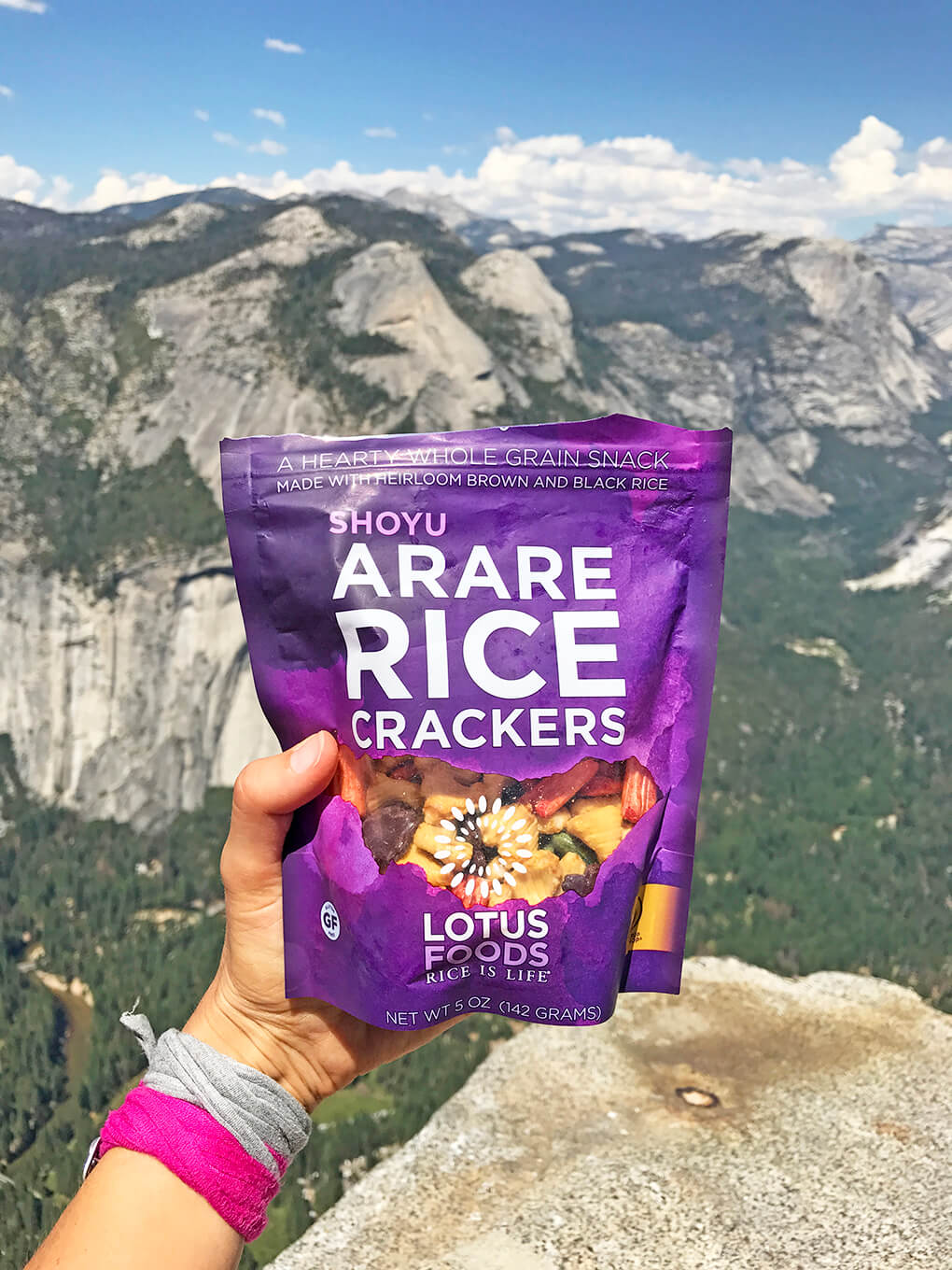 And then it happened. We reached the top!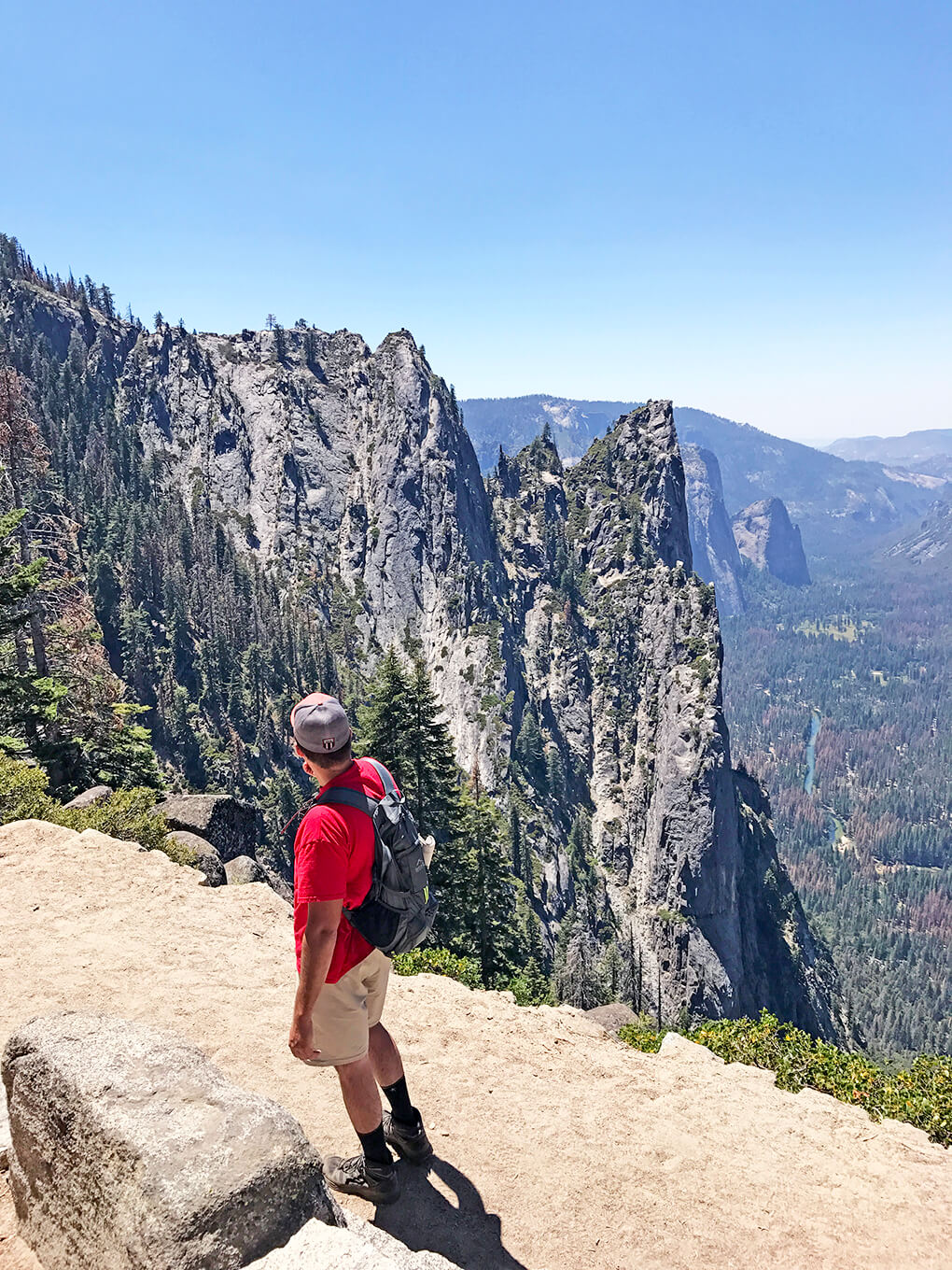 At the top of Glacier Point, there is a store and tourist area (if you don't want to hike it, you can take a bus up to see the views). We grabbed food and drinks, then went to sit and enjoy every last thing about the views.
Pictures can never do these views justice. During our hike, I commented on this aspect to Ryan and JJ. I told them that that's why I could never be a landscape photographer. While I feel like people and food photography can be very descriptive and depictive, I never feel like images from views like this are able to tell the full story. It's just impossible.
I sat up there, overlooking what seemed like the world and all I could think was,
God made everything so incredible, so beautiful, but my fear has hindered me from enjoying creation for years.
And then of course, "Now I get it. This is just the beginning." (Side note: If you read Brazen Trail Racing, I felt this same thing all over again.)
Eventually, we hiked back down. If you want the truth, the hike down is far worse than the hike up. It's steep, and it was the downhill, not uphill, that left my legs aching like crazy the rest of the night.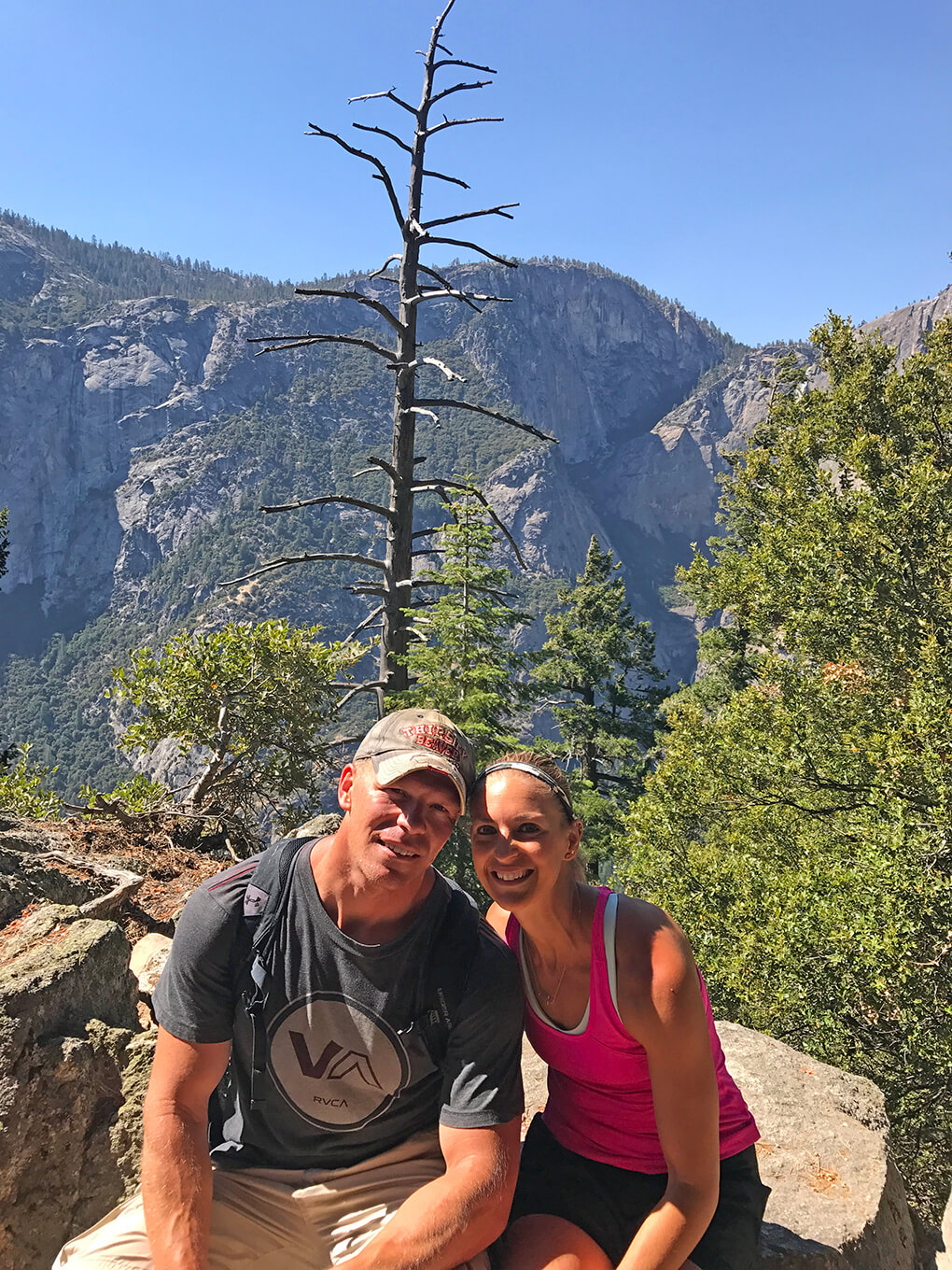 Once we reached the bottom, we enjoyed our walk back to the car. JJ had gotten a water filter, so he tested that out.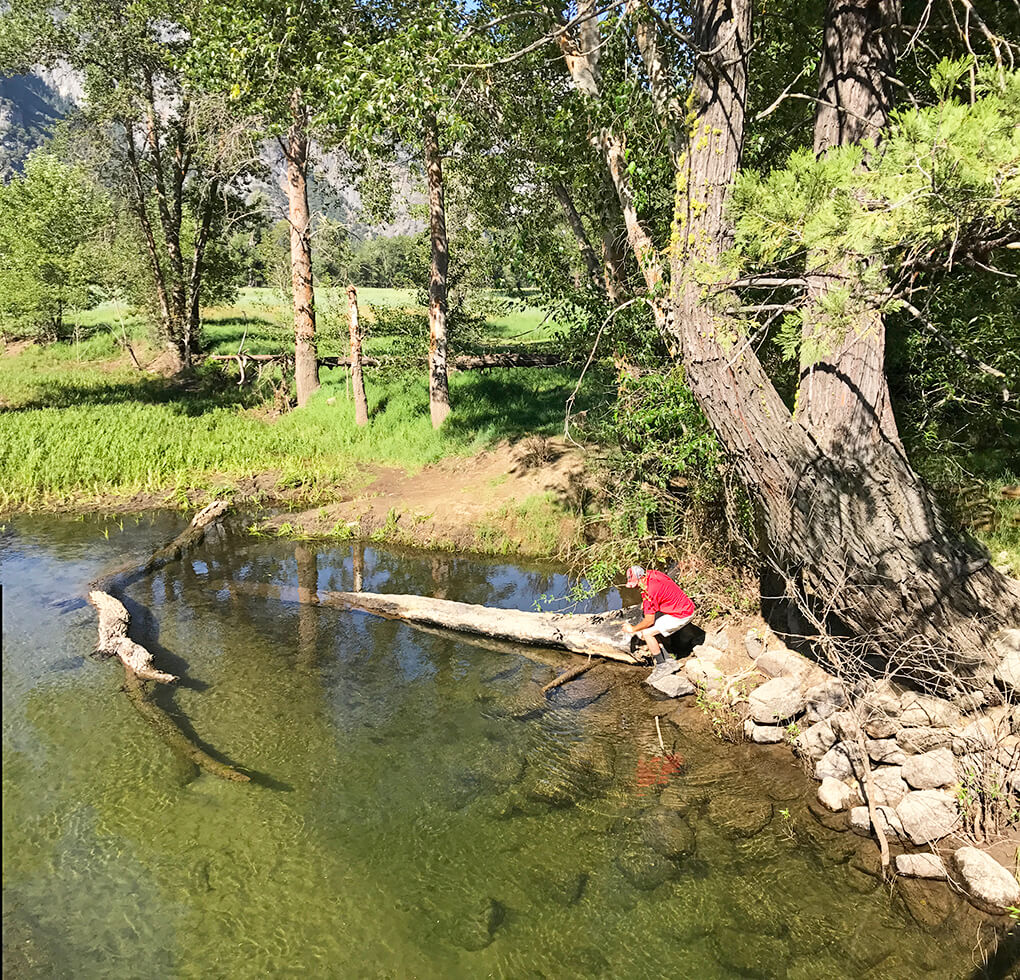 Ryan took pictures of me so he could get this man in the background to highlight the true beauty of hiking Yosemite 🙂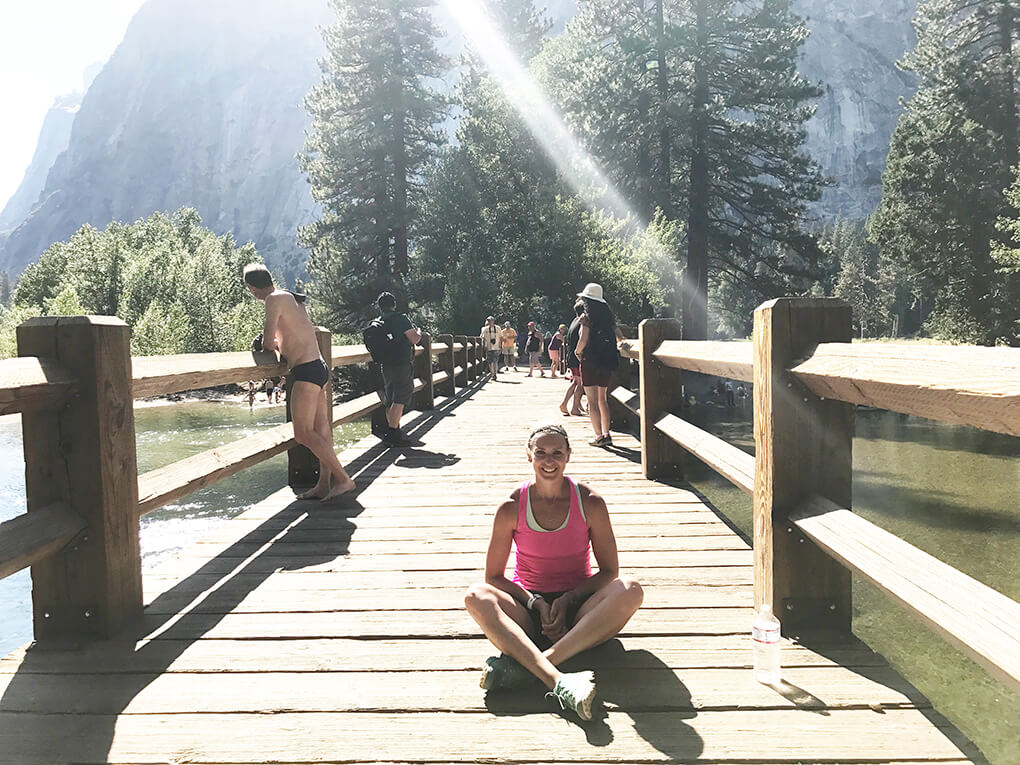 And when it was over, all I could think was, "When can we do it again?!"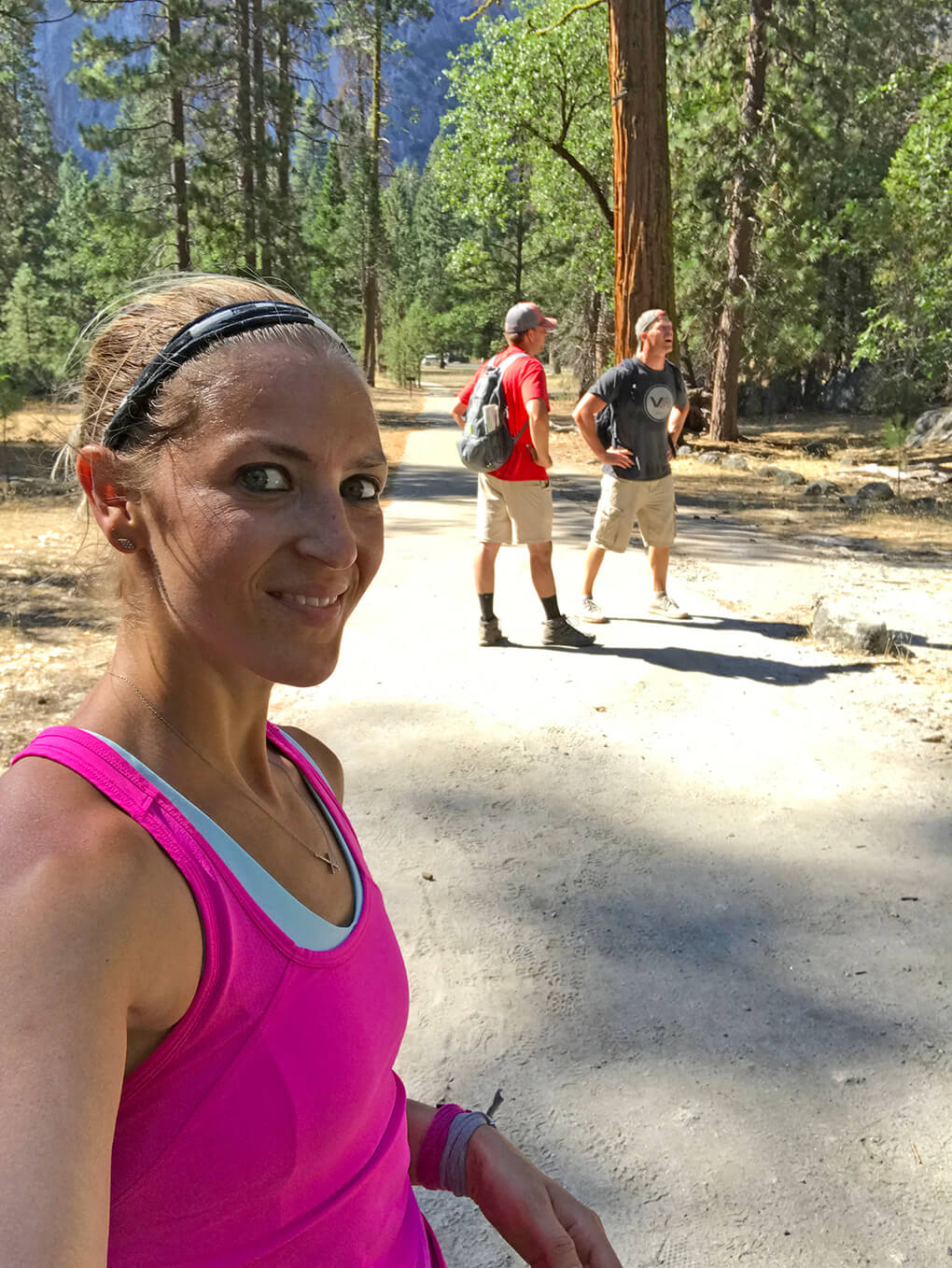 If we had more time (or the next time we go), I think we'll do The Panorama Trail, which provides a close-up view of Illilouette Fall and panoramic views of eastern Yosemite Valley before joining the Mist or John Muir Trails down past Vernal and Nevada Falls. That hike is about double what we did – 8.5 miles one-way.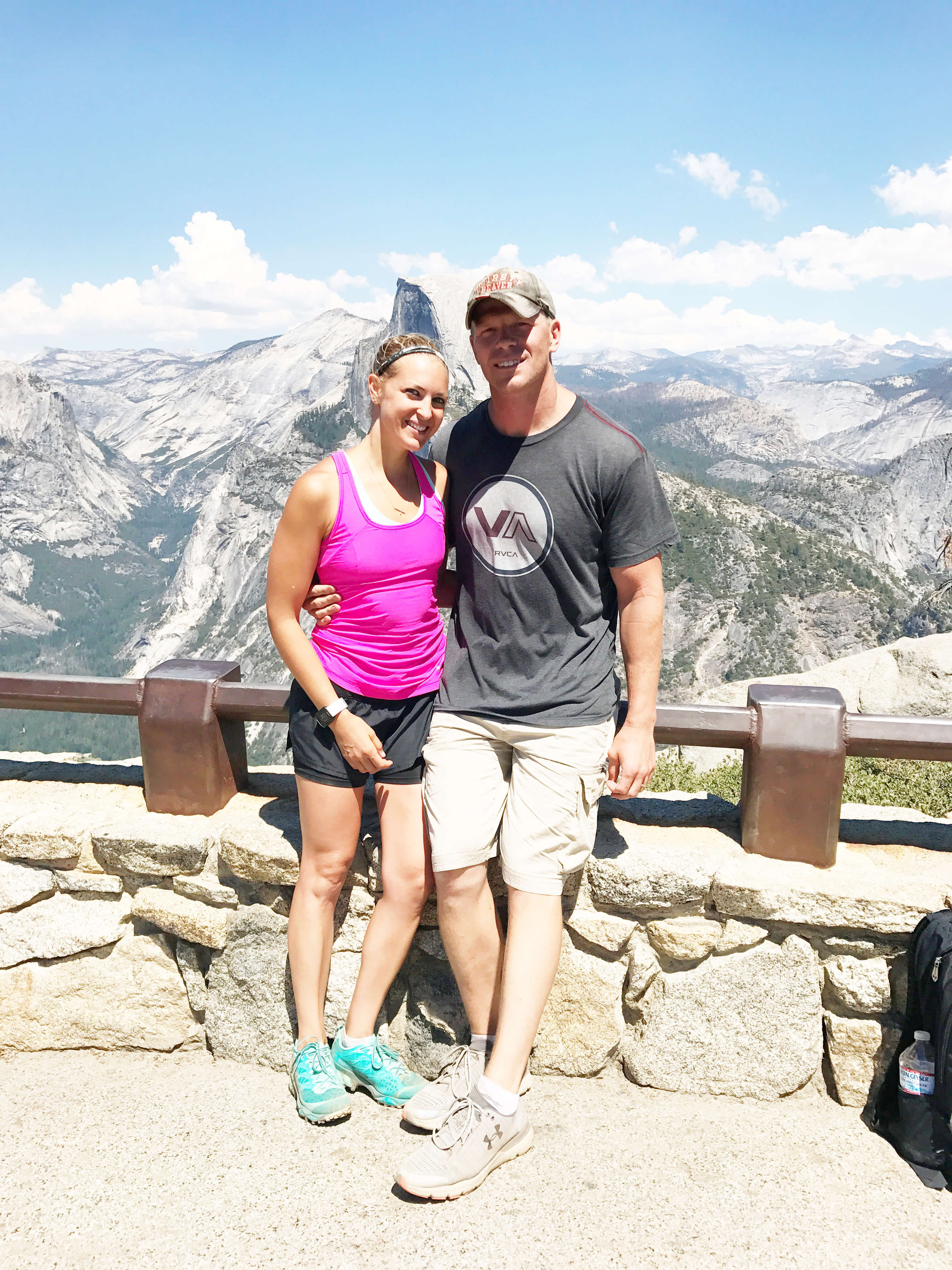 Finally, I thought I'd share a few practical things for hiking Yosemite.
Make sure you have a good pair of hiking shoes. I used my La Sportiva Women's Akyra Mountain Running Shoe.
Bring along a change of clothes for immediately after the actual hike. I recently found out about this amazing company, Ridgemont. The idea behind Ridgemont Outfitters is that people often find themselves going straight from hiking/being outdoors to an urban setting, so they wanted to create a shoe that was versatile enough that people would be able to transition from outdoor to urban without feeling weird in their bulky hiking boot. The company sent me their Monty Loe Shoe in the Sage/Lichen color. I am so hooked. In addition to the shoes, shirts, pants of some sort, and new bra for the ladies (sweat, man, sweat).
Don't forget tons of water. The 3 of us went through so much water on the way up.
Carry a light backpack. Both Ryan and JJ carried one with various things, namely food and water.
Do the hike as early in the morning as possible or wait until later. The middle of the day was hot, hot, hot, and we wished we could have started earlier.
Bring a camera (or just your phone). Even though pictures can't capture the true scene, you'll want to be able to capture everything you can.
Mentally be prepared that it's going to be hard, but do not let that stop you. I cannot tell you the spectrum of people we saw along the trail. Young, old, all weight sizes, everything and everyone. When it got hard, we saw people stopping to eat, drink water, and just rest. There is no race happening, you can go at your own pace.
Just do it. Seriously. Go now (if you live in California) or book a trip for hiking Yosemite ASAP. And p.s. If you want an amazing place in the area to stay, choose Tenaya Lodge. Ryan and I stayed there in 2011, and I have never forgotten how much love I have for that place.

Xox,
SKH
You will heal. I will help.