Sigh. I fell in love this weekend with Brazen Trail Racing, and like every other time I fell madly, truly, deeply in love, it was completely out of the blue.
Upon falling in love, I stumbled upon this quote, and it has engulfed every inch of my soul.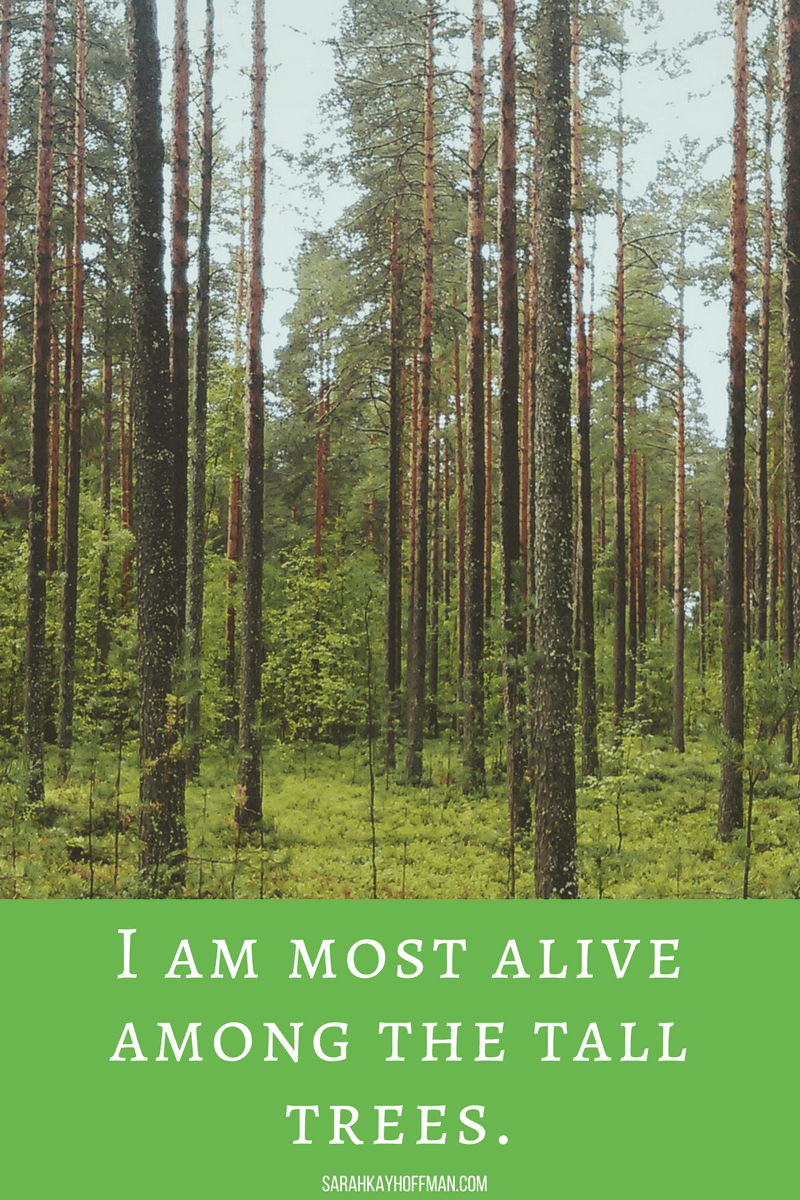 Right after the San Francisco Half Marathon (not even a month ago), my friend Tami said, "You should totally run the Bear Creek Brazen with us on August 12. It's a trail race, climbing over 3K feet, and it will be so hard but amazing." (Side note: This girl right here has also captured my heart. Her attitude, energy for life, and sweet demeanor is incredible.)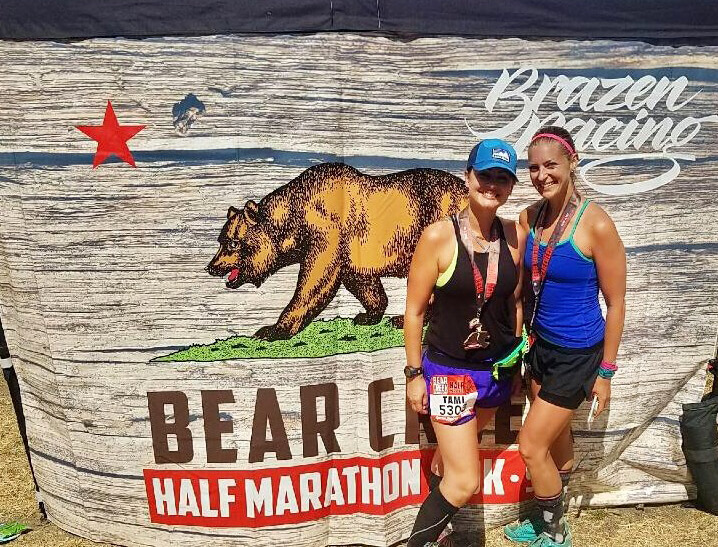 I barely gave my fears any thoughts, and instead signed up instantly.
From July 24 (the day after the San Francisco half) to Brazen, I did the following to prepare….
A few days prior to the race, though, doubt set in. My energy was low last week, I wasn't sure this trail running was really for me, and all the snakes and coyote dreams came at me full force.
Race morning came, and I felt excited! What I've learned from all the races I've ever done is that race morning just straight up ROCKS! I went in feeling like this was going to happen, and it would be whatever I would make of it.
And here's what happened during that 13.3+ mile and 3K+ elevation climb of Brazen Trail Racing.
Brazen Trail Racing
Click HERE to save this post for later.
I finally found my 'Yoga.' Remember in Let It Be Fall when I explained how I pushed and pushed to love yoga but that, ultimately, no amount of pushing could make me love it? Trail running is my yoga. According to The New York Times, "The original context of yoga was spiritual development practices to train the body and mind to self observe and become aware of their own nature. The purposes of yoga were to cultivate discernment, awareness, self-regulation and higher consciousness in the individual." Bingo. That's why my doctors have long recommended it to me. But I have explained it as such…..I have tried to be present and mindful with yoga, but I just can't. sit. still. And I get it. That's the point, to train yourself to do so. But was the point to physically sit still or to have the mind sit still and in the process be present? Because that's what happened to me on Saturday with trail running. For almost 3 hours, I was present, mindful, and soaking up nature, life, and all the quiet that existed deep within.
I faced my fears of snakes. In Unafraid I told you, "I had massive snake phobia nearly my entire life. When I was really little, I ran over one with my little trike, and in grade school, while jumping on a trampoline, had a friend's brother throw them at me. To this day, I have a hard time doing a lot of things outside in summer, namely hiking, for fear of a snake encounter." After starting out running the race with Tami and her husband, I decided to just go ahead and do it on my own. I did this, namely, because I wanted to conquer all that was ahead alone, and mentally know that I could do anything. But shortly after I made that decision, the trail became a super narrow, single path in the middle of the hot, summer fields. If you live in or have ever been to the Bay Area in Northern California, you know exactly what that means – snakeville. That's where they live, and that's their home so to pretend they shouldn't be there would not be right. To make matters worse, after awhile on this path, the weeds and grass got taller. It was a claustrophobic feeling where all I could do was take massively huge breaths, release, and just keep on running. At one point, I told the guy directly behind me, "If I have a heart attack right now, it's not because I'm tired. I'm deathly afraid of snakes." He laughed and said, "Well they are definitely all around us." More. Deep. Breaths. But eventually, that path lead back to the "forest," and I had conquered those minutes, my mind, and the fear. Conquered for good? Ah. No! This is going to take a very long time, but I have finally faced it, and in the process, have gained so much more out of life.
Calm and chaos. For the last 2-3 miles, I could hear the finish line music, yet I was still so tucked into the shaded, woody area. I couldn't help but think about how alone we can be with the sounds, voices, and calm in our heads, but yet still so close to the chaos of life. Feeling this for those 2-3 miles was really something. In fact, it's not even something I can explain very well but felt so deeply. My mind played over and over again, "It's just me, my thoughts, nature, and all the emotions in the world currently, but out there…..chaos, commotion, and life."
Found my weakness. Had it not been for the downhills, I would have come out like a champ. In 2012, I wrote a post called, "What Goes Down Must Come Up." The premise of the post is that hiking the Grand Canyon downhill was much easier than climbing back up. I argued back then that the climb back up was much harder than down. I still believe in the post, and that, as a metaphor for life. But after Saturday (and Yosemite), I no longer believe that from a physical standpoint. Back when we hiked the Grand Canyon, I was in far worse shape than I am today. The flats and uphills were much easier. I was terrible at the downhill, getting passed up by everyone (which I'd then make up for and then some on the flat and uphill). I'm still afraid of falling and tumbling down the steep hills (almost did yesterday, in fact), and I'm not used to running so much downhill. If I want to truly excel, I'll need to get better at this weakness.
And then found my strength. As I mentioned above, the flat and uphill climbs were a major strength. Sure, on many of the major uphill climbs, I had to walk, but I also ran/jogged a ton of it, which was a huge strength. I have been working legs like it's my part-time job. And I do believe that this practice has set me up nicely to continue trail running.
You really get to see everything. When you trail run, you are able to see things you would never see on the road. When I reached the top of every hill, all I could think was, "Wow! This is absolutely beautiful." Part of that is the beautiful Bay Area, but the other part is just that being at a peak, no matter where you're at, allows you to see everything – for miles and miles – from a different view than you would otherwise. God's creations are breathtaking.
And when it was over? No stress-fracture pain. When I woke up yesterday? Still no pain. I did my hardest half marathon yet and came out with only the pains anyone would expect – sore quads, and ankle muscles that were all, "Um, hi. We did work yesterday."
I have been fighting hard to desire to spend the next 3+ months training to PR a flat, road race in the beginning of December. My mind says, "Yes," but my body screams says, "No. No, you aren't currently in a life place to train 30-50 miles a week and commit to everything else that goes along with it."
Prior to Saturday, I thought those road races were the only way to make me feel like I was working towards the next "thing" for me. But after Saturday's Brazen Trail Racing, I know I don't have to fight any longer. I don't need to run 30-50 miles a week. I don't need to pound pavement 3-6 days a week. I don't need to focus on sub-8 half-marathon times (when you trail run, every single trail is different and the change from climbing 1k feet of elevation to 4k feet will not yield the same half marathon pace, no matter what).
The saddest part about Saturday's race for me was that I have been in and out of love with running since 2008, but I might have experienced the best parts of the sport tenfold had I not let FEAR hold me back all these years.
But now I have the chance to not look back. (And to keep these medals coming 🙂 )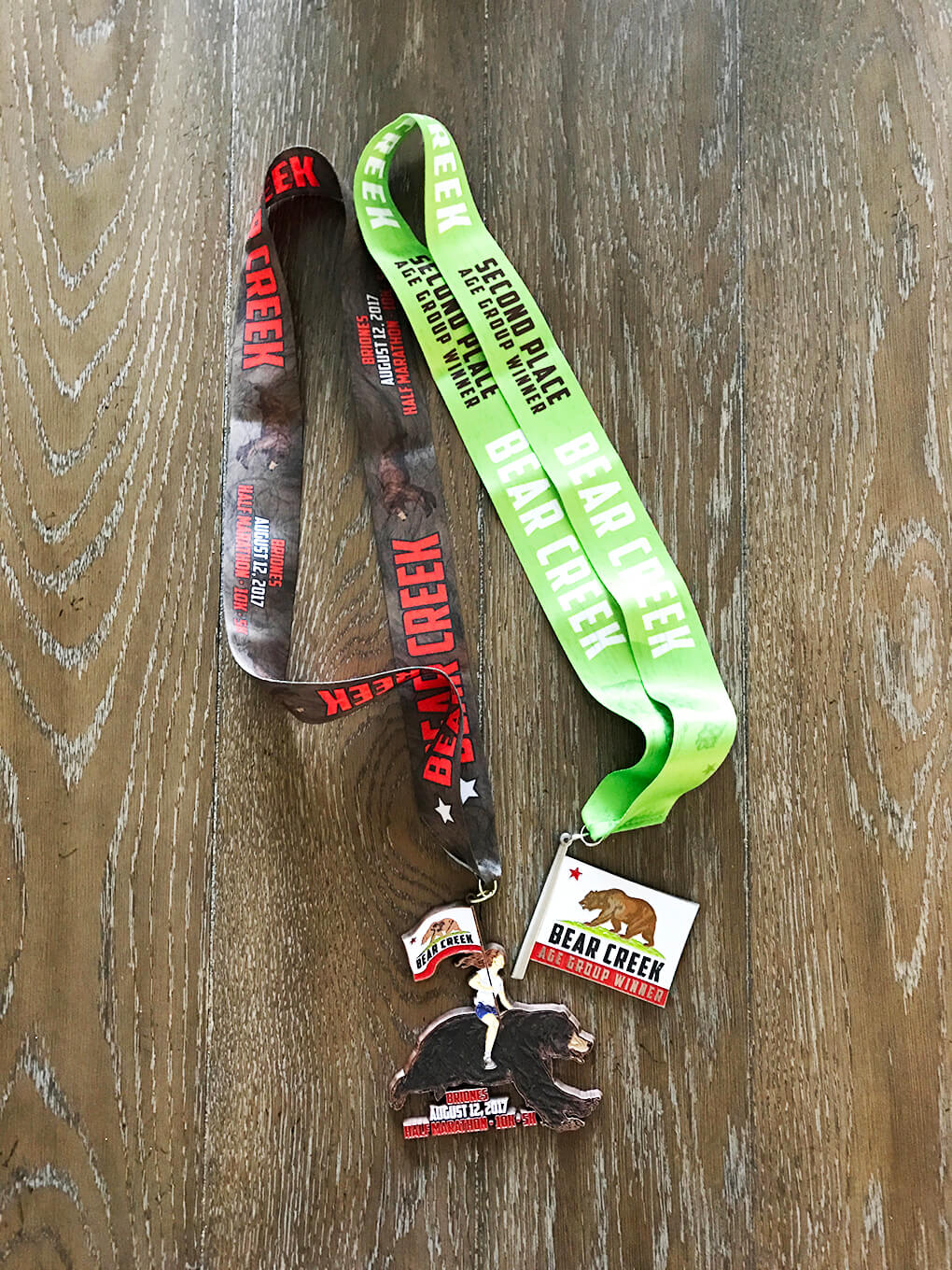 Yesterday (yes, the day post race), I signed up for the next trail race, the Trail Hog Half Marathon on September 2 (yes, like as in 2017, just a few short weeks away).
And I won't stop there. I am also thinking about doing 5 more Brazen Trail Races from now through January 1, 2018, one of which I am considering powering through to the 30K with over 4K elevation climb.
Oh my gosh…..I'm so excited, slightly terrified, but absolutely beaming! There truly is so much life among tall trees.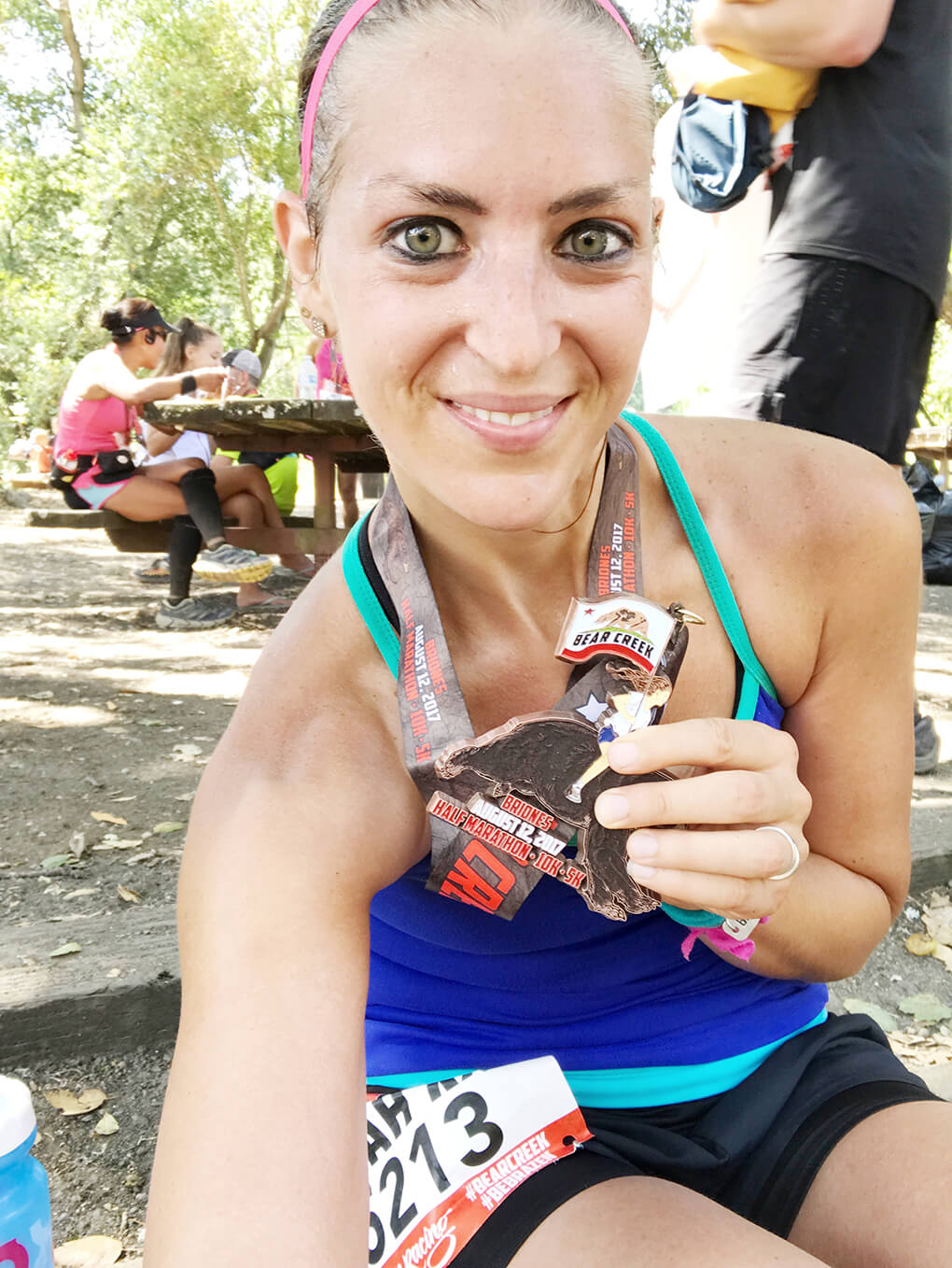 p.s. I already know what some of you who also have an Autoimmune Condition and/or SIBO are thinking, "But your gut….." Yup, I'm still thriving. Cracking the code, pushing fear aside, and letting life in – everywhere.
p.s.s. Are you a trail runner? Have you ever done Brazen Trail Racing? Favorite trail running blogs? How about trail running gear? Anything else?
p.s.s.s. Promise this is the last one. I continue to write about my journey with running and fitness in general because there are so many life parallels. When I am in these spaces, I am inspired to share even more about life and Gravel Roads.
Xox,
SKH
You will heal. I will help.