Is Mompreneur life for you?
This is a question so many of you are currently asking yourselves. I know because you ask me if it's worth it and also how you, too, can do it. So today I wanted to lay it all out there.
This summer I wrote my top 7 ways to support Mompreneurs. In case you haven't read that post yet, check it out HERE.
I'm often told how "lucky" I am that I get to work from home, for myself, make the rules; you know, all of it. I'm not lucky. I created this set up, and what I'll say about it is that along with the pros, there are definitely cons. I'll start by sharing them with you.
Note: While in many ways I fall under the Mompreneur category, in many other ways I don't (instead simply just an Entrepreneur). I believe that most people think a true Mompreneur is a mother who runs her business and has her children at home with her sans at the child care Caulfield North. My children are not at home with me during the day. I think that's the only true Mompreneur criteria I'm missing.
Mompreneur Pros and Cons
Click HERE to save these for later.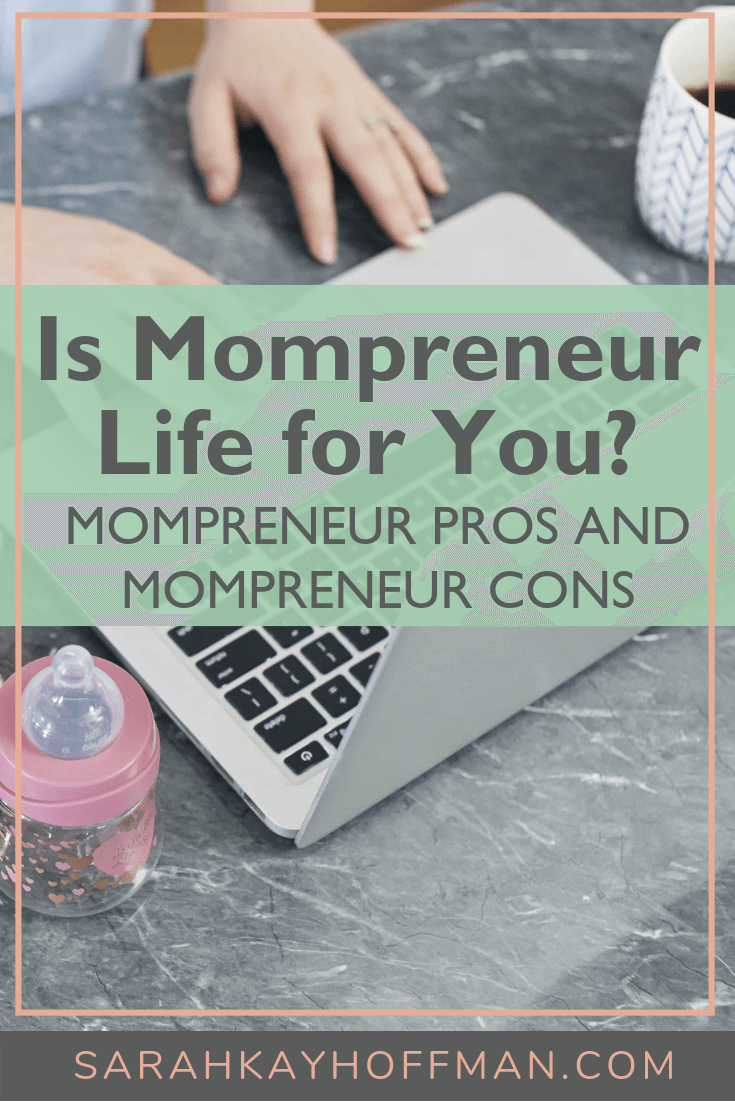 Mompreneur: Pros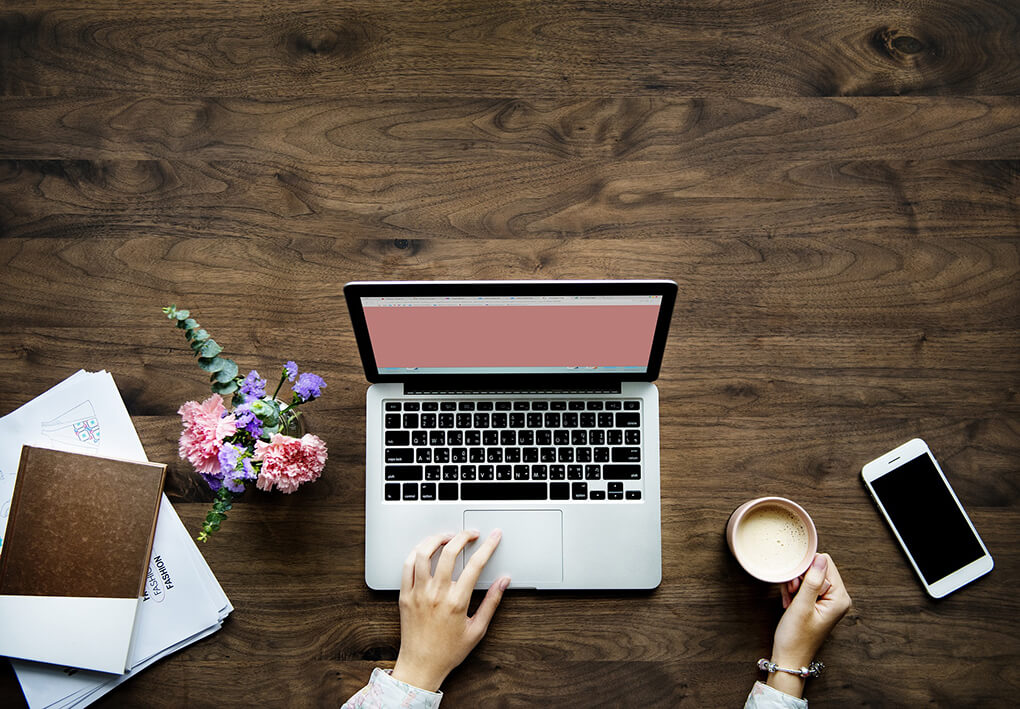 I can work whenever. My days are not limited to 8-5 pm. This of course means that whenever the kid's have something going on, I can choose to do it with them or be there for it. It means that if I want to workout at 9 am every single day, I can. No one can ever tell me I have to be anywhere at any given time.
I can work wherever I want. There is no confinement to the desk of an office building where I have to report on a daily basis. I do have my own work studio, but even at that, I definitely am not there everyday. The choice is mine; I can work at my studio, a coffee shop, at home, or on vacation. Anywhere and everywhere works perfectly.
I can make as much or as little money as I wish. This is true for most Mompreneurs. We set our own rates (for consulting clients) and then our own hours as well. I choose how much I want to charge for my e-books, how much I'll work on my blog (pitching new sponsors, etc.) and how much time I'll invest in Beautycounter. All of it determines the amount of money I make, and the more I do (or maybe I should say the better I price and position myself), the more I can make. I don't have a check coming every other Friday for XYZ. They come every single week for multiple different things. ((But by the way, do not believe anyone out there – MLM or not – who, after doing something for one or two months tells you they are "working by the beach" and making a killing. Not. Real. I've been Entre/Mom-preneuring now for over 6 years (since about 2012), and I've had my blog for about 10 years.))
I am inspired daily. Literally. When my alarm goes off (or doesn't because I wake up before it) before 5 am daily, I am so excited to start the day and work. I choose where and how to find inspiration and motivation for every single day. I am obsessed with work and the inspiration I find in and around it daily.
Mompreneur: Cons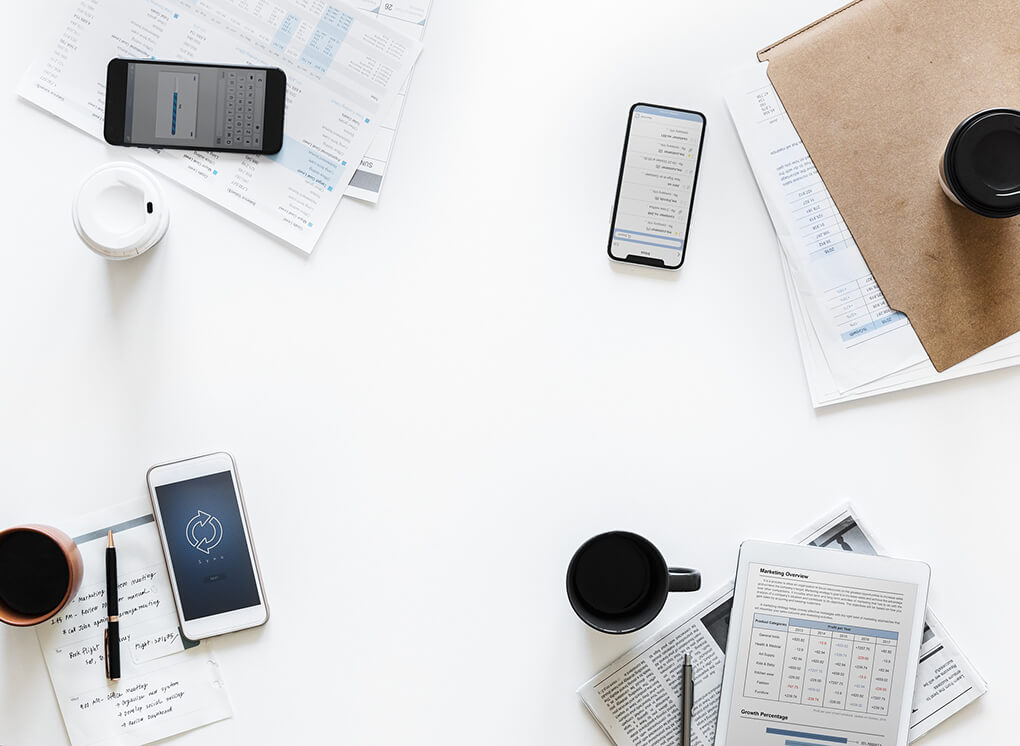 I have zero benefits. Any and all investing for the future is 100% taken care of by Ryan and I. I don't get vacation, sick, or personal days. There is no dental or medical (I have it through Ryan's work, though).
Many people think I just play on the Internet all day, which is a total insecurity of mine, and yet could not be further from the truth. It drives me crazy, but when you don't go to an office and people don't associate you with what you do (i.e. Mary the nurse), sometimes it can be the equivalent of "unemployed" or "making a little side money." You have to be okay with that (and if you want the truth, I'm still not; it is what it is, though).
There is no one to bounce ideas off of all day long. This is one of the reasons I love traveling to clients on site; I miss the interaction with co-workers for ideas and inspiration; collaborative sessions. Most Mompreneurs bounce ideas off their toddlers at home, an online acquaintance and/or friends/mentors in similar positions. Because I've been in a full-time office setting, I know it's not the same.
The chase is addictive. I guess this could also be a pro (because it's one of the things I enjoy most as a Mompreneur), but because there is no ceiling on the amount of money you can make, working more, and more, and more is always an option. 8-5 pm is never an option for me. (My business stands on three main pillars, all of which have an addictive chase, and which I described in detail HERE.)
Admin duties. I remember when I first started working at the gym in California. Sometimes, someone would ask me to make copies of something, answer phones, or any other set of administrative duties. Not only did I hate it, I was awful at it. I'm the worst admin in the world, and I'm not afraid to admit it. But as a Mompreneur, you have to be your own admin for many things. The only person I currently want to handle all billing to clients is myself, but that means that every single week and for multiple things at month end, I have a stack of paperwork that must get completed. I keep track of everything via a Google doc spreadsheet, and when I don't receive checks, I'm also the bill collector. This is my least favorite part of Mompreneurship.
Delegation and/or asking for help and/or childcare. I hate asking for help and being dependent on anyone for anything. If you do, too, this might be a challenge on the Mompreneurship train. It looks differently for everyone, but for me, I ultimately needed to hire a PT assistant and have my children in daycare all day, every single day. I wrote a post on the pros and cons of being a working mother HERE back in early 2017 (and updated it this morning, with this post). I still don't ask for help as much as I should (because it's a con for me and I hate doing it), but these days I will ask as long as I make sure I'm paying said person for whatever I'm asking for help with.
Balance. You have to know how to find some sort of balance between Motherhood and business, and it's extremely difficult. Working is far easier for me than Motherhood is, so on the daily, I battle with finding balance.
The juggle is real. There is this popular Instagram hashtag, #thejuggleisreal, about balancing all the things in Motherhood. This sort of goes along with balance, but I think about this daily. Ryan goes into an office, about 20 minutes from where we live. He is always more than willing to help with things, but day-to-day, for the most part, I bring the kids to daycare and school in the morning, pick the older ones up from preschool mid-day, and then do daycare pickup. I stay home if there is an illness. All of it (which is why I am then thankful for #1 on the pros list because I can work at 4 am to get more in, any day I need to – ahem – today).
Is Mompreneur Life for You?
Click HERE to save this post for later.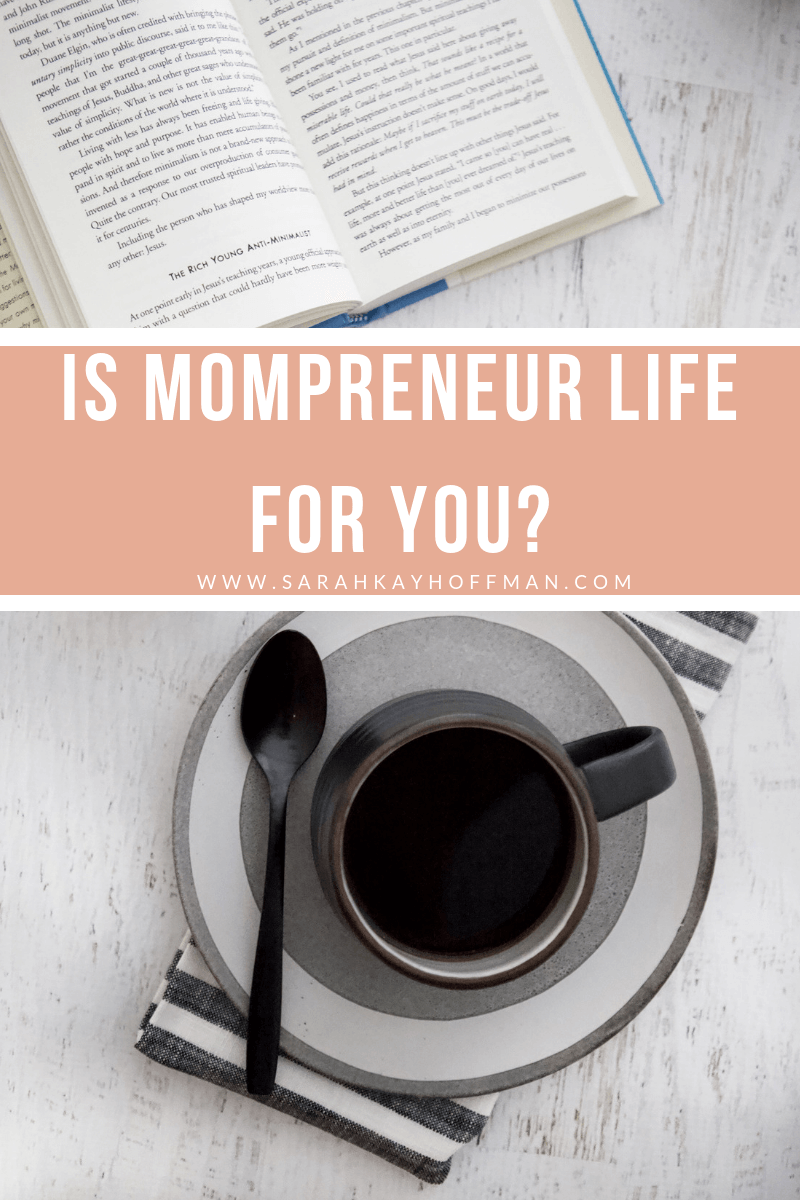 You've read all my pros and cons, so now you get to decide for yourself.
If the answer is, "No. No that Mompreneur life is not for me," then you're exactly where you should be and I applaud you for keeping the path your on and knowing your limits. The truth is that this is not for everyone.
And if the answer is, "Yes. Yes I want in on that Mompreneur life," then start by asking yourself two things:
If you aren't already living the Mompreneur life, what do you want to do and how can you take the steps to start today?
If you are already living the Mompreneur life, how can you grow your business and/or add new things/change direction?
To help with all your "Yes" replies, I have put together 9 Mompreneur ideas to consider.
9 Mompreneur Ideas
Click HERE to save these ideas for later.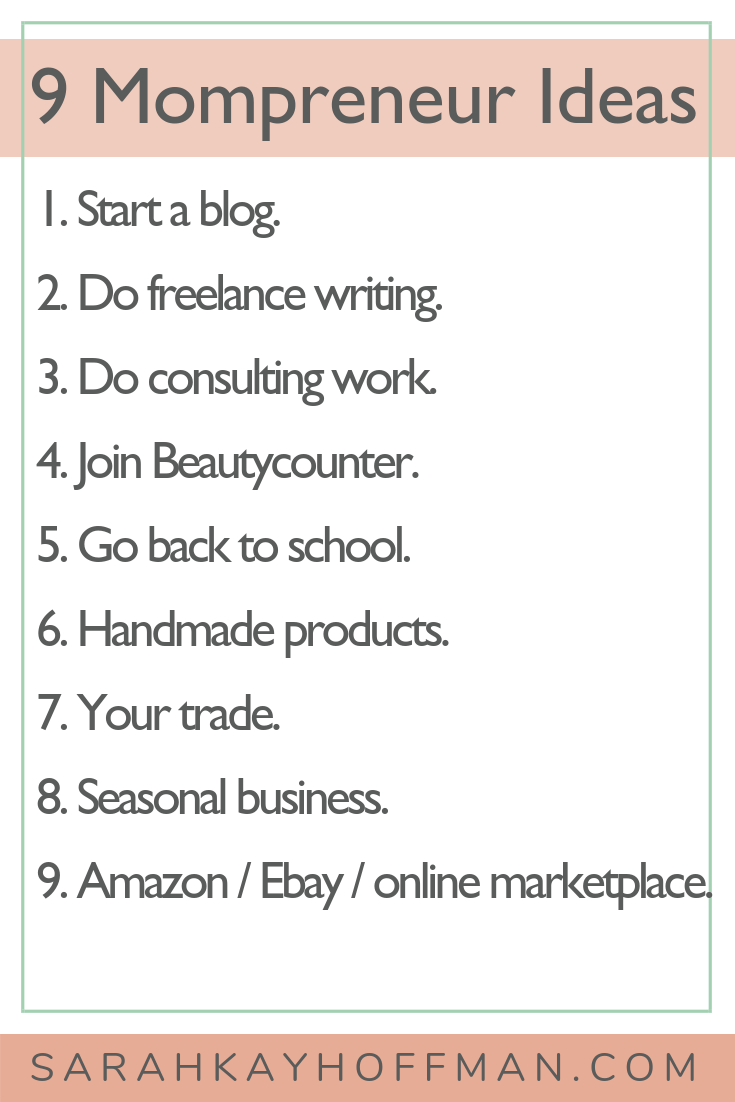 Start a blog. If you like to write and are passionate about something, consider a blog. If you want to know how you make money blogging, read THIS.
Do freelance writing. Don't want all this -ish out in the world on a site you own and operate, but love to write? Then seek out freelance writing.
Do consulting work. What are you really good at? What is your background in? Where do you already have a lot of experience. Seek out consulting work (many times you'll be able to do this from home and build your own business around it). That is partly how I started, and is now how I make the bulk of my income. Marketing. It's always been about Marketing, and that's where I do consulting work today. (Which is also mostly why when my mom says, "What should I even say you do when people ask?" I always reply, "Mom. It's simple. Marketing. Always has been, and always will be." Did I ever tell Y'all that in high school I went to the National competition for DECA – a Marketing organization?!) (Also read: Online Consulting to get ideas for starting your own online consulting.)
Join Beautycounter. (or another MLM) Listen, I know that the MLM gets such a bad name, and quite honestly, with 95% of them out there, I understand why. But there are a few that I think do it right, and of course, I believe that Beautycounter is at the top. Why? My top 3 reasons include: 1. There is no "start up investment." (Seriously.) 2. You can make money all on your own without the need to spam looking for people to join your team a thousand times a week, and 3. The founder is a passionate woman who goes to bat for health, real health, for women everywhere. Do I want you to join Team Gutsy?! Of course I do, but is it critical for my ultimate success? No. (p.s. Click HERE to learn more about joining Team Gutsy.)
Go back to school. Maybe before you can start your own business, you need extra skills and knowledge. In order to pursue my online health coaching business and write e-books with authority, I needed more schooling after my Marketing / Communications / English degree I got from the University of Minnesota. So I went back and became a CHC (Certified Health Coach) from The Institute for Integrative Nutrition. I then continued on with more from the ADAPT program, and even today I want to do more schooling – both for nutrition / health coaching and marketing / food marketing.
Handmade products. If you have a unique skill, consider selling your own handmade products? Online or offline; there is a market for that. By the way, this is sort of how A Loving Spoon nut butters started.
Your trade. Whatever you received a degree / training in, start a business around that. Personal chef? Home Health Care? Administrative Assistant? Personal Trainer? Accountant? Interior Designer? Event Planner? Bridal Consultant? Pet Sitting/ Dog Walker? etc.
Seasonal business. Gift Wrapping services (for holidays – hi, I'll buy!)? Having a fair stand? Tax season Accounting professional? etc.
Amazon / Ebay / online marketplace. Have a knack for the online marketplace? Consider selling your own items or resell online.
I'll Always be a Mompreneur
For me, the only option is this Mompreneur life. The pros have far outweighed the cons even though both mentally and physically isn't not always the easiest option.
Juggling family and work is not easy, and most days I feel like it's my greatest downfall as a mother – that I do work and that I do love it so much.
But on the flip side, I have never missed out on the important school, medical, and other things in Samarah, Isaiah, and Amiya's lives because I don't have to.
If you want to have it all, I believe you can. I don't believe you can be the very best Entrepreneur and Mother on Earth, simultaneously, because it's simply not possible. But you can have a fulfilling, meaningful life as a Mompreneur if you dial it all in, focus, learn to give-and-take, and find (even just a little) balance with it all (again, I'll forever be a student trying to ace the 'Balance' subject).
Questions? Thoughts? Are you a Mompreneur? Do you want to be? Or is it definitely never an option for you? I love hearing all the sides.
As always, CONTACT ME with any questions.
Xox,
SKH