What exactly is the difference between a life coach vs health coach?
In today's wellness industry, health coaches have become increasingly popular. Whether it be for help with your health, fitness goals, life goals, or nutrition, coaches can help guide and encourage you in the right direction.
Since there are a lot of different coaches, it can be hard to differentiate which one fits your needs best.
So today we are going to focus on two common coaches, life coaches and health coaches.
---
Your Best Life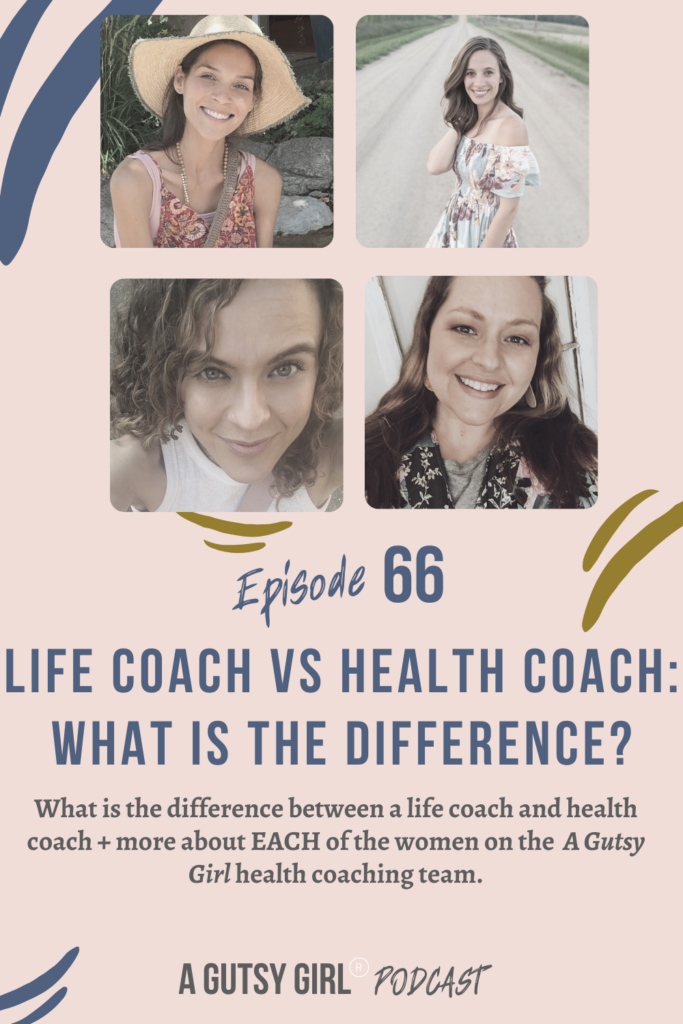 Before I get into the nitty gritty, I want to share a brand new podcast episode we released today to go along with this topic.
For this last episode of the year, I brought on the 4 women who are part of the A Gutsy Girl health coaching team.
Each one is unique in her own way and if you've been wanting to partner with a coach for your healing journey, today is the day you can learn more about who might be the best fit for you.
I'm so excited to welcome Stephanie, Melanie, Carrie, and Tara to the show.
By the way, to work with any of them, simply go to agutsygirl.com and click "health coaching team" under the "about" section.
Apple Podcasts | Google Podcasts | Spotify | iHeart Radio | RSS
I have included more on each of these incredible women at the end of this post.
---
Why do People Use Coaches?
Individuals often turn to coaches to help them manage weaknesses in their own lives.
Coaches are specialized to help you in their respective areas of specialty, which makes them a great choice for anyone struggling with their health, career, or personal life.
While they do not concentrate as much on emotional coping methods, they do useful things such as goal-setting and stress-management techniques to aid clients. This is a great foundation for anyone looking to improve an area of their life.
I honestly wish I had used a coach in my own personal gut-healing journey. I think having someone who supports both your physical and mental health is beyond helpful for healing. You really don't find that kind of support in most health professionals.
Finding someone that is concerned about how the pieces of your life contribute to your overall health is something I believe more of us need.
What is a Life Coach?
Life coaches focus on a lot of different aspects such as wellness and one's personal life, but their main goal is finding someone's passion and drive for life.
Their emphasis is on helping their clients find what drives them so that they can help make specific goals. These goals often fall under the umbrella of either personal growth or professional goals.
It is a broad field that focuses more on growth and goal-setting. The main clientele includes professionals who need help in their career journey.
Most organizations employ life coaches in order to help their workers set goals and intentions. This can be used in a small group or one-on-one.
Life coaching is highly individualized and personal. It can help provide motivation and guidance on the next steps to take in one's life and how to get where they want to be.
What is a Health Coach?
Health coaches focus the majority of their attention on balancing the different aspects of one's wellness such as emotional, social, and physical.
They attempt to hone each of these factors and establish better habits in each sector.
They promote a healthy lifestyle by encouraging positive behaviors that are sustainable both emotionally and physically.
One of their main benefits is picking up the slack from physicians or any sort of doctor. Doctors are notorious for writing a diagnosis, prescribing medicine, and then leaving it at that. It's not their fault, but it is very common.
However, oftentimes patients need to make actual lifestyle swaps to support their health, which is where health coaches come in.
They can help find ways to promote good health through means other than just pure medication.
Almost anyone could use a health coach in their own life, but some common clients include those with chronic diseases, health issues, or anyone needing nutritional advice.
These coaches can help manage both the emotional and physical aspects of health issues, which is extremely helpful as the two often go hand in hand.
Many people underestimate just how taxing the mental side of an illness can be, but it can truly be the difference between healing and staying stuck.
Health coaches can help encourage a healing mindset and help you stay on track for healing or managing your condition.
Types of Coaches
Since health is such a broad category, you can actually break health coaches into further specialties.
These include:
health coach: built on health goals and lifestyle changes
holistic health coach: more integrative approach of combining mind, body, and spirit
wellness health coach: built on ideas of balance
primal health coach: extremely science-based approaches to healing
Any of these options make for a great asset on your own healing journey. However, if you are someone on your Gutsy journey I would personally recommend a holistic health coach.
I truly think viewing health from a holistic approach is one of the best ways to heal. Healing your gut takes a combination of mind and body healing, so this makes it a perfect choice.
Source: HERE
Life Coach vs Health Coach: What is the Difference?
Click HERE to save this post for later.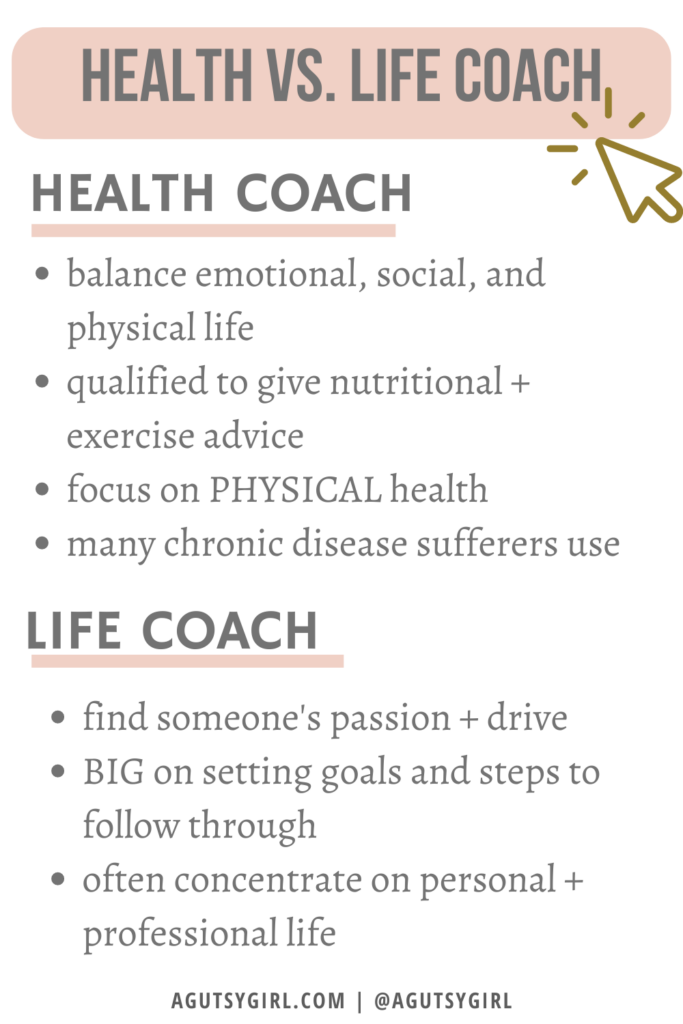 Key Differences and Similarities
As you can see, life coaches and health coaches have some significant differences.
The main difference is their different areas of focus as well as qualifications.
Health coaches focus more on specific health goals and are qualified to give both exercise and nutritional advice. This means they can help manage chronic conditions and would be the best choice for anyone with health issues or the desire to feel their best.
Life coaches are a little broader in that they help with one's personal growth and career path. While they can help make positive changes to one's health, they do not have the authority to give individualized food and exercise advice.
Both coaching practices both use stress management in order to help their clients. This is a foundational practice for both forms of wellness coaching, as no positive changes can be made if stress is running someone's life.
Something we all should be very aware of at this point!
In addition, both health and life coaches also work on lifestyle changes that can promote well-being for clients. For a life coach, this may include small shifts to reach a certain personal or career goal, while for health coaches this could mean making small changes in the gym or nutritionally.
As a whole, health coaches are a bit more specialized in what they do, while life coaches take more of a broad approach to setting goals and intentions.
Both can help set action plans as well as encourage some of the best practices to improve your well-being.
Signs You Could Use a Health Coach
If you are wondering if you are someone that could benefit from a health coach, the answer is most likely yes.
However, here are a couple of concrete signs that you could use a bit of extra health care.
You feel like your health has gone downhill or you envision yourself at a more healthy place
You aren't sure what foods to incorporate into your diet
You have gut issues that you can not seem to shake
You have trouble being consistent in your goals and keeping promises to yourself
You need a support team and feel slightly alone in your health journey
You are constantly tired!!! This is a HUGE sign that you need some health shifts
You feel unsure of how to best workout and move for YOUR body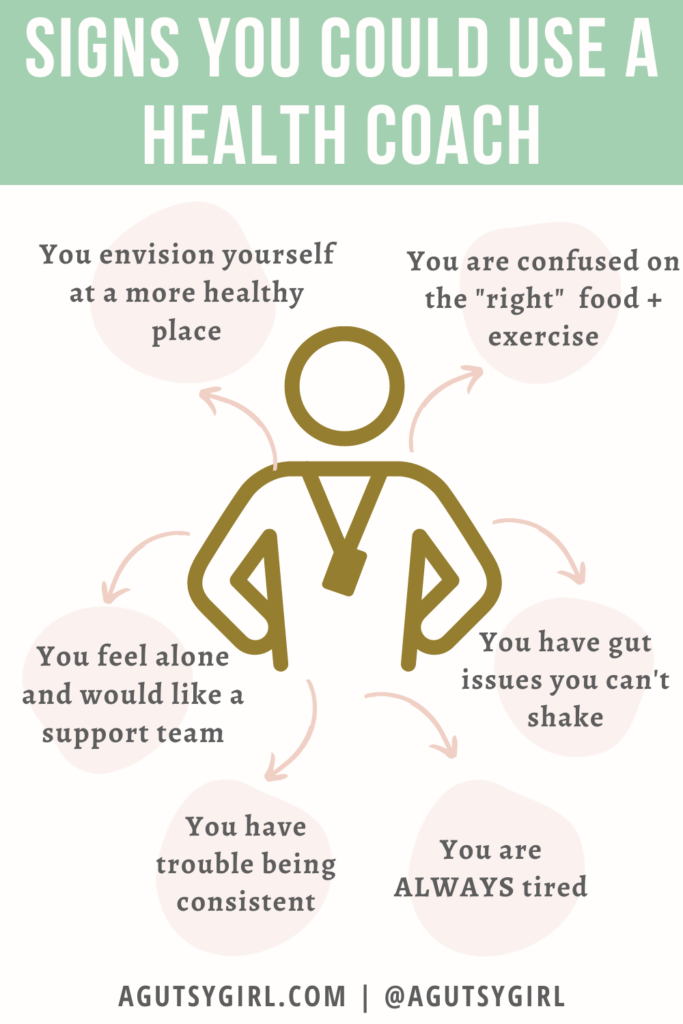 Luckily all of these things can be fixed by getting a health coach on your team.
A health coach can truly be beneficial for anyone, as they can help customize fitness and nutrition needs to YOU.
Health is such an individualized concept, so having someone who can tweak things to your individual health can be wildly beneficial.
Who Would Work for Your Goals
If you are someone that is suffering from Gutsy issues, I would turn to a health coach for support with your specific condition.
Since they have more knowledge of all things food, lifestyle, and health, it makes sense to use their expertise for your physical health. They can also help balance your emotional health and other areas of life.
However, if your issue lies more in how your issues are affecting other aspects of your life, a life coach may be more helpful. They can help set reasonable goals in your professional and social life and teach you how to calm down your stress.
Either are great options, it just depends on what you are looking for and the expert you think would be more helpful.
A Gutsy Girl actually has its own team of pre-selected health coaches ready to help with your gut healing. These practitioners are all fabulous choices for any sort of stomach issues. Each one is a certified coach with various certifications, so you can browse to see which one fits your needs best.
Most of these Gutsy health coaches have had experience with their own gut problems, so they know just how debilitating it can actually be. This gives them a unique perspective and understanding of their clients that makes them such great healers!
Click HERE to look at our team of health coaches.
Health Coach Certification
If YOU are looking to become a health coach here are several steps you can take. This is a great option for anyone interested in health and wellness, especially those who have struggled with it on their own.
Experience= empathy.
Get at least a bachelor's degree

Employers prefer coaches to have some sort of undergraduate degree in a related field
This could include things such as health sciences or psychology

Get certified

Find an ACCREDITED certification program (this ensures that it is legit)
Programs last anywhere from a couple of months to a couple of years
Complete and pass the certification test

Work experience

Gain work experience in fields that center around your specialty
Some common accredited programs in the United States include:
If working with someone make sure that their credentials come from an accredited program. This ensures that they went through the proper coursework and training to truly give you the best advice and coaching.
Certification programs should include a variety of courses in health and wellness.
Institute for Integrative Nutrition
Dr. Sears Wellness Institute
Duke Integrative Medicine
Health Coach Institute
National Society of Health Coaches
Precision Nutrition
Mindbodygreen Functional Nutrition Coach Certification
I truly hope that this information helped you understand some of these resources you can use to improve your own health.
By getting plugged in with coaching, you can establish more positive health behaviors and speed up your healing journey.
Source: HERE
More from the Podcast Episode
Here is a little more on some of these top wellness coaches.
I have put them in order for how they appeared in the podcast episode.
Carrie
Consistency over perfection.
p.s. You love her accent, too, right?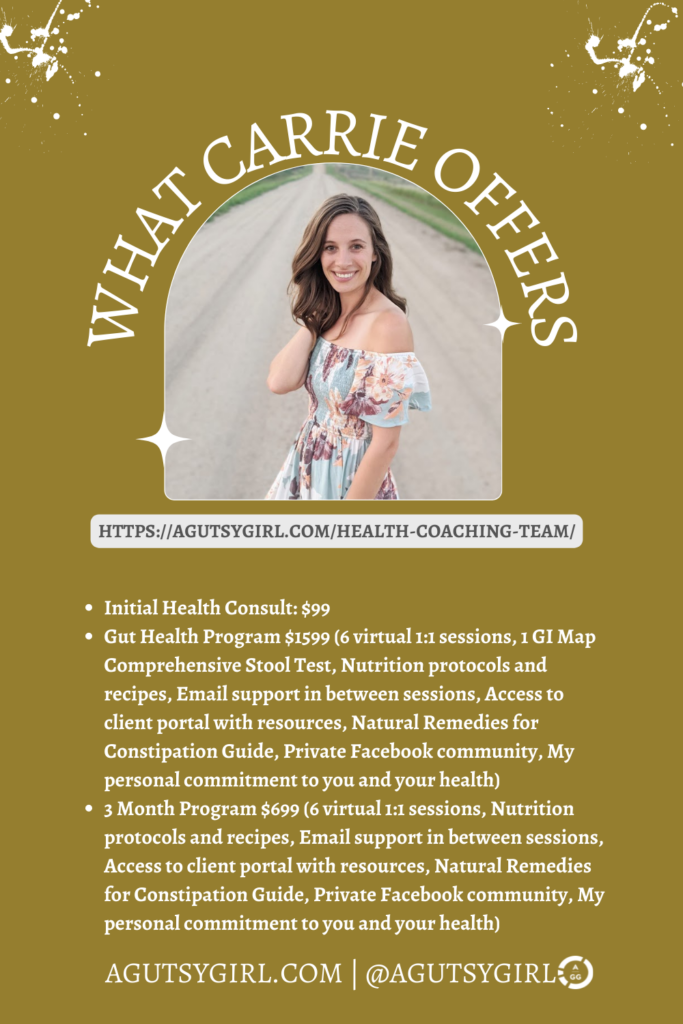 Melanie
Get back to the basics.
I've gotten to know Melanie on a more personal level, and she is incredible. Love her heart.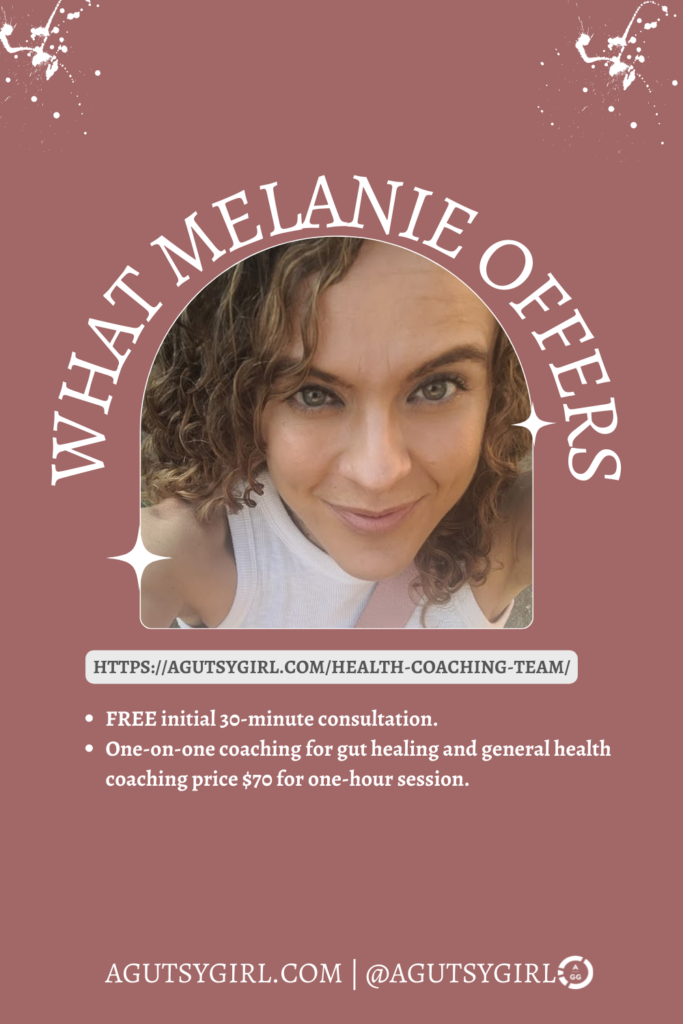 Stephanie
Take things simple and slow.
Stephanie, though I never never her at all prior to all of this, lives only about 20 minutes from where we do in Southern Minnesota.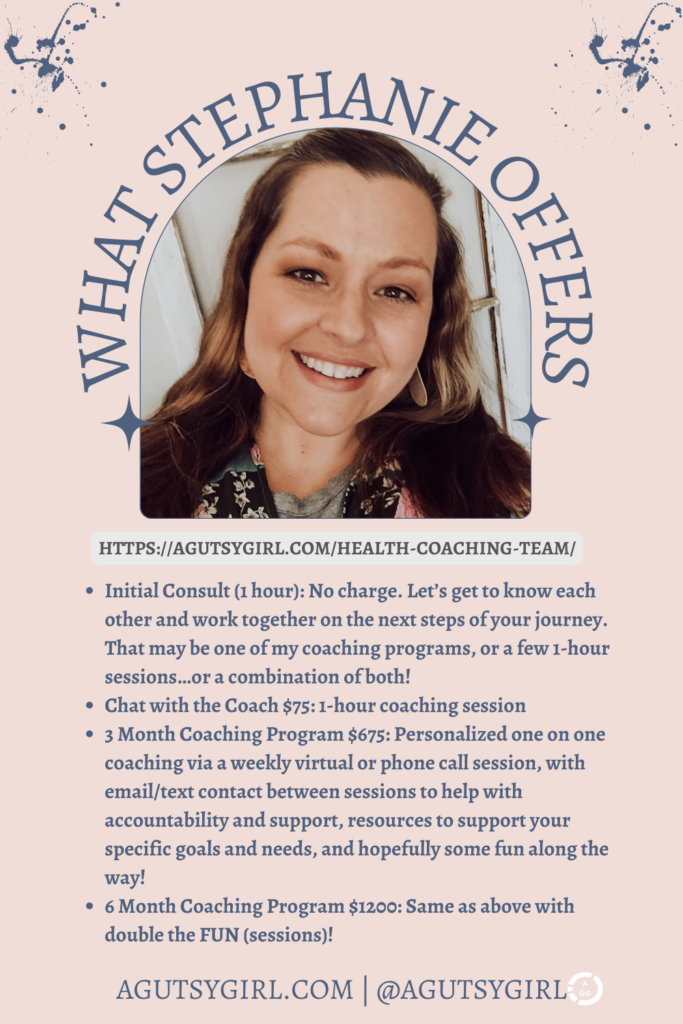 Tara
Perfect your peace.
I love that Tara also focuses on food freedom because we all know know how difficult this journey becomes with food.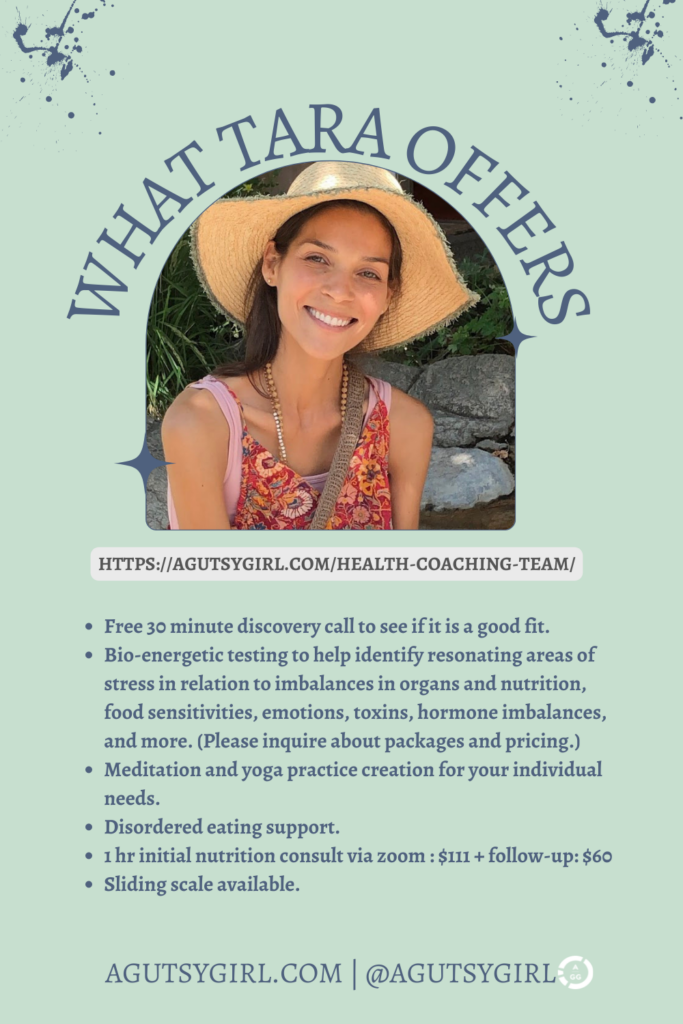 If you liked this post, you might also enjoy:
Xox,
SKH