Looking for the ultimate gluten and dairy free charcuterie board?
Well, it has a twist – a bone broth twist.
And this is so freaking cool.
Charcuterie Board from Gut Healing Heaven
You're probably wondering how I came up with this idea, yes?
Here's how.
The Chili board. That's how.
One day, a Chili board popped up in my feed, and I loved the idea.
But, to know me, is to know that if there is a soup or broth of sorts that I am obsessed with it's, hands down, bone broth – any and all bone broths.
So I had this idea to recreate the traditional charcuterie board meets chili board and create the perfect charcuterie board from bone broth.
Note: If you want a ton more image inspiration, I have dropped an entire gallery at the end of this post.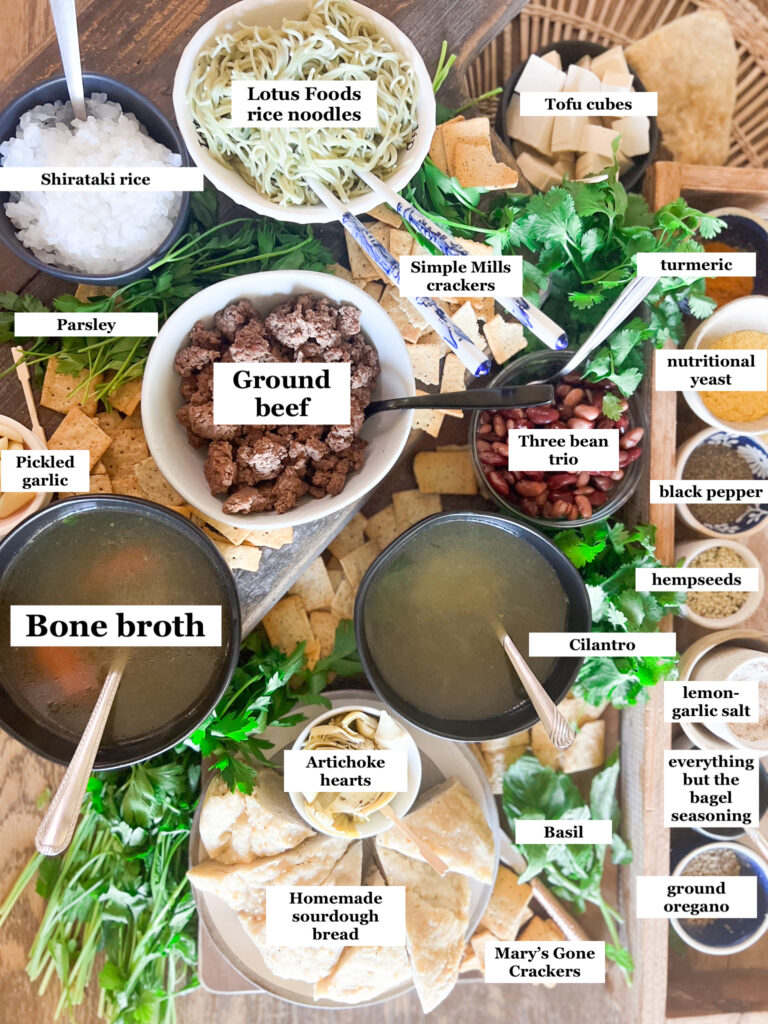 What IS a Charcuterie Board?
Charcuterie, simply refers to prepared meats, and it is the result of humans' need to preserve meat before refrigeration was invented.
The word is derived from the French term "chair cuit," which means "cooked flesh."
And a board is, quite obviously, a slab of material for which something is placed on or about.
Today, the Charcuterie Board can be anything from a meat and cheese board to dessert charcuterie boards, and even random food items placed about a board for any thematic event.
Traditional Gluten-Free Charcuterie Board Meets Dairy-Free Charcuterie Board
Now, if you are making a Gluten and Dairy Free Charcuterie Board, these are the staple pieces you can use:
fresh fruits and/or dried fruits
high-quality vegan cheeses like those from Miyokos
meat products with no added hormones or antibiotics
fresh herbs and spices (for both flavor and design of a beautiful spread)
gluten and dairy free crackers like those from Simple Mills or Mary's Gone Crackers
nuts and olives
fewer-ingredient gluten-free cookies (again Simple Mills makes some great ones)
And while you can make a simple small charcuterie board filled with a variety of meats, dairy-free cheese spreads and gluten-free products, I'm going to stretch your imagination today and tell you to make try making my Gluten and Dairy Free Charcuterie Board that's 100% based off the magical bone broth.
Gluten and Dairy Free Charcuterie Board (with a Bone Broth Twist!)
Click HERE to save this Gluten and Dairy Free Charcuterie Board (with a Bone Broth Twist!) for later.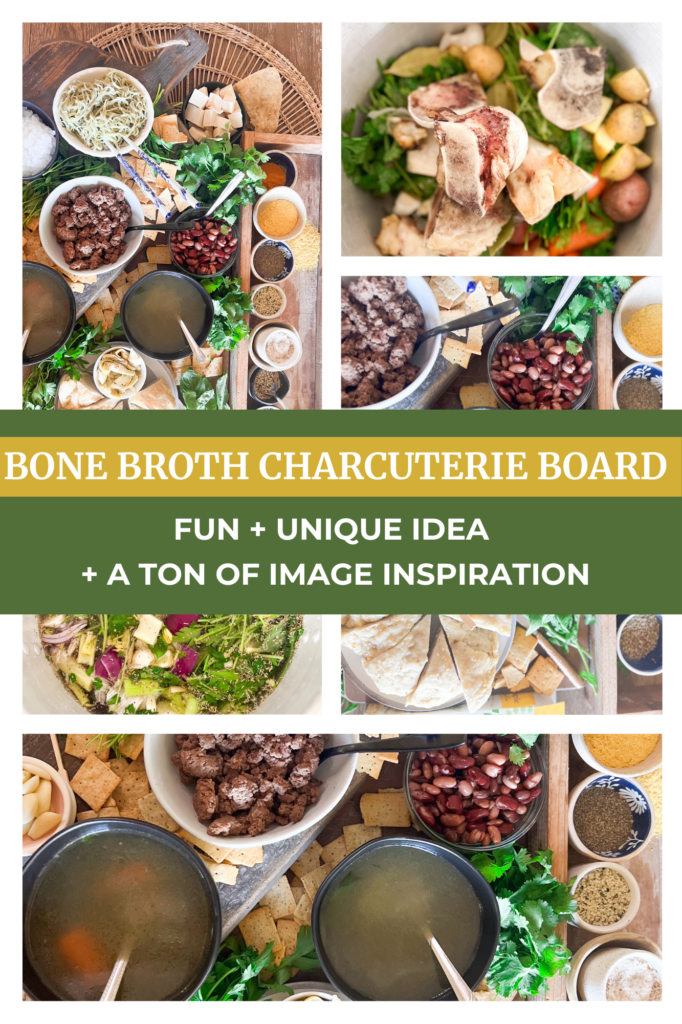 If you want to make the exact bone broth grazing board I did, then you're in luck because I'm giving you my personal favorite today.
Let's cut right to the chase with your shopping list of ingredients needed:
Bone Broth: for this particular Bone Broth, I'm using my personal Beef Bone Broth Recipe for Leaky Gut. I highly recommend this one, as it's one of my favorites, but you can make any high-quality bone broth desired. Alternatively, if you want a quick option for the holiday season or other special occasions event, you could also choose the Kettle & Fire Classic Beef bone broth.

1 pound beef bones
2 tablespoons olive oil
salt
freshly ground black pepper
3 bay leaves
2 garlic cloves, unpeeled and chopped
2 carrots, unpeeled and cut into thirds (if you have the tops, use those, too)
1 celery stalk, cut into thirds 1/2 leek, cut into thirds
red onion, 1/2, unpeeled and chopped
yellow onion, 1/2, unpeeled and chopped
1/2 bunch fresh flat-leaf parsley, chopped
bunch fresh cilantro, 1/2 bunch, chopped 15 cups water
2 tablespoons apple cider vinegar

Sourdough bread (I make my own. Sourdough bread is vegan – i.e. dairy free and you can see how to make it gluten-free HERE)
Mary's Gone Crackers Organic, Sea Salt, real thin (I get these on my Thrive Market delivery)
Simple Mills Almond Flour, Rosemary and Sea Salt (some of my favorite gluten-free crackers – they also have a variety of gluten-free options – these are also obtained from my Thrive Market delivery)
Nutritional Yeast
chives
ground turmeric
hempseeds
ground oregano
fresh, pickled garlic
basil
cilantro
organic tofu cubes
organic beef – ground or steak cubes
artichoke hearts
organic bean trio
rice noodles (I love Lotus Foods Jade Pearl)
Shirataki rice (I get these from Thrive Market, too!)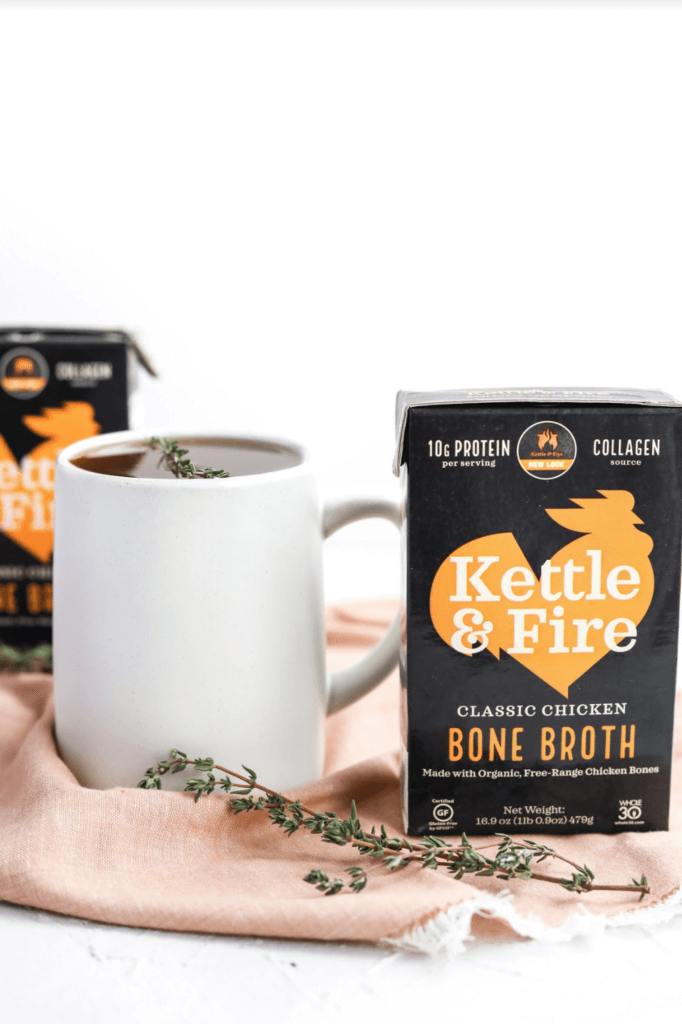 Want to skip making your own bone broth? Choose my favorite high-quality bone broth from Kettle & Fire.
Use code AGUTSYGIRL at checkout to save 20%.
These are the exact ingredients I used – all of which are suitable for those with both a gluten intolerance, dairy allergy, and/or many other dietary restrictions.
You don't have to stop with those, though.
Some other options might be:
dairy-free cheeses (I always have Nutritional Yeast on our dinner table so that's what I used, but you can use something else)
other crackers
salty items like olives
various meats and/or fish
and/or any other flavor profiles / seasonal ingredients you might be desiring
Assembling Your Perfect Bone Broth Charcuterie Platter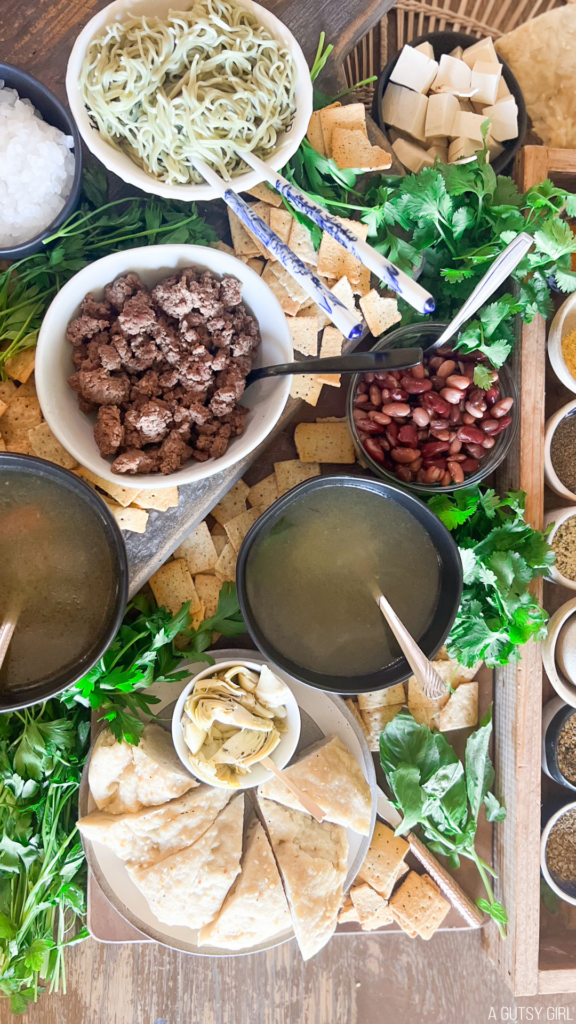 Now, maybe it's just me, but this part was incredibly delightful!
The amount of joy and sense of calm I found while putting this damn good charcuterie board together is almost embarrassing.
But it is my hope that you find the same joy in it!
Here are the pieces I used:
Large wooden board / cutting board
A separate tray for our table condiments
Large bread serving board
Super small bowls for things like the pickled garlic, artichokes and seasonings
Regular-sized black bowls (like THESE)
Chopsticks,
Little appetizer forks
Spoons
I don't have brands for all the bowls and platters because the truth is that my favorite serving platter, favorite snack boards and bowls all came from different local shops (including some from when we went to Italy). Honestly, this is part of the delight….using your homiest, coziest, most personal items!
Anyways, after you have the food prepped, just place is about the table in and on your boards, plates, bowls, anything.
Then, fill in the spaces with fresh herbs, crackers, the sourdough bread, and really anything else that would make great options for pairing with that Bone Broth Charcuterie Board.
Enjoy Your New Favorite Board
All that's left is to enjoy my charcuterie spin-off.
Let me know if you make this, and any additional ingredients you add to your board.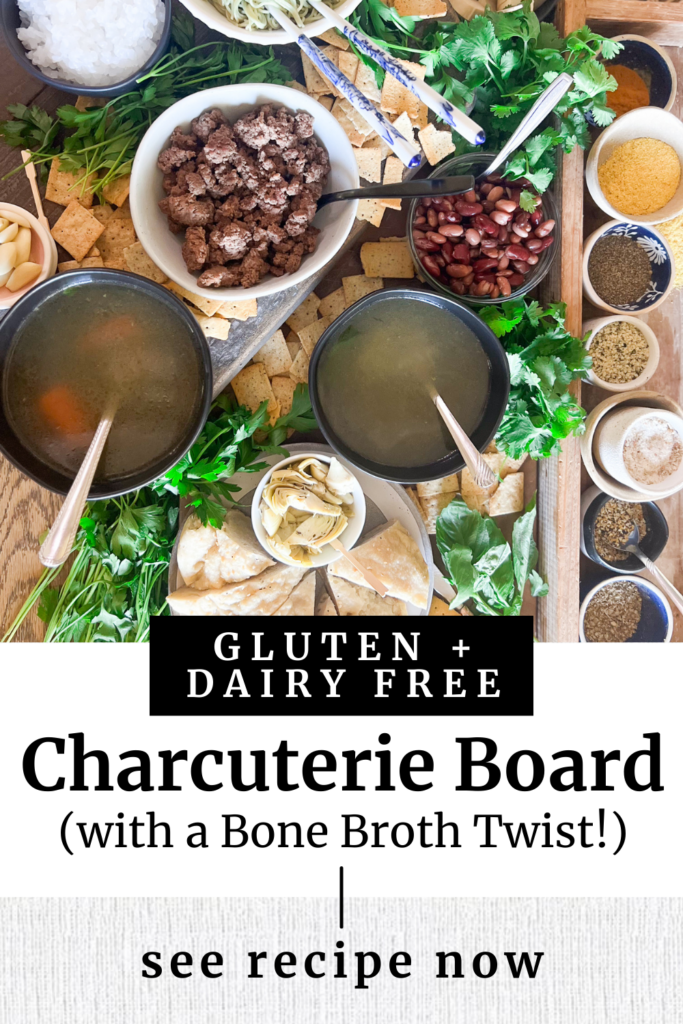 If you like this type of information on gut health routine, you might also enjoy: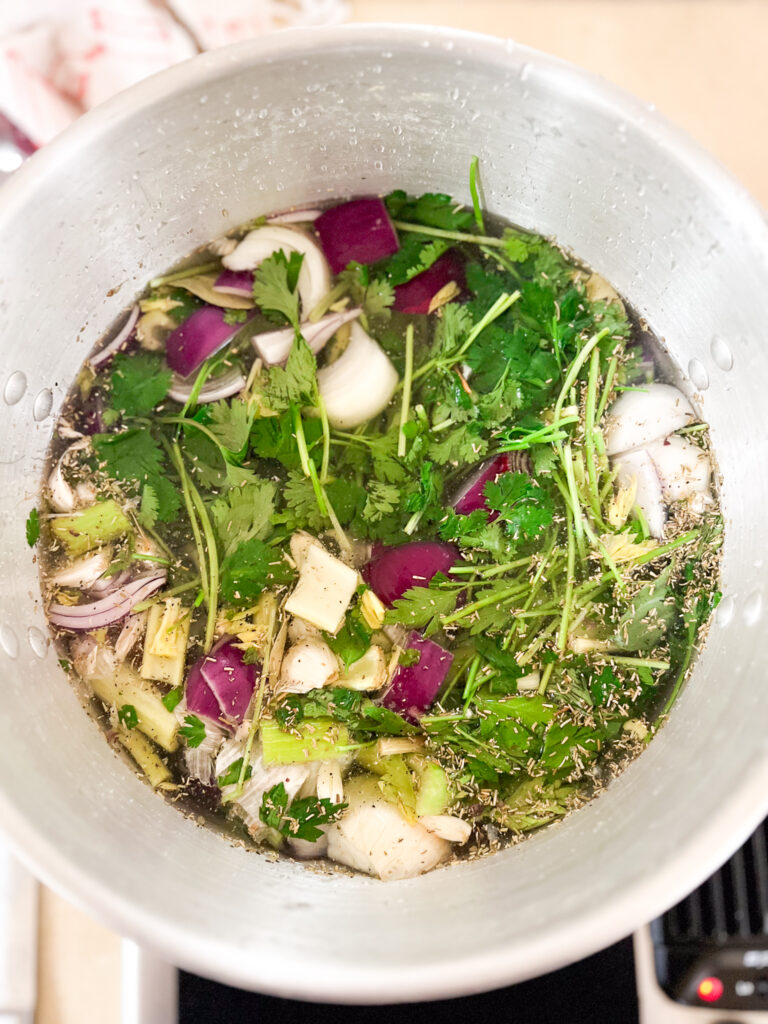 Disclosure: All opinions started here are 100% my own. I appreciate your support, as this compensation helps with expenses to keep this website up and running, and for me to continue sharing all that I can with you. Some of the links in this post are affiliate links. This means if you click on the link and purchase the item, I may receive a small commission at no extra cost to you.
Xox,
SKH
You will heal. I will help.