I'm going to share with you some key ways I've been practicing self-care during massive grief.
You think this is going to be a personal post, but it's actually not – it has everything to do with both gut health and gut healing.
Please believe me on this one. Massive grief is a form of (massive) stress. I've already discussed stress as an IBS and IBD trigger.
I thought that losing my dad last week would be the final straw that would see my SIBO relapse.
After all, it has been almost two years of traveling the nasty Cancer road with him; the final five weeks leaving me all but empty.
Remember, this post is not to share all of those details. If you want them, you can read along with my personal blog at A Thyme for Milk and Honey
This post is to share all the things I've been doing to make sure I don't relapse. And guess what? There are ZERO signs that I will, and I'm so excited and grateful for that!
Self-Care During Massive Grief
Click HERE to save this post for later.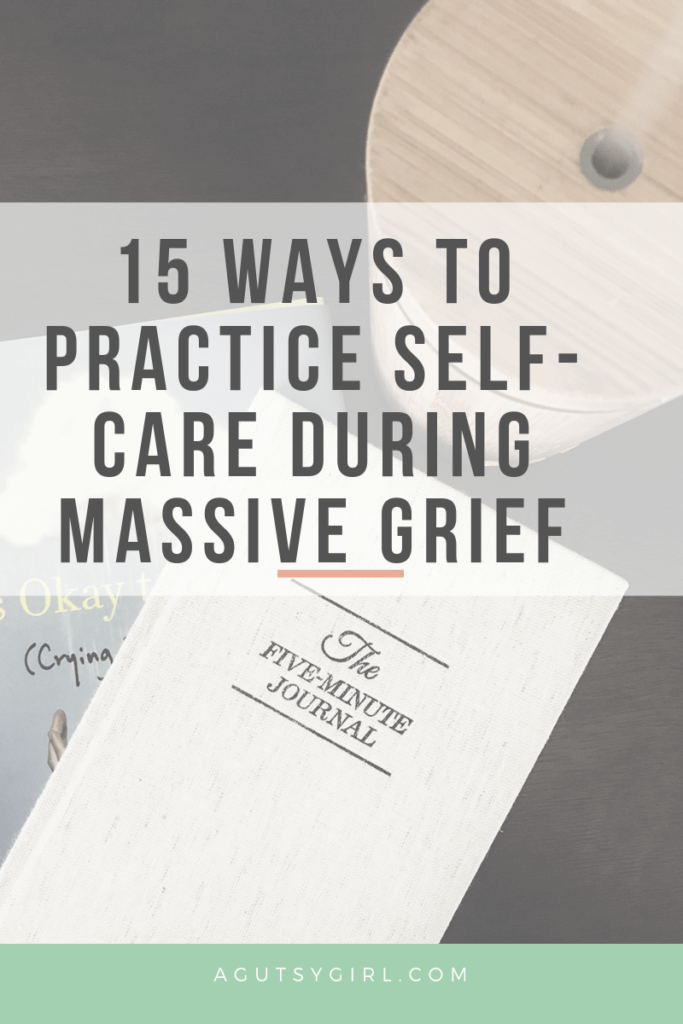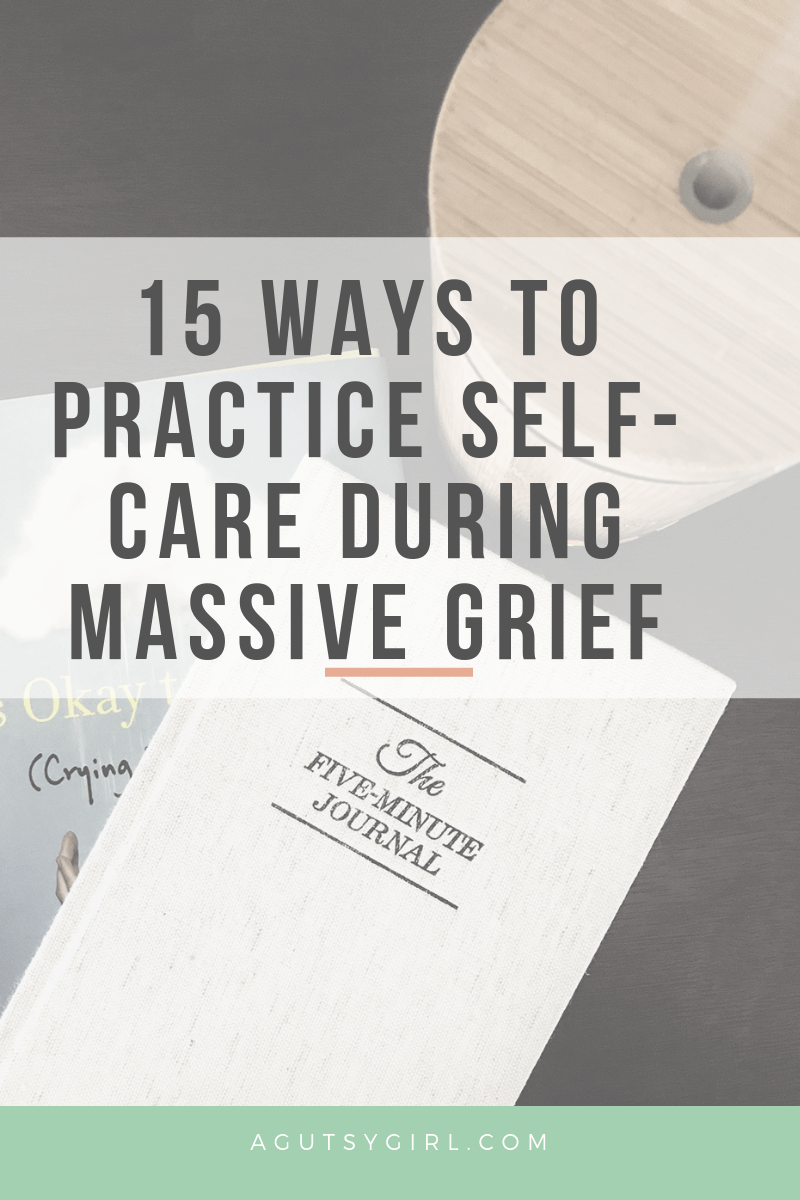 It's very important that you do everything in your power to practice self-care during massive grief. And listen, I know it's not easy. But just as I preach with healing the gut in general, it will totally be worth it.
Wouldn't you rather do some little things each and every single day while grieving than to have a flare up or relapse because you didn't do them? Your stress will only multiply; promise.
15 Ways to Practice Self-Care During Massive Grief
Click HERE to save these 15 ways for later.
Go offline

I've been very MIA during this time. Sure, I've popped in here-and-there on both agutsygirl.com and my Instagram, but nothing I'm used to doing. And guess what? It's okay! The world won't stop, and the Internet is there when you're ready to come back.

Deep breathing

One thing that's very hard during massive grief is staying present. I've wanted to be anywhere but here, feeling all of this. I won't lie. I don't always stay present because it's really hard, but if I can get myself into a groove of deep breathing it's easier. You'll find some of my breathing techniques HERE.

Diffusers

I promise with all my heart and soul that I have diffusers constantly going in our house. Not only that, but I have a diffuser that hooks up to my computer as well. Literally, in our house we have the following diffusers: AromaTru, Ultrasonic, Ultrasonic Glass Swirl USB, Sleepy Puppy, and Real Bamboo. I also have the doTERRA Petal Diffuser. Lavender is what gets infused 90% of the time, and they are all over the house and at my studio.

Keep up with your most important supplements and/or medications

 Of all the things I may have chosen not to do during massive grief, quitting and forgetting to take my most important supplements and medications was not one of them. No matter what, I made sure I took my Probiotic, enzymes, HCL and medications daily. I swear by it. 

Boost the immune system

Stress weakens the immune system. When the immune system is weakened, flare-ups and relapses occur. I took some extra (high-quality) Vitamin C and slept when I could as the main pieces for boosting my immune system. Check out Tummy Soothe. This is another supplement I swear by.

Huh? A lipstick to practice self-care? Um, yes! I even shared this one in the Instagram Live I recently did. Seriously, get yourself a new shade, put it on and see your face instantly lighten up. I have the 9-to-5 and Little Black Dress. See all colors HERE.

Five minute journal

I personally deal and translate emotions through writing, so taking the time to journal and write was fairly easy for me. Even still, I bought a Five Minute Journal to keep by my bedside. In just five minutes, your mood can change.

Read

My friend got me, "It's Okay to Laugh." I'm loving it. So often when I'm stressed or sad, I reach for technology; this time, I've actually been reading more. The bonus is that these are some good words for the soul.

Even less gym

This past Monday I finally did a good leg workout at the gym. Holy mama – I'm still sore from it, and I used less weight than I typically do for that same workout. Why? Because, for the most part, I stayed out o the gym. I would walk the lake sometimes, but definitely did not want to overexert myself during that time period.

Sleep

This one was hard; still kind of is. As someone who has traditionally not had much trouble sleeping, I have definitely gotten less these last several weeks.

I wake up with a thought or memory, and then I can't fall back asleep. That said, on the days when I felt most worn out, I gave myself permission for little cat naps. They made a world of difference. Sleep and gut health are very real!

Eat well, not obsessively

When going through massive grief, starting a new "diet" or obsessing about "doing all the right things" will do you no good. I wasn't even really eating a ton, if you want to know the truth because a lack of appetite oftentimes does accompany massive grief.

I didn't get mad at myself or judge that. Instead, when I was hungry, I made sure to eat the best I could. Sometimes that meant brown rice, veggie burgers (or chicken), and olive oil; other times it meant straight Puffins for days (and yes, THIS pack of 6 just arrived from Amazon last week)!

Succulents

We received two sets of succulents for the funeral. I kept them both. Because I'm obsessed. I have a lot now, so I'm currently researching all about how to care for and multiply them. Anyone have a great succulent book, blog, or video resource to share with me?

If you don't love succulents, that's fine. But something about plants and flowers and really help calm the nervous system.

Farmhouse blogs

While I do my best to stay present, I also have found certain distractions are good for me. In case you never read the story of our house, I talked about how my dad is permanently engraved here via Foundation (<- that was a long time ago before I stopped blogging about personal things here).

Anyways, we are coming up on a year of living here. Some projects have been done, but many are still on the way. All my inspiration is the classic/minimal farmhouse look with a BOHO twist. So I have been consuming all that fun and exciting content. My dad would have loved to watch this all evolve. BTW – I even started a Like to Know It so I could share what we are doing and the style. You can follow me HERE.

Take time off of work

Bereavement – do you get it? If so, take advantage of it. I mean, let's be honest – I really did not. Not because I couldn't, but because I didn't think I needed it. I'm realizing, after the fact, that I did – I do.

I'll be taking time off of work to make sure I'm well enough and under far less stress – in the near future.

Connect

I recently did one of those puzzles, "What are the first 3 words you see." Know what mine were? Strength through connection. Super weird. Anyways, I'm currently finding strength by being outside. It's there where I'm finding the best connection with my dad.

He loved and practically lived outdoors. If you can find your own connection during grief, it can be highly beneficial.
Okay, there are the 15 things I'm doing. How about you? What do you do during massive grief? 
If you liked this post, you might also enjoy:

Xox,
SKH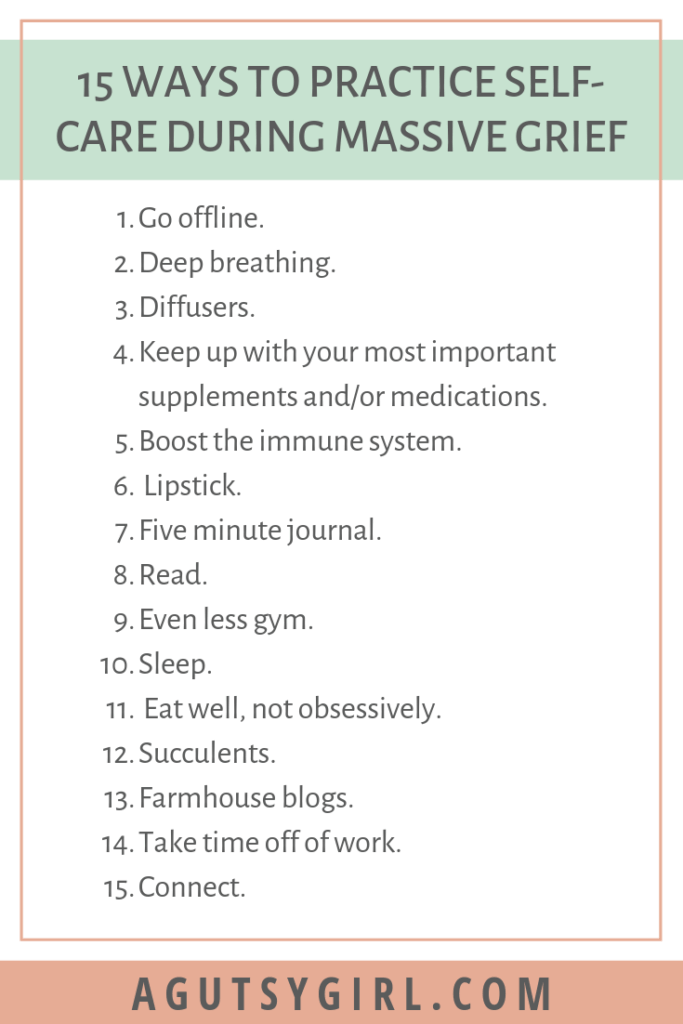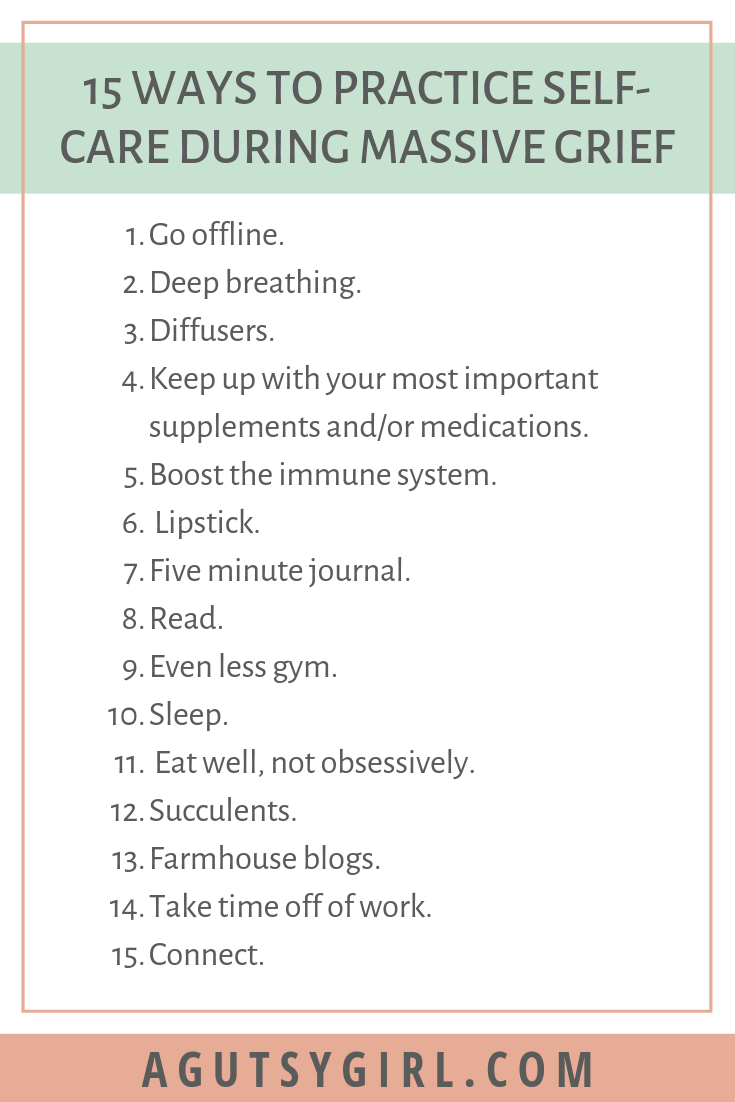 You will heal. I will help.