These Pumpkin Meatballs with a Pumpkin Spiced Sauce is super delish. Oh, you just wait!
I have pumpkin brain today, and I can't wait to share this one with you. 
Turn right around if you don't like pumpkin because today is all about this backyard "vine" vegetable.
Pumpkin
Is a member of the cururbitaceae family (cucumber, squash, cantaloupe)?
Is one of the vegetables which is very low calories;  provides just 26 cal per 100 g and contains no saturated fats or cholesterol; but is rich a source of dietary fiber, anti-oxidants, minerals, vitamins? Recommended by dieticians in cholesterol controlling and weight reduction programs. (source)
Help with digestive health? (source)
Contain: Vitamin A, Vitamin C, Magnesium, Potassium and Zinc and Fiber? (source)
Contain Zea–xanthin, which is a natural anti-oxidant which has UV (ultra-violet) rays filtering actions in the macula lutea in reitina of the eyes? Thus, it helps protect from "age related macular disease" (ARMD) in the elderly. (source)
Pumpkin is a fall stable around our house. Many of my recipes use it even year round, as pumpkin is also a great egg replacement. If you are intolerant to eggs, consider this amazing vegetable.
'Tis the season to create recipes with as many of the favorites as possible.
I love turkey meatloaf muffins. Because I'm constantly noshing on them, I figured I might as well pumpkin(ify) them. And then pumpkin spice it up.
Is this basic enough for Y'all yet?!
Pumpkin Meatballs with a Pumpkin Spiced Sauce
Click HERE to save this recipe for later.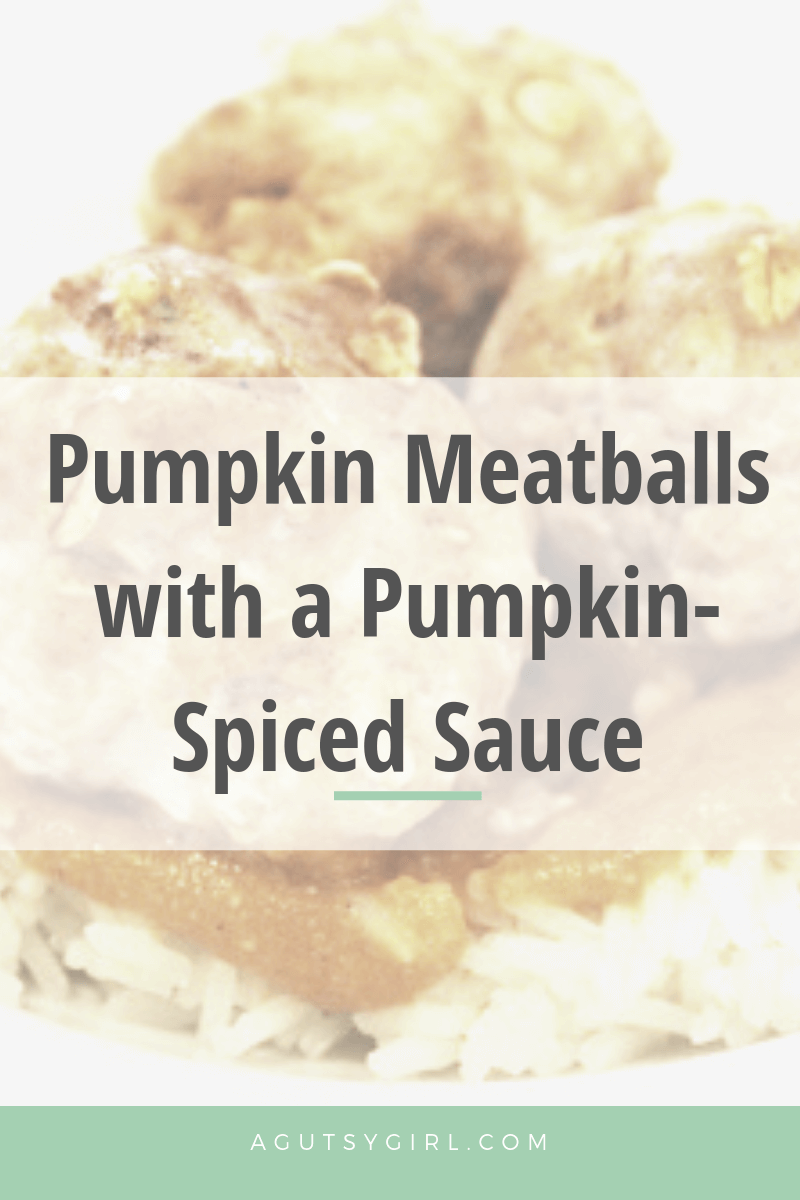 Pumpkin Meatballs with a Pumpkin-Spiced Sauce
Author:
Sarah Kay Hoffman
Prep time:
Cook time:
Total time:
A fall-inspired meal, full of warm pumpkin and spice flavors.
Ingredients
Pumpkin Meatballs
1.25 pounds extra lean/lean ground turkey
½ cups pumpkin
⅓ cups gluten-free oats
½ teaspoon cinnamon
¼ teaspoon nutmeg
sea salt to taste
Pumpkin-Spiced Sauce
2 cups pumpkin
2 cups unsweetened vanilla almond milk (you can use more or less depending on how you want your sauce)
1 tablespoon coconut flour
cinnamon to taste
pumpkin pie spice to taste
sea salt to taste
2 tablespoons raw honey
Instructions
Preheat the oven to 400 degrees.
Mix all meatball ingredients together by hand in a bowl.
Cover an oven-safe pan with tinfoil and lightly coat with olive oil.
Form the meat mixture into meatballs and place on the pan (I made ours big enough to form 12 meatballs).
Bake for about 25-30 minutes (mine took 28 minutes).
While the meatballs are cooking, prepare the pumpkin-spiced sauce.
Add all pumpkin-spiced sauce ingredients (except for 1 cup of the milk) to a pan.
Heat the sauce on low; stir very frequently.
Continue to add more milk, depending on how thin you want your sauce (I used the full 2 cups).
Serve the pumpkin meatballs with pumpkin-spiced sauce warm.
Notes
Optional: Prepare rice, quinoa or other pasta as well to use as a "bed" for the pumpkin meatballs with pumpkin-spiced sauce. I used plain white rice because I didn't want any flavors to compete with the main meal. The white rice worked perfectly!
Pumpkin Meatballs with a Pumpkin-Spiced Sauce Process
It only makes sense that I begin this photo-series with what is undeniably the staple fall scene at our house. Like this isn't common in every household?!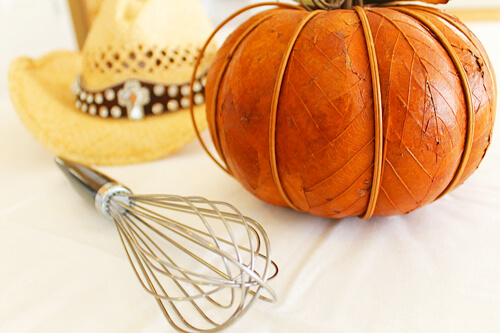 Preparation. Pre-Cooked. Cooked.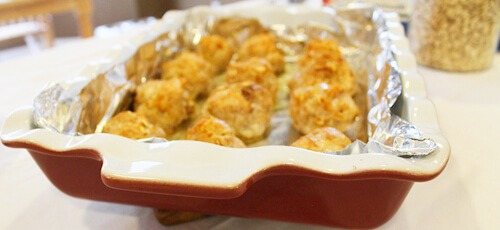 Fresh out of the oven.

Bed of white rice. Plain and simple.
And at last…..we eat, indulge and enjoy every single bite.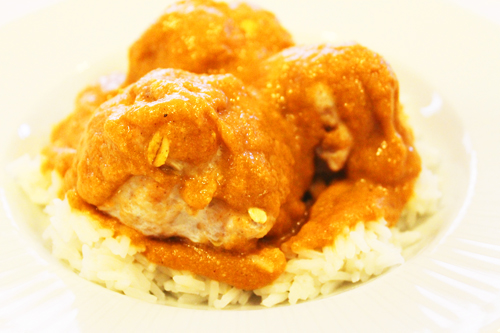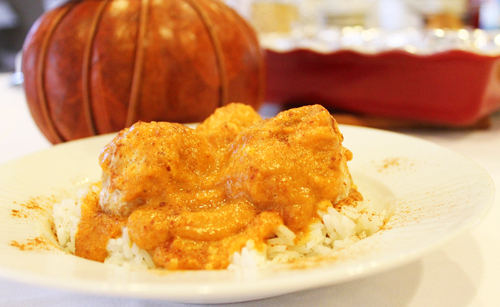 Your turn. Time to eat, indulge and enjoy every single pumpkin-y bite!
Thoughts? Are you crazy for pumpkin, too? If so, then just click [HERE] for all the pumpkin goods!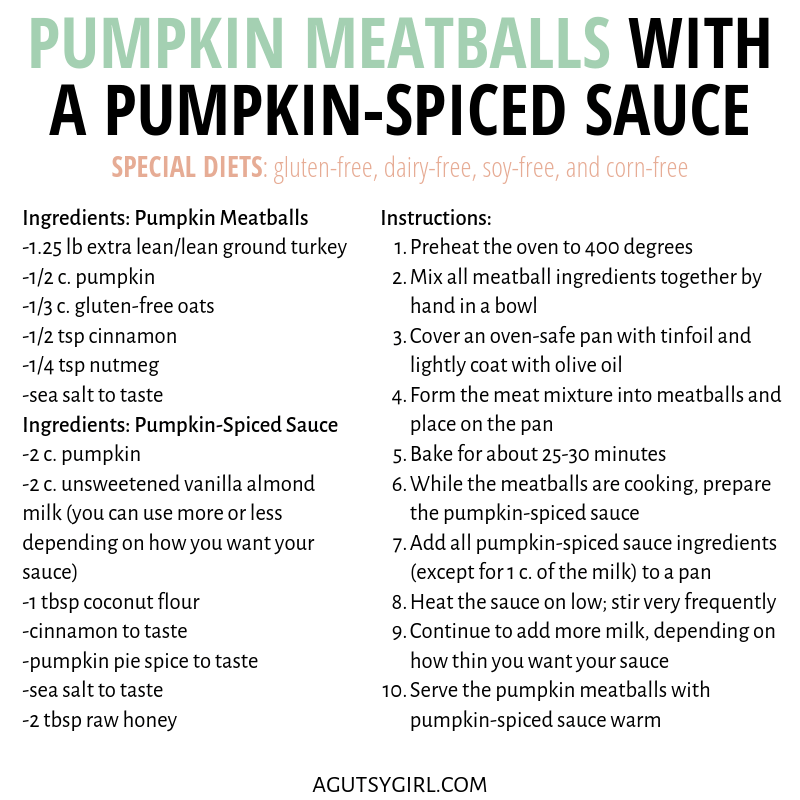 Xox,
SKH
You will heal. I will help.