A Gutsy Girl's Favorites Issue 12 is already here!
A Gutsy Girl's Favorites Issue 12
Click HERE to save this post for later.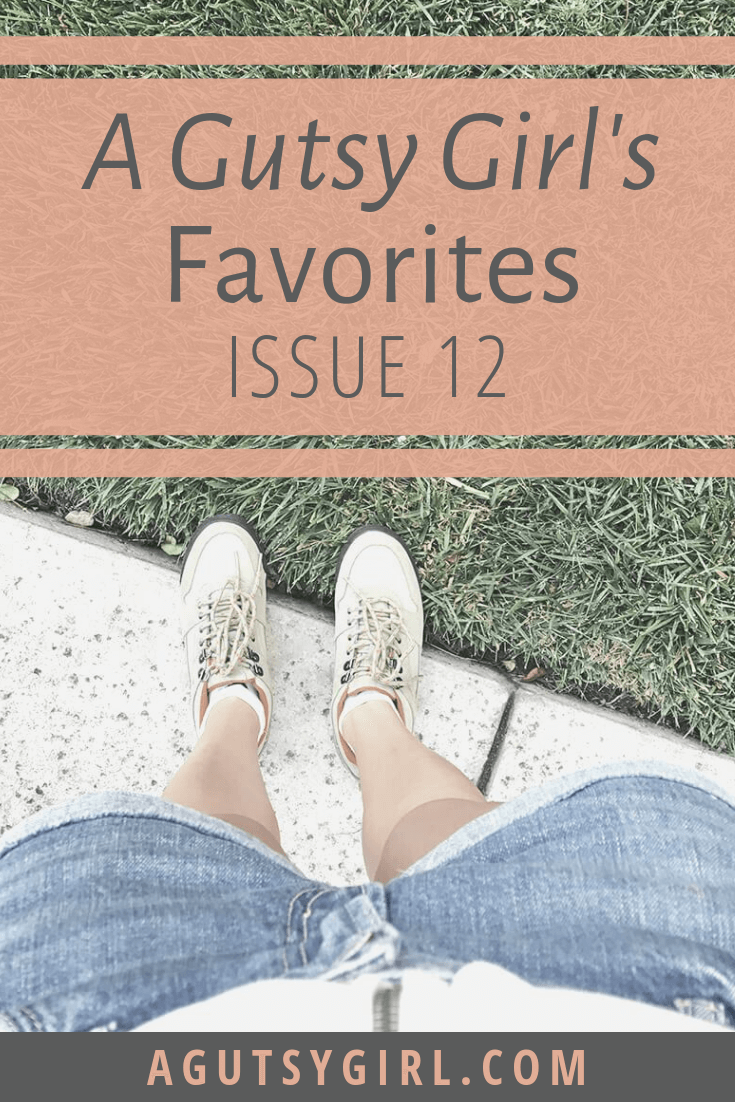 The Art of Memoir. One of my favorite people out here on the West Coast sent me the link to this book. She said I'd love it because, well, you know, Gravel Roads. It looks awesome, and I need to order.
Hiking shoes. Basically obsessed with the Monty Loe Shoe in the Sage/Lichen color from Ridgemont Outfitters. In fact, I need to get another pair or two. I like that style in the blue color + these that are higher. I have been wearing them almost daily, even though I'm not hiking daily. They are so comfortable, and this pair feels "Earthy," which is a look I love. I would recommend them to anyone!
Brazen Racing. Alright, I recently shared with you how much I loved my first Brazen Race. The excitement has not dwindled, not even a little bit. So I'm going for it and racing in the ones on September 2 (yes, next weekend!), October 21, November 4, December 9, and January 1 (all are 13.1 miles and above). I've also decided to make the November 4th one the biggest race I've ever done – 30K at 4,254 feet of elevation. More later.
My new camera. A local photographer friend sold me her Canon 5D Mark II. This is a huge upgrade from what I had been using for all food photography, and I could not be more excited about it!
Califia Pecan Caramel Creamer. I picked this up a couple weeks back at Berkeley Bowl (see below), and I'm not sure how I've ever lived my life without it. We are currently out, but I must get it back in our lives ASAP. It is soy-free, dairy-free, gluten-free, carrageenan-free, kosher, vegan, and BPA-free.
Maybe We All Need a Little Les Balance. I say it all the time, and I'm not the only one saying it, "You need more balance in your life." This article presents a whole other side to the argument, and you know what? It really resonated with me. What are your thoughts on it?
This bowl. We had these bowls for dinner on Wednesday night. Everything about it was perfection, but most notably the beautiful Jade Pearl Ramen Noodles from Lotus Foods (client). It's rice ramen, and no gluten or nasty ingredients are contained in the noodle (which I have to mention because people have been messaging me on Instagram to find out how I can eat ramen.) This is how.
Berkeley Bowl. This is the best grocery store I have ever been to in my life. And I'm sorry that this is only relevant for you in the Bay Area, but I'm basically obsessed. If you are in the Bay Area and have never been, hop in the car today and go. There is an entire side of the grocery store dedicated to produce. Everything you can think of is there, provided in both Organic and conventional. I'm going to a conference in San Francisco today and hoping to make a pit stop there after.
PBJ. Don't even ask me why, but there are days of the month when I just crave a PBJ. I recently created and published both the Purely Cacao Peanut Butter (yes! The original A Loving Spoon recipe) + a Raspberry Chia Seed Jam, and then I took this photo. Everyone has been asking about the bread. This is Dave's Killer, which is not gluten free, so the littles and Ryan ate this, but when I eat bread, I usually choose the Essential Baking Company Gluten Free bread, Mikey's bread, or anything else I can find that's Paleo or gluten free.
What are you loving this week?
Have a beautiful weekend, friends!
Previous Favorites
Xox,
SKH
You will heal. I will help.