People ask me all the time about the colonoscopy and endoscopy. I say, when in doubt, just do it.
Gross, a colonoscopy?! But why? I'm only 25.
That was my initial reaction the first time I went in for a colonoscopy.
Today, I am so thankful I have had them both done.
On that day, I had a colonoscopy and an endoscopy. A few years later I had another endoscopy. And then in 2018 I had another colonoscopy and endoscopy.
The Colonoscopy and Endoscopy
Click HERE to save this post for later.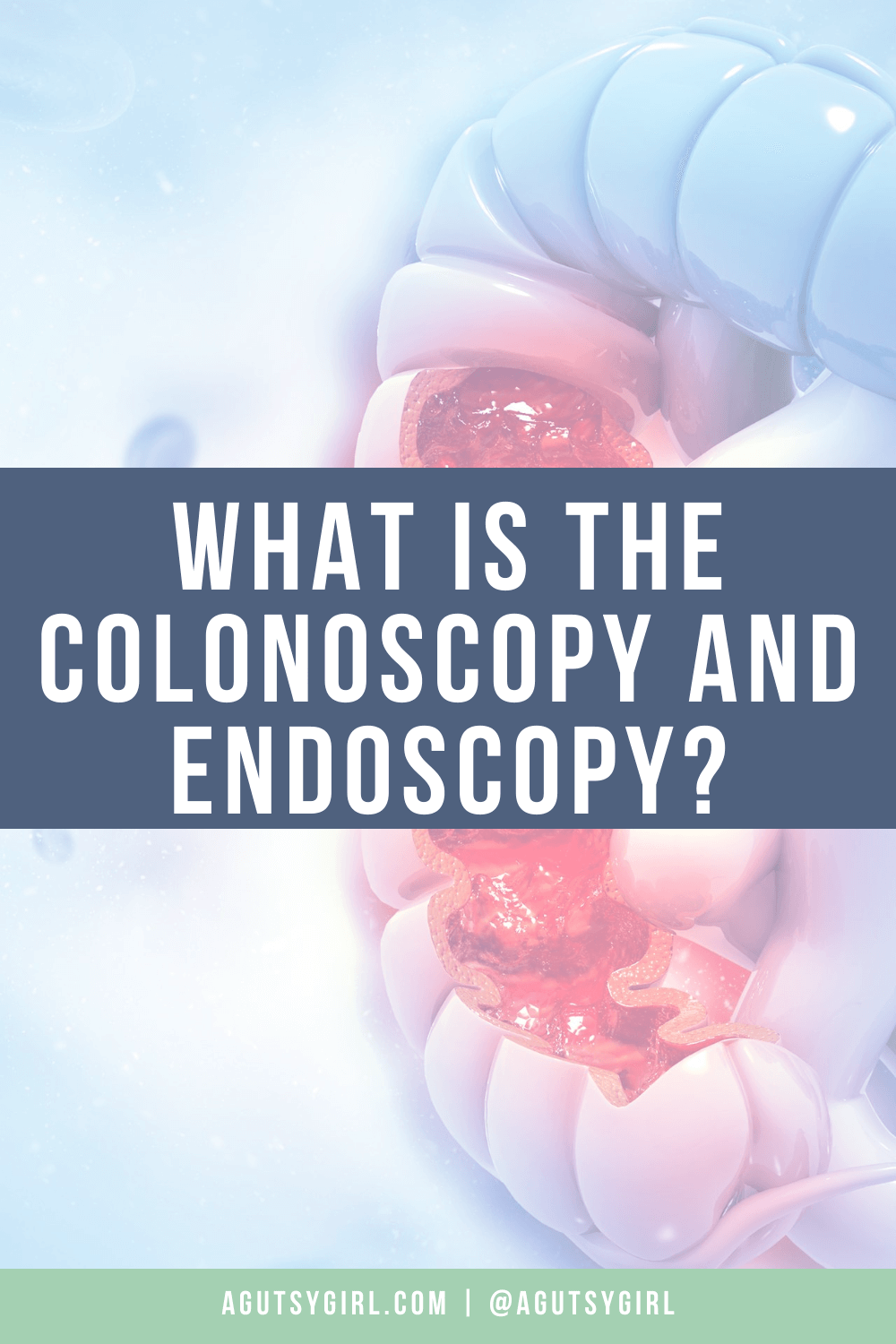 One of the very first things I recommend people do when something is not right is to get an appropriate diagnosis. Don't rely on Dr. Google.
If you've been keeping a food journal, your doctor might look at it and recommend getting "scoped." The reason? The more we know, the better. You would never treat (or not treat) many other diseases if you knew you had them, right?
Knowledge is power, and when it comes to fully understanding what's going on inside the digestive tract, a colonoscopy and/or endoscopy might be best.
Step one: find out if a colonoscopy and/or endoscopy are recommended.
Remember, I am not a doctor, but I have been there and done that when it comes to the colonoscopy and endoscopy.
(The below is strictly from my point-of-view.)
10 FAQ's as they relate to the colonoscopy and endoscopy
Click HERE to save these for later.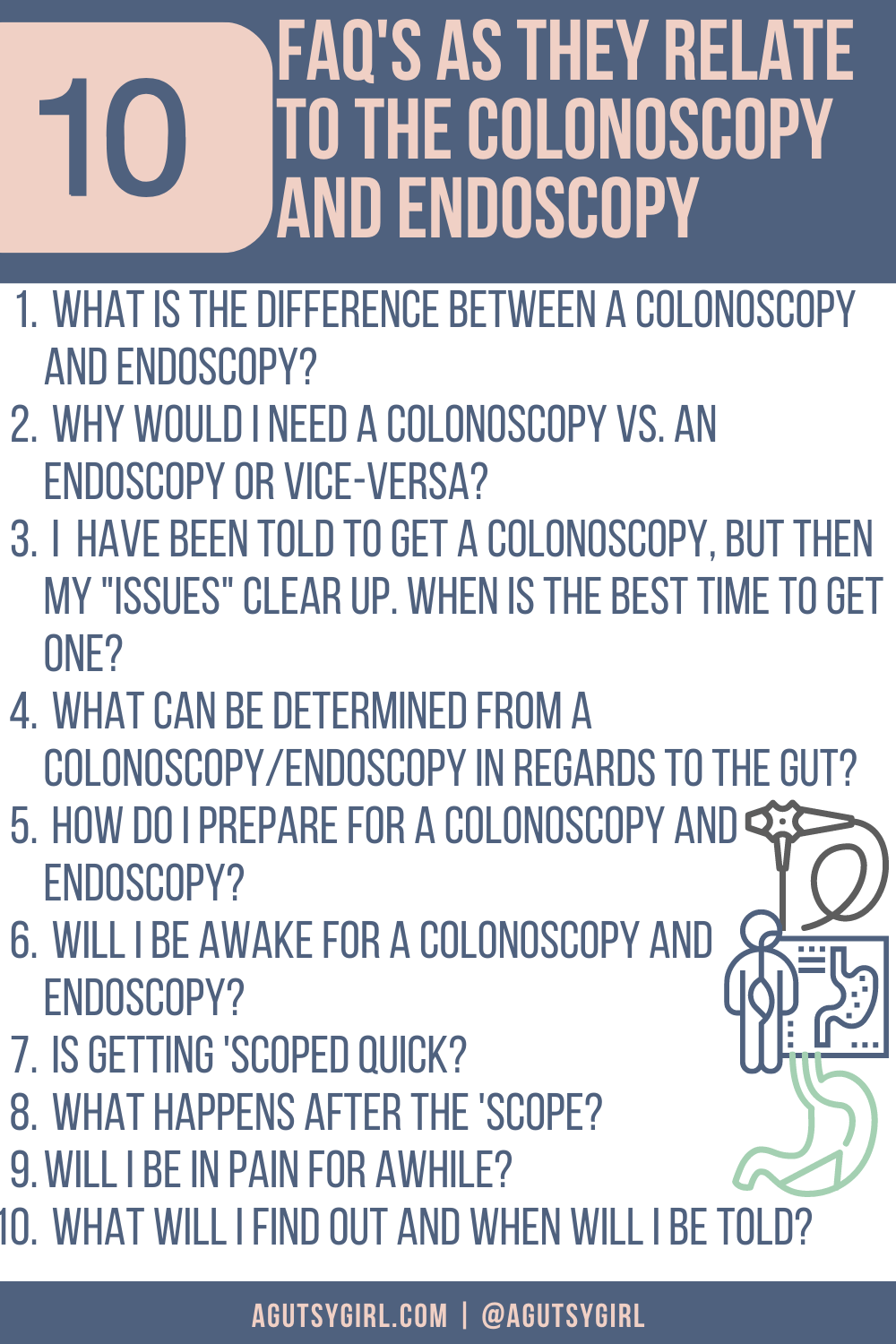 What is the difference between a colonoscopy and endoscopy?
During an endoscopy, a long, thin and flexible tool (endoscope) is inserted via the mouth. There is a light, video camera and telescope on the tool and when inserted travels down your internal organs.
A colonoscopy, on the other hand, uses that same tool, but only this time is inserted via the rectum in order to view the bowels and colon.
The difference is really in what the doctor is looking at and looking for.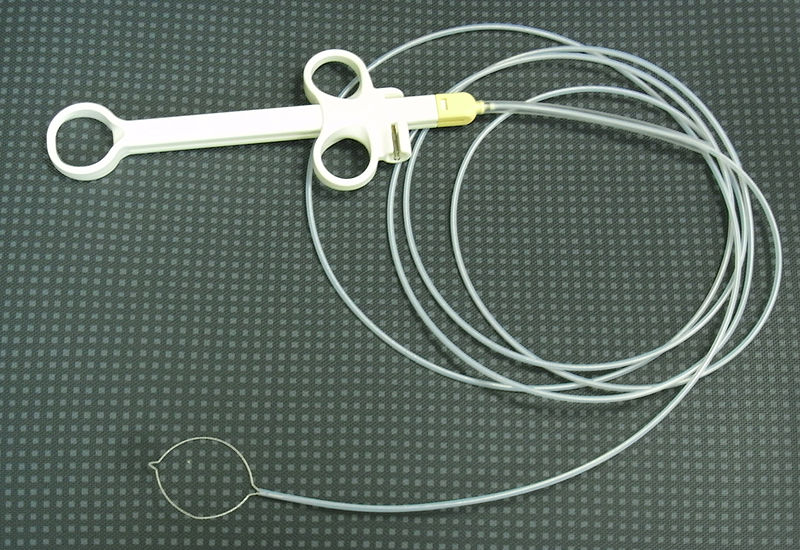 Why would I need a colonoscopy vs. an endoscopy or vice-versa?
In simplest terms, think of it like this: identifying where/if the problem lies, whether it's in the upper digestive or lower digestive tract. Doctor's use it to evaluate symptoms and to check for polyps or cancer.
In my personal circumstances, I had both because Colitis and Celiac were both initially suspected.
I have been told to get a colonoscopy, but then my "issues" clear up. When is the best time to get one?
The best time is now, especially if you have been told you need one. Just because our "issues" clear up, doesn't mean they are truly gone if you haven't done anything to address the problem.
And if you don't know what the problem is, it's pretty hard to address it. It's rare that you might time up a colonoscopy (unless it's an emergency) during a flare up. I was not in flare-up mode when I had my first one; Colitis was still found.
What can be determined from a colonoscopy/endoscopy in regards to the gut?
Almost anything, as it relates to the digestive tract can be determined through a colonoscopy/endoscopy.
Some of these things include Celiac disease, Crohn's disease, Colitis, polyps, general inflammation, ulcers, abnormal growths, and even Colon Cancer.
In addition to the physical images that can be seen, the doctor usually takes biopsies while scoping as well. These then get tested for more advanced issues.
How do I prepare for a colonoscopy and endoscopy?
Preparation for the two is different.
The prep for the endoscopy is really nothing. There could be some rules about the "last time you eat" and medications/OTC drugs, but that's it.
However, the prep for the colonoscopy is much different. It's not fun, nor is it glamorous, but it's important that you follow the doctor's instructions.
The first colonoscopy I ever had was afternoon-ish. I had to wake up very early that morning and start drinking the "poop liquid." <- The real term is just some laxative liquid that they will prescribe for you. But, essentially, it's "poop liquid." It tastes awful. I always describe it to people like a thick, sweetened form of nasty juice heavily infused with salt.
I chugged down several doses, spread apart. After the first couple, I literally gagged at the thought of getting up to drink it again.
At first, my stomach got huge. I was extremely distended and bloated, but then it all started coming out. You have to drink all of it. You might be able to cheat on your workouts and your diet, but you can't cheat here.
Trust me, it all needs to come out. During those several hours, I got extremely cold, too. It was May. I laid on the couch while Ryan placed comforter upon comforter on top of me. The more cleaned out I got, the colder I became. (Note: I've been told that this is not typical.)
And then it was over, and it was time to go in for the procedure.
By the way, see the bottom of this post for all 30 colonoscopy and endoscopy tips and tricks.
Will I be awake for a colonoscopy and endoscopy?
In my experiences, no. I have never met someone who was. However, it is possible that you could be awake for the the endoscopy. In general, at least some sort of mild sedation is used for the colonoscopy.
And to be perfectly honest, I would not want to be awake for any of it.
Is getting 'scoped quick?
Yes, it's very quick. Once you get to the hospital, they get you set up with your fluid-IV right away. You stay like this for a bit so that everything begins circulating.
Once the procedure is ready to begin, you lay on the table, and they have you turn on your side. Then, the total anesthesia begins. You begin to feel fairly cool. You count to five, but before you reach five, you are out.
The actual procedure is only around 20 minutes.
What happens after the 'scope?
You are in recovery for about an hour. If you had an endoscopy you might burp a little. Nothing major.
If you had a colonoscopy, be prepared to have the toots. It's okay. The air is just coming out.
You have to have someone at the hospital to pick you up and take you home. Obviously, you'll be out of it for most of the day.
Will I be in pain for awhile?
I never was, except for my throat burned just a wee little from the endoscopy. Other than that, I felt nothing. I promise.
To be honest, it was actually kind of weird to think about all the random things that were floating around in my body. To feel nothing afterward was bizarre. But it's true. You likely won't have any pain.
You'll wake up the next day ready to face the new day!
What will I find out and when will I be told?
That depends on your current situation. If it's bad enough and there are things which need to be removed immediately, they might opt to do that, while in the procedure (that happened to my dad when he was diagnosed with stage 4 Colon Cancer).
Otherwise, they will see whatever they can with the telescope and grab samples of all other areas to be tested on afterward.
For me, during my very first procedures, they knew right away that I had inflammation from both my colonoscopy and endoscopy. They told my husband and said they grabbed several samples to be sent to the lab. A couple days later I had a follow up with my doctor who told me it was Proctitis.
The endoscopy wasn't addressed much more that time, and that is why I had another a few years later when I was still having problems. (Turns out the real culprit was SIBO, which I was not diagnosed with until years later.)
Just Get that Colonoscopy and/or Endoscopy Done
Get your colonoscopy and/or endoscopy done. Again, knowledge is power.
If and when you are diagnosed with something, the doctor's next step is to get you on drugs and medication. You will have to be the decision maker at that point. For me, it was my biggest mistake. I didn't know any better, got on the drugs, and I got worse.
But for you, you might 100% need it. I don't know your story.
I believe it will really come down to what you have and the severity of the problem.
But guess what?
Avoid these procedures, and you'll never know.
And they can be, literally, life-saving procedures.
Be brave, bold, and beautiful, darling.
Question: What other question(s) do you have? Have you had a colonoscopy and/or endoscopy? What were your experiences?
If you liked this post, you might also enjoy:

Xox,
SKH
You will heal. I will help.