I put together this list of my top 22 Paleo soup recipes because whether it's spring, summer, winter, or fall, soup is always in.
Soup for Gut Healing
I'm obsessed with broths and soups all the time, but especially during any gut-healing phase.
Here are 4 reasons to choose soup for gut healing:
It's soothing for the digestive tract
Provides comfort
Helps with hydration
Packed with nutrition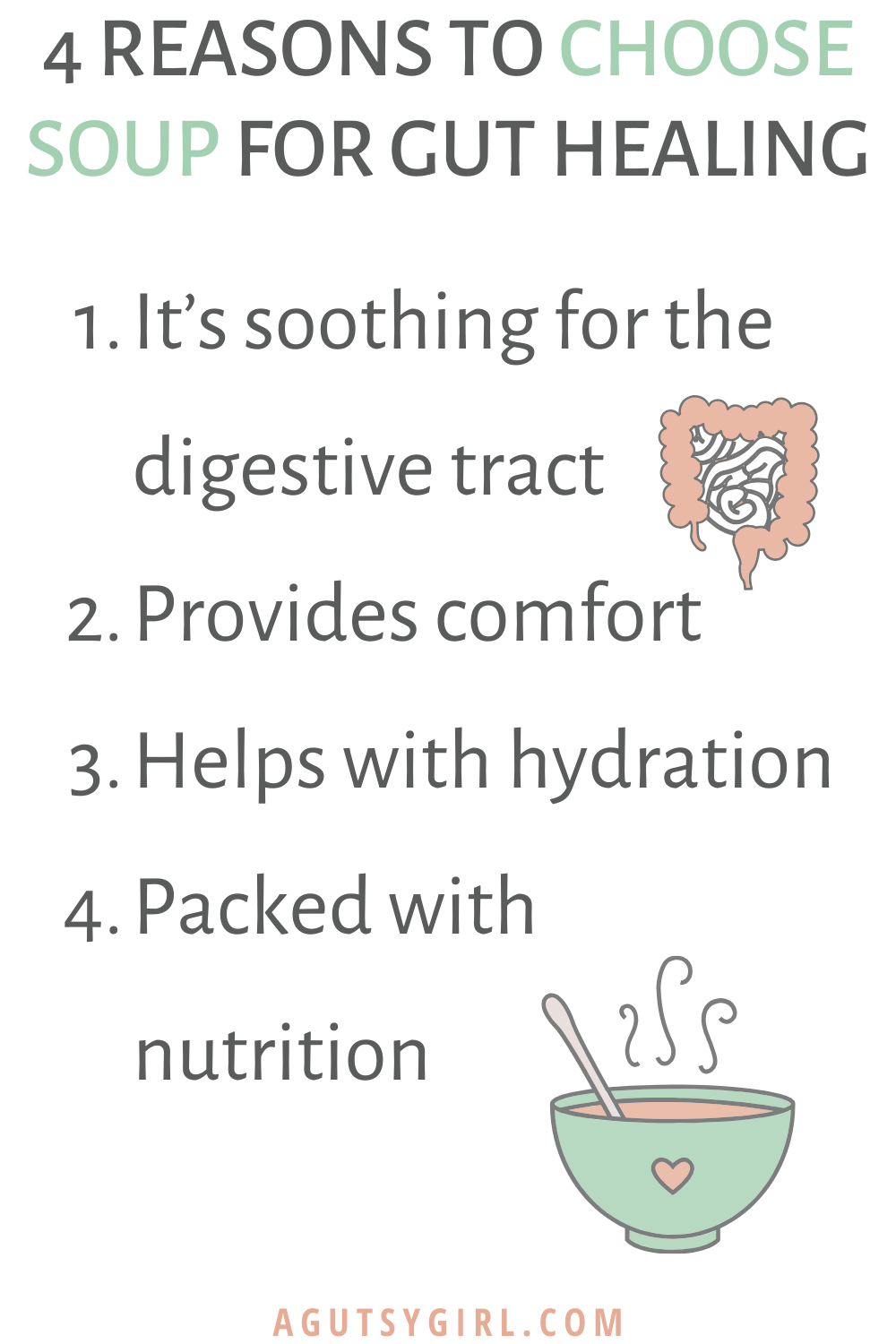 Okay, so with that, I want to share with you the top 22 Paleo soup recipes.
These recipes are a combination of:
my soup recipes
other people's soup recipes
packaged soup (because I'm a realist)
broths and soups
But what they all have in common is that they are Paleo. This means, of course, that they are also all dairy-free, gluten-free, grain-free, and corn free.
Some of them are also vegan, AIP, whole30, etc.
Top 22 Paleo Soup Recipes
Click HERE to save the top 22 Paleo soup recipes for later.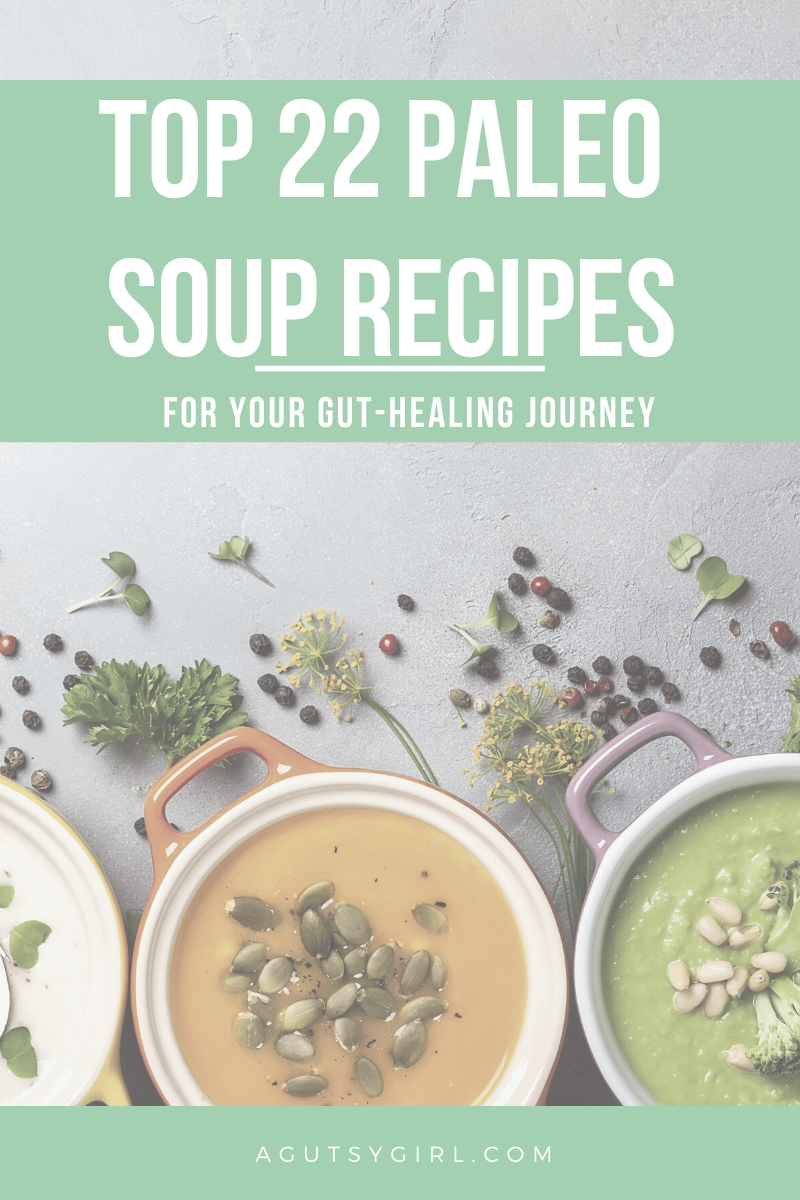 A recipe from Paleo Running Momma, this Creamy Paleo Chicken Soup is cozy, comforting, and loaded with veggies and flavor! Mushrooms, garlic, leeks, kale and chicken in a creamy dairy free, paleo, and Whole30 soup that's filling and healthy. Quick and easy to make for weeknight dinners, too!

This is a packaged one that you can buy HERE. All packaged items on this list are from Kettle & Fire because I believe they have the best packaged bone broth. Fatty coconut coats the tongue with light sweetness and spicy classic Thai curry spice. Remember, when you purchase from Kettle & Fire be sure to use code AGUTSYGIRL at checkout so you always save 10% on orders.

This recipe comes my friend Lindsay of Cotter Crunch. It is delicious with the addition of persimmon! This is a one-pot, dairy-free, paleo, gluten free, and vegan soup recipe that's perfect for fall, and especially Thanksgiving. It's an immunity boosting soup that you'll crave all winter long.

The classics. You'll never regret having this one at your fingertips 24/7.

Another simple packaged broth to purchase. This flavor is perfectly suited to those with more exotic palettes. The lemongrass ginger blend gives you the zest of chicken bone broth, and the light, veggie-rich notes of classic Vietnamese pho.

Michelle over at Unbound Wellness created this recipe. It's simple and packed with nutrients, and Michelle gives a lot of great background on it.

Anything in the Instant Pot is better, right?! For those who are Pegan (= Paleo + Vegan), this recipe is perfect.

You'll find this recipe in The Leaky Gut Meal Plan. Perfectly sweet and spicy, this soup tastes great and is naturally good for the gut. It offers a good supply of vitamin A, potassium, and fiber.

Cheryl says that this Whole30 Instant Pot chicken tortilla-less soup is full of flavor and so easy to make! Super quick and filling, this Mexican soup is creamy, spicy, and low carb.

Vegetable Chowder

This is another recipe from The Leaky Gut Meal Plan. It's a creamy vegan chowder that swaps out potatoes with sweet potatoes, dairy milk with plant-based milk, and butter with olive oil.

PaleoHacks created this recipe. It's full of immune-boosting antioxidants and essential vitamins to keep you nourished throughout the day. Plus, it's versatile enough to enjoy with any kind of protein (like chicken or beef).

Inspired by a Finnish Soup called: Kesäkeitto, Alison from Food By Mars created this lovely and nourishing summer soup.

This is a probiotic-rich, gut-friendly soup recipe that I created years ago. It was a hot, summer day in Minnesota and the fresh, green beans had just been picked from the garden. So good! Some Paleo-ists say that this would not be Paleo because Miso is soy and soy is not Paleo. However, many agree that because Miso is a fermented soy, it is approved, natural, and great for the gut. Thus, I included it on my list.

This is another recipe from Cotter Crunch, Lindsay. I love her and her creations – I think you will, too. Fajita Steak Soup is so flavorful and simple to make! This healthy Mexican-inspired soup combines the flavors of lean beef, peppers, cauliflower rice, onions, and tomatoes. Paleo and whole30 friendly ingredients, light, and quick to make in the instant pot or stove top!

Pumpkin-Apple Soup

You'll find this recipe in The Leaky Gut Meal Plan. It's full of sweet and savory flavors, and will leave you fully satisfied.

Earthy, slow-simmered mushroom chicken bone broth made with organic free-range bones, organic portabella and lion's mane mushrooms. Can you believe this is a packaged broth?!

This is what Mac from Healthy Little Peach has to say about this recipe she created, "Not only is this a great dish for football Sunday or tailgating, but you can take it up a notch by pouring it over a sweet potato. It will for sure fill up all the men in your life and they will be running back for seconds."

Creamy Spinach Soup

Another recipe from The Leaky Gut Meal Plan that you're going to love. This light, cool soup will have you feeling extremely refreshed. Using minimal ingredients and plenty of lemon for soothing the gut, this recipe could become a gut-healing staple.

Heidi from Rally Pure says this about her recipe, "this one is my secret recipe for when I need something warm and comforting and filling. It's a compilation of all the tips I've picked up over the years in one quick recipe that comes together with very little effort in the Instant Pot."

Combines the zesty flavor of chicken bone broth with organic ginger and fresh ground turmeric root for mouth-watering anti-inflammatory support. And yes, comes perfectly packaged for you!

Beef Bone Broth

And here is the final soup recipe from The Leaky Gut Diet Meal Plan book. As I mentioned in the Leaky Gut Diet Recipes post, this is my fave bone broth recipe from the book. I'll also teach you how to make it in the Instant Pot in the book.

I've been on a Cream of Mushroom kick lately. I get an organic, dairy one and make a sort of "Stroganoff." So when I saw this recipe, I was super excited!
If you enjoyed the top 22 Paleo soup recipes, you might also like:
Xox,
SKH
You will heal. I will help.